Spectrum TV App is one of the most famous applications for watching on-demand movies and tv shows. You can also look for a content guide, search for the latest content, connect to DVR, schedule recordings, and much more.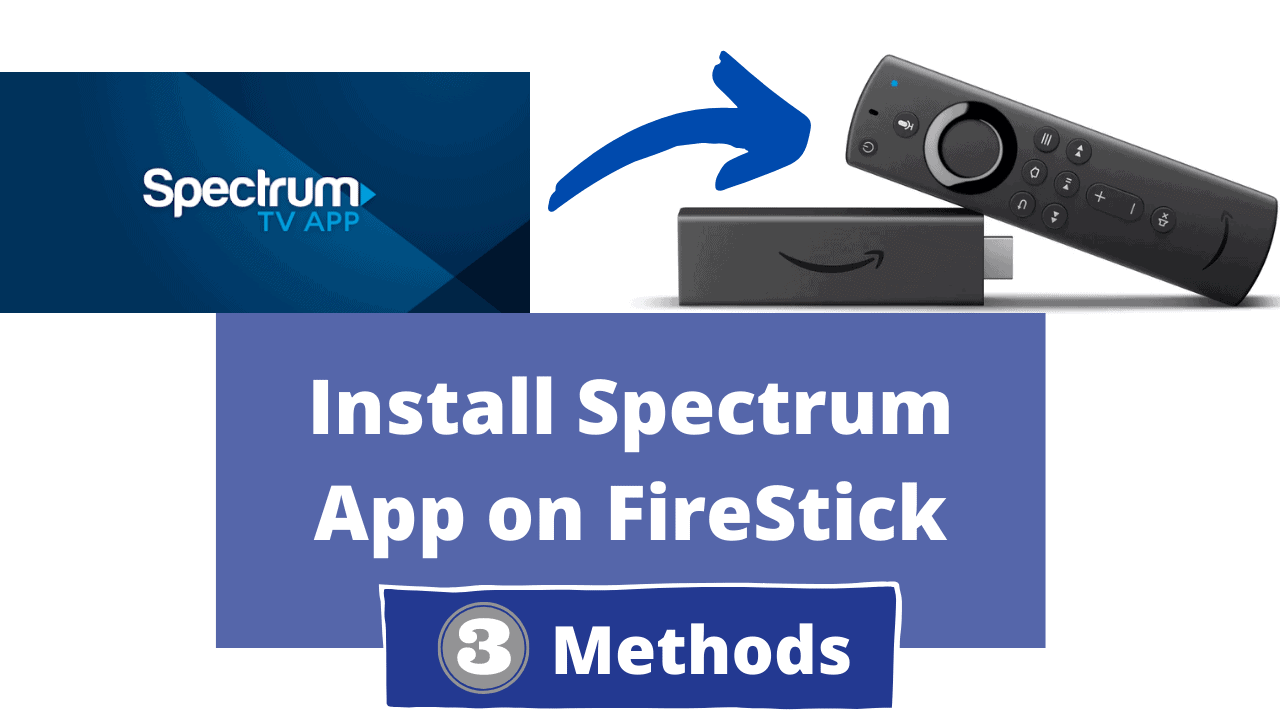 The good thing about Spectrum TV App is that you can connect it with several devices such as Samsung Smart TV, Xbox One, and Roku. Just like Netflix, you can put your username and password and start streaming your favorite content. 
You can have over 50,000 movies and tv titles to watch on any smart devices it supports. High Definition streaming makes Spectrum TV App a good alternative to other streaming services such as Netflix, Hulu, Disney+ Hotstar, etc. 
Currently, they are offering around 200+ HD channels which also includes premium ones such as HBO, STARS, Epix, and much more. It's no wonder that you can also filter the content based on categories and genres, so consider opt-in for Spectrum App for the incredible streaming experience. 
Now, FireStick can enhance that experience if you install Spectrum App on it, and that's what we have discussed below. 
Also Read: How To Watch Amazon Prime Video on Apple TV
Spectrum App & FireStick 
Just like Android, Windows, iOS, Roku, and Xbox One, you can install Spectrum App on FireStick as well. But there's one downside to it, you can't directly install and run it on FireStick; it doesn't show/run Spectrum App on specific areas. But getting it via third-party sites is possible. Let's proceed further. 
Install Spectrum App on FireStick 
Spectrum App lets you watch tons of movies and tv shows using the Amazon Fire TV Stick. Assuming you have already signed up for Spectrum streaming plans, installing it on FireStick gives access to live tv channels, on-demand tv movies and tv shows, HD streaming, and much more. Now, let's see how to add it to your Fire TV Stick. 
But before that, make sure you have enabled the option to install apps from unknown sources. 
Follow the instructions to toggle this option. 
Go to

Settings

on FireStick 

Select

Device

or

My Fire TV. 

Now, tap on

Developer

. 

Then, turn on

Apps from unknown sources

.
1. Install Spectrum App Via Downloader App
Since installing from unknown sources is now enabled, we can install Spectrum App through Downloader App. 
Here's how to do that:- 
Put the

Download URL Spectrum App. (Tip: get it from authorized sources)
Click the

Install

button and wait till it finishes. 

Finally,

Run

Spectrum App. 
Now, you can enjoy streaming your favorite movies and tv shows. But there's another method to get the app on your FireStick. 
Best Downloader: 10 Fastest and Best Download Managers For Android Phones
2. Install Spectrum App Via ES File Explorer
You can also install the Spectrum App on FireStick via ES File Explorer. But before that make sure you have already downloaded it (ES File Explorer) on your device. 
Here's how to do that:-
First,

Launch

ES File Explorer. 

At the bottom right of the screen, click the

+New

icon. 

Put the

Download

URL of the Spectrum App. (Tip: get it from authorized sources) 

Select

Download Apk

and wait till it ends. 

In FireStick's installation screen, click

Install

. 

Finally,

Start

Spectrum App.
Now, enjoy Netflix like experience while sitting on the sofa and watching your favorite content. 
TV App on Samsung: 9 Best Samsung Smart TV Apps | Watch Free Movies
3. Install Spectrum App Via Amazon App Store
Remember the part where we have mentioned that Spectrum App can't be installed on FireStick in several areas, but what if there's no barrier in your country, you can get it in seconds without downloading it from unknown sources. 
Here's how to do that:- 
Click the

Search Bar

at the top right of Amazon FireStick, 

Type

Spectrum App.
Download

it with the help of your remote. 

Once, it gets finished,

Sign In

with your credentials. 
So, these are simple methods to get Spectrum Apps on Fire Stick. Let's head over to some common queries concerning this topic. 
Spectrum App Not Working On FireStick 
Sometimes it's possible that Spectrum App is not working properly on FireStick. There could be many reasons behind this such as parental control settings, outdated apps, and much more.
Make sure to keep it updated and disable parental control for all content to appear in the app. 
If you're using the latest version of the App then the problem is your slow internet connection. Make sure you are getting the minimum speed for a decent streaming experience. If remote buttons are not working, then connecting to a wireless mouse can solve the problem. 
Spectrum TV Subscription Prices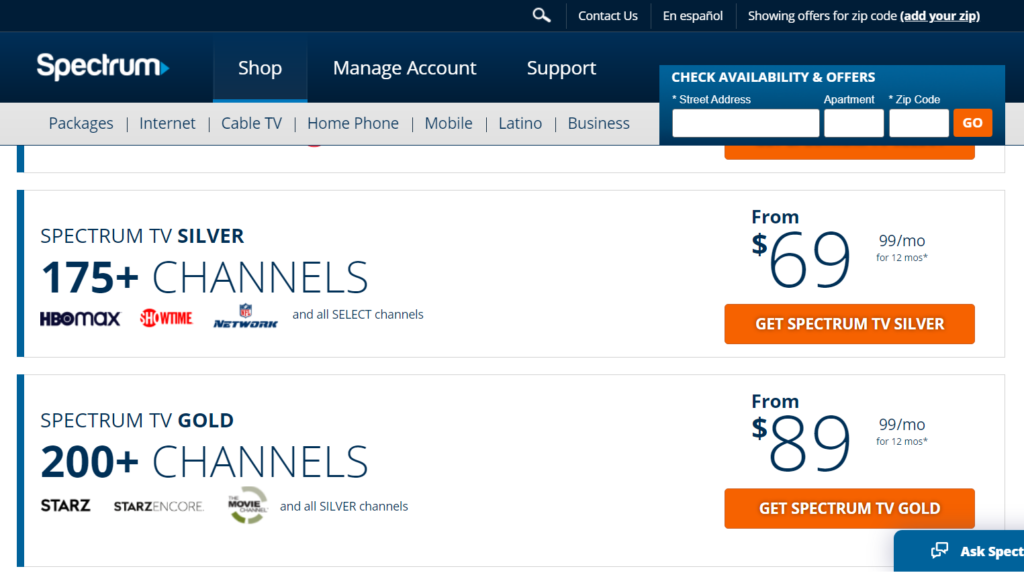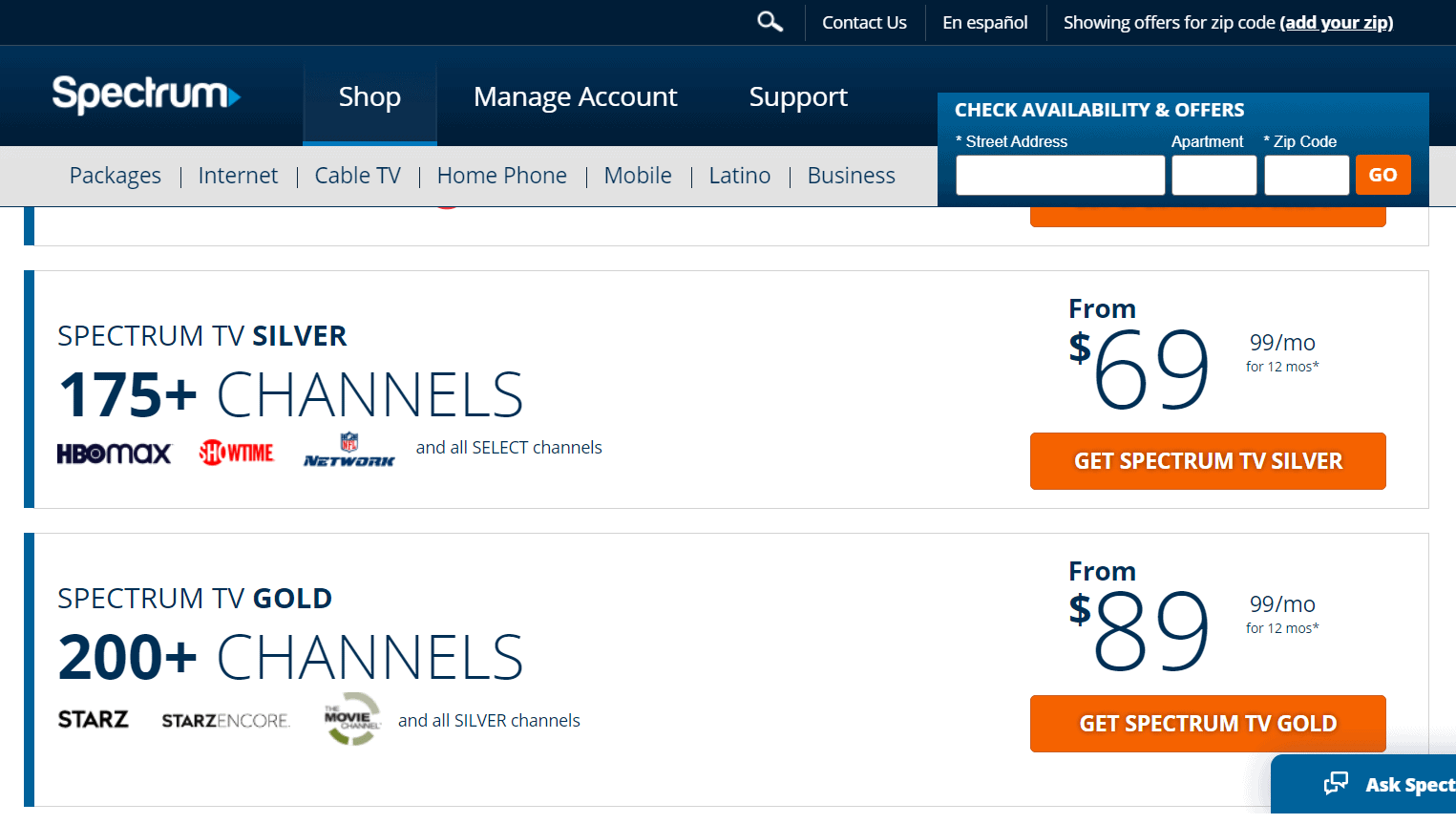 Currently, Spectrum TV offers three value-based monthly subscription plans depending on the number of channels. 
Select: 125+ channels at $44.99 per month. Notable channels such as CNN, ESPN, Discovery, TLC, etc are included. 
Silver: 175+ channels at $69.99 per month. HBOMAX, ShowTime, Network, + all Select channels are included. 
Gold: 200+ channels at $89.99 per month. Notable channels such as STARZ, STARZ ENCORE + all Silver channels are included. 
Device Requirements For Running Spectrum App 
Below we have mentioned minimum device requirements for using Spectrum App:- 
Apple: iPad, iPad mini, iPhone, and iPod Touch, running iOS 12 or higher.
Android: All tablets and phones running Android 5.0 or higher are supported.
Roku: All Roku players and TVs (excluding first-generation).
Xbox One: All models are supported. 
Samsung Smart TV: TV model years 2012 and newer are supported.
Web Browsers: Chrome 70+, Firefox 60+, Microsoft Edge 14+, Microsoft Edge Chromium, Safari. (Internet Explorer is no longer supported)
Operating Systems: Windows 8.1+, Windows 10, or Mac OS 10.12+ 
Fastest Browsers for FireTV: Best Mobile Browsers That are Better Than Google Chrome
Conclusion
So we have seen how to install Spectrum App on FireStick via different methods such as Downloader App and ES File Explorer. There could be several reasons if the App is not working properly. It may be due to poor internet speed or outdated app version. So make sure everything is right. 
We have also seen device requirements for running the App and Spectrum TV subscription prices. For the latest details, you may want to visit the official website of Spectrum as subscriptions might vary according to location. Also, make sure to purchase it to run the App on FireStick. 
So, did it help you?