Do you ever think about using different mobile browsers other than the default pre-installed Google Chrome on your Android devices? Yeah, I know that Google Chrome is very handy to use, packs necessary features and the main advantage of the Chrome browser is syncing across different devices with your Google account.
Also, Google Chrome is one of the best all-rounder mobile browsers and available for pretty much all the platforms like Windows, Linux, macOS, iOS and many more.
Why Google Chrome is Dominating?
Back in 2012 Google Chrome was first released for Android, at that time Chrome already was skyrocketing in the PC market. At that time even the premium flagship mobile device had 1-2GB of RAM at most and Chrome browser is new to Android world.
But today Google Chrome has almost 5 Billion downloads on the playstore and to get this insane amount of number Google includes this browser as a pre-installed browser in all Android devices and that's what makes Chrome browser dominating. And I'm not saying that Chrome is bad or something, Chrome is still a reliable, fast and safe browser.
Features that Google Chrome for Mobile Lacks?
Here are some of the features that Chrome lacks on the Android and iOS devices,
Unstable Download Manager – I don't know why Google still hasn't done anything about download manager, but it definitely a nightmare to download large files using Chrome.
Heavy Browser – Chrome is fast and quick but it eats too much RAM and becomes laggy in low or medium-end smartphones which have lesser RAM.
Privacy – Chrome has incognito mode as well but Google says that still, your activity may be visible and tracked by the websites you visit. More details.
Password Manager – It's not that safe, anyone who has your smartphone can literally login to any website by simply tapping the Auto-fill option.
Native Screenshot – Chrome doesn't have any native screenshot features to send or share the webpage immediately and conveniently. Also, Chrome doesn't let you take a screenshot on incognito mode.
Also Read: How to Fix ERR_CONNECTION_REFUSED Error In Google Chrome Browser
Mobile browsers that are better than Google Chrome
Now, let's take a look at the other mobile browsers for mobile devices that are surprisingly useful and better than Google Chrome in their own unique ways.
1. Microsoft Edge
Microsoft has finally ditched their Internet Explorer and replaced it with Microsoft Edge (browser that comes default in Windows 10) on the PC, at first it faces many issues but Microsoft keeps updating and solving the problems and suddenly Edge browser grabs many peoples attention.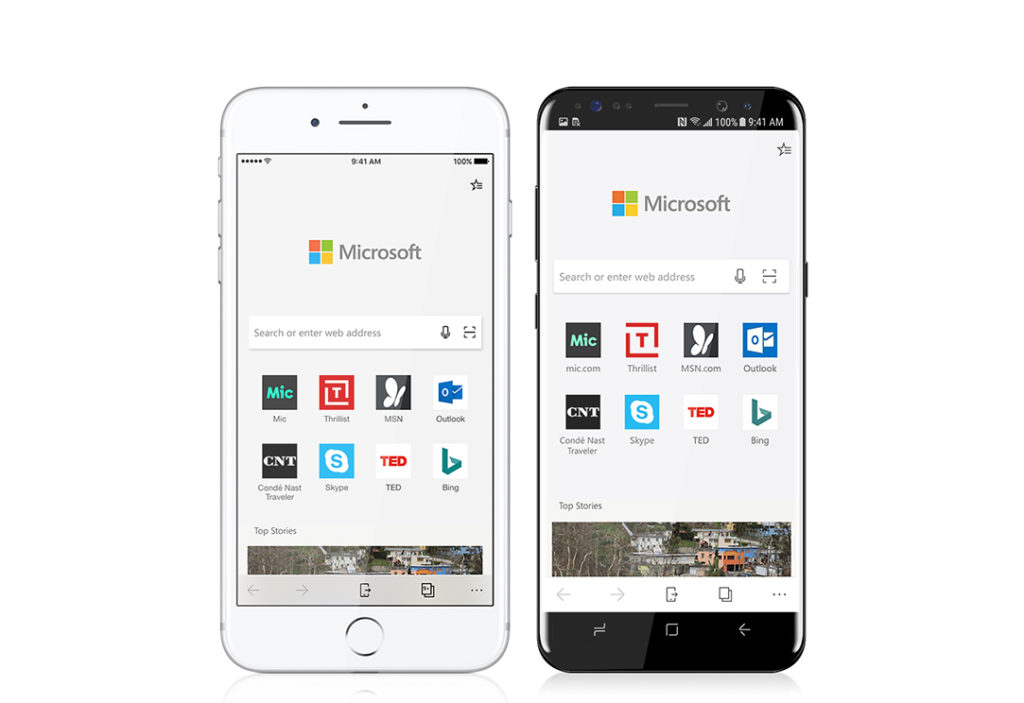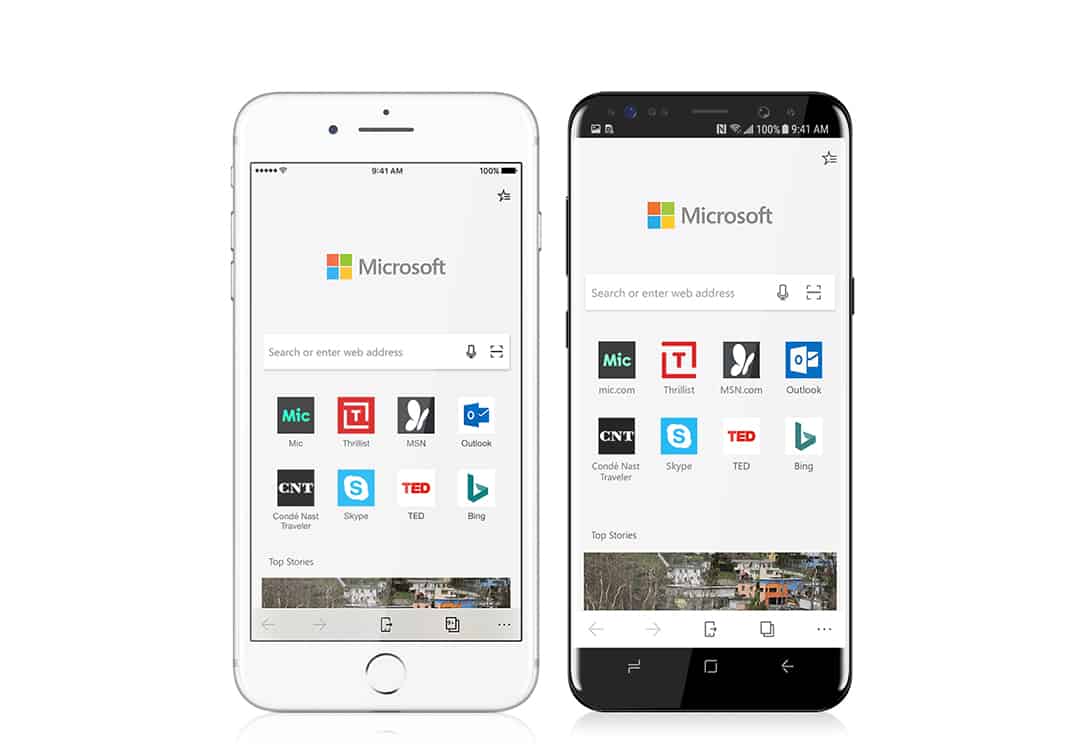 Two years ago they launched Microsoft Edge for Android and iOS and keeps updating ever since, now if you look at the Microsoft Edge on smartphones it looks amazing and packs awesome features like you can sync everything with your Microsoft account, pick up tabs that you left on the PC, in-built ad-blocker and personalized reading mode etc.
Coolest Feature: You can instantly send any webpage or links to the PC or any other devices which has the same Microsoft Account using the Send to PC option. Just tap Send to PC and select the destination device and that's all, now the shared link will be opened on Edge browser on PC automatically.
What I don't like: Bing is the default search engine, but you can change it in settings. Also, this app requires more resources, thus it may run a little bit slower on lower-end smartphones.
Available for: Android, iOS, Windows 10, Xbox One, soon to be on macOS
Download Microsoft Edge
For Android Click here
For iOS Click here
2. Brave
Brave is becoming one of the best overall mobile browsers for Android, thanks to its great ad-blocking capabilities and much smoother experience while browsing. And most of the features available on Google Chrome will also be seen here since this app is built on Chromium.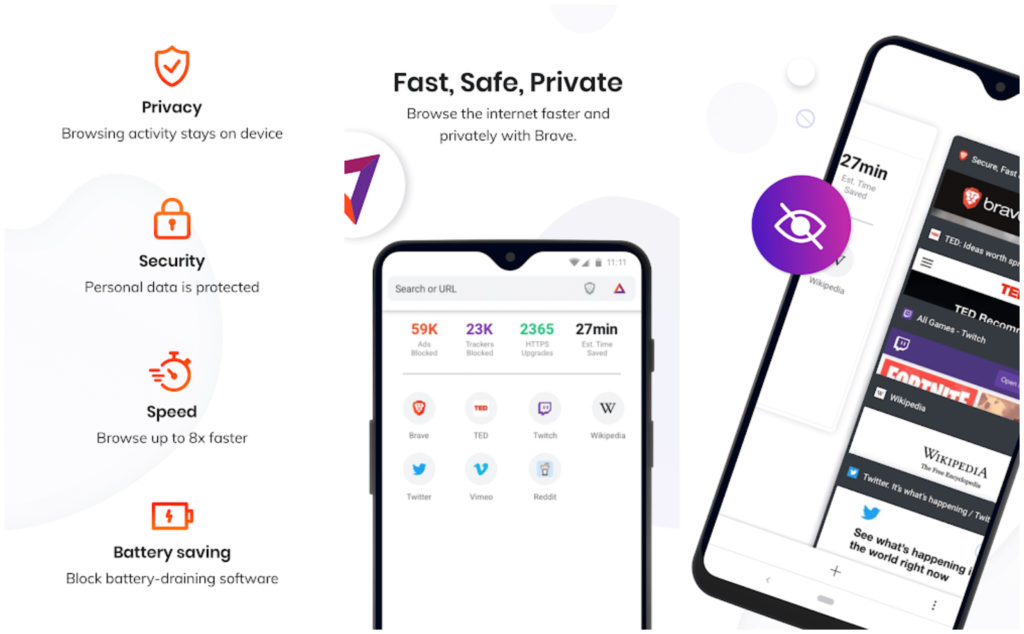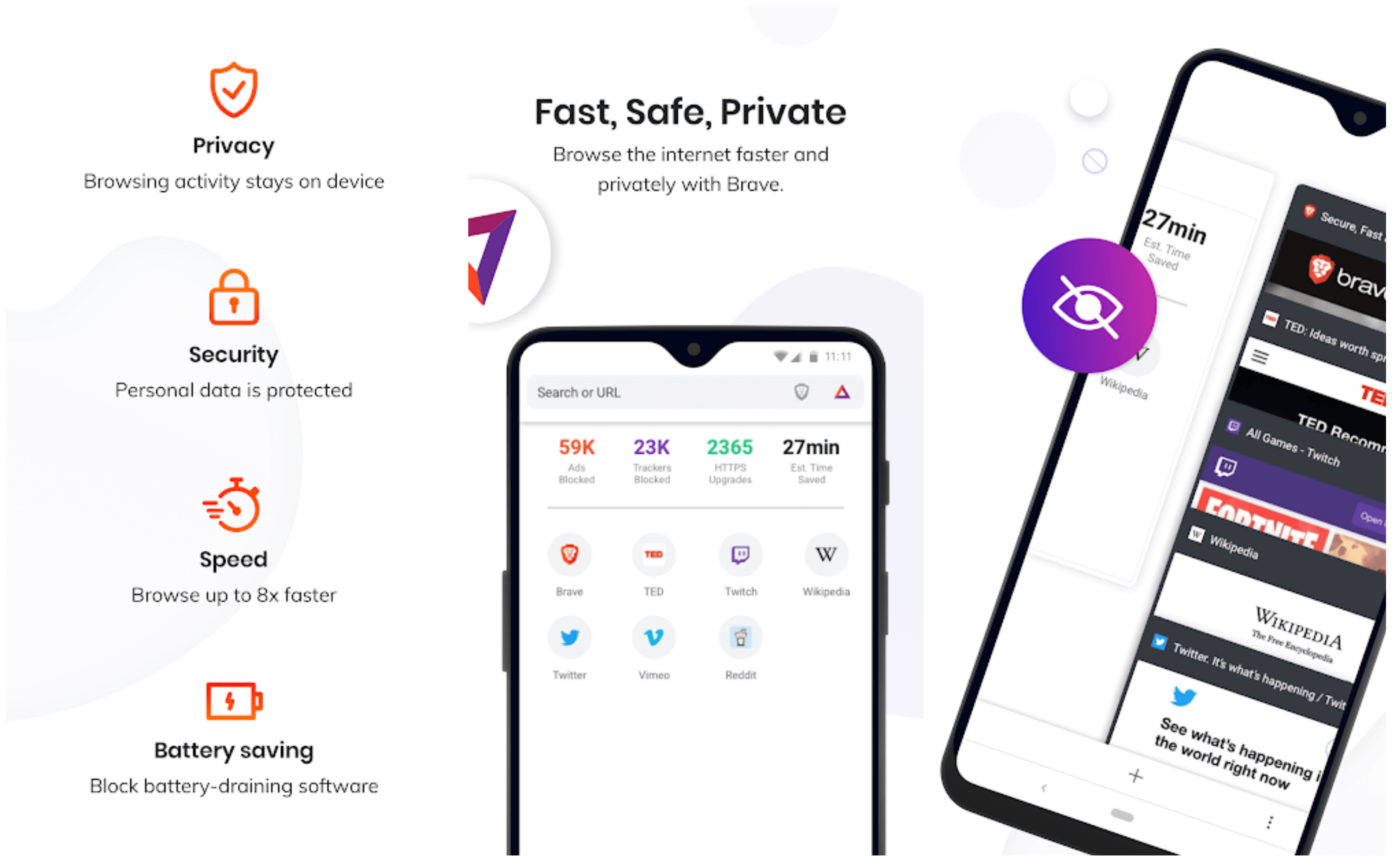 Brave is an open-source project and aims to bring high-level Ad-blocking (includes blocking scripts, fingerprint protection and much more) and faster web surfing experience, also the co-founder of the Mozilla Firefox is the one who founded this amazing Brave browser.
I only tried literally all the browsers like UC, Ad-blocking browsers, Opera etc. But Brave is the only one that helped me to truly block all the ads including popups in an instant. From that day, I've been using this browser alongside my default browser.
Coolest Feature: Extremely next level Ad-blocking capabilities, highly secure and protects your privacy. Also, Brave Rewards lets you earn money by watching ads, this can be helpful when some website you visit tells you to turn off Ad-blocker in order to view this page.
What I don't like: The only thing I really don't like about this app and keeping this as my secondary browser is that it lacks syncing abilities. Even though this app is built on chromium it still does not have the Google account sync feature.
Available for: Android, iOS, Windows
Download Brave
For Android Click here
For iOS Click here
3. Puffin Web Browser
All of you may probably be heard of Puffin for its crazy speed browsing experience. But there are more to this browser especially when it comes to saving the data and clean incognito mode.
When you install Puffin on your Android for the first time, you will instantly feel the difference when it comes to scrolling through the websites or watching youtube videos. It's that fast and the flash players are working through the cloud services hence you can watch or stream video even with lower internet speed.
Also, Puffin browser uses its own encrypted servers for connection to protect the user from any type of hacks. You can use Puffin as your browser in the Public Wi-Fi and no one can be able to track your activities. It even has the best incognito mode that works like charm and not keeping any records at all when closing it.
You can learn more about Puffin from here
Coolest Features: Lightweight and insanely fast web page loading. The built-in trackpad, keyboard and mouse can be extremely useful in some websites and also it has a virtual gamepad.
What I don't like: The user interface still looks very old and outdated.
Available for: Android, iOS, Windows, macOS, Android TV, Raspberry Pi
Download Puffin
For Android Click here
For iOS Click here (Puffin Browser Lite) Since it is free.
Also Check: Top 10 Best Fastest Android Browser 2019
4. Firefox
The good old Mozilla Firefox is back on track and yeah they're the one who introduced browser extensions a while back ago for PC. But now again they're the one who is pushing this extension feature for mobile devices.
When you install and open the latest version of Firefox on your Android or iOS you can feel the trendy and faster user experience, this is because Firefox is constantly working on making this browser Fast, Safe and Smart. Talking about privacy, Firefox is actually one of the best in this list when it comes to private browsing, it never tracks any form of activities you do on the incognito mode.
Extensions, that's where Firefox kicks out every other mobile browsers for Android, there are quite a lot of extensions available for Firefox Android. The most useful extensions such as Ad-Blockers, HTTPS everywhere, Video downloader, Screen snap, Themes, Password managers etc are available to make your browsing experience to a whole new level.
Coolest Features: Extensions like on PC browsers, easily share any webpage as PDF to anyone within the app, stores you login details in the safe cloud and many more.
What I don't like: No pull to refresh option and sometimes it freezes when loading larger websites (maybe due to too many extensions on my device).
Available for: Android, iOS, Windows, Linux, macOS
Download Firefox
For Android Click here
For iOS Click here
5. UC Browser Turbo
I'm actually a huge fan of UC browser from the day I had a java mobile and it keeps continuing on Android until one day back in 2014 I guess. I loved the amazing download speed and reliable downloading abilities like it lets you continue to download even after the download cancelled for some reason.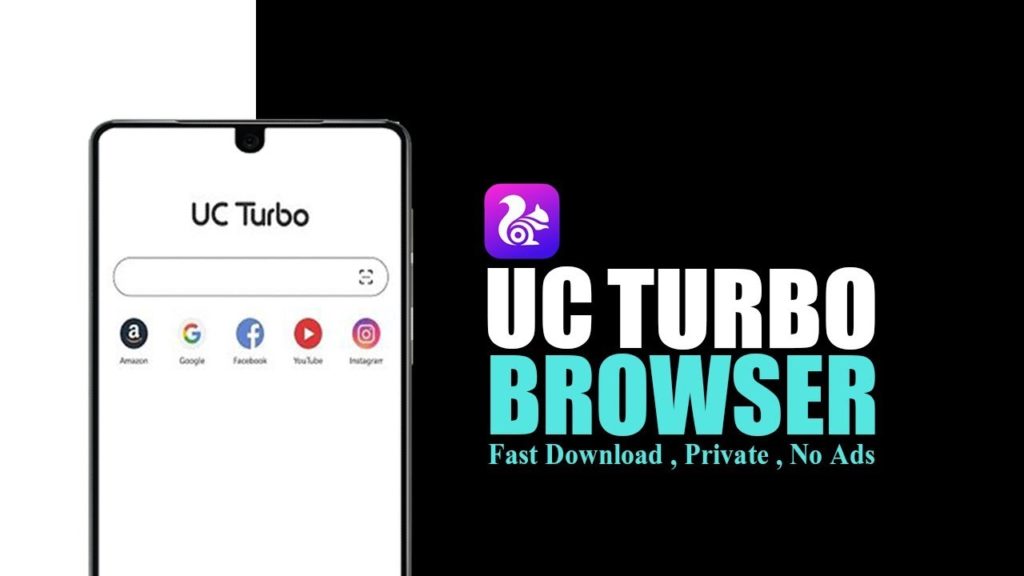 It all came to an end when the UC browser starts showing irritating ads and for worse some of the ads cannot be closed from the notification bar without seeing it. That's where I switched to Chrome since Google is doing amazing job in syncing all in one account.
Now here is new UC Browser Turbo and it really made to try this app since this app doesn't feature any ads or annoying notifications like the UC browser. This app looks so clean and pleasing to eyes, thanks for the amazing UI. Also, UC Turbo is simple and easy to use and the animations while switching tabs are soothing to eyes.
All the UC browser features like QR scanner, Night mode, Ad-blocker and the customizable navigation bar on the bottom are perfectly tailored on this new UC Browser Turbo.
Coolest Features: Best for downloading larger files, customize everything from wallpaper to themes, fast and smoother response. Auto splicing next image on Wifi or you can choose No image option if have fewer data.
What I don't like: So far everything seems fine but the ad blocker on this app could have been better.
Available for: Android only
Download UC Browser Turbo
For Android Click here
Popshot (Bonus App)
Popshot The Smart Browser, this app is new in the market and available for both Android & iOS.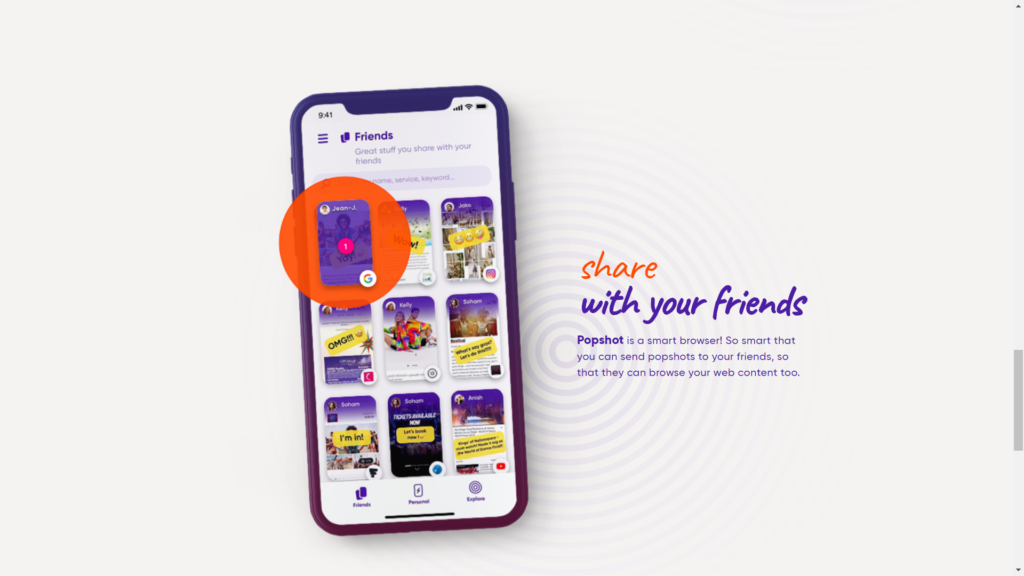 As the name suggests this app is really smart and unique from other browsers. And this app is lightweight and claiming to be run perfectly on 1GB ram device (I've not tested that yet, but it looks super cool on my k20 pro).
Popshot is more like a social media browser and if you're the one who likes to use the browser for popular social media such as Facebook, Youtube, Amazon, Instagram etc then this app is dedicatedly created for you. Because all the web apps are supported and included in the home page itself on this app.
Another coolest feature of this Popshot is you can save any page that you're browsing with last usage screenshot in Shots tab. Also, while browsing simply presses the round flash button on the centre of this app to share webpage to anyone via WhatsApp or SMS directly withing this Popshot app. If the person you send also has Popshot app on their device, then you both can comment or collaborate with the webpage you shared.
Note: This browser is new and might not be reliable for primary usage.
Download Popshot
For Android Click here
For iOS Click here
Also worth mentioning some of the best lite browsers for low-end smartphones.
Firefox Lite
Private Browser
Final Thoughts
Are you the one who uses Chrome browser ever since you brought your Smartphone. Then, now it's the time to try out other mobile browsers because there are plenty of features that you're currently missing on Chrome. Just give it a try and thank me later if you found the best suitable mobile browser according to your preferences. If you still can't think anything other than Chrome then it's worth checking out the other Google Chrome versions for Android such as Chrome Beta, Chrome Dev, Chrome Canary.