Fortnite is one of the most famous online video games released in 2017. Similar to PUBG Mobile, Fortnite Battle Royale is a 100 player survival game that is played by 300 million players worldwide. Now, in this article, we'll see how to increase Fortnite FPS in Android and PC. So, follow the step-by-step instructions to get more FPS in Fortnite. 
The most common issue players usually face is low FPS. As the FPS depends on devices' specs there's no doubt that it can be increased on low-end devices with proper settings. 
Increase Fortnite FPS in Android 
Unlike iOS devices, gaming experience in Android is not always up to the mark, players usually feel lags, freezes, low FPS in various in-game situations in low flagship Android phones. 
Below settings will help you increase Fortnite FPS while getting the most out of your Android devices. Let's check them out. 
Also Read: Top Most CPU Intensive Games for PC 2020!
1. Use Force 4x MSAA
You might not usually see this hidden secret option in Android, but it has a great potential to supercharge your Fortnite gameplay. 
All you have to do is go to Developers Options in your Android device and turn on "Force 4x MSAA". As you are forcing your device to perform better, this will also drain your mobile's battery at a faster rate. 
2. Disable Background Activities 
If your device fairly comes under low flagship phones, there's another option in the Developer Options known as "Don't Keep Activities". You'll find it under the "Apps" section. 
This will make sure not to allow any background activities as long as you're done with it. So, if you're playing Fortnite, this will help stop background Apps from using your RAM thus increased FPS can be observed.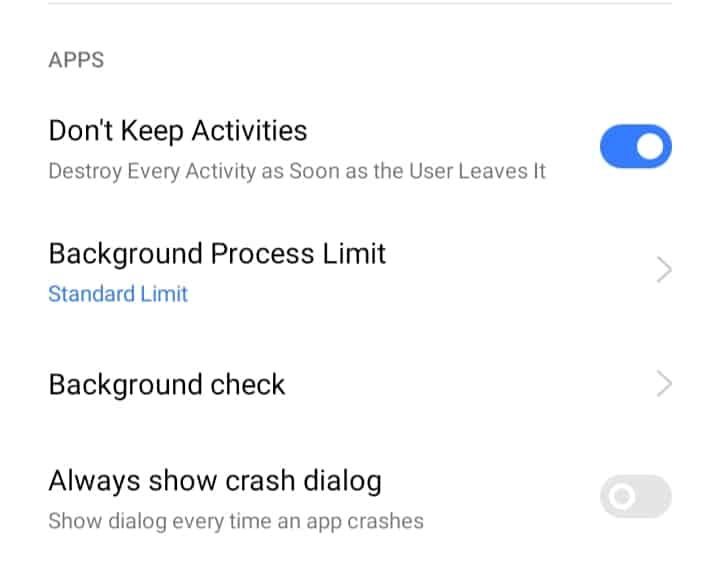 3. Use Game Mode 
If your device manufacturer has added in-built Game Mode Bar, it is reasonable to use it for better performance, they are specially created for boosting device gaming performances. 
If you're not using it, you might feel the low gaming experience. You can also use apps from Google Play to boost gaming and increase Fortnite FPS, but adding extra apps could consume more RAM. 
If you're willing to use the third party apps, make sure you have closed Developer Options settings mentioned above. 
4. Use Wi-Fi
It is generally seen that using Wi-Fi instead of Mobile Data usually increases the internet download and uploading speed. 
Most of the players usually use Mobile Data but switching to Wi-Fi and turning on the Air-Plane mode could solve the low FPS issue in online games like Fortnite. 
Increase Fortnite FPS in PC 
Here are the system requirements for Fortnite Video Game. 
Minimum
CPU: Core i3 2.GHz
RAM: 4 GB
OS: Windows 7/8/10 64-bit
VIDEO CARD: Intel HD 4000
Recommended
CPU: GHz i5 2.8 GHz
RAM: 8 GB
OS: Windows 7/8/10 64-bit
VIDEO CARD: Nvidia GTX 660 or AMD Radeon HD 7870 equivalent DX11 GPU
Below settings will help you boost your Fortnite Gameplay in Windows 10 Operating System. 
1. Update Graphics Card Drivers 
If you're playing games for a while, you might know what graphics card is and how they can help you get most out of your gaming sessions. 
It might be possible that the Graphics Cards that you have been using for so long are now outdated. Games like Fortnite usually get updates and using an outdated graphics card is enough to hurt the FPS, resulting in poor gameplay.
Here's how to update them:-
In the menu search bar, type

Device Manager. 

Search for

Display Adaptors

. 

Click on that, now click on the

Graphics Card.

(for example; NVIDIA GeForce MX130) 

In the Driver section, click

Update Driver

. 
2. Customize NVIDIA Control Panel Settings
As you all know NVIDIA is one of the most used graphics cards (GPU) for gaming performance in Windows 10 computers. 
Let's see how to optimize it to increase FPS in Fortnite:-
Right-click on the Desktop screen and select

NVIDIA Control Panel

. 
At the top left, under 3D Settings, got to

adjust image settings with preview.
Click

Use my preference emphasizing. 
Now, slide the bar to

Performance. 
3. Use Maximum Processor Rate
For the best gaming performance, it's recommended to use the maximum processor rate in your Windows 10 PC, but this setting is directly proportional to the battery usage. 
Here's how to do that:-
Under

Control Panel,

go to Hardware and Sound > Power Options > Edit Plan Settings. 
Go to

Change advanced power settings. 
Now, choose

Processor power management. 
Click the (+) sign next to the

Maximum processor state

and choose 100℅.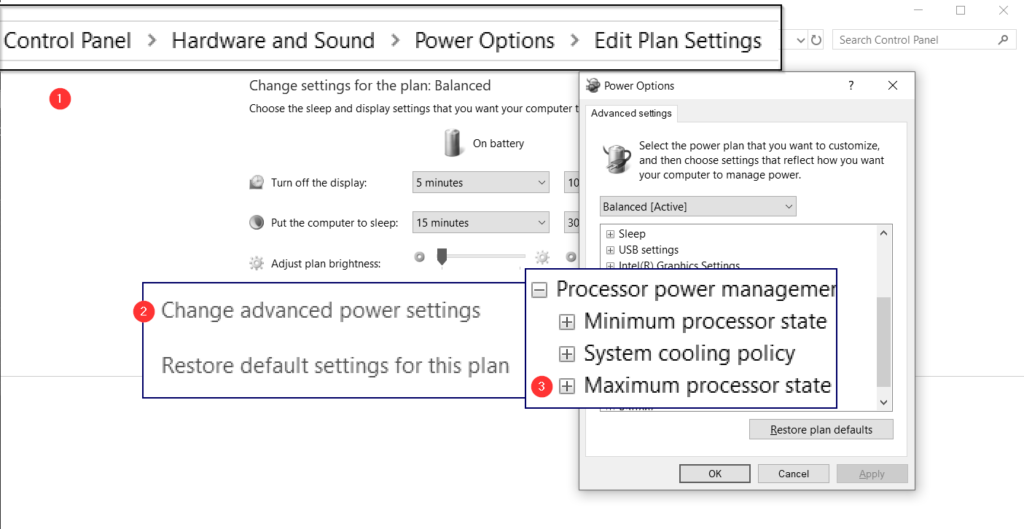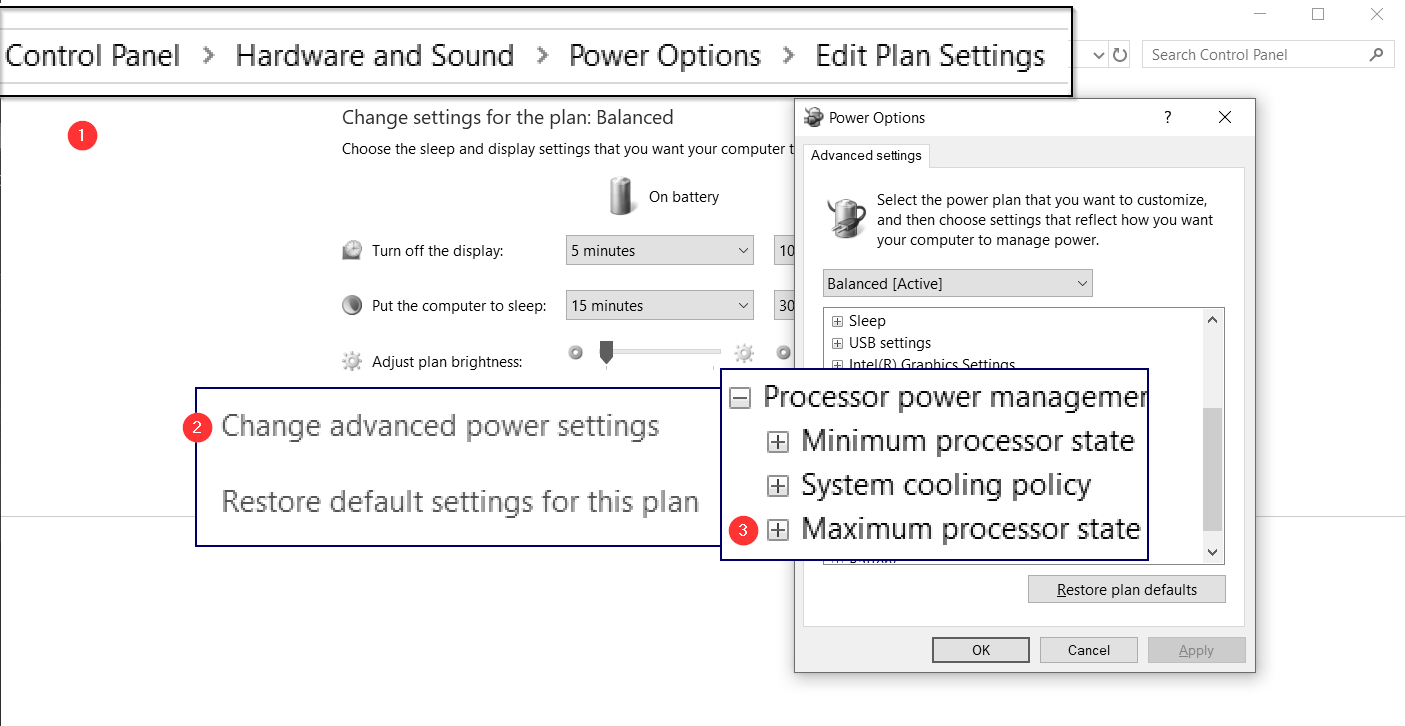 4. Set Game Priority
Windows PC always prioritizes the running tasks for better PC performance, it might be possible that your computer system has already set Fortnite to low priority.
Follow the steps given below to increase Fortnite FPS by setting it to high priority through Task  Manager.
Run Fortnite and open Task Manager. 
Search for FortniteClient-Win64-Shipping.exe. 
Right-click on that and select it to High Priority.
Apex: 12 Ways to Fix Apex Legends Crashing Without Error | Easy Anti Cheat |
Fortnite In-Game Settings For More FPS
Earlier, we have already covered and adjusted PC settings, now we will look forward to Fortnite in-game settings for more FPS. 
1. Change Fortnite Display Settings
Follow the steps are given below:-
Go to settings and select

Display

.

Now, set the Windows mode to

FULLSCREEN.

Then, set the Resolution to

1920×1080 16:9. 

Finally, adjust the frame rate limit to

240 FPS

. 
2.Change Fortnite Graphics Settings
Follow the steps given below:- 
Go to settings and select

Graphics

.

Set the Brightness to

100%.

Leave User Interface Contrast as it is. 

In Color Blind Mode, select

OFF.

Finally, set the Color Blind Strength to

0

. 
3. Change Fortnite Graphics Quality Settings
First, go to Settings > Graphics Quality and adjust the settings as shown below. 
Auto Select Quality

: Auto Set

Quality Presets:

Custom 

3D Resolution

: 100℅

View Distance

: Epic

Shadows

: Off 

Anti-Aliasing

: Off

Textures

: Low

Effects

: Low

Post Processing:

Low
Now, you are one more step away from increasing your Fortnite FPS, follow the below settings to adjust Advanced Graphics. 
VSYNC

: Off

Motion Blur: Off
Show FPS

: On

DirectX Version

: DirectX 11

Allow Multithreaded Rendering:

On

Use GPU Crash Debugged

: Off
Overclock: 8 Best Overclocking Software (CPU/GPU/RAM) for Windows & Mac
Conclusion
So, these are the simple settings and adjustments to Increase Fortnite FPS in Android and Windows. 
Using Wi-Fi instead of mobile data, adjusting developer options, and using an in-built game is recommended for better Fortnite gameplay experience. In PC, you could update your graphics card drivers and follow other settings mentioned above. 
So, did it help you?