VPS is not easy to get free these days since many online resources rely on VPS to run 24/7. Let's say if you own a website, it needs resources like CPU, Ram continuously to host the website and that's where these virtual environment servers are useful. Today, I'm gonna show you how to get free VPS trial without credit card.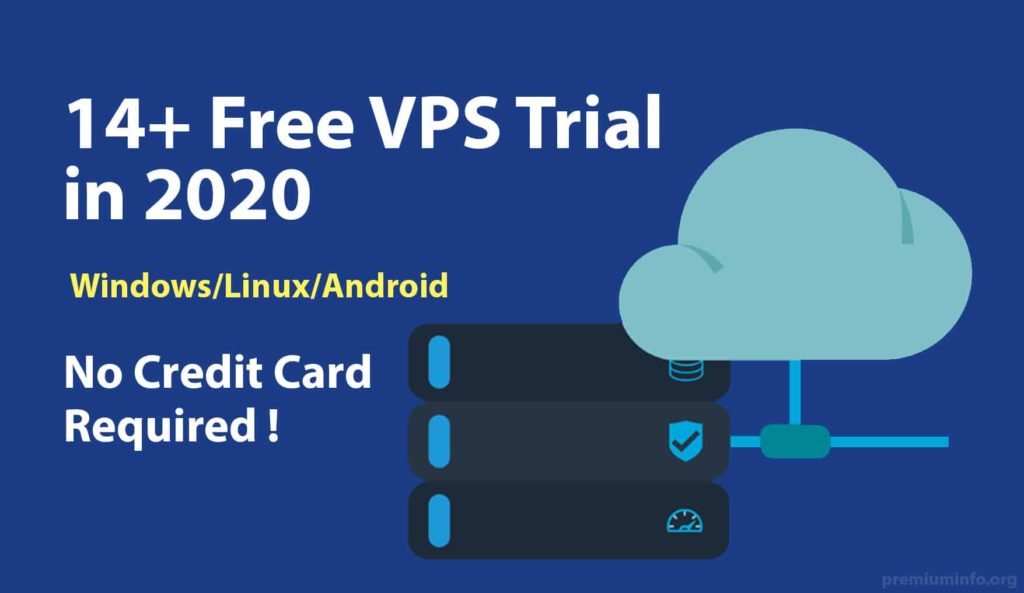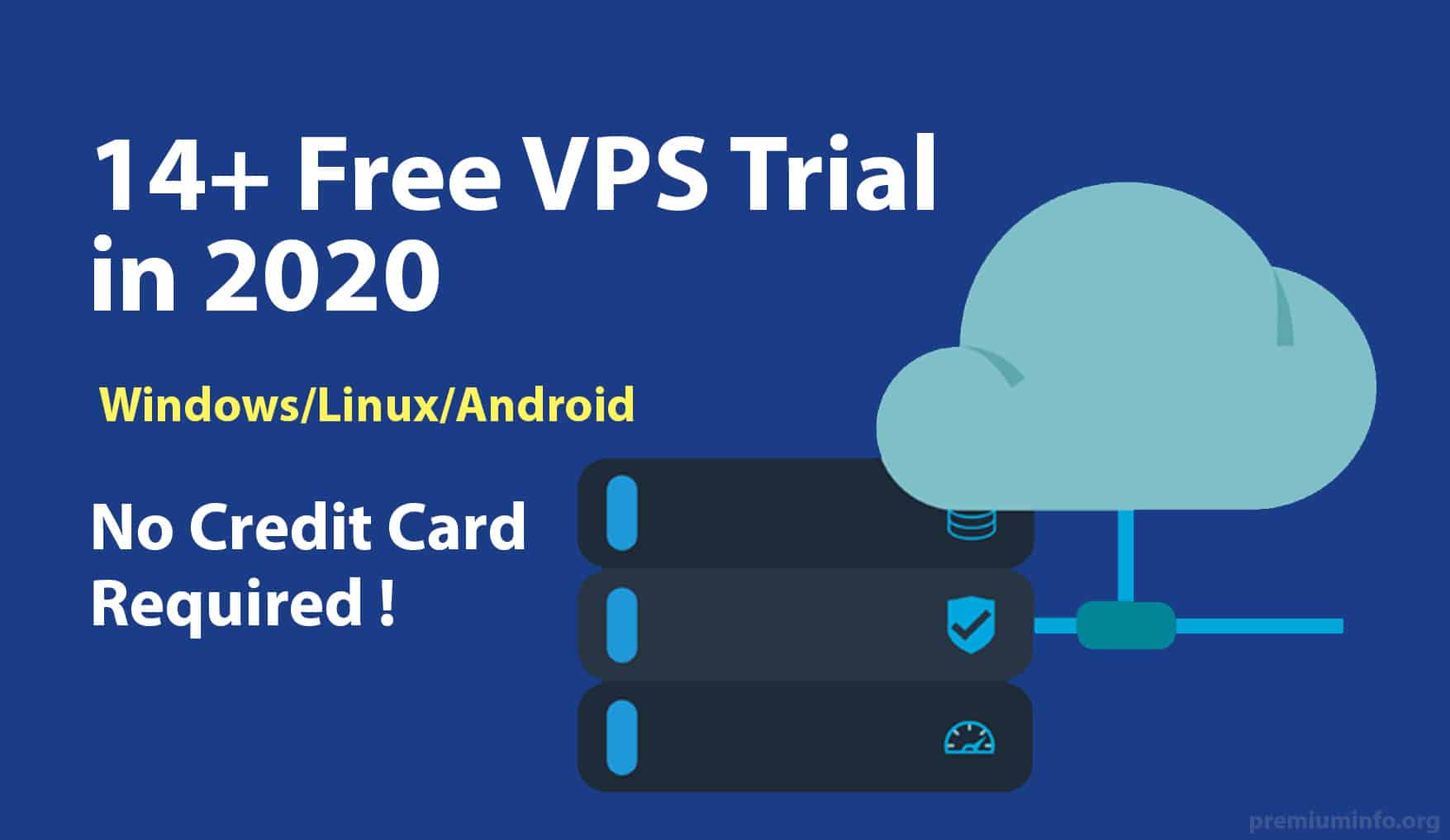 This free VPS trial includes both Windows and Linux support. Also, if you're getting into some business and want the best premium VPS provider, you can simply use the trial period to check the server reliability, security, flexibility and more.
Also read: Things To Consider When Choosing a VPS Hosting
Best Free VPS Trial Without Credit Card / Paypal
In this list, you will find the best Windows/Linux VPS server free trial that requires no credit card or paypal and no ads, all you need to do is simply create an account and start using your own virtual private server right away.
RunCloud.io
Let's say if you're running multiple VPS on different platforms, RunCloud helps you manage all those platforms into one place. A powerful control panel for cloud servers.
1. AppOnFly
Apponfly is the best for VPS service & been in the market for 15 years and now it's providing instant free trial to access Windows on a virtual server. It also offers 1 month of free trial for Windows / Linux VPS without credit card.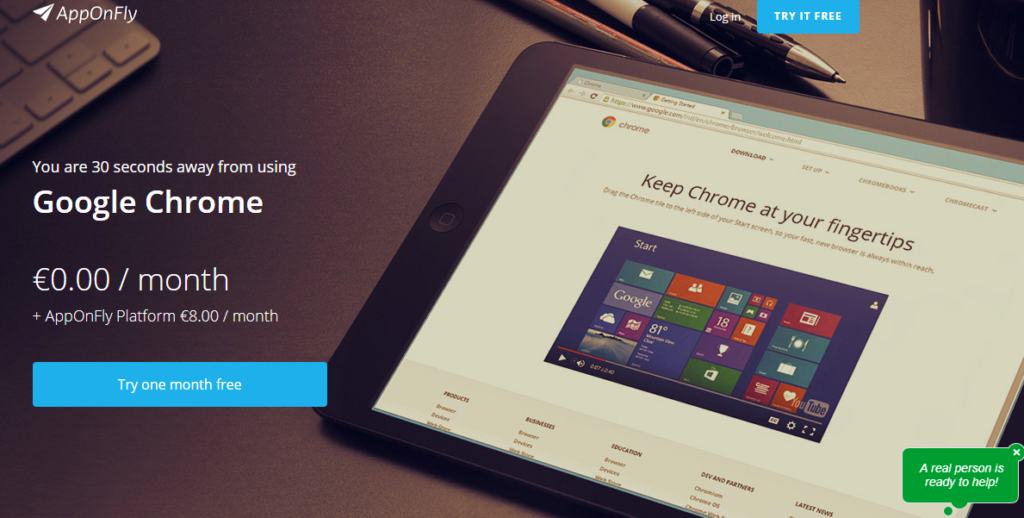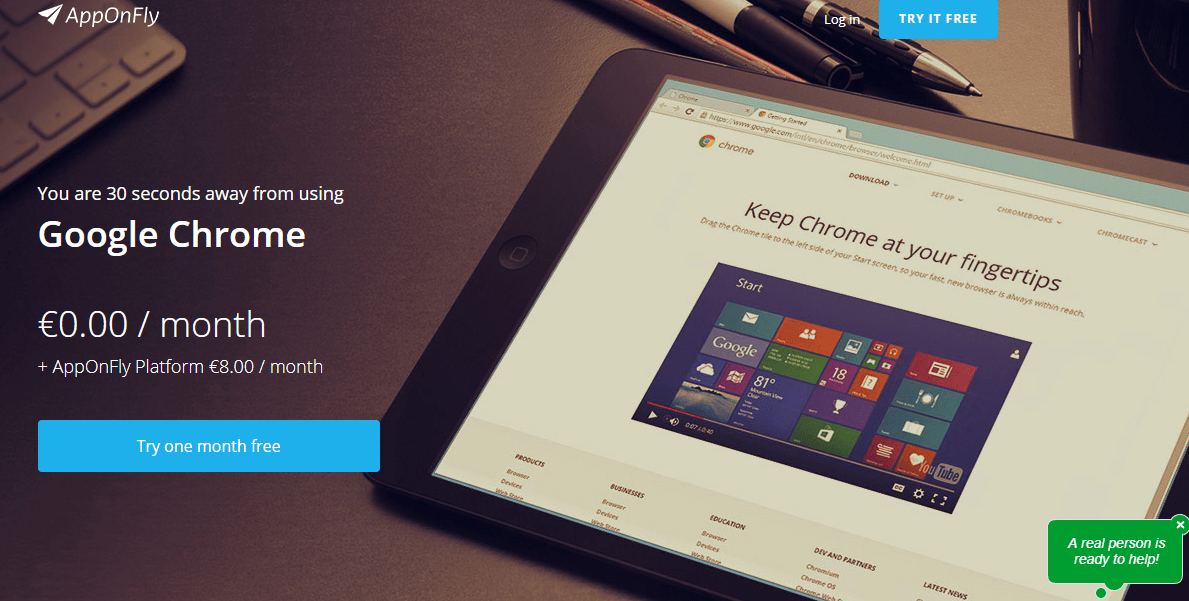 You can use this service to test any software without needing to manually test on your personal computer. Also, you can install mac Softwares on Windows virtual server and you can access Windows from any device by using a browser.
How to get instant Windows VPS?
Go to the apponfly official website from the link below
Click on Start Free Trial
Within seconds you will be taken and logged in to the Windows virtual environment (valid for 1 hour)
If you want to continue this free trial for 1 month, just create an account on apponfly and grab the offer.
Things I like about AppOnFly
Instant Windows VPS (1hour trial)
1 Month Free Trial
Free access to Chrome, Mozilla, Apache OpenOffice
Unlimited Access & Bandwidth
Faster 30 seconds Setup
No Credit Card required
Know more about AppOnFly on FREE Windows VPS From AppOnFly | 30 Days Free Trial.
2. ServerSpace
ServerSpace having 4 data centers around the globe is one of the best VPS providers in the US, UK. It's rapidly getting popularity these days due to the increase in demand for VPS for testing purpose.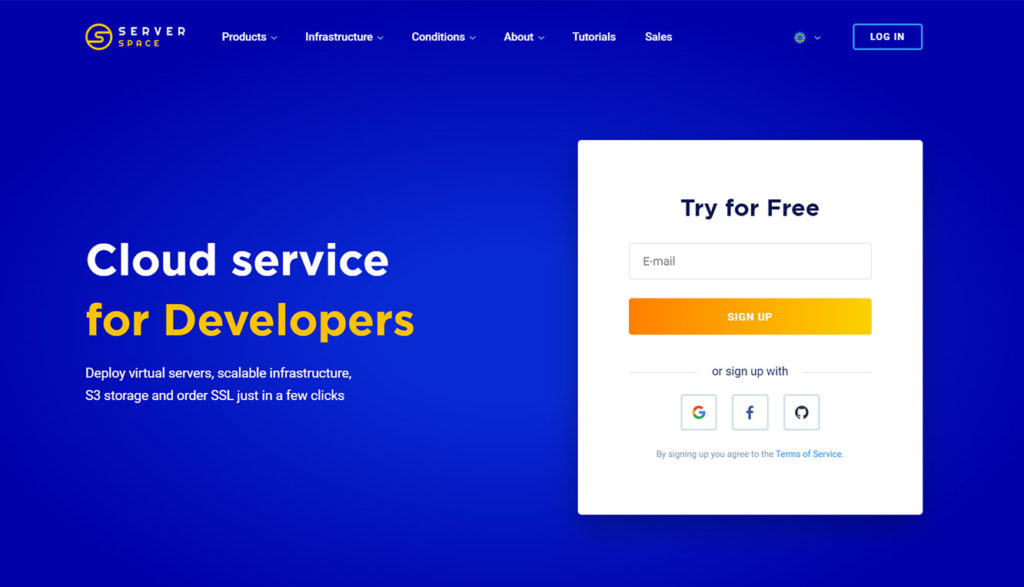 Surprisingly this VPS provider offers free premium servers for 10 hours without the need to add any credit cards to your account. Every new user who registered will get credited 0.08€ into their account. You can use this credit to create any premium virtual server.
Note: Only one account can be created per IP, so if you want to create another account after 10 hours you need to use a VPN
How to create a free VPS in ServerSpace
Go to the ServerSpace website from the link below
Signup with your Email/Google/Facebook/Github
Once you created the account click Create a Server
Choose the OS, CPU, Ram and hit Create
That's all, now you can use this service for 10 hours
3. CloudSigma
Another best way to get your VPS up and running without the need to worry about the credit card. Also, CloudSigma is one of the fastest European servers providing higher security than most standard cloud services.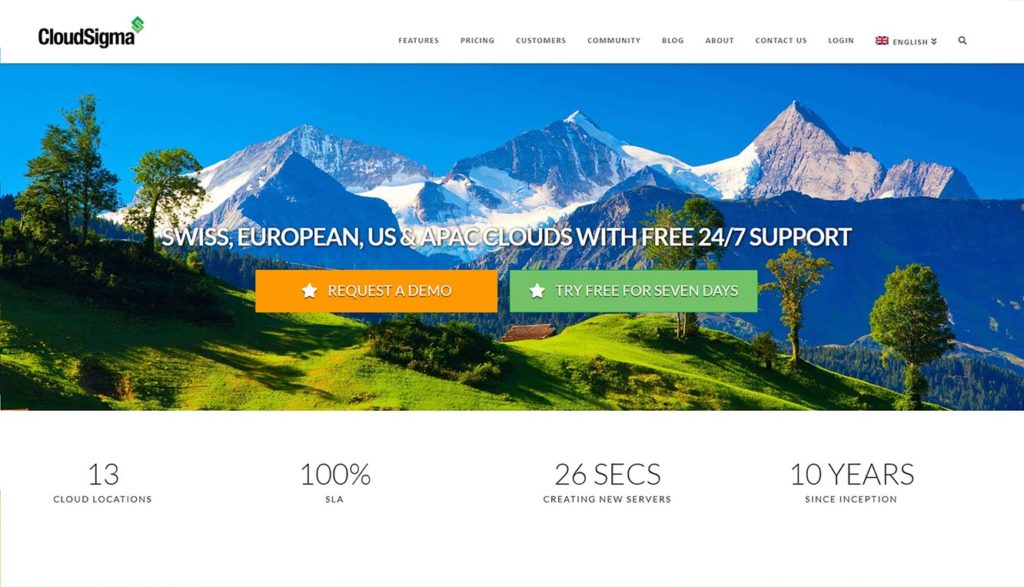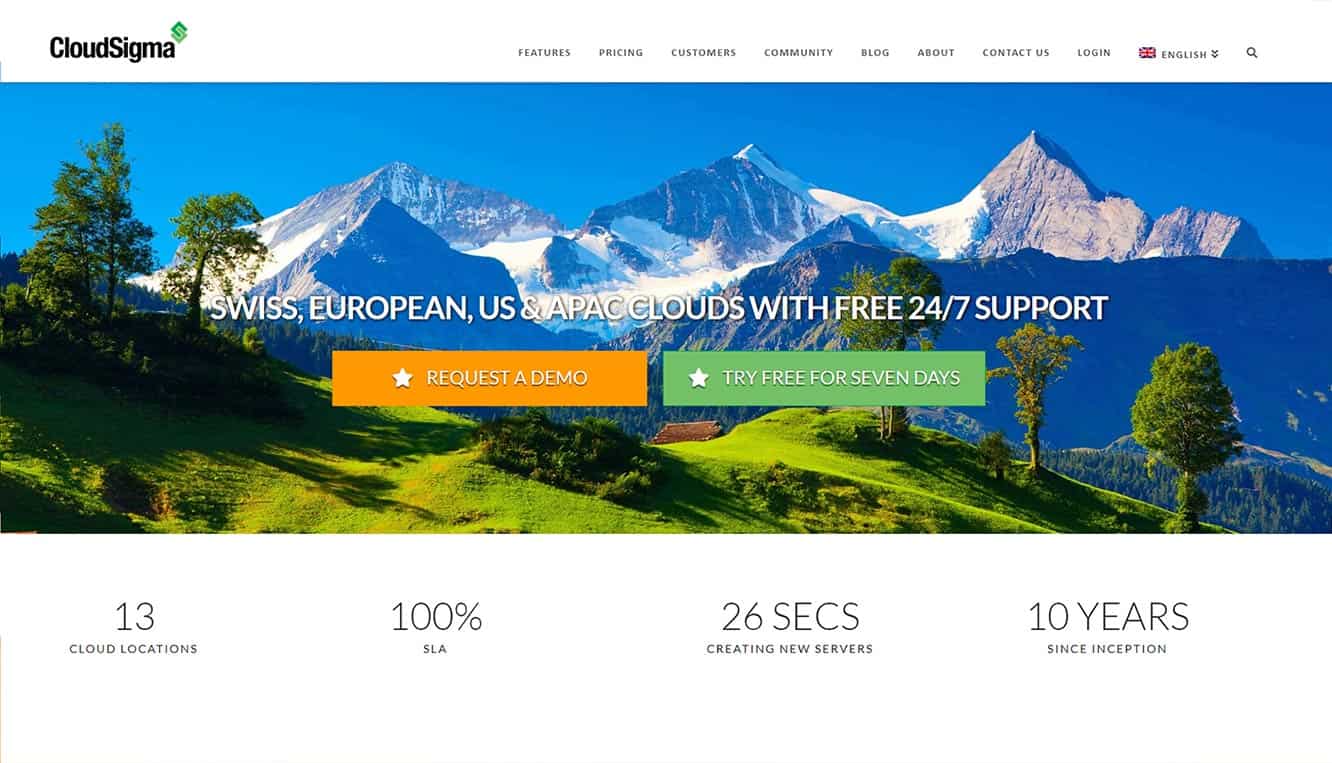 Unlike ServerSpace it offers 7 days period of free trial with 1 core, 1GB of ram with seamless bandwidth.
And you don't even need to signup to use the VPS with 1-hour time limit additionally verify your phone number to get the 7 days of a free trial.
Note: You can create unlimited 1hour session regardless of your IP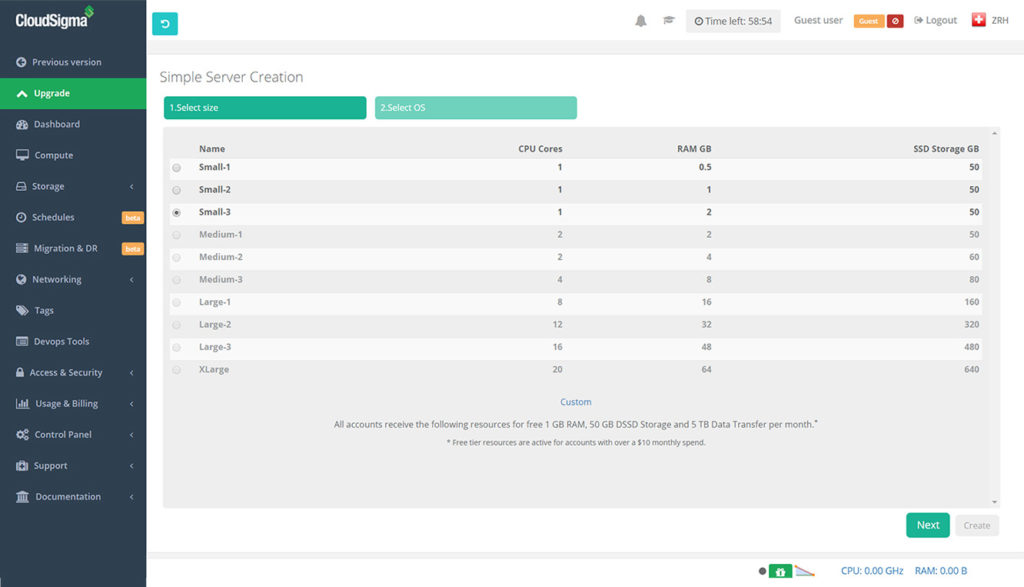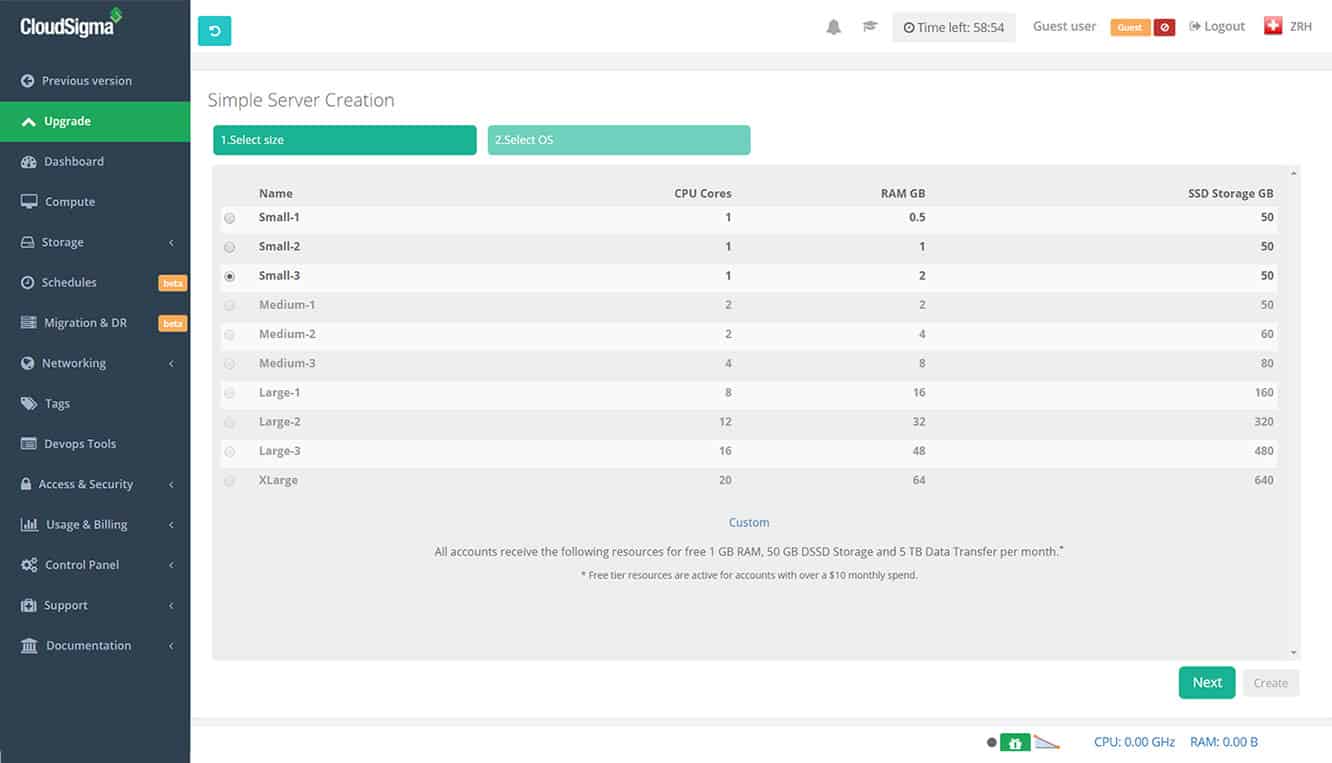 How to create a free VPS in CloudSigma
Go to the cloudsigma website from the link below
Click on Try free for seven days
From there select Instant access (no credit is required)
Now select the CPU size, OS and click Create (free 1 Hour session)
If you want 7 days free trial, tap on Upgrade, signup with your email and verify your phone number
4. AccuWebHosting
Best free Windows web hosting server you will find on the internet. It's fast, quick setup, reliable and most popular VPS provider across the globe. What's more! It provides 1 month of a free trial without a credit card.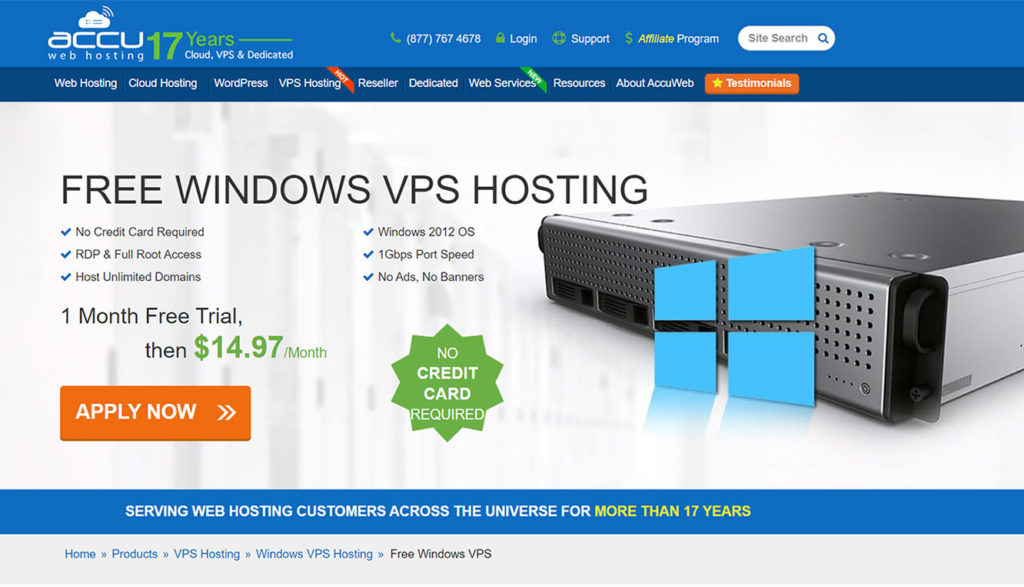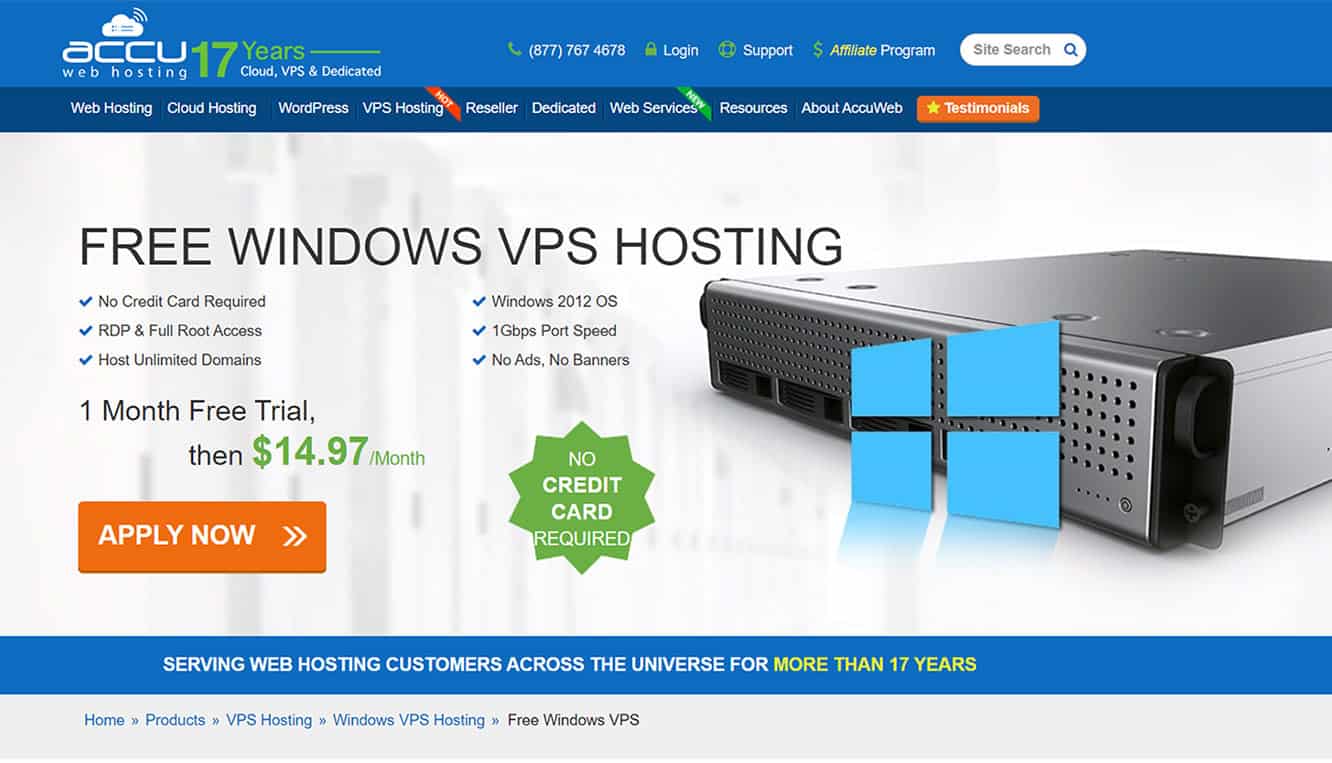 Additional free services such as IIS Server, ASP.Net frameworks, Microsoft SQL server database, PHP with Fast CGI, MySQL database server, SmarterMail Mail server, etc.
Just click on the free trial and type in the name, address, phone number, email etc and hit  Submit Your Application. Within 30 minutes you will receive an activation link to your mail, from there you can log in to the free trial and start using free VPS for 1 month.
Note: For some region, it shows "free VPS hosting order limit has been reached" to fix this use any VPN and reload the webpage.
What's included in the Free Trial?
Windows 2012 OS
1 Dedicated IP
2 Core CPU
1 GB RAM
35 GB SSD
500 GB Bandwidth
Things I like about AccuWebHosting 
1 Month free trial
No Credit Card required
Hosted from USA data center
Also check: Alibaba Free Windows and Linux VPS Trial For 30 Days
5. NeuPrime
Recently NeuPrime made Virtual Hosting as their main business, the main server is located in Frankfurt (Germany). Also, NeuPrime surprisingly provides higher speed than any VPS provider in this list.
You can easily register at NeuPrime and get instant VPS trial for free. No long fill-ins, payments or money-backs. Register online and get you VPS right now, without any credit card.
Note: You can create multiple accounts with different IP
Things I like about NeuPrime
VPS power tuning without reinstalling the OS (saves lots of time)
Backend support including DNS, Email, Data Bases etc
Fastest server
10 days of free test
6. GratisVPS
Actually, GratisVPS might be the one you'll look for since it offers an unlimited free trial of premium VPS hosting services for 6 months. And guess what you can get GratisVPS free trial without credit card.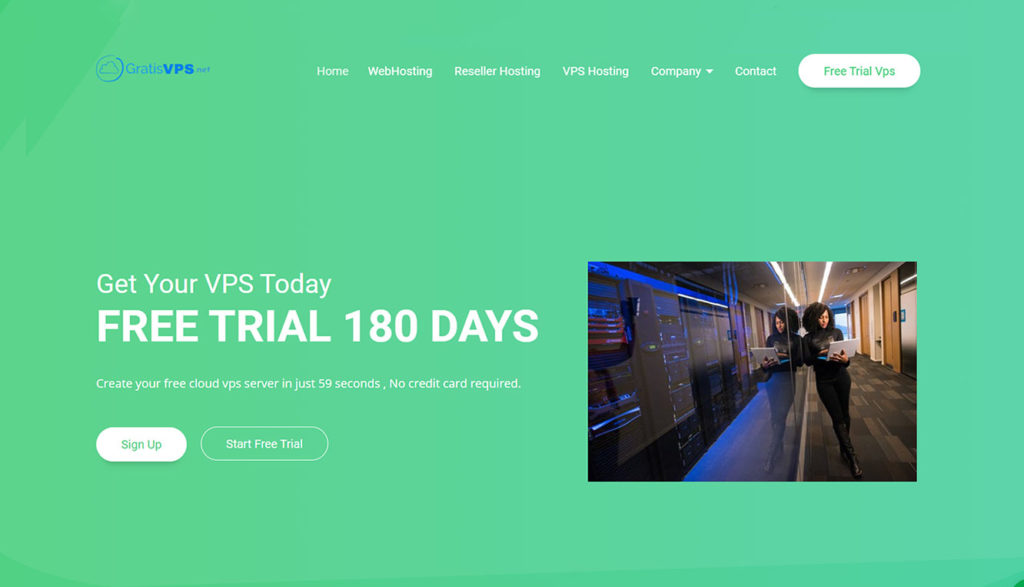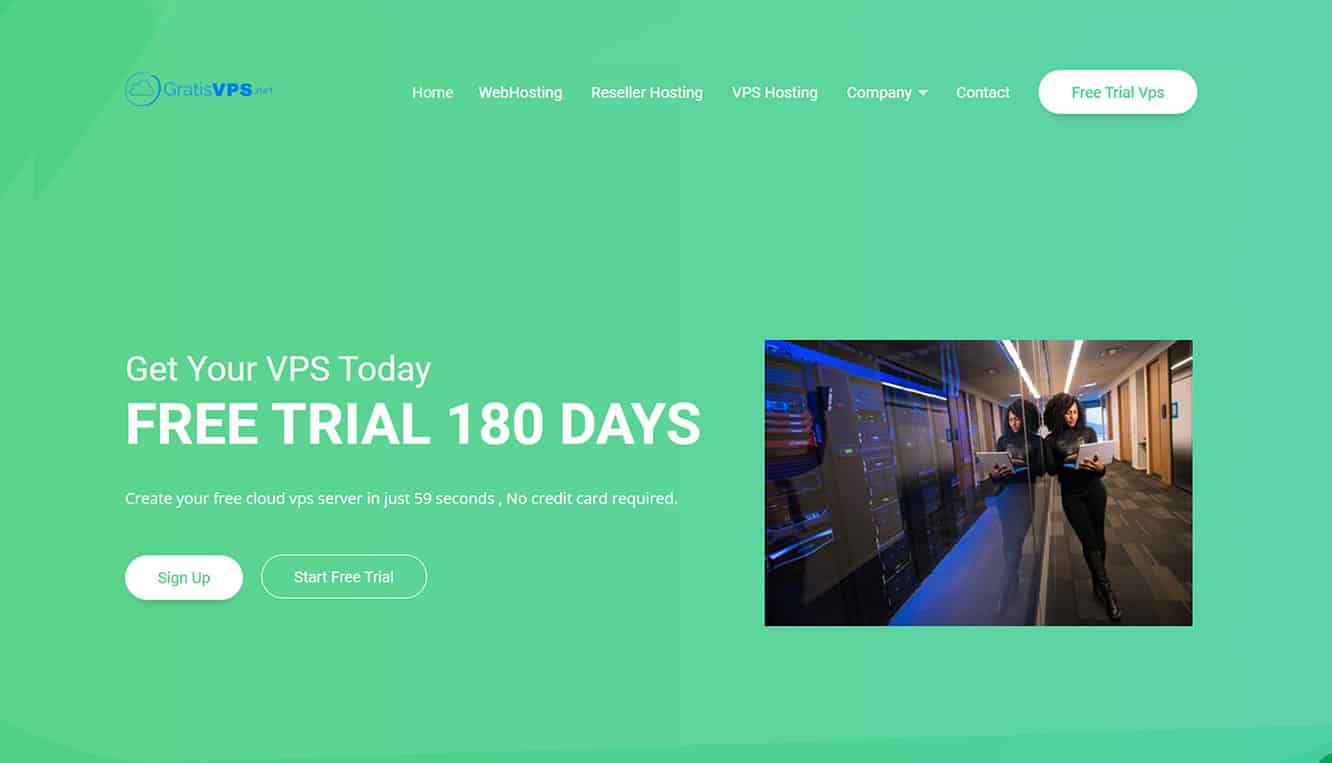 Grab the offer before it ends, pretty much everyone who wants a free trial of VPS is signing up quickly and who knows how huge their servers are right.
Note: You can create multiple accounts with different IP
How to create a free trial VPS in GratisVPS
Go to the GratisVPS free trial webpage from the link below
Click Free Trial VPS
Now click Start, choose your operating system, choose the location, select the virtualization platform, select the VPS package and hit Submit
It will take some time to create your virtual server, once done you will be provided with RDP credentials. Use those details to connect to your virtual computer remotely
Unlimited Free VPS for Lifetime
There are some trustable websites that provide free VPS forever, but what's the catch? Maybe there might be a chance of ads placed inside your VPS or you need to achieve some points to upgrade your VPS. But anyway, something is better than nothing right.
7. HyperHost
Hyperhost servers provide unlimited free VPS or VDS hosting on Windows forever if you have an interesting website.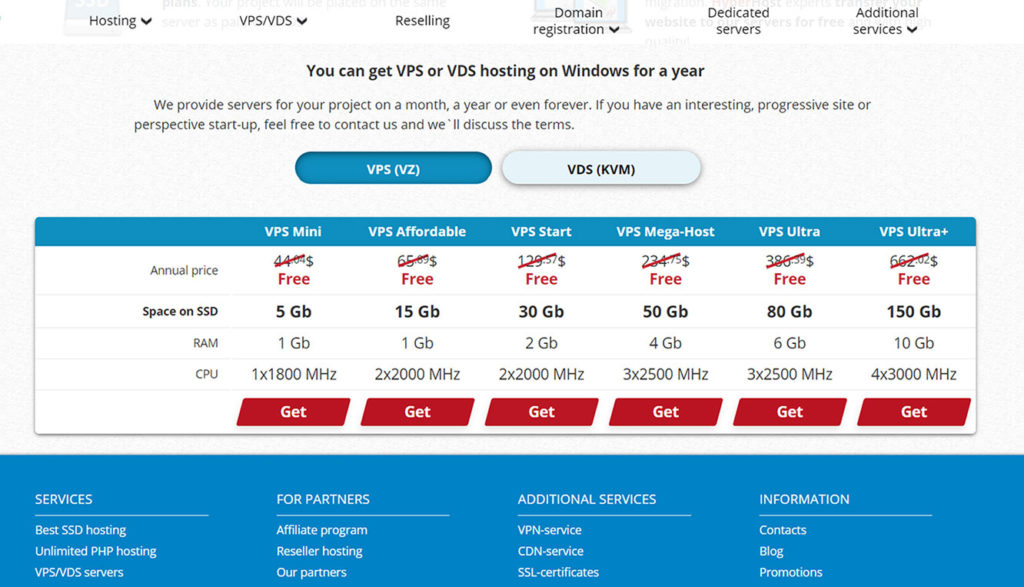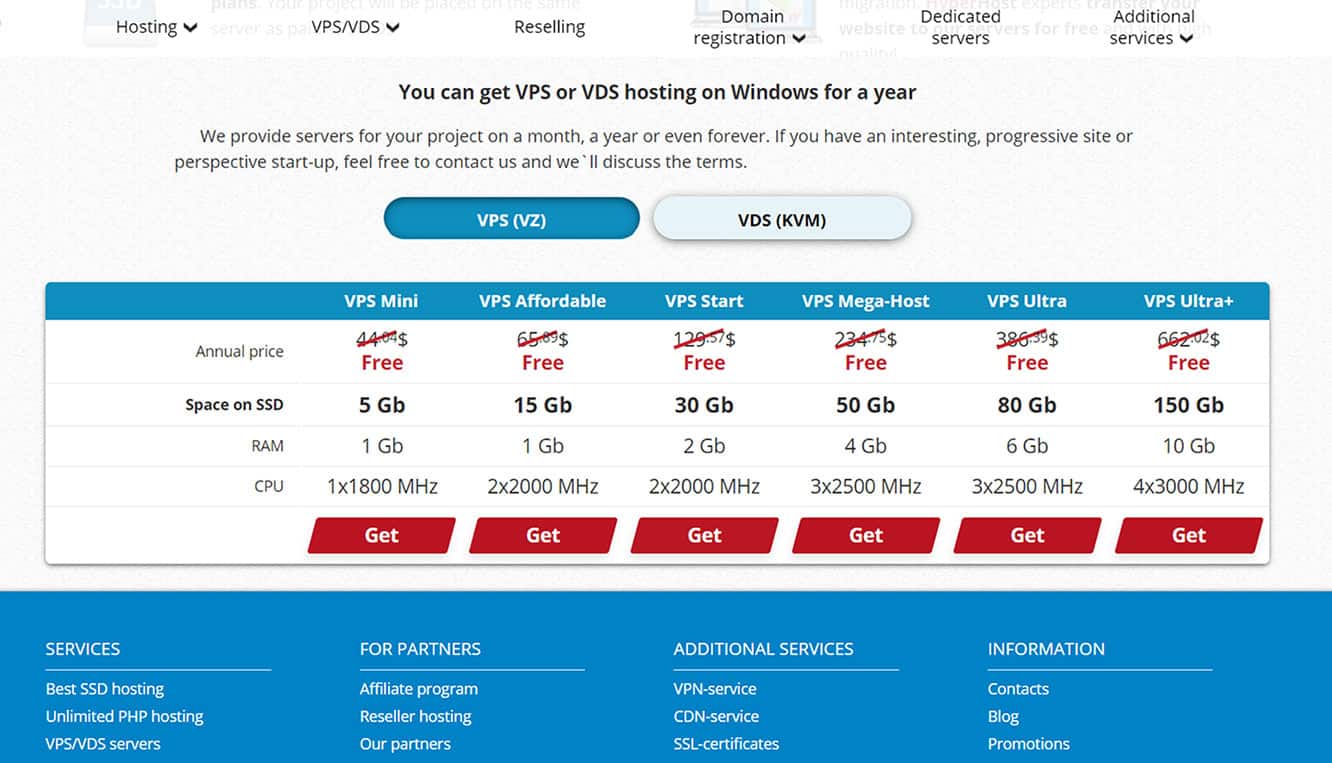 | | |
| --- | --- |
| CPU | 4 cores with 3000MHz clock speed |
| RAM | 10 GB |
| SSD | 150 GB |
| Traffic | Unlimited |
| Bandwidth | 100 Mbps |
| OS | Windows, Linux |
What are the requirements to get free VPS for lifetime?
Website niche must be related to Site development, e-Marketing, SEO, Technology
Alexa rank should be under 350k
Minimum number of unique visitors should be 500
But you can always talk to the 24/7 customer support since even if you don't meet some of the above requirements, they might be still willing to give unlimited VPS.
Also, it has an affiliate partner program where you can earn $100 instant credit reward and almost 22% commission of every new user that buys or joins Hyperhost through your referral link.
If you're looking to create an affiliate website or just want to start a small online business then I would strongly recommend using Hyperhost without any second thoughts.
Things I like about HyperHost
Even the paid VPS service costs significantly lesser than any other competitor
Promotions, Partner program brings you more money
Unlimited hosting including website, WordPress
Tons of data servers available
8. Ohosti
Another great free VPS provider without credit card, just signup and you're good to get lifetime free server, it's simple as that. Ohosti also provides unlimited domains, unlimited disk space, unlimited bandwidth and more.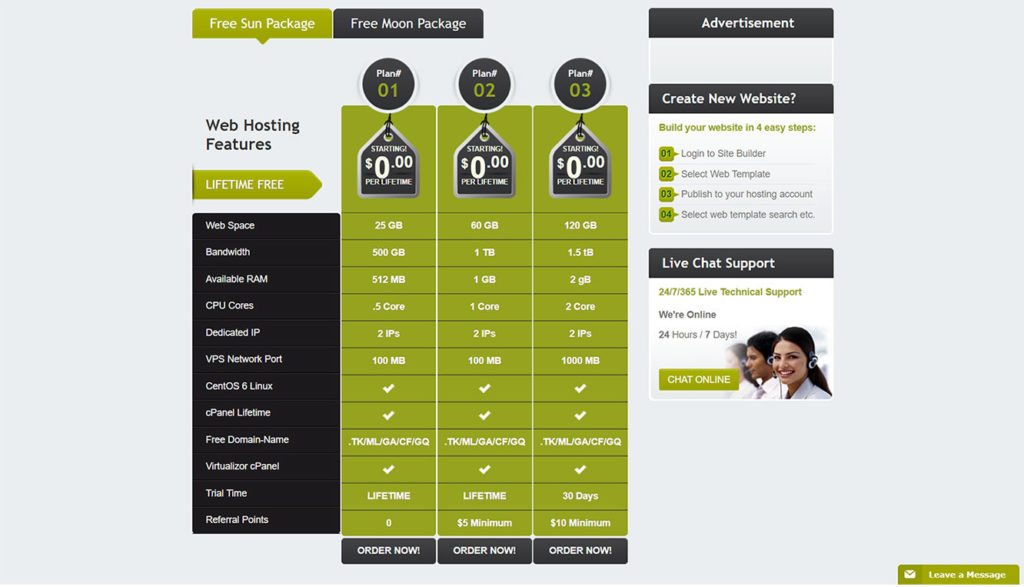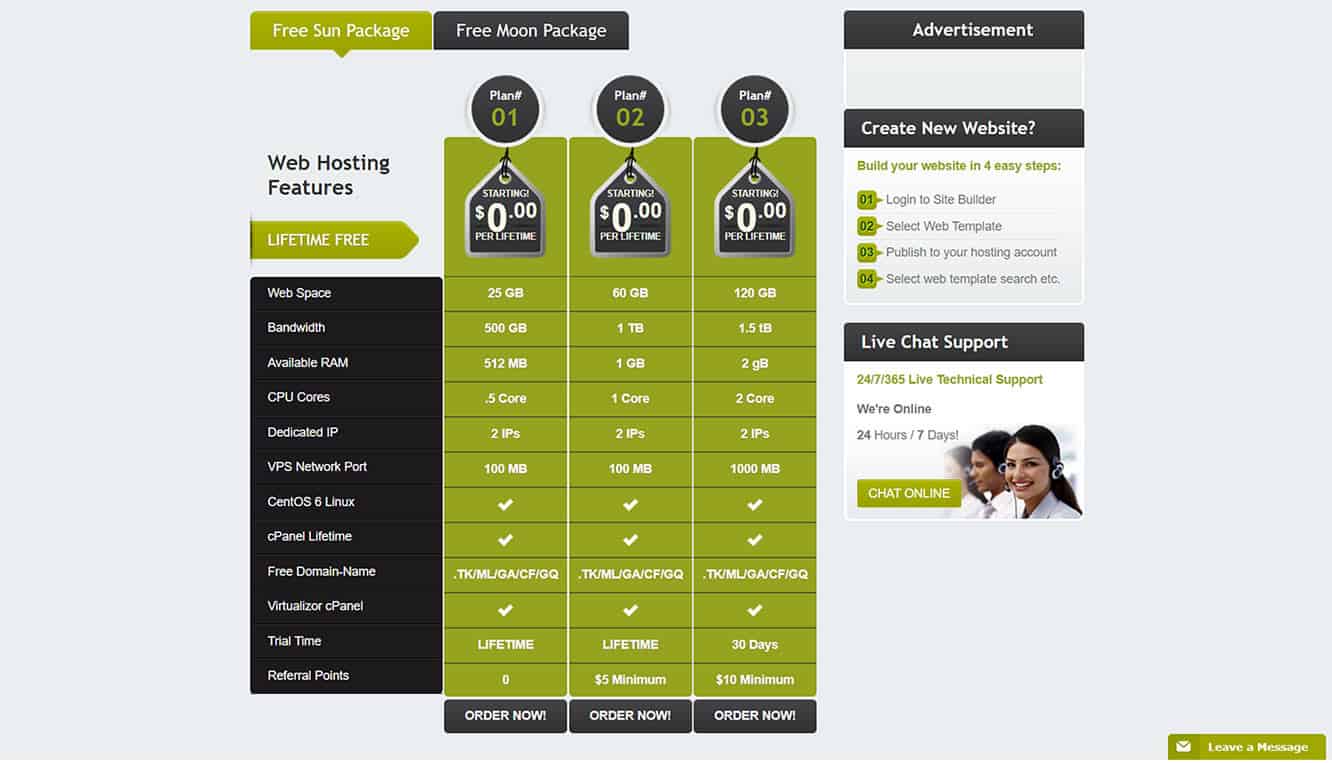 You can get basic completely free starter package with no referral points. It only supports CentOS with full root access, no Windows or anything.
| | |
| --- | --- |
| CPU | 1 core – 8 cores |
| RAM | 1 GB – 16 GB |
| SSD | Unlimited |
| Traffic | Unlimited |
| Bandwidth | 1 TB – 10 TB |
| Network Speed | 100 – 1000 Mbps |
| OS | Linux (CentOS) |
What is referral points?
Ohosti is a completely free website and there is no way to purchase a premium package with money, the only way to get premium VPS is through the referral program. Once you joined the Ohosti, you need to invite and make people join this service to get the referral points.
After you can use those points to purchase the next free packages including 5 more advanced plans.
Things I like about Ohosti
No hidden fees
Claims 99% uptime guarantee
Free shared hosting, reseller hosting, shared VPS hosting etc
24/7 live chat support
Ohosti
Check: Free VPS 14 Days Trial NO CC AND Phone Verification Required
9. WoomHost
A US-based cloud giant offers unlimited free hosting service for websites, apps, VPS and more. They claim to have the fastest SSD storage, unlimited disk & bandwidth and 100% uptime.
| | |
| --- | --- |
| CPU | 2 cores |
| RAM | 2 GB |
| SSD | 500 MB |
| Traffic | 1000 GB |
| Bandwidth | Unlimited |
| OS | Windows, Linux |
Woomhost has a prebuilt free web builder to make one-click website creation possible. Also, it provides unlimited VPS to anyone who registers regardless of expiration and if you happen to like Woomhost service, you can easily purchase premium VPS hosting starting from just $4.99 per month.
It also has an affiliate program where you can earn $10 on every successful registration through your referral link. And you can use that money to purchase the premium hosting as well.
Things I like about WoomHost
Free VPS credit
Unlimited web hosting, cloud hosting, WordPress hosting
Free lifetime hosting with limited resource
Best Free VPS Trial up to 12 Months (VCC required)
In this list, you will find the top end companies providing premium free VPS trial up to 12 months. You must need to have a credit card for verification, no amount is charged until the trial period ends.
Note: If you don't have a credit card, you can simply use VCC (Virtual Credit Card) to bypass this verification process
10. Alibaba Cloud
Alibaba, the Chinese tech giant offers free cloud trial for 12 months exclusively. They may have new to this cloud market but the services they offer are high quality. The free trial includes VPS, Cloud services, 36+ products worth of $1300 and much more.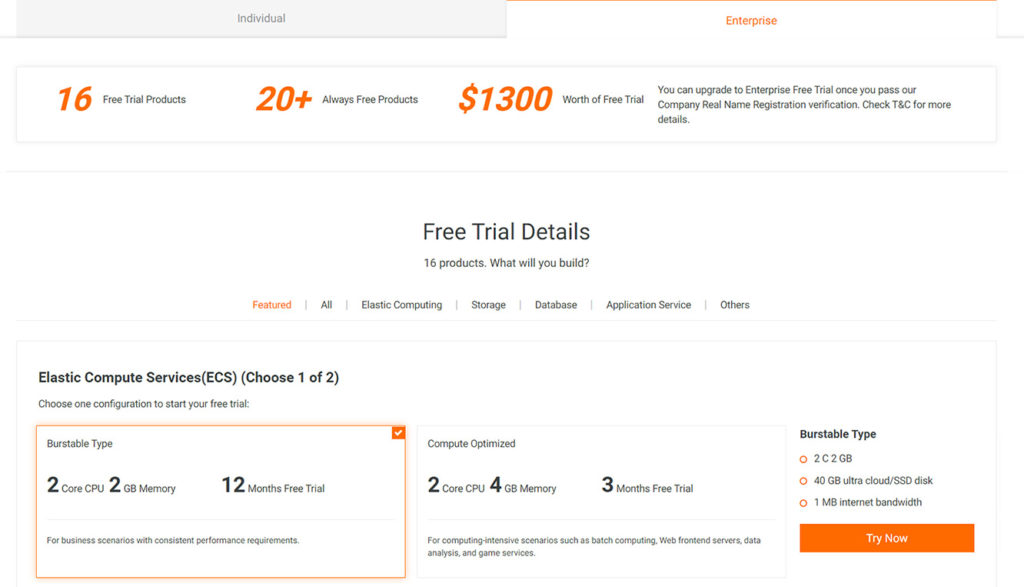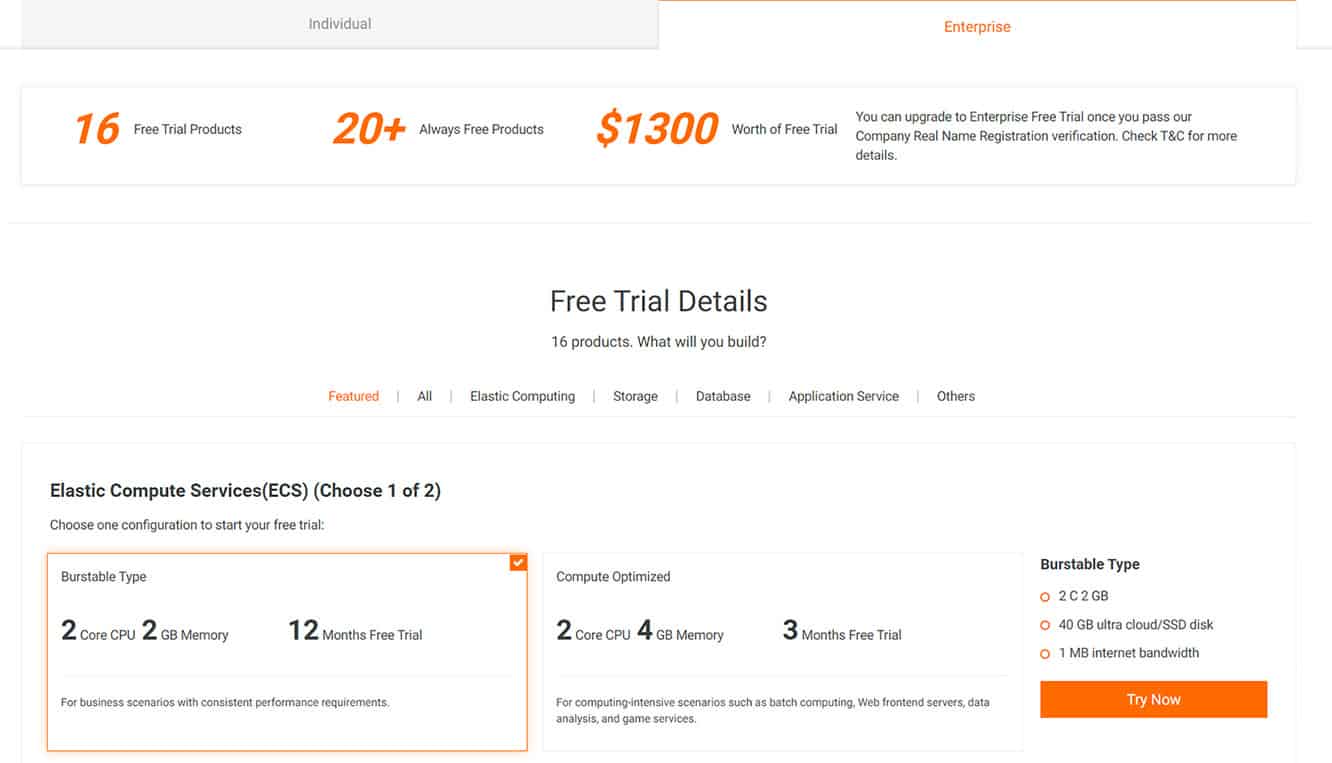 There are two options you can choose from depending on your needs, either way, it's a win-win if you're looking for premium VPS service from a big company.
For 12 months
2 Core CPU
2 GB RAM
40 GB SSD
1 Mbps Bandwidth
For 3 months
2 Core CPU
4 GB RAM
40 GB SSD
5 Mbps Bandwidth
Getting this free trial is very simple, just go to the Alibaba Cloud website from the link below, now make sure to select Enterprise to get extra CPU power and $1300 worth of products and click Try Now.
Login or create your account and fill up the details, finally it will ask you to enter the card details for verification, you can use your own credit card if you have one else feel free to use free VCC.
Things I like about Alibaba Cloud
Free to use their 16 premium services for 2 months including hosting
20+ always-free products
2800+ CDN nodes worldwide making it worlds 3 largest cloud provider
Simple and easy to use interface
11. AWS Free Tier
Amazon AWS is the leading cloud platform in the world providing over 60 products, AWS VPS and services to its customers free for 12 months. It is well known that Amazon will take over the world by its cloud power sooner.
There are free tier offers currently Amazon running that will not expire and made available to all the AWS customers, moreover, you can get the AWS subscription trial to create free VPS server up and running for 12 months.
AWS Trial period includes
750 Hours of EC2 and RDS
5 GB of standard and 25 GB of dynamic storage
2 Core CPU with 2 GB RAM
60+ AWS exclusive products
Simply signup for AWS account with your Amazon account to get instant access to AWS Free Tier. Verify your account by using either VCC, Paypal or Amazon pay. Start running your VPS 24/7 on the Amazon data servers for 1 year free.
Things I like about AWS 
On demanding cloud products and services
Multiple OS supported including Windows, Linux
Fast, secure and reliable servers
One of the best customer service experience
12. Microsoft Azure
Well, pretty much most of the online service you're using will most probably run by the Azure since they're in the cloud market for a long period of time going way back to 2008. You can use Azure as a VPS provider to test your apps or website or run something 24/7.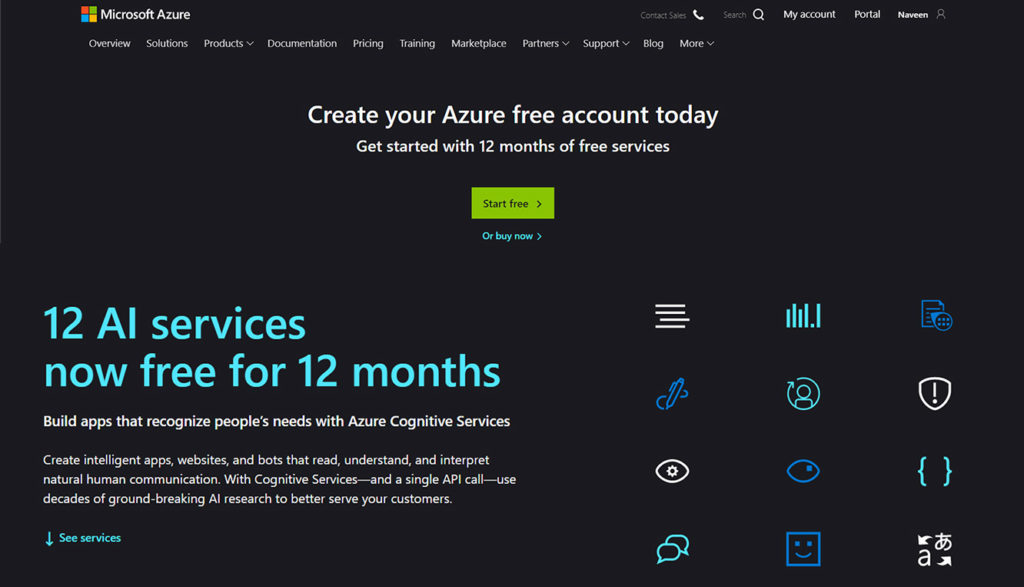 Also, Azure gives 12 months of free trial to anyone who signs up with Microsoft account and gets instant access to popular free services including the VPS. In addition, you will get $200 credit to explore Azure for 30 days plus always free services.
Microsoft Azure Trial period includes
750 Hours of Linux and Windows virtual machines
128 GB SSD with 250 GB SQL storage
15 GB of data transfer
25+ Azure exclusive services
All you need to sign up for a free account is a phone number, a credit card or VCC, and a GitHub account or Microsoft account.
Things I like about Microsoft Azure
12 Artificial Intelligence services
Free automatic backup on night time
Extremely high-performance VPS (both Windows and Linux)
$200 free credit
13. Google Cloud Platform
Google Cloud Free Tier is another top company providing a free trial for 12 months including VPS services. Unlike AWS, Azure Google offers always free cloud platform, you just need to pay for the services you're using on the cloud.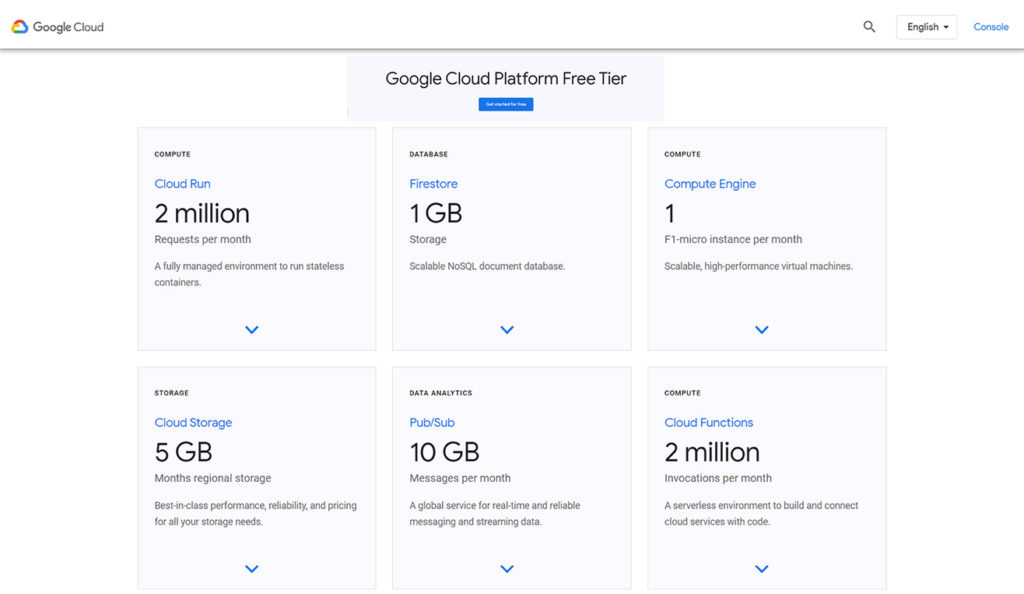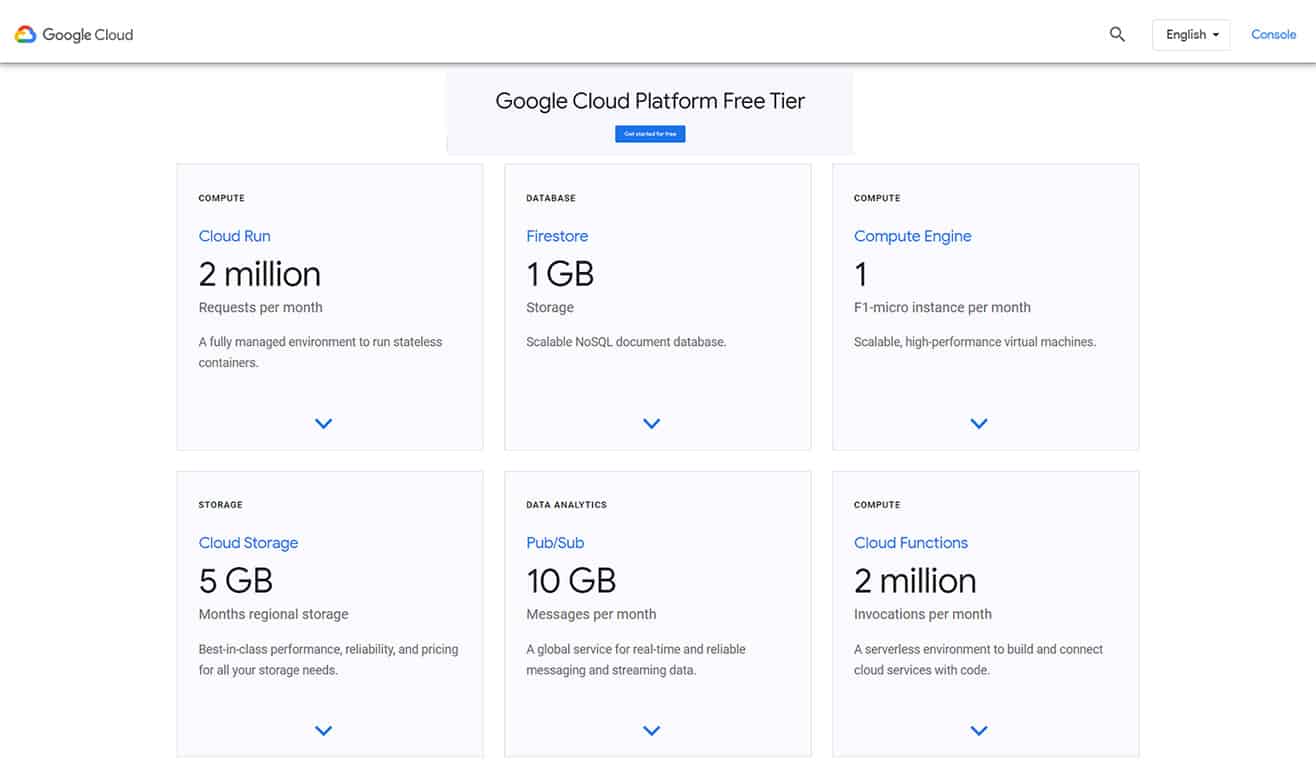 This free trial gives you $300 as credits and you can use that credit over the period of 12 months. Also, there is no auto-charge after the free trial or credit ends, you can simply create another account to continue your VPS service as soon as it ends.
Things I like about Google Cloud Platform
$300 free credit can be used until 12 months trial period ends
Bigger community to share your thoughts
24/7 customer support
Always free cloud resources
Best Value for Money VPS Providers
In this list, you will find the cheapest premium VPS servers on the internet. I call it best budget-friendly VPS providers since they provide more value for the money.
i-83 – Latest generation servers with DDOS protection, premium VPS starting from $2.74 per month for 1 CPU, 128MB RAM
Scaleway – Best cheap VPS that money can buy with just $3.28 per month, you will get 2 CPU, 2GB RAM, 20GB SSD and 200Mbps bandwidth
Kamatera – 30 Days trial included after that it's just $4 per month for 1 CPU, 1GB RAM, 20GB SSD and multiple OS
Chunkhost – Fast and reliable VPS servers from $5 per month with 1 CPU, 2GB RAM, 25 GB SSD
DigitalOcean – Hands down one of the best premium VPS provider, price starting from $5 per month for 1 CPU, 2GB RAM, 25GB SSD
Vultr – Another great alternative to DigitalOcean and it also gives $50 coupon to the new users. Pricings starting from $2.5 for 1 CPU with 512MB RAM
Upcloud – Offers the same performance as DigitalOcean with $5 per month
RamNode – Another great value for money VPS provider starting from $3 per month with 1 CPU and 512MB RAM
Vpsserver – 7 Days free trial, premium VPS server starting from $4.99
Vpswala – Free VPS for lifetime with credit card verification and premium subscriptions starts at $5 per month
 Looking For Best Web Hosting Try BlueHost
Final Thoughts
If you're looking for temporary VPS to test your app or website choose anyone on the list from the free VPS trial without credit card. Or if you want the best VPS for your website, then consider DigitalOcean, it's the best one so far and I've been using it for a long time without any issues.