Top Free VCC Provider ( Free Virtual Credit Card ) is basically a Credit Card that you can use to verify online accounts like Netflix, PayPal verification and more. You can also link it to your automatic bill pay program. Moreover, by using VCC you can transact money from one country to another safer and easier, especially if you don't have a physical credit card since banks require many requirements to issue a credit card.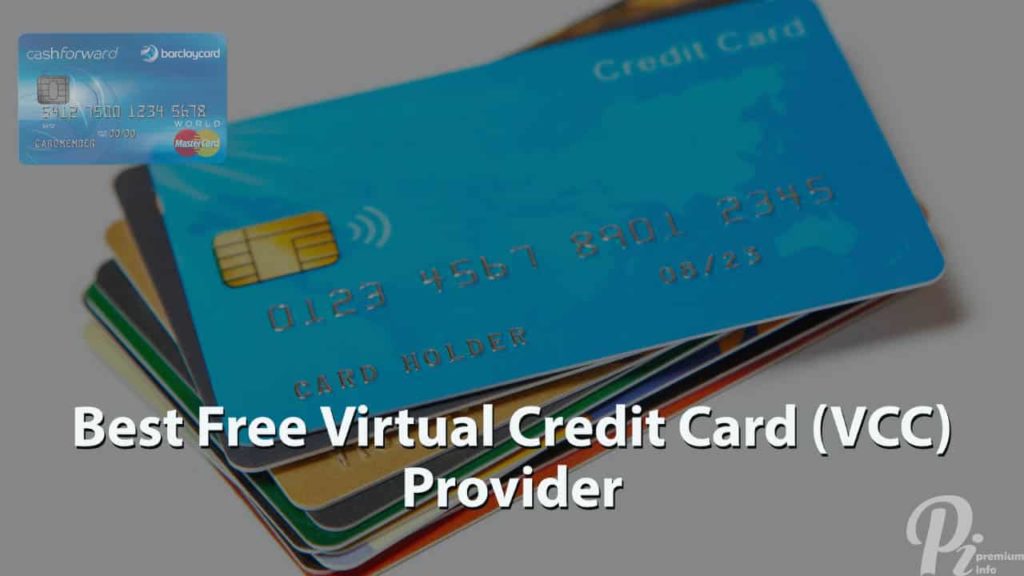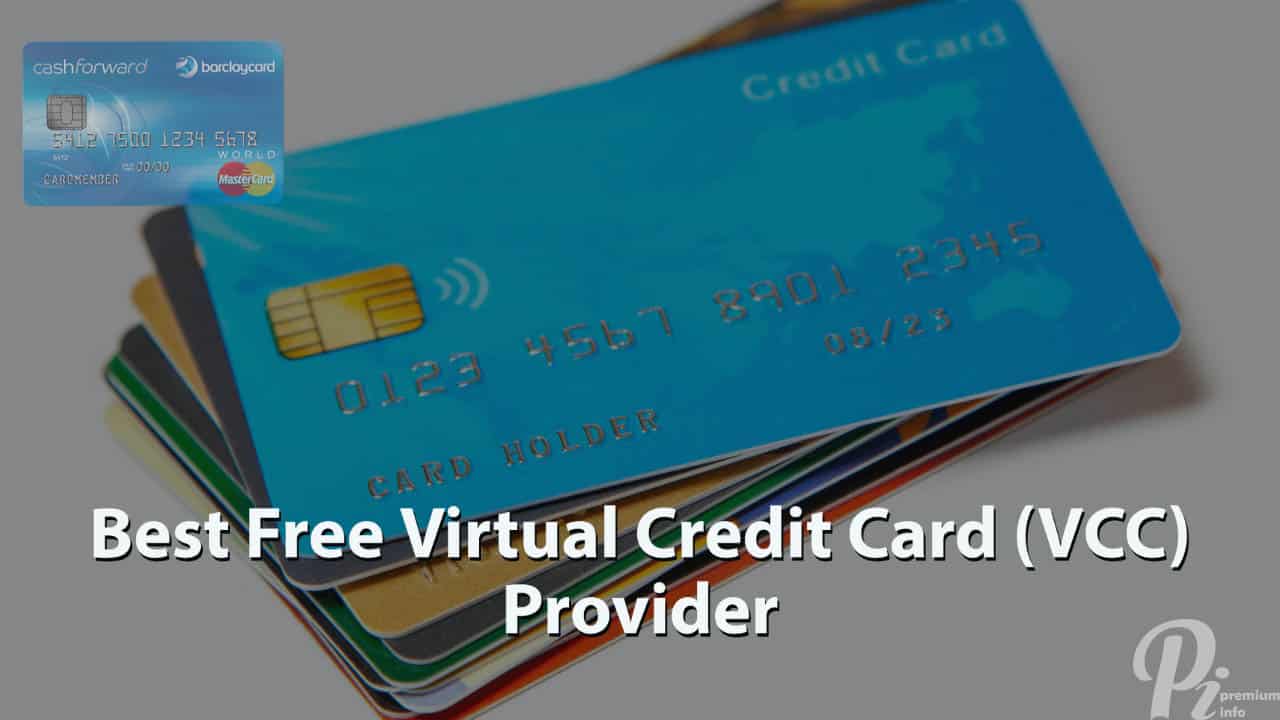 These Virtual Credit Cards (VCC) providers have a wide variety of support from Master Card, Visa Card and more. Get a free virtual credit card anywhere from the world within minutes, unlike the real credit card, you need to recharge your VCC in order to make payment. But if you're using just for registration purpose, then you're good to go.
Also Read: Entropay Review And Guide To Create Free Virtual Credit Card (VCC)
Benefits of Free Virtual Credit Card (VCC)
Actually, there are many advantages you can get from a Free Virtual Credit Card.
It's completely free with no additional charges
Best way to protect your Personal Bank account information
Can be used worldwide
Facebook ads
Google play developer account, Google ADS, Amazon AWS
PayPal Verification (Worldwide)
Register online sites (Netflix) that require Credit Card information
Fraud and theft protection
Easy VCC Replacement
Fixed Exchange Rates (USD, EUD, INR, etc)
List Of Top Free VCC Provider Verifying Online Sites
Since Entropay no longer works (one of the easy way to get VCC quickly), also there are many fake online free VCC providers out there stealing your information for not working VCC's they gave, here I will provide the best free VCC providers in 2020.
1. Neteller
When it comes to reliable free Virtual Credit Card (VCC) provider in the US, Neteller is the best payment gateway sites and it's very popular and often used by traders to transact money from one country to another.

It is also widely used for PayPal verification purposes since many small businesses don't have business credit cards, that's where Neteller comes in to play and gives instant VCC to anyone.
Also, getting Neteller VCC is the simplest process among others, all you need to do is register an account on Neteller, verify by scanning ID and you can apply VCC up to 5 pieces.
User Review: Neteller is an excellent payment process which I am using since 2013. Only one time I faced an issue trying to take money out via international bank transfer. But fortunately, customer care solved my issue within 1 business day and finally, I got my money.
How To Register on Neteller for Free VCC
With this guide, you can create free VCC and transfer your fund on most of the online payment sites.
Go to the Neteller website
Tap Join for Free and you will be taken to a Registration form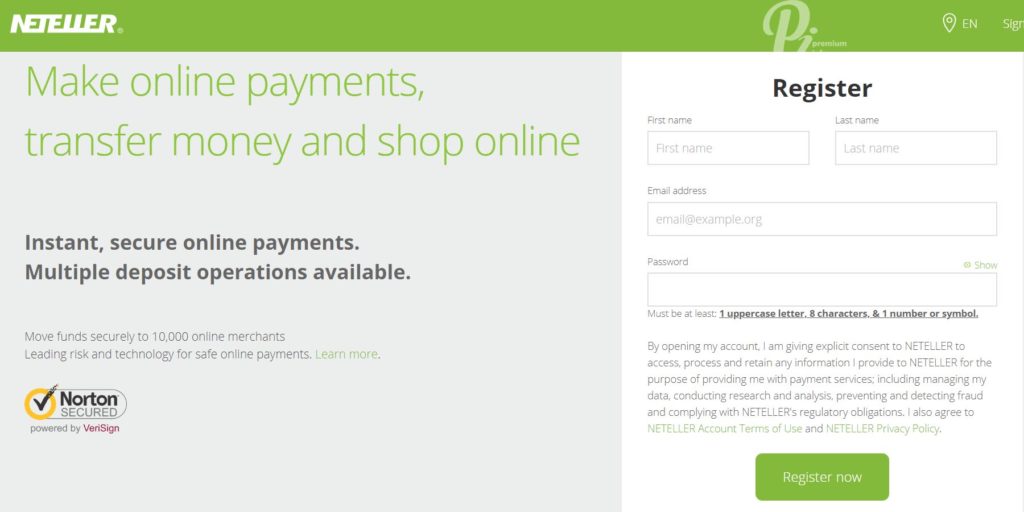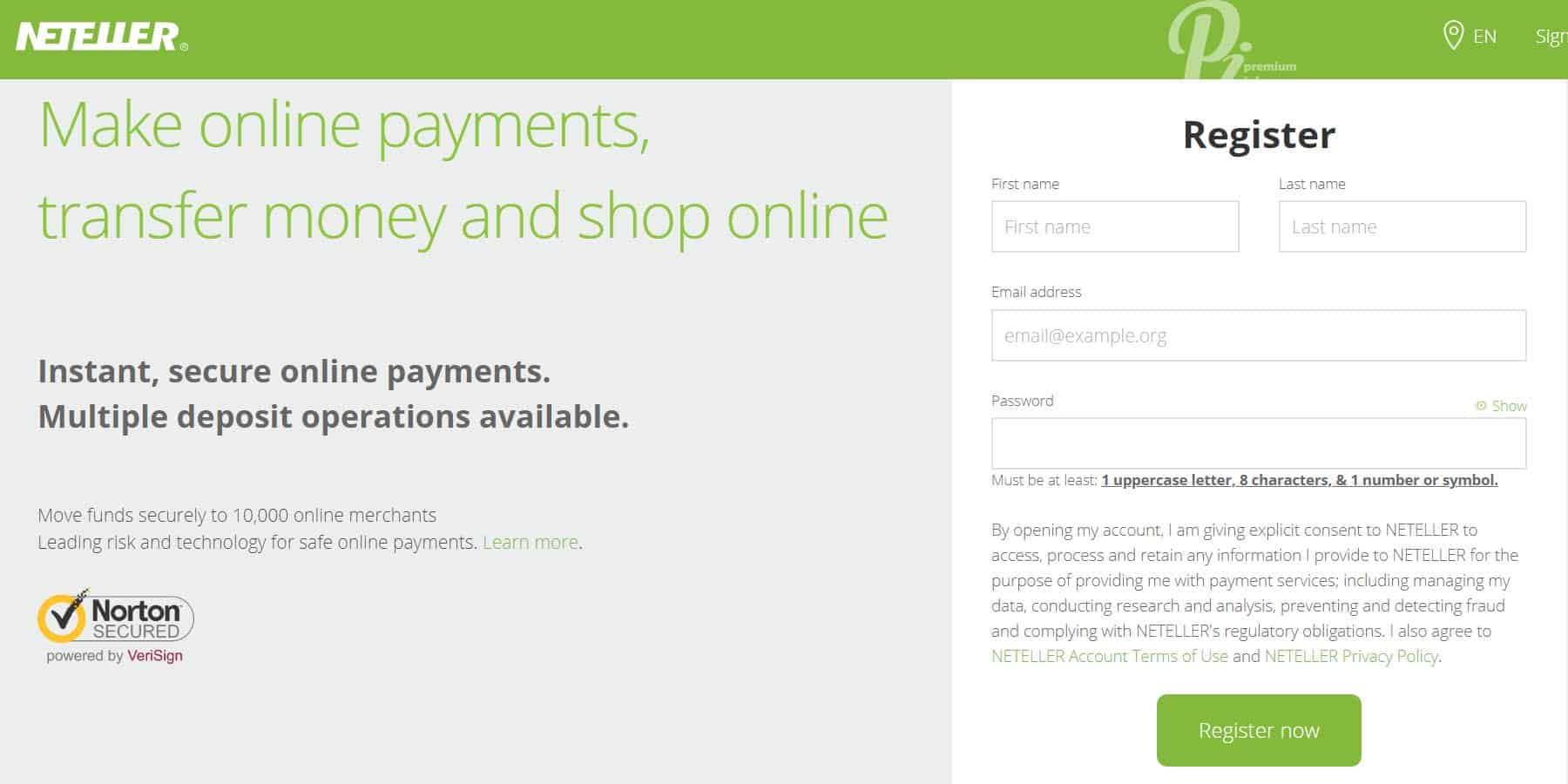 Enter your First Name, Last Name, Email Address, and Password and Click on Register Now
That's it, you just created an account successfully, Neteller no longer needs email verifications (if you're not logged in automatically, refresh the website and put the username and password and click login)
Now, click on Net+ Cards option found on the left bar, type in your country (US) and currency type (USD) and click Save
After that, you need to provide your address and phone number for verification, an OTP will be sent to verify
Once you successfully verified, select Add a Card, select the Currency, name your Card and choose the virtual credit card limit
After you generated the Net+ Prepaid MasterCard®, you will be given a 16-digit card number along with the Security Code (CVV) and the Expiry date.
Now you can use this card to register any premium trial accounts which will be really useful to access any Free trial accounts. You don't need to use your original credit card in this case. So this will be really helpful in most of the cases.
Also Read: How To Get 100% Free & Working Virtual Credit Card
2. Netspend
NetSpend is quite long in the market, they keep their reputation with great customer care support. They serve over 68 million underbanked customers who don't have bank traditional account.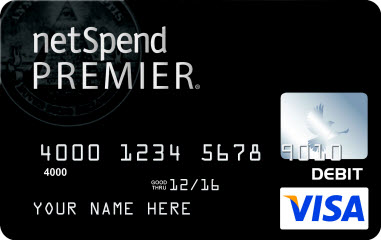 Being a popular VCC provider in the United State, the site widely provides multiple VCC's from personal to commercial use. Most commonly used Visa and Mastercard approved VCC provider.
Also, Netspend is awesome when it comes to customizations, there are many varieties of card designs available to choose from if you want a physical credit card. Well, if you don't want one, then you can easily get the VCC instantly within your account.
User Review: I have enjoyed NetSpend for quite some time now. Few times I have had to call customer service the reps have always been very kind & helpful. I did have a frustrating situation shortly after I opened my account with a double charge though. NetSpend was quick enough to correct the issue and my funds were back in my account instantly.
Netspend Features
Card customizations
Prepaid and Postpaid VCC's available
No minimum balance required and no fees for online transactions
Government benefits
3. Privacy
I have been looking around for the best alternative for Entropay and came across this site (Privacy) in the past few days and I'm literally amazed. Privacy creates secure virtual credit cards instantly and what's cool, it completes checkout forms for you, saves time and money while hiding your real card details.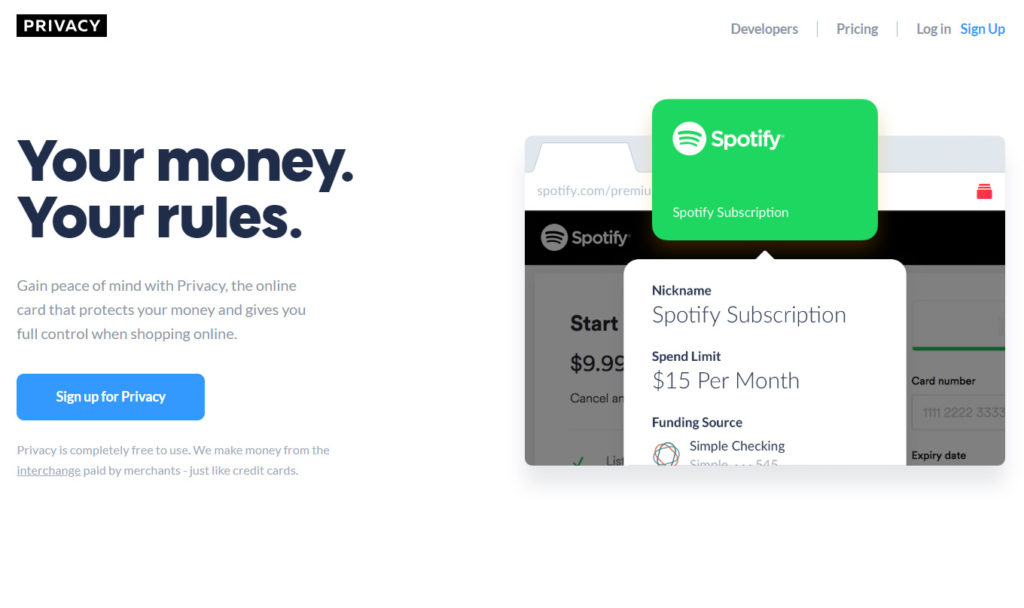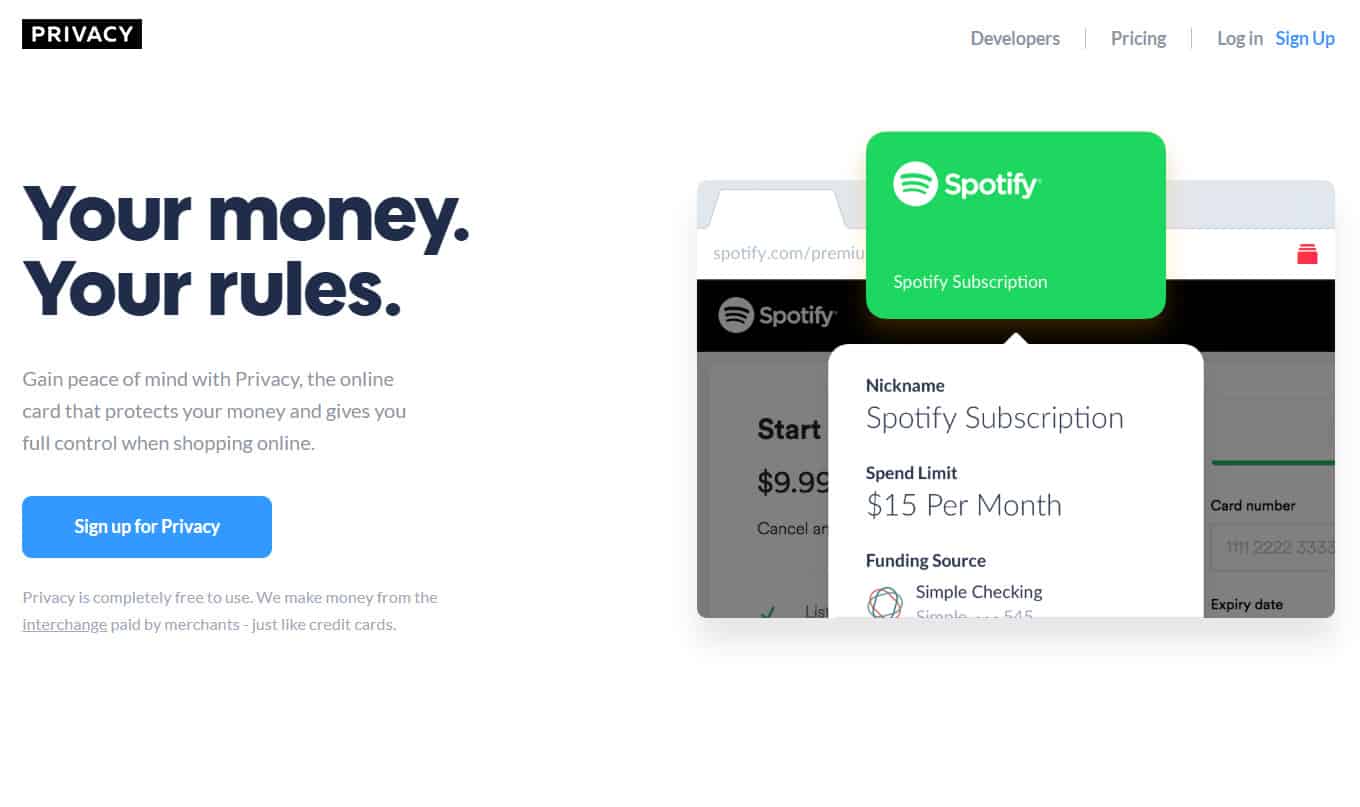 When it comes to Privacy, it's all about simple, secure and zero fees. It's been in this business for a long time and accepted by almost every eCommerce site all over the world.
Note: Privacy requires you to be a US citizen
How To Register on Privacy for Free VCC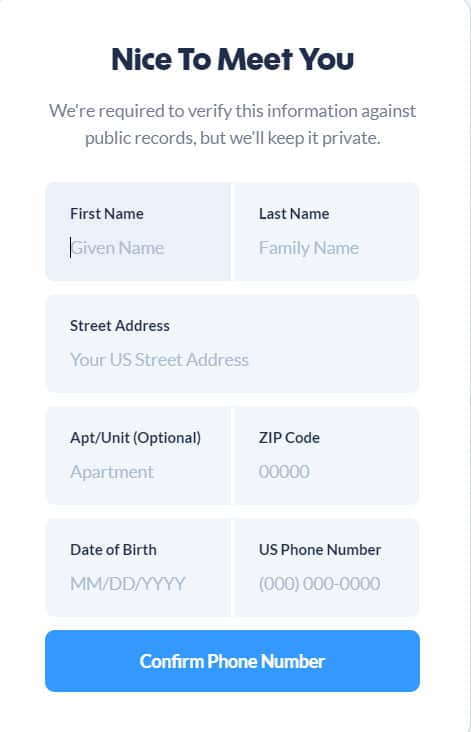 Click signup, type in your email ID and desired password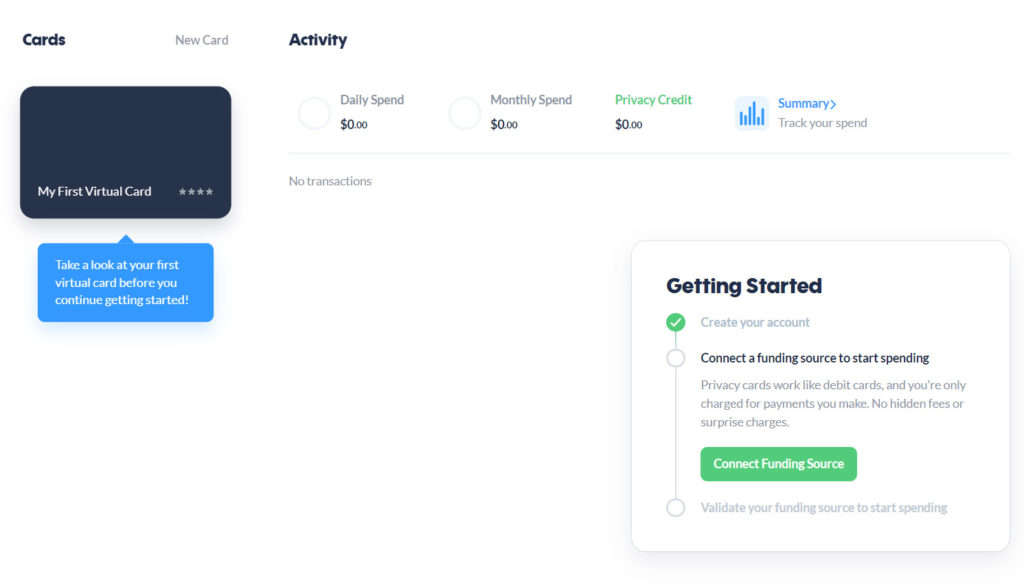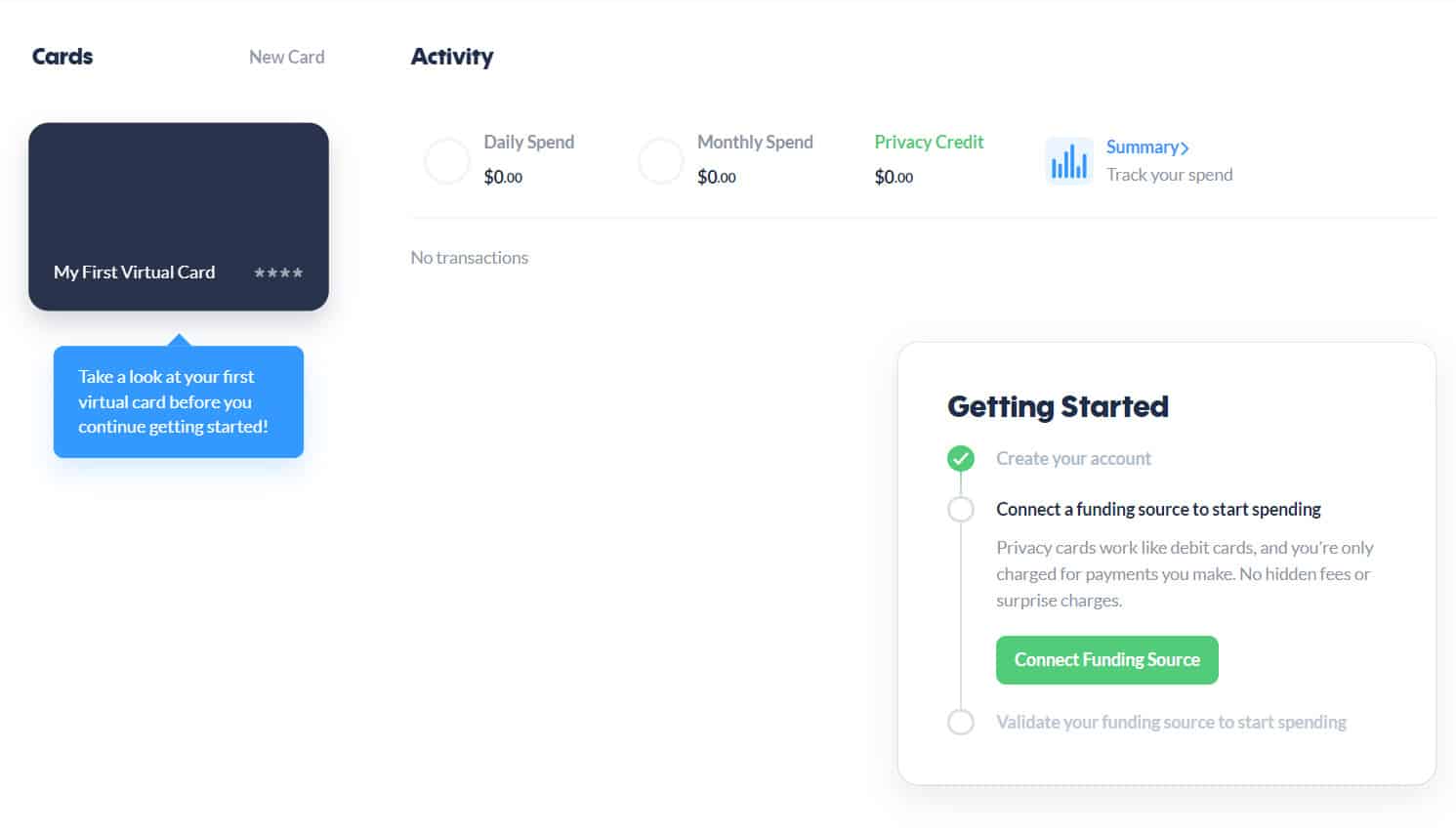 Now before creating VCC, you need to connect your Funding Source, just follow the on-screen instructions.
After that, click on My First Virtual Card, then choose the nickname, spend limit. That's it now you'll be able to see that the VCC is live and working.
Privacy VCC Features
Activity dashboard, track your spends (Daily, monthly)
Get $5 for referring friends
Auto subscriptions to Spotify, Hulu, Netflix and more
Single card use (closes after the first use)
Instant notifications (SMS, App, Browser)
4. American Express Go
American Express is one of the best when it comes to credit or debit cards, now the company launched a new line-up called American Express Go, where it only provides virtual credit cards to make online transactions easier to anyone in the world.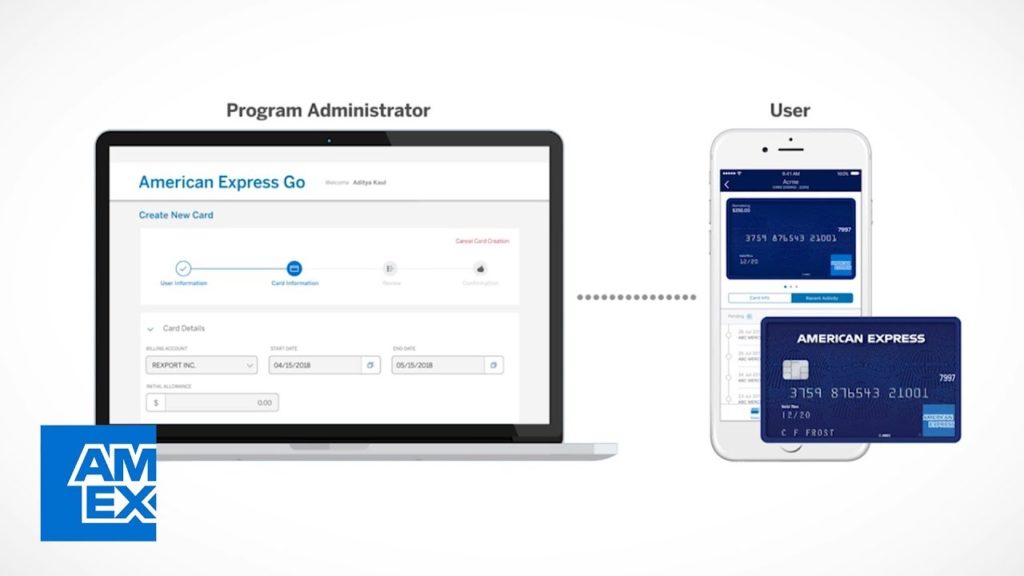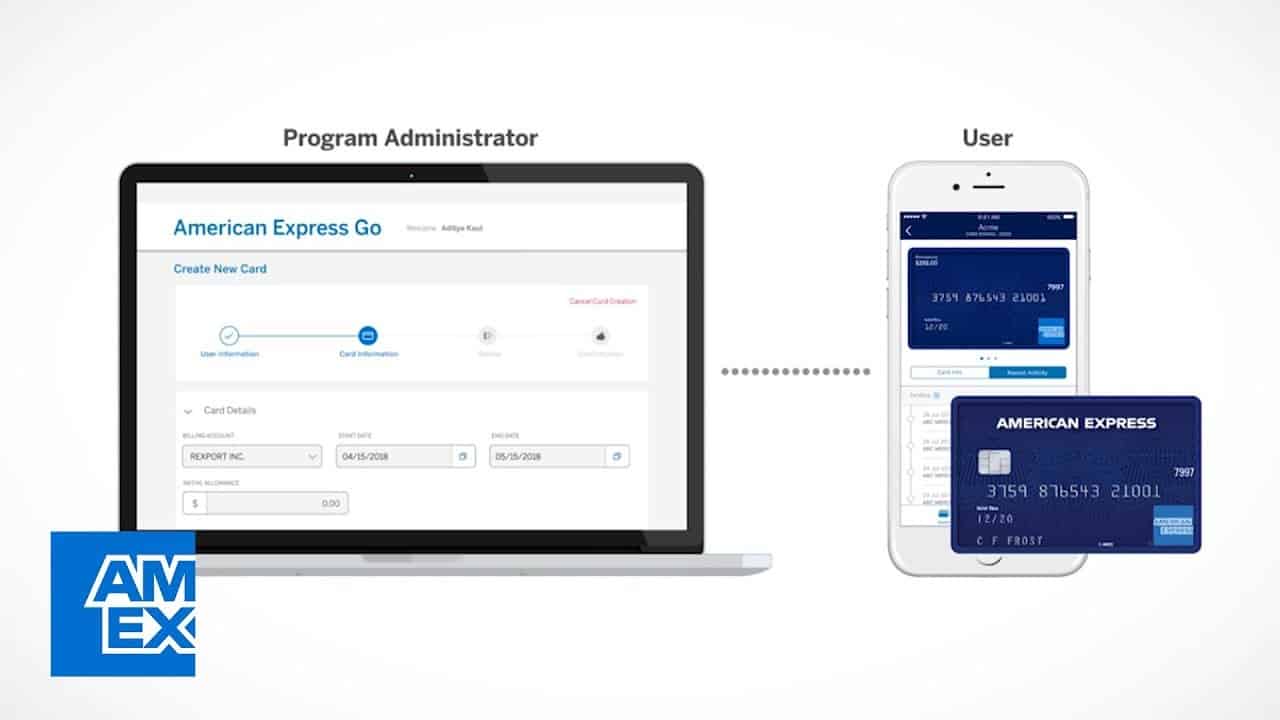 This was made in mind to make helpful to contractors, freelancers, recruiters, frequent travellers etc. Where they need virtual cards to make purchases, unlike physical card can be painful for the out country charges.
One profile to create unlimited virtual cards, best suits for businesses. Track all the transactions using the Amex mobile app and provides a single bill to the account manager for all the virtual cards.
American Express Go
Easy and fast setup process
Control and review the spendings
Quickly reconcile employee expenses with critical details like names and optional accounting codes attached to each transaction
No additional charges for the online transactions
American Express Go
Also Read: New Free VPS Trial 2020 Windows And Linux (Updated)
5. ecoPayZ (ecoVirtualcard)
Ecopayz is new to this business but it already started gaining popularity over time due to its no-cost virtual credit card and fast approval process. This card can be used either offline or online, so you don't need to keep your account open all the time whenever making an online purchase or transaction.
No bank account or credit checks are required to create a free VCC in ecoPayz, also similar to Payoneer, using one ecoPayz account to create unlimited VCC's instantly without any questions asked and without any additional charges. What's, even more, is that it supports 3 currencies (Euro, USD, GBP) and single usable card (deletes the card after the first use) etc.
ecoPayZ Features
One-use ecoVirtualcard through your ecoAccount immediately
Best VCC provider
Worldwide acceptance
Expires after one use option (provides privacy)
6. Payoneer
Payoneer had the privilege itself as an online gateway payment that we can apply for a bank account creation in the US. It is widely used by the master affiliates mainly in India to receive payments from Amazon. Back in the days before Paypal, Payoneer is one of the best online transaction gateways around the globe.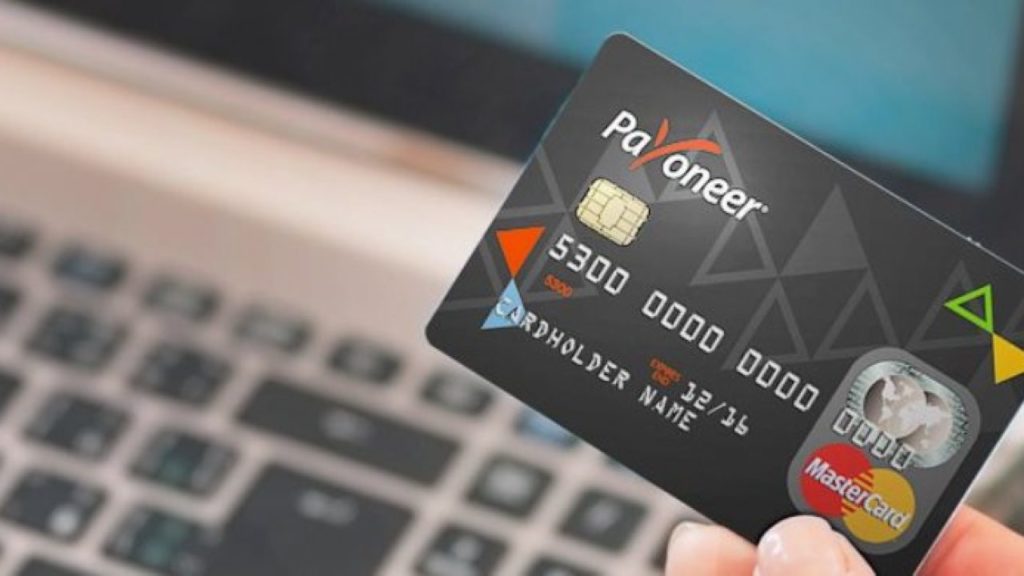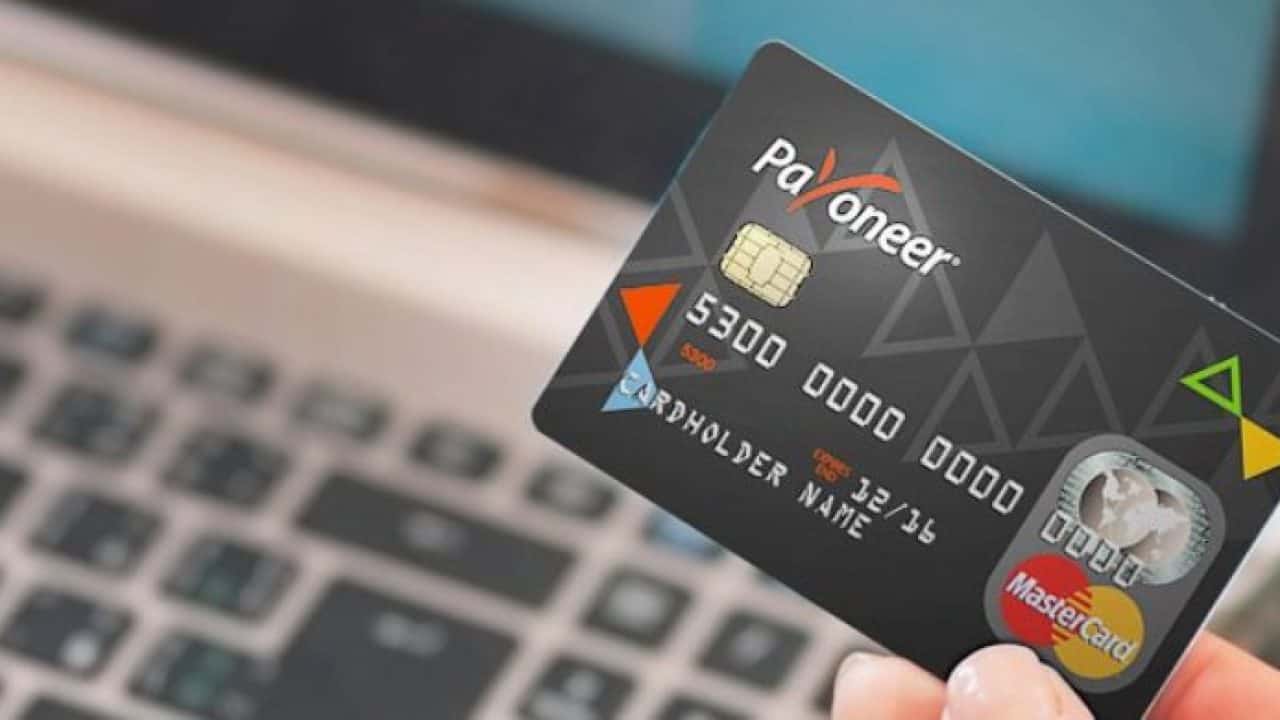 The system is similar to the Neteller and Entropay, where you simply register your account, and Payoneer automatically funds your VCC they provide. Nowadays Payoneer is more useful for business-oriented credit cards since they provide a bulk amount of cards under one registration.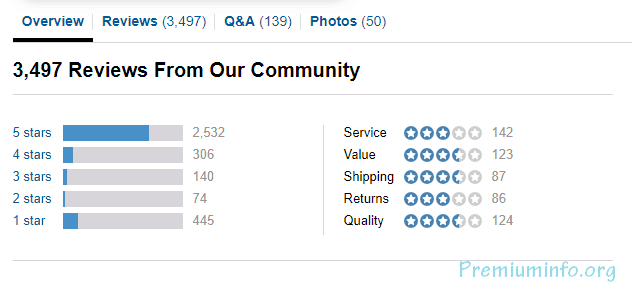 Payoneer Features
Monthly billing with no early termination fee
Free payments between Payoneer accounts
Best for freelancers and international businesses
Things I don't like about Payoneer
No payment gateway or virtual terminal
$29.95 annual fee
High credit card transaction fees (single user)
7. Wallmart Money Card
We all know Wallmart is a multinational retail corporation, recently Wallmart started making their own credit cards that can be useful to their customers. Sadly this service is only applicable to US residents.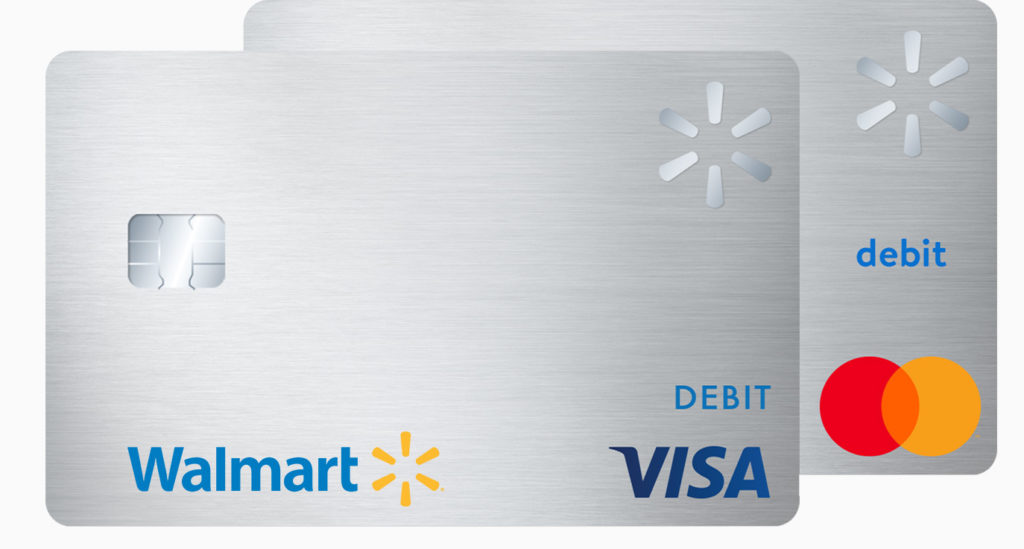 What's more, this Wallmart Money Card can be used to pay all the online shopping websites, money exchanges and international transactions. Also, it provides multiple Virtual Credit Cards (Visa & Master) to make the shopping experience easy. You can also use this Wallmart free VCC to pay for the Netflix or Amazon subscriptions and more.
And it's very easy to signup since no manual verification is required, just fill in your name, email, address and you're good to get a Wallmart VCC instantly.
Wallmart Money Card Features
Money management AI option built-in
Many exchanges and cashback offers
Free cash reloads
Create multiple cards (debit & credit) for family members
Add money from various bank accounts
8. SpectroCard
As the website says, you really can get your own Virtual Credit Card in less than 1 minute without any hassling verifications and requirements. SpectroCard is the best alternate for the Neteller since it portrays almost similar features.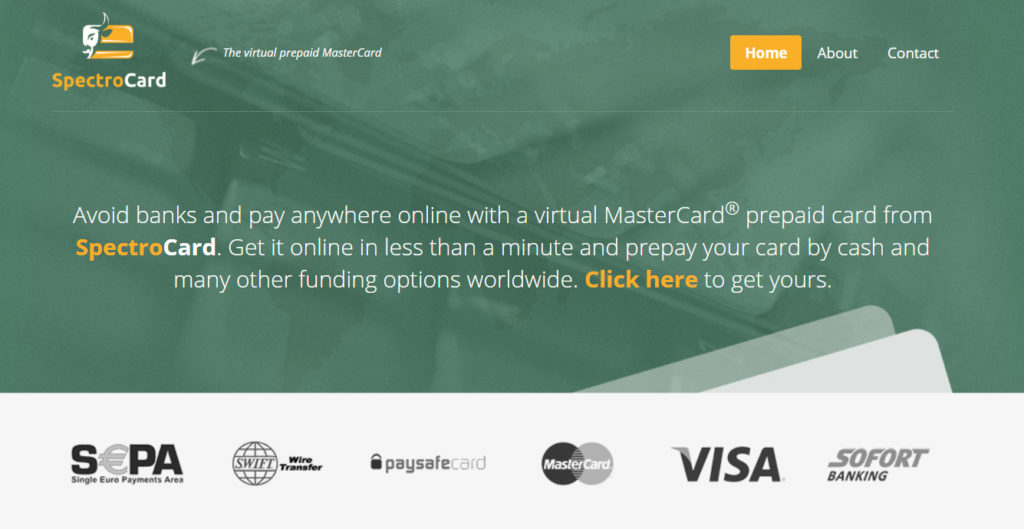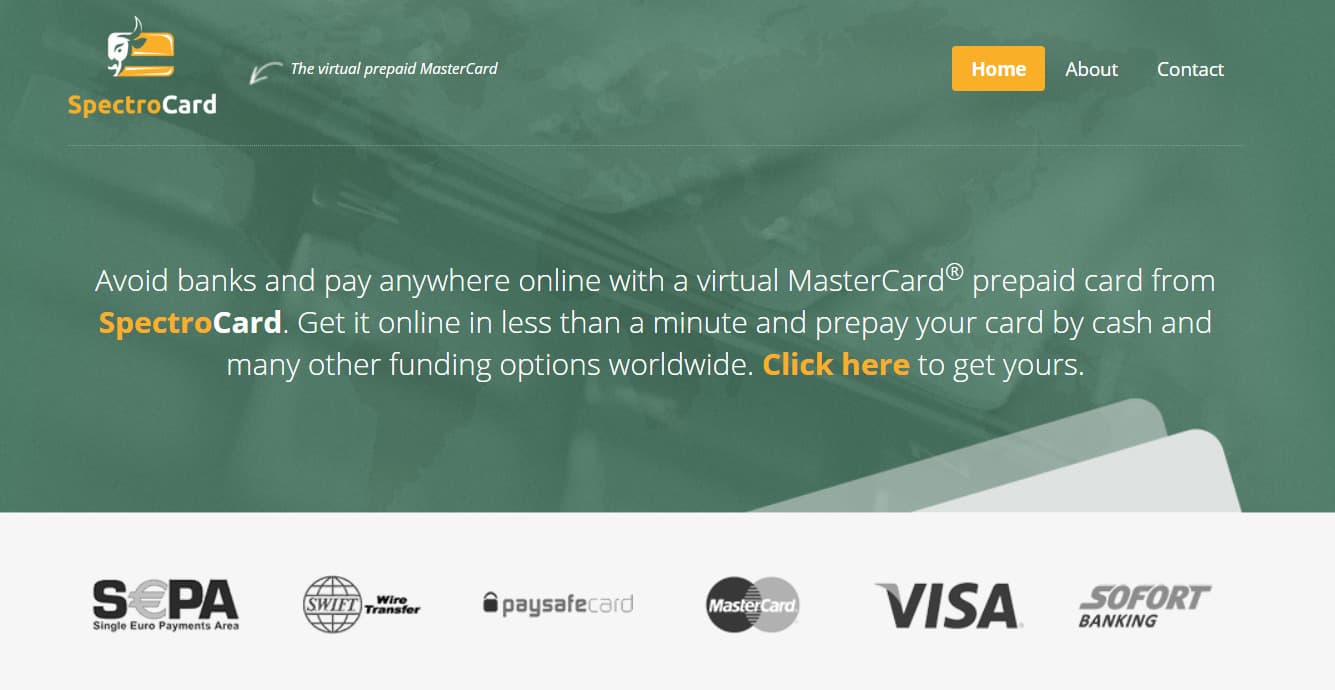 This is actually a prepaid VCC, where you can add funds to the card either by direct deposits to the account or by the other online transactions including credit, debit, bitcoins and more. But you can also be able to use this card without adding funds to try Netflix, Amazon Prime, Hulu etc.
SpectroCard Features
Many payment options available
Accepted by almost every online websites (Visa, Master)
Signup using Google or FB account
Create unlimited VCC using one account
Suits for small scale business to track and monitor the spendings
Additional Alternatives
If the above list doesn't satisfy you, here are some of the best alternatives for the best free virtual cards (both debit and credit). Some of them are paid, but if you're looking for a temporary credit card while on travelling or something, it might be useful.
Yandex Money Virtual Card
Cards (best for card customizations)
Mycard2go
Final Thoughts
In this article, I covered almost every working top free VCC providers around the internet. Use them wisely to enjoy your favourite purchase or subscriptions without any hassles. If you like this collection, please make sure to subscribe to our email newsletter for more awesome lists and tutorials. Top 8 Virtual Credit Card Providers.