Without any doubt, TweakBox takes the number one spot as the best unofficial app store in the world, offering a huge choice of modified and tweaked apps and games, top Cydia tweaks like the games emulators and much more. It's free to use, and no jailbreak is needed any longer. Even better, it works on iOS 13.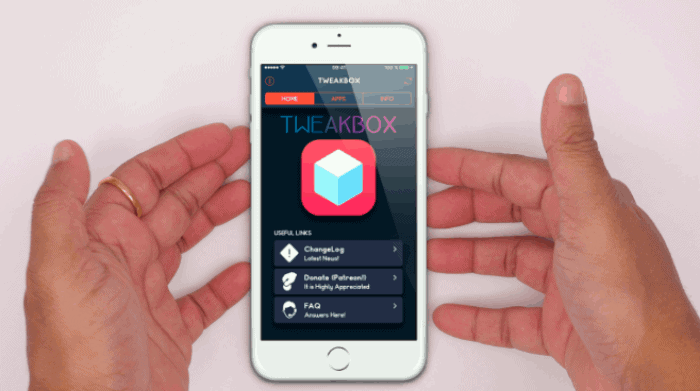 App Features: 
Because there are more than 2,000 apps and games in TweakBox, the developers decided to put them all into useful categories: 
App Store – 

Games and apps from the iTunes store 

 

TweakBox Exclusive –

 unofficial apps and tweaks, like screen recorders, emulators and more

 
Tweaked Apps –

 stock apps with some cool new 

modified features

 

Modified Apps –

 top-rated games with in-app features unlocked

 
Also Read: Best Jarvis App for Android | Voice Command | Personal assistant
Is TweakBox Safe? 
It is completely safe to use. Not only do you don't need to jailbreak, which means you are not hacking into the root of the iOS, but SSL encryption also ensures your safety when you download the apps and games. It takes up little in the way of device resources but, because it is not official, you should use a VPN with it, to stop Apple revoking the app certificate. 
How to Install TweakBox App:
TweakBox is very easy to do: 
Open Safari browser on your iOS device and go to the 

official TweakBox.

 

Click Download > Download

 

Open your Settings app and open General

 

Find and Click Profiles and find the TweakBox profile in the list

 

Tap it and tap Install

 

Tap Install and wait; the TweakBox icon should be on your home screen

 
How to Use TweakBox:
This is one of the easiest app installers to use: 
Open it using the icon on your home screen

 

Choose your category from the app home page

 

Browse what's on offer or use the search facility to find something specific

 

Tap your app and tap Install on the app page

 

Wait for the app to finish installing and then it's yours to enjoy

 
How to Fix Untrusted Developer Problem:
The Untrusted Developer error is one of the many means that Apple tries to stop you from using unofficial content. Because the developer is not one of their official ones, they won't trust them; only you can do that, and you cannot use the app until you do. Here's how it's done: 
When the error message appears, note down the developer name and click Cancel

 

Now open your Settings app and tap on General

 

Go to Profiles and Device Management

 

Find the developer profile in the list on your screen and tap it

 

Tap on the Trust button and close Settings – you can now use the app

 
Be aware that you will need to do this for any unofficial app or game that you install. 
Deleting TweakBox:
Maybe TweakBox simply doesn't have the app or the game you want. It may have more than 2,000 of them, but it certainly doesn't, and can't cover all bases. Or you may find that there are a couple of niggly errors that just won't go away. In both cases, the easiest thing to do is to delete TweakBox from your device: 
Method 1: App Icon
Find the TweakBox icon on your home page and long-press on it

 

All the icons on the page will start wiggling; tap the small cross in the corner of the TweakBox icon

 

Tap on Delete on the confirmation message

 
Method 2: Profiles
Open the Settings app and go to General > Profiles and Device Management

 

Find the TweakBox profile and tap it

 

Tap Delete

 
Both will remove TweakBox from your device and, if you want, you can reinstall it using the guide above. 
There cannot be any doubt that TweakBox is a popular installer; it is used by millions every day. While you can install some tweaks, this is not a jailbreak, and it will not offer anywhere near what Cydia or Sileo jailbreak package managers offer.
It is a great alternative if you cant jailbreak and its an even better alternative to the iOS app store so try it today and see just what it can offer you. You never know; it may become your app store of choice.