Nothing is more frustrating than trying to stream a show on one of those streaming sites only to find that the show is blocked in your region. Unfortunately, this is common with most streaming sites such as Netflix, Amazon, Hulu, and HBO. This scenario is typical if you live in or have traveled to a region that's blocked from viewing content from those sites. Luckily, you don't have to give up watching your favorite shows. A VPN service can help you to bypass these restrictions and access content in all the regions in the world. Here are some Best VPN for streaming services.
A VPN service not only allows you to access geo-blocked content, but it also gives an additional layer of security. You don't have to worry about leaking your computer's IP address to hackers. What's more, the service also improves speeds and reduces buffering, a common headache when streaming content.
Also Check: How to SetUp Your Own VPN Without Software
Not all VPNs come with these features. Some cannot even access geo-blocked content. To help you make an informed choice, we have compiled a list of three of the top VPN for streaming services in 2023.
---
Top VPN for Streaming Services in 2023
---
1. Nord VPN
Nord VPN is one of the leading VPNs on the market for streaming services. The VPN utilizes the Smart Play technology which is a secure proxy server that enables you to bypass the restrictions of most streaming sites. The feature is auto-enabled in all Nord VPN apps; therefore, you don't have to worry about manually turning it on or off.
The VPN is also double-encrypted, and your connection is passed through two separate servers to avoid IP leaks. With one subscription, you can secure up to six devices and use them to stream your favorite shows. Additionally, Nord has a free trial which you can use to test their services before committing to a monthly or annual plan.
2. CyberGhost
As the name suggests, this VPN turns you into an internet ghost – one cannot track your IP, monitor your movements, or unmask your location. That's why it's an excellent choice for geo-spoofing. You can change your location and access streaming sites that block users in your region from accessing their content. Additionally, CyberGhost also has an "unblock streaming profile" which automatically chooses the best setting to bypass streaming restrictions in more than 40 streaming services.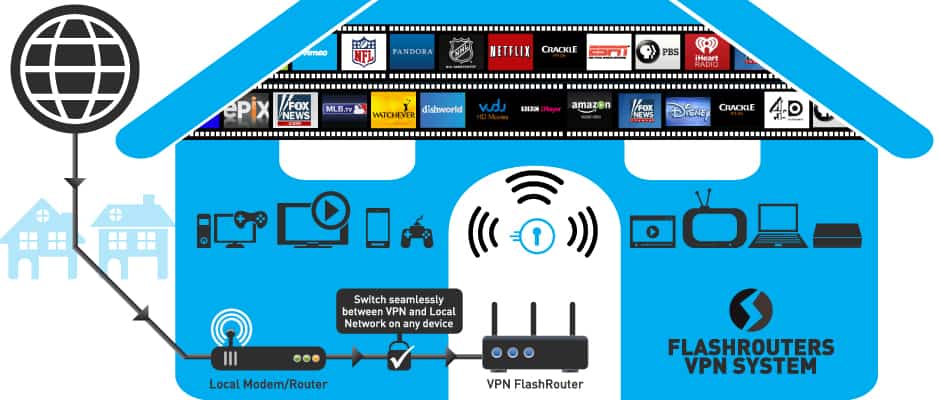 The app also offers high-speed streaming capabilities and unlimited bandwidth. You don't have to worry about video buffering and other low-speed woes. With close to 3, 000 servers across the globe, you can never be short of something to watch. The company is so confident of their services that they offer you a 45-day money back guarantee.
3. Express VPN
Another VPN for streaming services is Express VPN. One of its greatest pros is that it is based in the British Virgin Islands where there are no date retention laws. Therefore, you don't have to worry about the company leaking your logs to the authorities. The VPN comes with powerful encryption that safeguards your original IP and allows you to visit sites such as Netflix, Amazon, Hulu, and HBO while still in geo-blocked locations.
Express VPN has also been listed as one of the best VPNs for Amazon firestick as it has a dedicated app that enables users to control the VPN using a remote control. In addition to these features, Express VPN allows you to connect up to three devices and stream your favorite shows on them simultaneously.
4. IPVanish
IPVanish unblocks some of the leading streaming sites such as Netflix, Hulu, HBO, BBC, and prime. The app boasts high speeds and unlimited bandwidth for stress-free connectivity. With military-grade encryption, IPVanish promises to protect your data from hackers and fishing sites. Their no-log assures users that their online activities are confidential and cannot be shared with third parties.
IPVanish has more than 40, 000 IPs on over 1, 000 servers in 60 countries, meaning that you can connect to any almost any region across the globe. With a single subscription, you can connect up to ten devices simultaneously and stream your favorite shows on your PC, tablet, and smartphones.
5. VyprVPN
Are you a Netflix lover and would like to stream shows on this platform? If so, VyprVPN is the app to choose. VyprVPN is optimized to unblock Netflix across all countries in the globe. It also works for other blocked sites such as Hulu, BBC, Sling, and HBO, but their support offers no guaranteed access to these sites. VyprVPN features a 256-bit military encryption to protect your data.
Also Check: ZenMate Free VPN 3 Months Premium
The app also comes with over 200, 000 IPs on 700 servers across the six continents. The VPN is also extremely affordable and offers a free trial period. You can connect up to five devices simultaneously with one subscription.
6. PureVPN
Like the last five VPN apps, PureVPN has been around for a while now. This app allows you to access top streaming sites such as Netflix, Hulu, HBO, BBC, Sling, and Prime. PureVPN has over 2000 servers in over 100 countries, and these enable you to enjoy all the shows from your favorite streaming services without worrying about geo-blocking. Additionally, the VPN also bypasses ISP throttling, allowing you to enjoy unlimited bandwidth. You can connect up to five devices simultaneously with only one subscription.
7. PrivateVPN
Unlike the last six VPN providers, PrivateVPN is fairly new in the market, but it is catching up fast. The app allows you to access top streaming sites form any region across the globe. With servers in over 50 locations, you can connect to your desired country and mask your original IP while streaming and surfing the net.
PrivateVPN also features IPv6 protection and a kill switch feature that cuts off the internet and protects your IP if you are disconnected from the VPN service. It can connect up to six devices simultaneously, and it comes with a 7-day trial period, the longest you will get with any VPN for streaming services.
VPNs are the best things to ever happen to the world of content streaming. With one of these apps, you can stream your favorite content regardless of where you are across the globe. Enjoy high speeds, unlimited bandwidth, and numerous servers without worrying about your data being leaked. These apps are also compatible with both desktop and mobile devices. Therefore, you can watch from your phone, tablet, or computer at any time.