Hey guys, we are back with an interesting topic. You might be aware of a game called "POKEMON GO". Of course yes! Have you played it? If yes then you might know that to catch Pokemon's you need to walk to certain places & catch them. But being a human, our mood swings sometimes & we feel bored to go out. What if your mood swings but you want to catch Pokemon's? You would wish to play Pokemon Go sitting in your home. You always think "How to use Nox App To Play Pokemon Go on your PC?"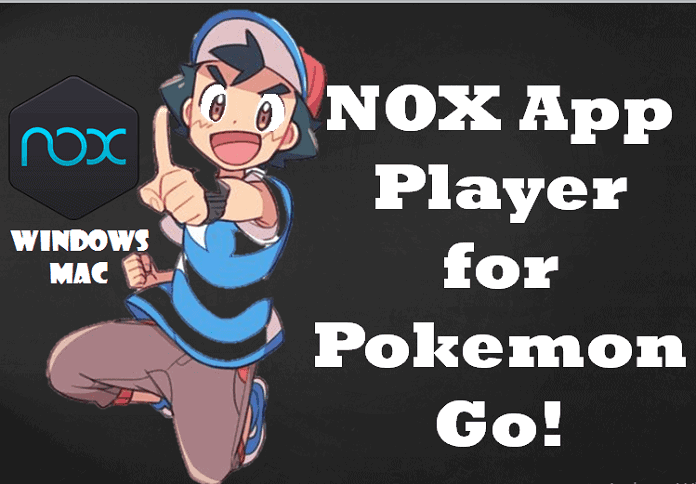 Today we will discuss "How to play Pokemon Go on PC with Nox App Player" & get an easier way than BlueStacks. Whenever it comes to Android games or app, people usually think about BlueStacks. But we are here with much more easier solution "Nox App Player". So without wasting time let's get started.
Disclaimer:
Before starting the discussion we would like to clearly state that "there's a chance of ban". You might get a ban for hours, days, weeks or permanently. This ban occurs because we aren't playing the game according to the rules. While playing Pokemon Go on Nox Player or any other emulator we might violate few rules. Playing this game on emulator means we aren't really moving & catching Pokemon's without efforts. The developers of the game consider this as cheating & hence you might get banned.
I would recommend you to make a new account especially for playing Pokemon Go on PC. However, the ban chance is low but fate & luck factors matter.
About Nox Player:
We all are aware of Pokemon Go's trending while it just came onto the market. The game was so trending that you might have needed to multiple usernames because of existing usernames. People were finding ways to play Pokemon Go on PC with Nox App Player.
Probably there were 2 types of people finding ways, firstly people who didn't have compatible mobile phones & secondly people who wanted to play this game without going out. Am I right? Of course yes!
BlueStacks was a great solution to this problem but there were limitations. For playing Pokemon Go on BlueStacks you need to root it. Rooting BlueStacks is really a difficult task & hectic too. While people were facing this problem BigNox came out with a solution. BigNox released "Nox Player".
Nox Player is also an emulator but offers you additional features. Nox Player can be easily rooted within 2 minutes & GPS location can also be faked. This features made Nox Player the best for Pokemon Go. However, you can play many other games on Nox Player but it has been considered Best For Pokemon Go.
Update: PC Emulators are leading to permanent ban after the latest Safety net update. Follow this guide at your own risk. I would strongly suggest you to follow our Pokemon GO hack for Android or iOS device which are 100% working and have very less ban rate.
Requirements for playing Pokemon Go on PC using Nox Player:
System RAM: 2GB or above
Intel Core: i3 or above
Processor: 2GHz or above
Hard Disk Space: 2 GB minimum
Graphics Card: 1GB or Video Memory: 2GB
How To Install Nox App Player To Play Pokemon Go on PC: ( Not Working Currently)
We have listed System Requirements above. Now, we will discuss how to install Nox Player & play Pokemon Go. So let's get started.
Firstly we need to download Nox Player from BigNox & it's absolutely free! Download according to your PC compatibility (Windows or MAC).
Now, we need to download Pokemon Go's APK File. I would recommend downloading the latest version from "en. Uptodown.com".
We have downloaded Nox Player & Pokemon Go APK. Now, install Nox Player! Installing Nox Player is damn easy, Click Install – Wait till installation completes – Click Start. Nox Player is considered to be easier than BlueStacks.
Once Nox Player is installed, Run it! Now, we need to get root access. As I told you before, gaining root access on Nox Player is just a work of 2 minutes.
Just click on the little gear icon > General > Turn Root ON > Save Changes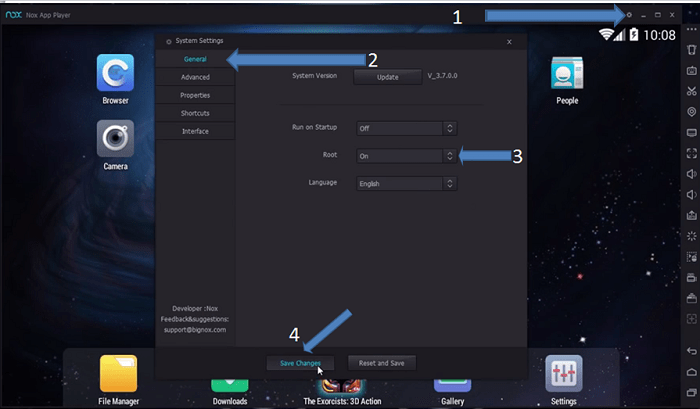 Nox Player might ask you whether to restart or not? Click on "Restart".
After your PC restarts Nox is rooted & now we can install Pokemon Go. Open Nox Player & navigate Pokemon Go APK on your PC. Double click on Pokemon Go APK & installation will start.
After installation is done you can open Pokemon Go. While starting Pokemon Go for the 1st time you might face an issue "GPS Signal not found". Don't worry; it's not a big deal!
Close Nox Player & Open it again. In simple words restart Nox Player & Open Pokemon Go.
You will see a side panel > Click on GPS like small icon > A window will pop-up > Select address near to yours (Or select location where a lot of Pokemon's are available) > Click OK. This steps will set a fake GPS location.
Now on Pokemon Go enter your Gmail Account. I would recommend you to create a separate account for your PC based Pokemon Go. Don't risk your main account because we have warned you above regarding ban chances.
Now, your game will start & if you are able to see keypad console then you can hide it too. Just click the icon shown in the image & decrease opacity.
Few Major Consoles
Your basic consoles on this App Player for Pokemon Go are W, A, S, D.
W for forward
A for Left
S for Reverse
D for Right
Your speed on this player would be an average speed of human while walking & this reduces chances of a ban. If you find that Pokemon is continuously escaping then just restart your Nox Player because there might be server issues or you might be temporarily banned for an hour.
Note:
It is recommended to not change GPS location from country to country because this might get you banned.
If there's any server issue then you may change location city to city.
Turn off your AR while catching Pokemon's.
To increase Performance: Go to Settings > Advanced > Set performance to HIGH > Save Changes > Restart your PC.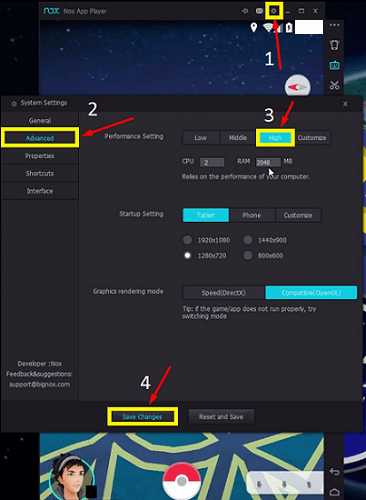 Conclusion:
According to me, Nox Player is much easier than BlueStacks. We just needed to download 2 files, Nox Player & Pokemon Go APK. We were able to gain root access within 1 minute. Also, we faked a GPS location. Overall the App Player is amazing.
That's it for today's post, I hope you liked today's topic. If you have any query feel free to let us know through the comment section. We will try to answer your queries as soon as possible. We will be back with such interesting topics! So, for today "GOODBYE & STAY TUNED"!