Fast and Easy Tricks to Create Many Gmail Account Without Verification Number Mobile. Now if you want to create an email in Gmail will be required to verify the phone number activation code. For people who just need one email account may not be a problem, but for those who want to create more than one account or email clone makers feel a little difficulty with the rule, and usually they outsmart by purchasing many mobile phone number (SIM Card). Also, you can create email without phone number verification.
But this time I will share How To Create Many Gmail Account Without Number Verification, so no need to use a mobile phone number or purchase SIM Card.
Tricks to Create many Gmail accounts without phone number verification:
Method 1:
We have three working method to create many Gmail account without number verification. I highly recommend to check all Method, Using VPN with Method 1 is recommended for Gmail account creation.
1) First, open the browser Mozilla Firefox or Google Chrome
 a) Browser Mozilla Firefox
In the Firefox browser menu click on the upper right corner and select New Private Window mode as shown below
Then it will display the new page, and go to gmail.com
Next, we create a new account to create an email account Gmail.
 b) Browser Google Chrome
In the Google Chrome browser clicks on  top corner and select New Incognito Window mode as shown below
Then it will display the new page, and go to gmail.com
Next, we create a new account to create an email account Gmail.
2) Fill in all the fields provided. Like Name at the Front, rear, usernames of email, password, Date Of Birth etc.
3) To Phone column make it emptied. Later in the Skip this verification make it unchecked and enter the captcha.
4) The Final Step Click NEXT STEP.
Until the above steps, you will be prompted to add a profile photo. To complete the registration process Gmail account this, just skip this step by clicking the step next / later because basically Gmail account that you created has been completed and now you can use your Gmail account such as usual or refer to in the article to find out more about how to use email to register to Gmail and Gmail accounts to the social media such as Facebook, you can read the tutorial in sign up facebook. 
---
Method 2:
Try This Method If U have Single Mobile Number
If you face any error in this method Please Comment below.
How can you Create Many Gmail accounts with verified status by using one phone number? It has been said in the original article before, Google limits Gmail account creation just as much as 5 (five) pieces for a number Mobile. Because of these restrictions many people offering or selling Gmail account. Buying a Gmail account is legitimate if you have excess money, busy because a lot of work, lazy, or other reasons. Just had a phone no. Here's a solution that is right for you to have a Gmail account status is verified without any restriction from Google.
Create Unlimited Gmail account with Just One Mobile Number.
1, Create New Gmail with Normal Process with A Single Mobile number. Or just use an old account which you created with Gmail account.
2, Now Login with your Gmail account which has been created with Mobile Number verification.
3, Click Image icon in the corner and click My account.


4, Under Personal info & Privacy ⇒ Your Personal Info.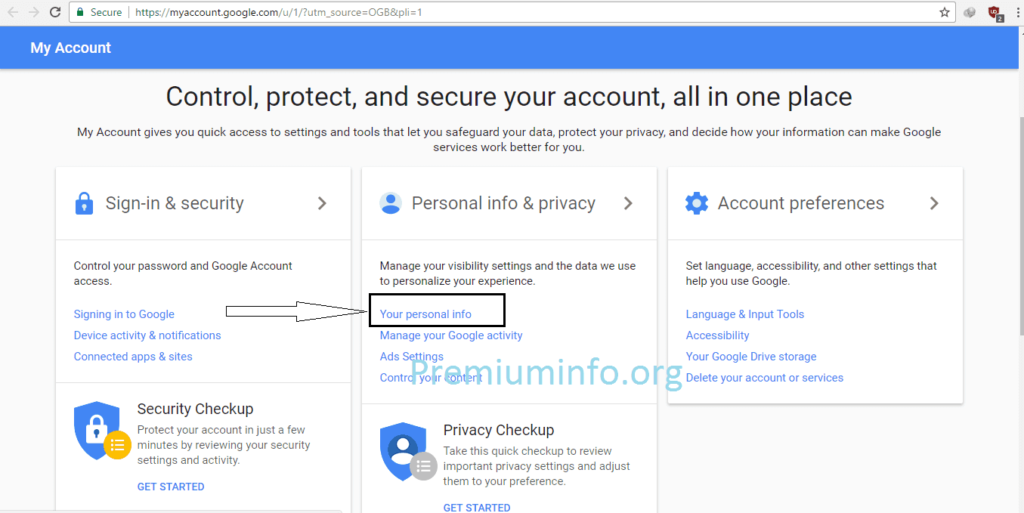 5, In Your personal info, click Phone option which contains a registered mobile number.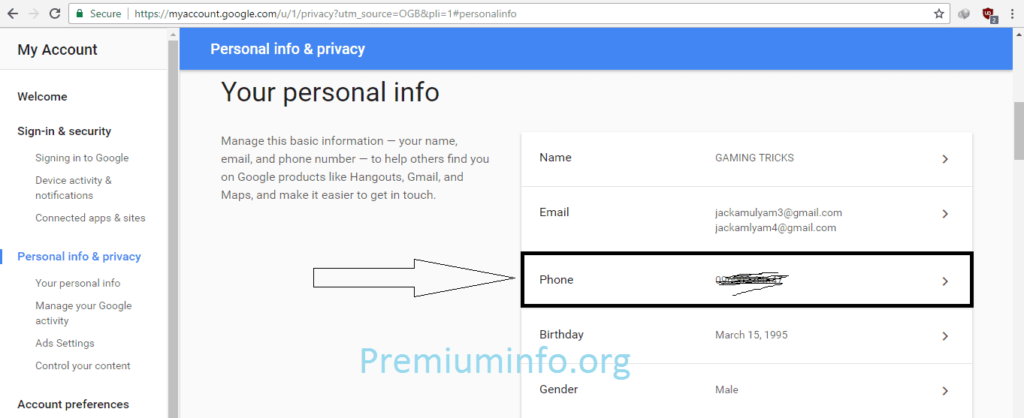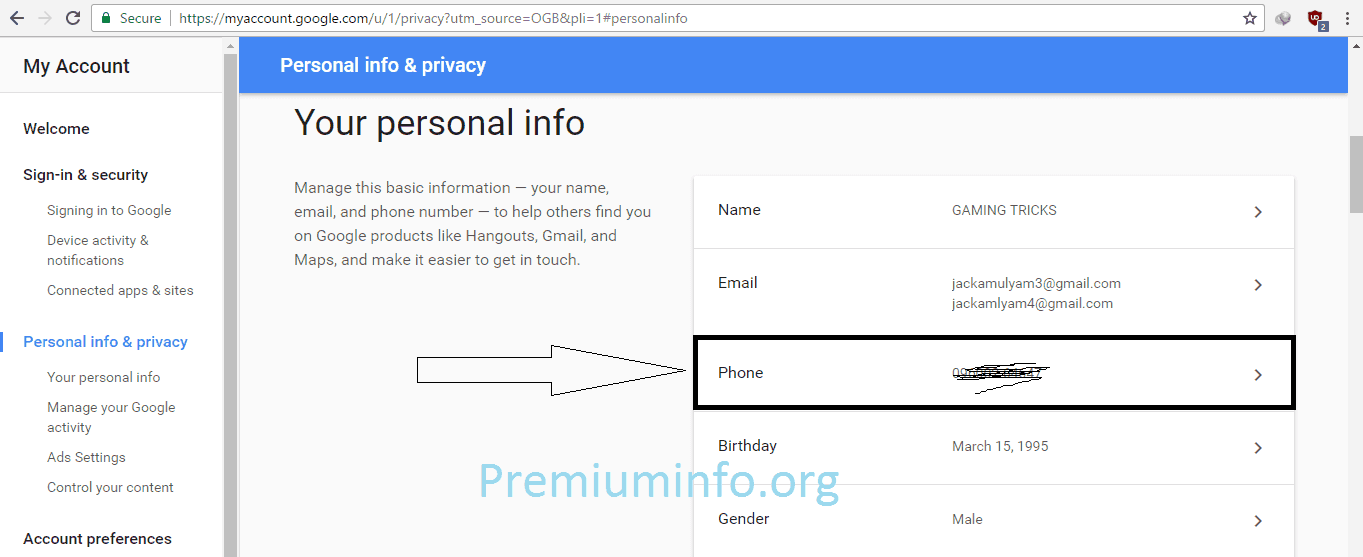 6, Next Click on edit option and remove the registered mobile number and confirm removal.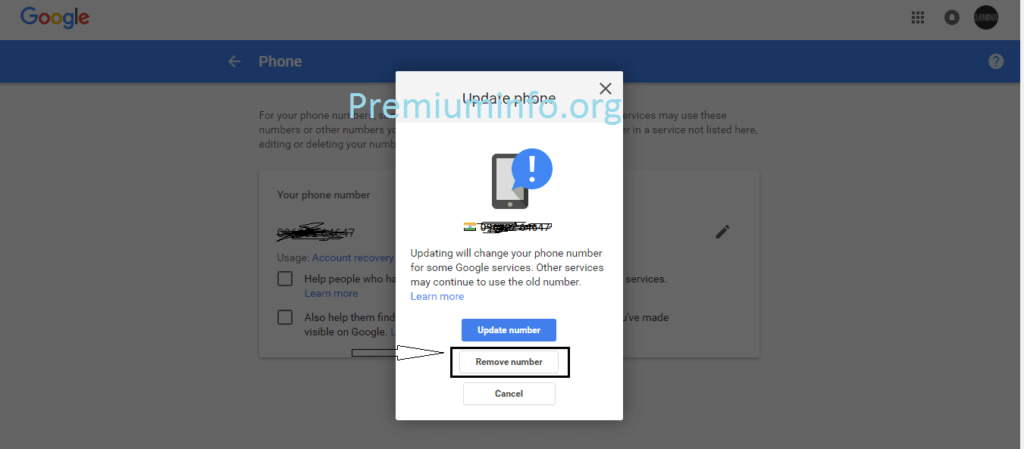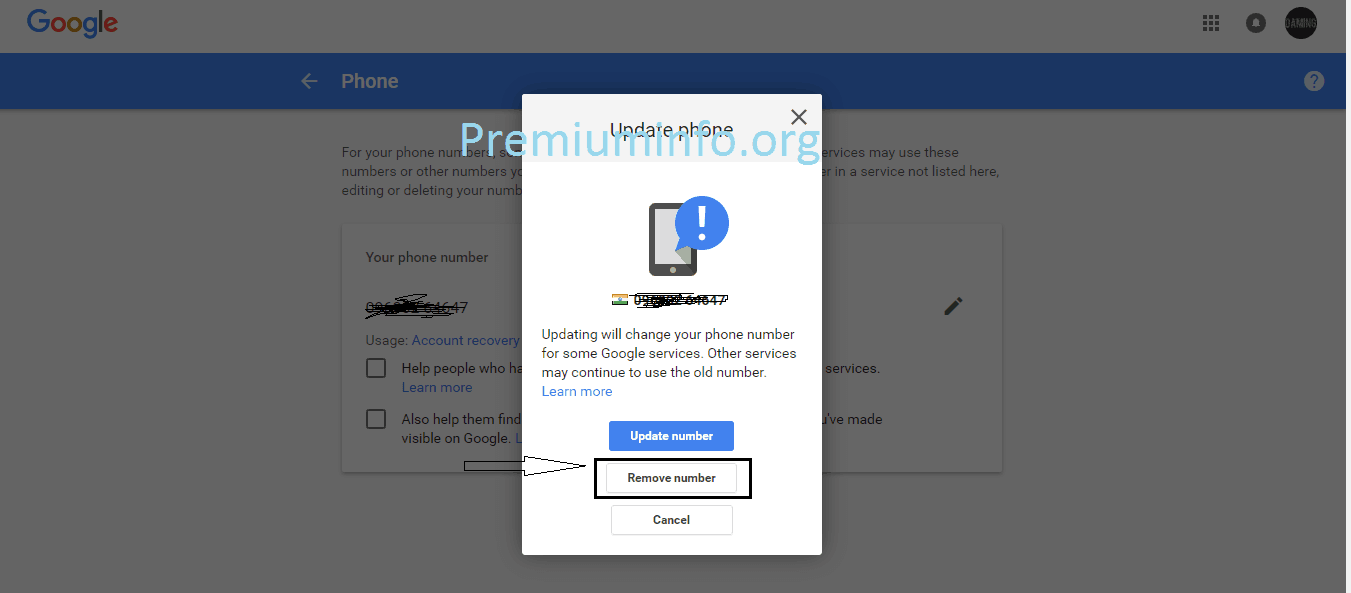 7, That's it now your Number is new to create new Gmail account. By repeating this process, Your number won't get Blacklisted.
Currently, a Working method which requires Mobile verification. Google has Tightened Their security system.
To Create Gmail account Without mobile Verification check below the video.
---
Read More: How To Get Free Phone Number + Temporary Email 
---
Method 3
Let's start with one example Gmail account premiuminfo@gmail.com. Now we if we drop mail to any of the below email addresses, they all would land up into the same inbox of this Gmail account:
premiuminfo@gmail.com

premium.in.fo@gmail.com

pre.mium.info@gmail.com

premium.in+fo@gmail.com

pre+mium.i.nfo@gmail.com
So basically all these emails have just one inbox. Gmail basically ignores dot (.) in the email address.
And it also ignores whatever that is followed after (+) sign.
'To' address in the mails received can be then used to create filter to separate these emails into different folders if required.
To create multiple accounts again you please repeat the steps above. Such information about how to create a Many emails quickly, easily, without the hassle of using a single phone number. Admin who can shed a way to share. I hope this helps. If there is less to understand please ask in the comments below.
Method 4
How To Create Gmail Account Without Phone Number Verification?
Step 1: First thing is that you need an Android device or Bluestacks software installed on your PC. Download Bluestacks software on your PC and install it.
Step 2: Open the Bluestacks software on your pc. After that go to in Bluestacks settings and click on Google to create Gmail account. ( In Android Go to Settings =>Accounts =>Add Account =>Google )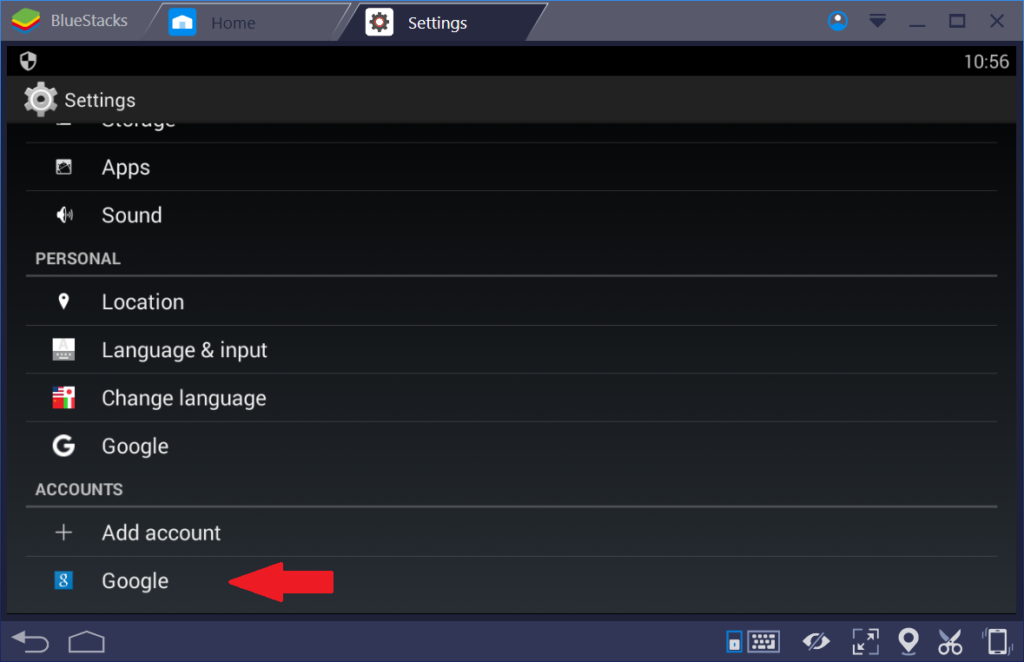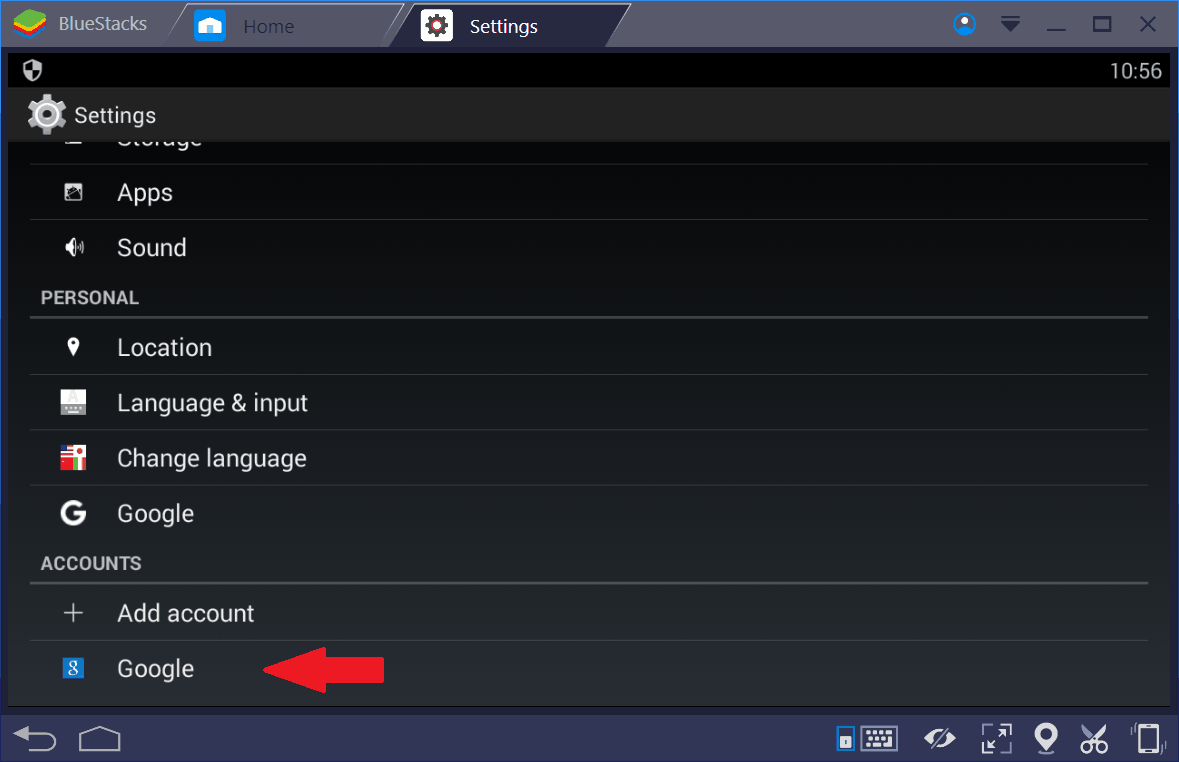 Step 3: Add a new google account.
Step 4: After that enter your details first name, last name, select email username, set up recovery email, enter captcha verification. Boom you have created your Gmail account successfully.
Step 5: Note that if you not setup recovery email then it will ask for phone number verification in 2-3 days. So I suggest you add recovery email. Recovery email is used to recover your email account when you lost password.
Step 6: So, here is the easy way to create Gmail account without phone number verification.
Another Way To Create Gmail Account Without Phone Verification
We know that there are many ways to get disposal mobile number available on many sites. Though most of the sites have used numbers. If your willing to get free number for gmail verification, You need to search a lot of time to get a working mobile number for gmail verification.
You may also check premium service offered by many site to get Disposal number. We will list out some great sites to get free disposal number to verify gmail. You can also try their premium service to reduce the time duration in searching for free numbers.
Note: Don't forget to note down the number that you have used to verify Gmail, This might be useful when you're trying to access from other Location or Different IP's.
We are adding 3 Platforms and tools to Get Free Disposal Number.
#1. For Indian Countries try out the sites mentioned below
For example- Textlocal provides fancy numbers and all keywords.
#2. List of Websites: To Get Free Disposable Number for SMS Verification
Here are a few websites which provide you Free Disposable Number for online SMS Verification:
Receive SMS Online Now,
Receive SMS Online,
Free Receive SMS Online For Free|Free US/UK/SE/AU/NO/GE Virtual Numbers, Free Online Phone,
Receive SMS Online | Free SMS | SMS Online.
Check Out this Url: Bypass OTP with Real Working Indian Disposable Phone Numbers
#3. List of Apps: To Get Free Virtual Phone Numbers for SMS Verification.
Here is the list of Apps: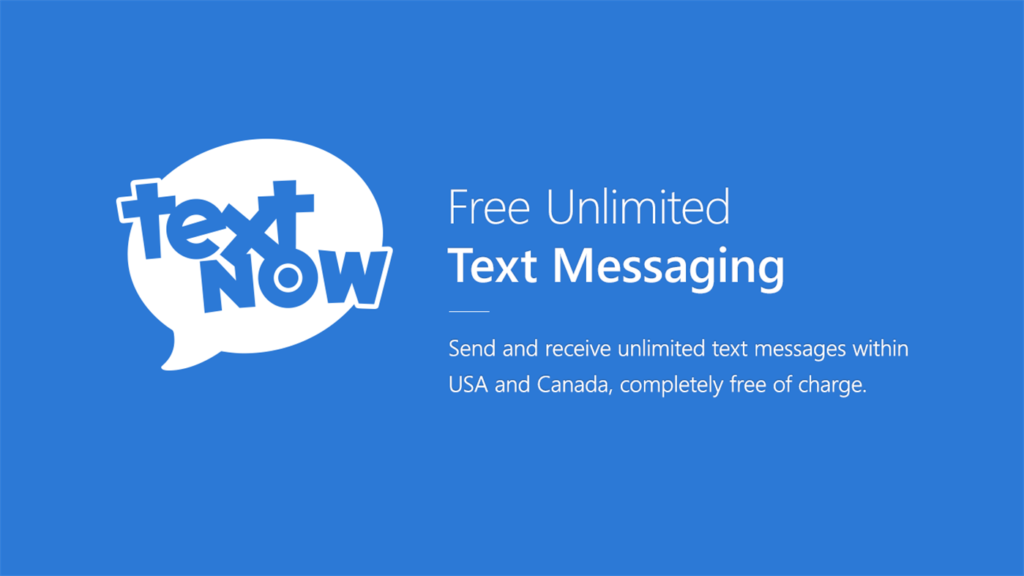 TextNow is the largest Platform for free calling and Messaging, Their basic plan starts at $9.99. You can try their premium pack if your planning to get Premium service.
2ndLine – US Phone Number


2ndLine is a second US or Canada phone number that works on your smartphone, tablets as a full-featured business phone system. Call and message from a separate number on devices you and your team already have, via Wi-Fi or your existing cellular network, with anyone in the U.S. and Canada.
[appbox googleplay com.enflick.android.tn2ndLine]
Nextplus Free SMS Text + Calls


NextPlus has both premium service and Free service with unlimited access to their phone numbers and Calling service. Premium service app is named as NextPlus Go with additional features and numbers. You don't need a network providing support when you install NextPlus.
[appbox googleplay me.nextplus.smsfreetext.phonecalls]
#4. Best Website to Get Live Disposable Number for SMS Verification
At last, If you require a lot of disposable numbers i.e. in bulk quantity, then you may not be satisfied with above two options.
For Bulk – Two Best Websites are:
SmsPva.com – Offer Real Phone Numbers for 7 Countries: Russia, United Kingdom, Ukraine, Latvia, Kazakhstan, Ukraine, Indonesia, Philippines.
Get-Sms.com– Offers real Russian phone numbers Only.
This are methods to get free gmail account without any number verfication. You might face some issues since the regular updates of Google guidelines. We will try our best to provide best methods to get a account in gmail.
Also Read: