The presence either through mobile smartphone, tablet increasingly provide convenience to access the Internet and all the information available That could be through social media. But have you ever experienced when you open a certain website or websites suddenly you can not open the site.These are the ways to Access And Bypass Blocked Sites in Android
How to Access And Bypass Blocked Sites on Android
Actually there is some way to access and bypass blocked sites on Android , but the way I want to inform here only use applications that actually comes from the android app itself because in android or google play store has a lot of android applications to open blocked sites scattered so that we more easily in running and using it.
It could access and bypass sites blocked by the operator, you can do this in two ways such as by using an application and without using the application.
Hotspot Shield VPN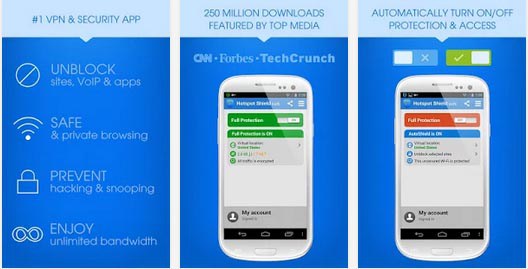 Hostpot Shield VPN is the first application in the article to Access And Bypass Blocked Sites on Android/Tablet . Hostpot Shield VPN is an application that can protect our connection to the outside network, one of the advantages of this application is capable of Changing IP addresses so that we can access all the sites in the network block in our internet gateway.
Install apps that you have downloaded and ON Full Protection.
Checklist notification that you trust this application.
Wait until the application has been successfully connected and Highlights Hostpot Shield VPN protects your android.
Note the icon on status bar, if Hostpot Shield VPN icon was green and there is a lock icon then
Hostpot Shield VPN has been successfully protecting your android.
Applications / APK Auto Proxy

Apk Auto Proxy is a free application on the Android which can help overcome the blocked site in the following android How to use the app:
Please download the Auto Proxy application from google play
Once installed on android then open the application
Select the "+" sign on the right and add the menu its proxy and the proxy port (you can find the proxy list on google)
Then click Save and the proxy that you created above and connect / connect
Then go to the website / web blocked then you can cope with the blocked site earlier.
AutoProxy Apk Download
SetDNS

SetDNS application has many advantages including a small file size and light and we could choose the DNS that has been trusted as belonging to Symantec or Google. Here's how to use the Application SetDNS:
Download apps from google play SetDNS Applications and Install
Run the application
Turn on superuser mode
On the choice of DNS, provide a checklist on GoogleDNS, the DNS will be transformed instantaneously into tap apply 8.8.4.4 and 8.8.8.8 (this is the DNS from Google so that more reliable)
Then press Apply and reboot again
Other Vpn Like Snap vpn, Trubo Vpn, Zenmate Provides great User interface to Access Blocked Sites On android
Also Read: ZenMate Free VPN 3 Months Premium
Note:
Preferably Android smartphone should root first because these applications need configuration file system with superuser access
for those of you who have trouble to use it please just find other references in google.
Thank you already read the article How to Access and Bypass Blocked Sites on Android, Hopefully Helpful,