Instagram is one of the most used social media platforms around the globe and it has the most active monthly users after Facebook. Unlike Twitter and Facebook, Instagram doesn't have the built-in option to share or repost any contents on its platform. That's where the repost apps for Instagram shines and it's available for both iOS and Android.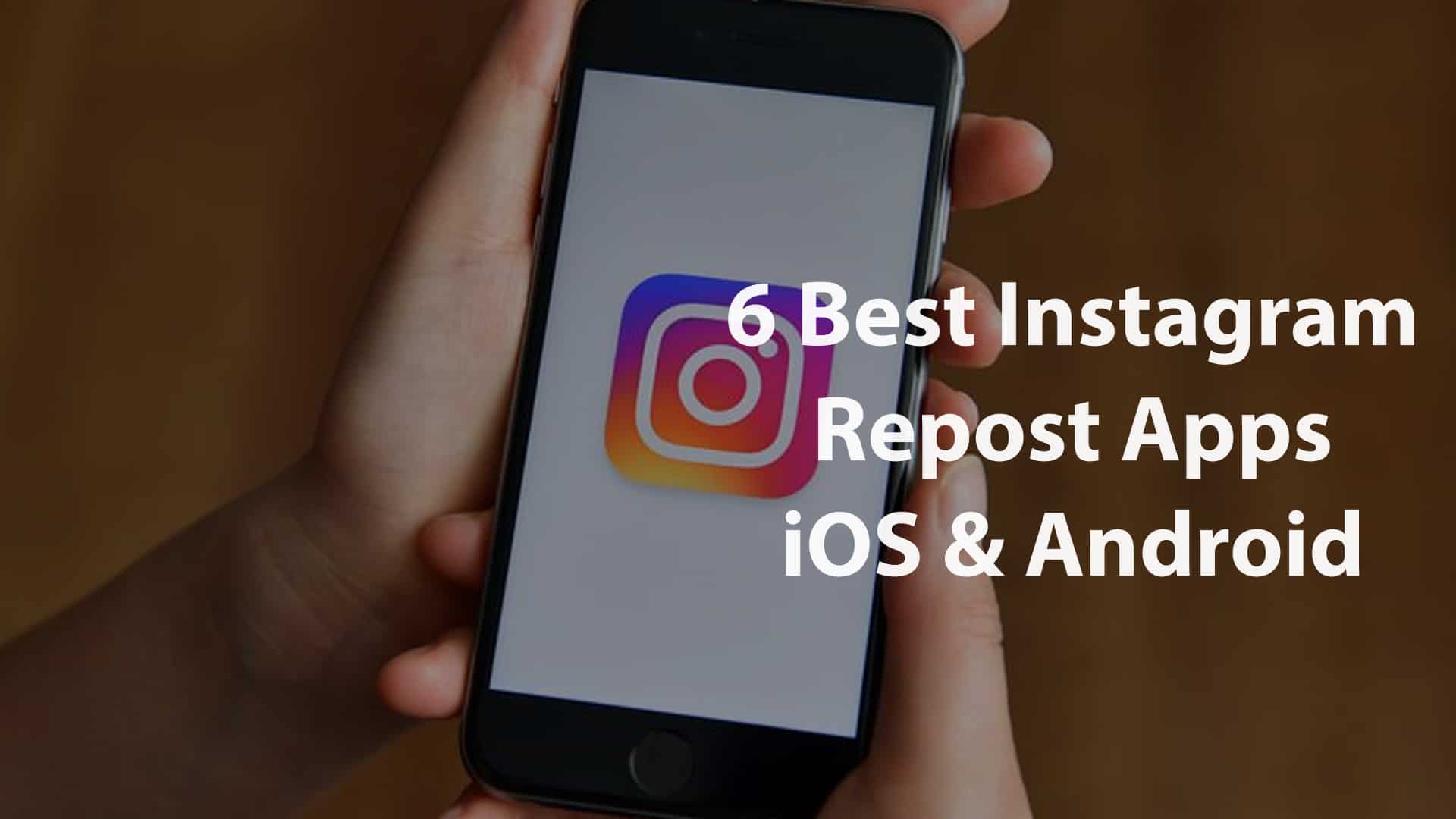 After acquired by Facebook, Instagram has a huge amount of traffic and almost millions of photos and videos uploaded everyday. To make use of those contents, many people want simply repost things with proper credit. Also, there are tons of repost apps available for Instagram, here I will provide the best repost apps for Instagram.
6 Best Repost App for Instagram iOS & Android
In this list, you will find the top Instagram repost apps for both iOS and Android. And some of them even lets you post photo or video without any watermark.
Note: Don't forget to ask permission from the original content creator, you can ask them by sending a direct message or commenting on the post you want to repost. Also, if you don't use watermark make sure to give the orignal page a credit on the captions by tagging them.
1. Repost it!
Price: Free
Platform: iOS / Android
Rating: 4.7
Designed by Digiset, this is the best repost app so far in 2020. This app looks simple but it has some pretty powerful features like reposting stories will make you not to choose any other repost apps.
You don't need to copy post link every time and come back to this app to repost, simply open this app and login with your Instagram account. That's it, Repost it has similar options as Instagram such as My Timeline, My Posts, Liked Posts or you can simply search any username and choose the photo or video you want to repost.
This app automatically watermarks the user name into the repost and lets you change the position of it. Also, you can remove the watermark for free unlike other apps requires a pro version. You can also use this app to save any post on Instagram to your device with just a single click.
What do I like about Repost It!
Automatically copies caption, hashtags while reposting
Repost by searching username
Repost to story
Best Instagram repost app without watermark
Download Repost It! for Android
2. Repost For Instagram
Price: Free
Platform: iOS
Rating: 4.6
One of the best app for Instagram reposting, but this app is only available for iOS devices. Just copy the link on Instagram you want to repost, then this app automatically grabs that link and ask you to repost it.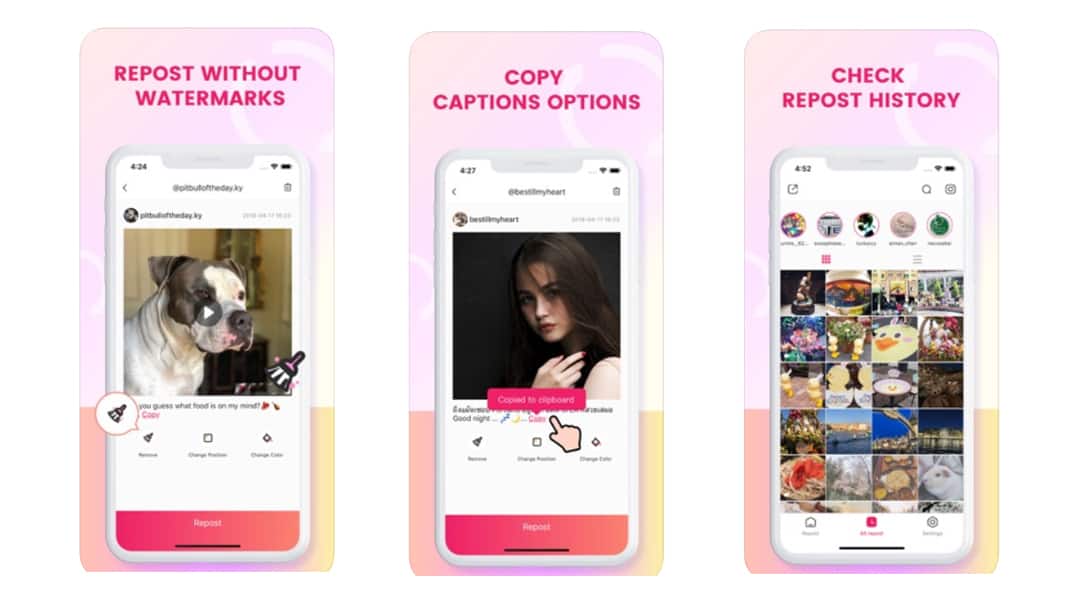 Automatically copies all the captions and tags of that links and it also adds or removes watermark for you with a single click. Also, it shows the previous reposts that you posted to have a good idea about what were you doing. For iPhone users, I strongly recommend this app without any having second thoughts.
What do I like about Repost It!
Completely free app to use
Repost history
Auto-grabs captions and hashtags
Also read: How to Delete Multiple Photos in Instagram | Save Time
3. Repost
Price: Free
Platform: Android
Rating: 3.3
Even though the rating was average, this app surprisingly does the repost job pretty well. Very clean interface with minimal options so that anyone can easily repost anything on Instagram.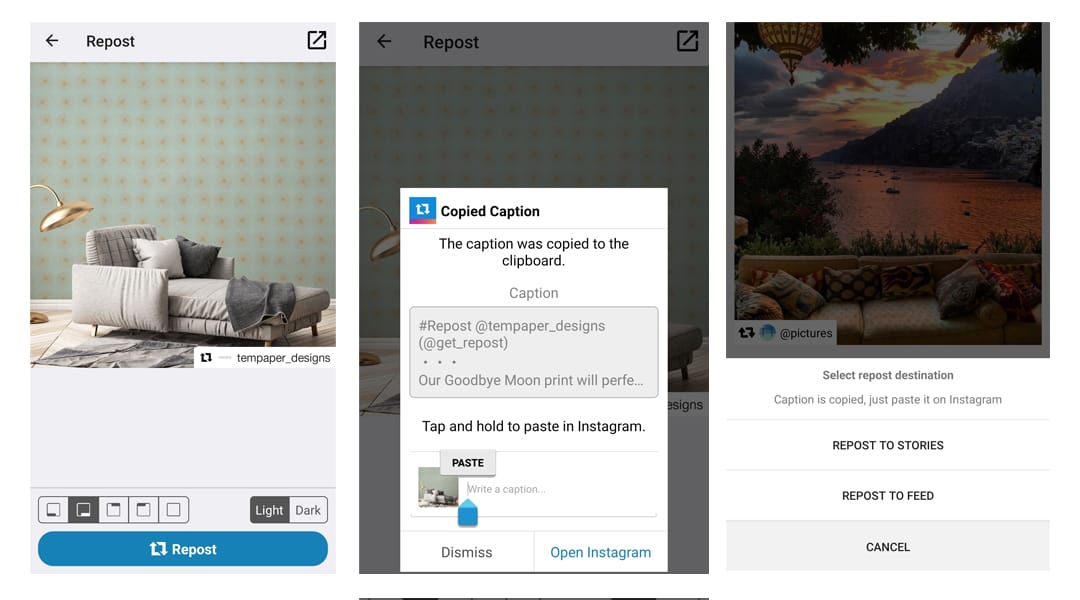 Just any post on Instagram you want to repost, simply tap the post options (three-dot icon on the top right corner of the post) and tap copy link. That's it now open this Repost app and it automatically grabs the post for you, from here you can repost it to the Instagram with or without watermark.
Alternatively, you can simply tap the post options and click share and choose this Repost app. It even shows the reposted posts on the home page. And yeah there are ads in this app, but you can always purchase the pro version if you like this app.
What do I like about Repost It!
Easy to use
Auto copy captions and hashtags
Watermark customization
4. Repost for Instagram Sepia Software
Price: Free / Pro version $4.99
Platform: iOS
Rating: 4.8
The most popular and most used repost app for Instagram on iOS devices, Sepia Software's Repost app is one of the oldest in the market and that definitely shows in the app usability.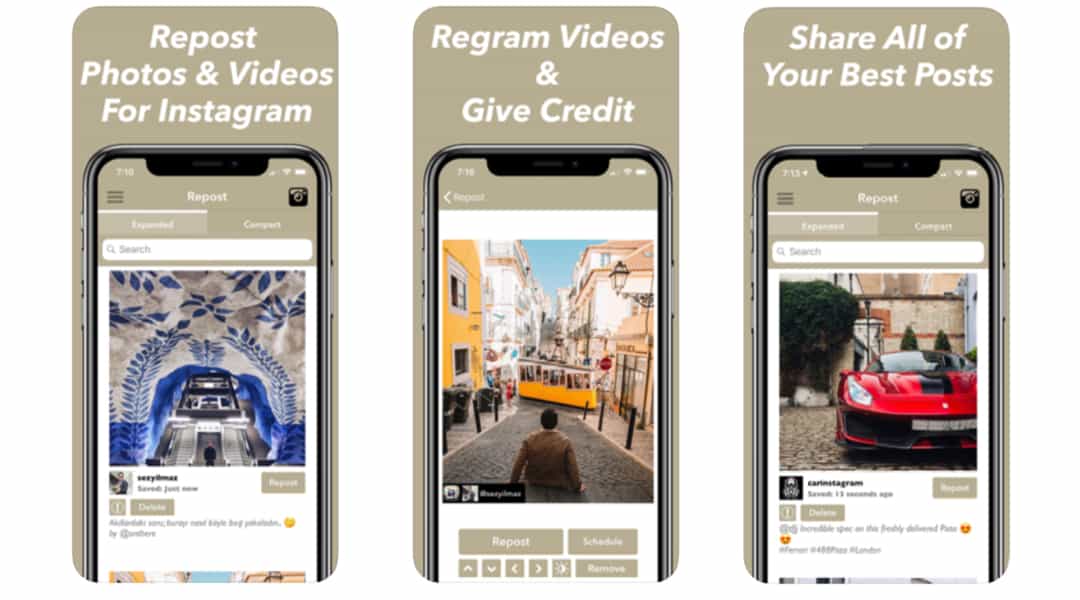 This app allows you to set the reminder for the reposting, simply copy the link and it automatically redirects you to this app and from there you can choose repost now or schedule later. Imagine you can schedule all the posts for a week in a couple of hours, pretty amazing right.
The only downside of this app is that it requires a pro version to remove ads and watermark. It offers 1 month free trial of the pro version, so just try it and if you like to keep this app then you might think about purchasing it.
What do I like about Repost It!
iPhone and iPad optimized
Snappy when compared to other repost apps
Repost own posts from the timeline
Repost for Instagram Sepia Software
Also check: Top 10 Best Text Tracking Apps to Track Messages
5. Regram
Price: Free
Platform: iOS / Android
Rating: 4.6
If you're looking for the simpler app to repost or send any posts to anyone, then this is the one for you. Regram for Instagram is new in the market, but it already gaining a huge amount of popularity due to its cleaner user interface and it's available for both Android and iOS.
A perfect way to repost anything on Instagram, Regram has an option to repost multiple photos into your story or feed with just a single tap. Also, you can send any post as a direct message to anyone within this app.
This app only has three options i.e. Add to story, Send direct, Post to feed. But that's all you need for the reposting purposes.
What do I like about Repost It!
Neat & minimal user interface
Tap to copy captions and hashtags
Add an optional overlay with color and text customization
6. Regram Posts
Price: Free
Platform: Android
Rating: 4.4
With almost 5+ Million downloads in google playstore, this Regram Posts by Kimcy929 is rocking and it is the most used repost app for Instagram on the Android ecosystem.
This app has some unique features that no other repost app doesn't have such as HD image or video reposting, post from a private account, signature and more. It even has the pretty decent photo editing tool built-in.
If you do a lot of reposting then this is the right app for you, since it offers post scheduling and you can view the reposted posts on the separate tab and a lot more.
What do I like about Repost It!
Dark mode
HD photo download and repost
Signature text (supports header and footer)
Get a post from a private account
Similar topics
Final thoughts
Tired of taking screenshots, cropping them and post it manually. Well, you can use Instagram repost apps to easily post anything you found on Instagram. And I guess you don't go anywhere else to find the perfect repost app for Instagram. Since you have the 6 Best Repost app for Instagram for iOS and Android above.