Instagram is one of the most popular apps where most of the people addicted to it. Some of them upload their personal photos in curiosity without activating private account option later, they realize that it may cause some problems. If in case of emergency, you need to delete some photos in Instagram there are some ways, let's discuss delete multiple photos in Instagram.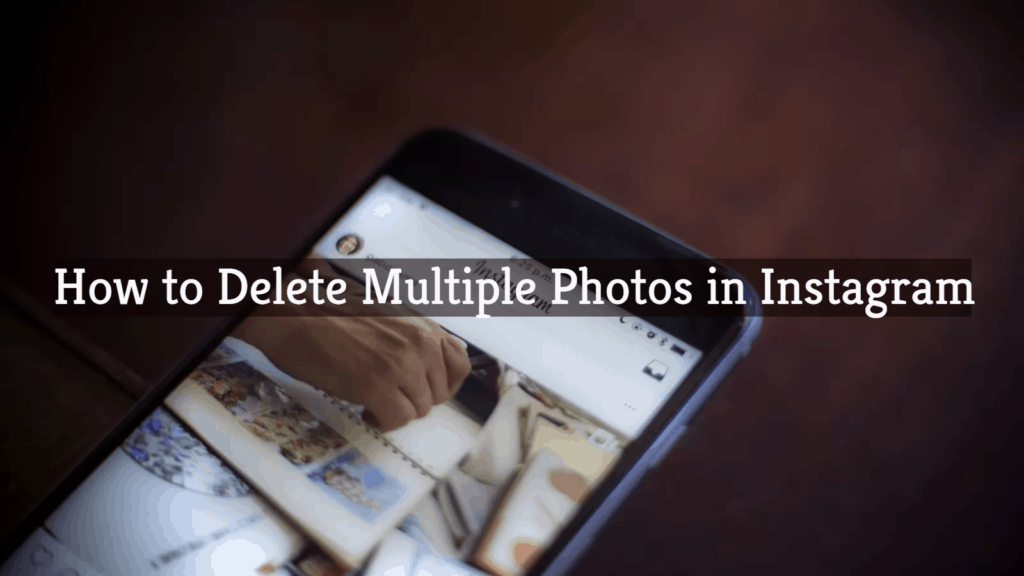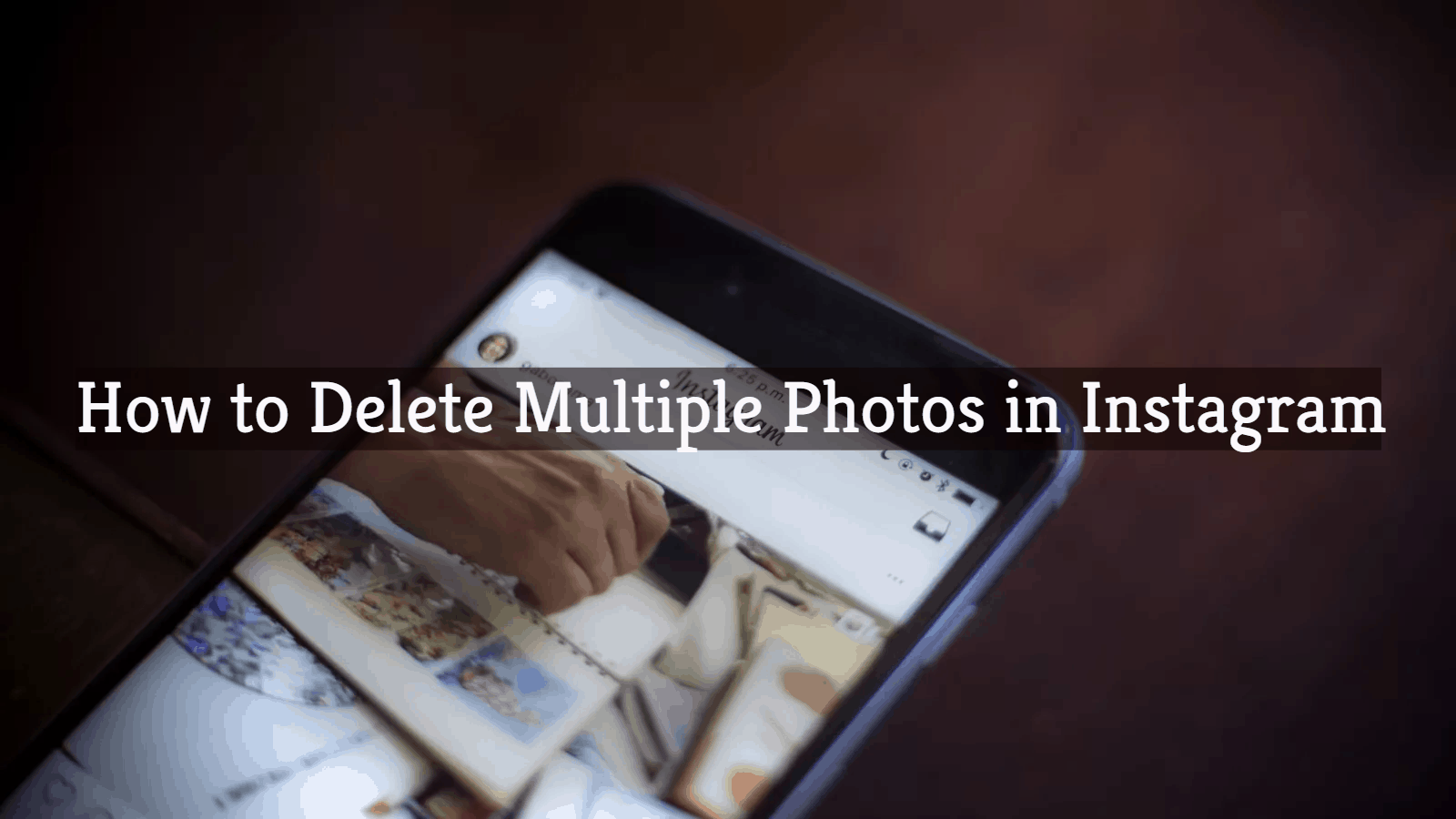 Using Multiple methods you can delete multiple photos in Instagram. Don't do so much work for deleting images just follow us we make this easier.
Also Check: How To Block WiFi Users | Block Devices Connected to WiFi Network
How to Delete Multiple Photos on Instagram
Everyone knows to delete photos in Instagram Right! here I am going to show how to delete multiple photos on Instagram by the default method.
1. Default Method
It is the very basic method to delete Instagram photos and many Instagram users might have done this. The following steps are the basic steps to deleting multiple photos.
Launch the Instagram app in your phone.
Just open your Instagram account.
There you can see your uploaded photos, Just open the photo which one you want to delete.
Three horizontal dots will present in the upright corner, tap on the three-dot then you got a delete option.
Tap delete option to delete the photos, by the way, you can delete multiple photos one by one.
Downside
It will take much time to delete photos one by one and it's totally annoying.
Users can't able to delete multiple photos at the same time.
2. Delete multiple photos by using third party apps
It is a simple way to delete multiple photos in Instagram. Just download and install the below third-party apps which will make your job easier.
1. Cleaner for Instagram
This application has some pretty cool options, there you can give unfollow in your following list, block and unblock your followers, also you can see whom you gave likes.
Steps
Download and Install cleaner for the Instagram application from playstore or applestore.
After completion of the installation process, launch cleaner for Instagram.
You should Login into your Instagram account.
In the application below you can see Following, Followers, Media, Liked and settings.
Just tap on the Media option.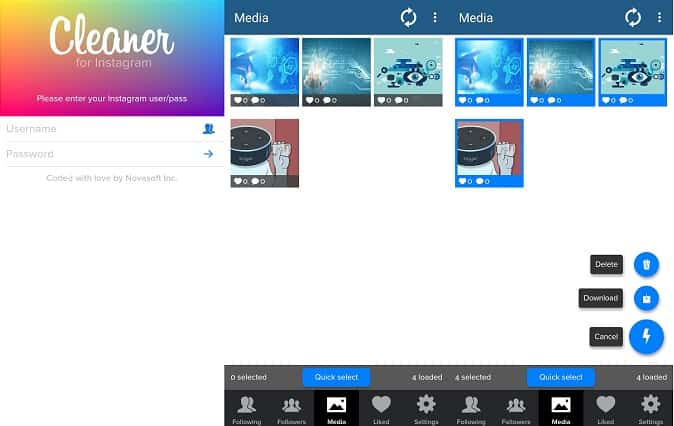 There you can get your uploaded photos on Instagram.
You can select the photos by the Quick Select option.
There you can see an icon which is in blue color, tap the icon.
Now you can see delete option in the icon just give a delete.
The selected photos will delete in your account.
Key Features
Users can see the activity status.
It has a mass delete option.
Quick selection tools help you to select and deselect the photos.
Whitelist manager helps you to avoid accidental unfollows or blocks.
If you want to download this app, click the below link.
Cleaner for Instagram
Also Check: How to View Instagram Photos Without Following Locked or Private
2. Mass delete For Instagram
If you want to delete your bad or old post in your Instagram photos then use this application to delete multiple photos. The cleaner is the perfect tool to unfollow for Instagram, block anonymous or inactive followers, and unlike previously liked photos or videos.
Steps
Download and Install Mass delete for the Instagram app.
Launch application and login with your Instagram id and password.
In the homepage of this application, you can see the options of Following, Followers, Liked, posts and settings.
Select posts, where you will see all your posts of Instagram.
In the upright corner, you can see the option so you can select or deselect the photos.
Now you can delete the photos which you selected by tapping delete.
Key Features
Quick selection tools help you to select or deselect.
This app supports multiple accounts.
The cleaner works automatically, you can schedule thousands of actions and cleaner will perform one by one during night execution until the queue is empty.
Delete multiple numbers of Instagram posts at the same time.
Quick selection for remove followers in the follower's list.
This apps allows you to, unlike the photos which you like before.
To download this application, just click the link below.
Conclusion
Don't worry about delete multiple photos in Instagram our article will clearly explain to you how to delete multiple photos on Instagram. Using third-party apps is the simplest way and no cost for downloading those applications.