In the earlier era of technology, CD-drive or disk storage plays a bigger role in storing the data. And the disk storage itself has its own advantages over the USB or mass storage. Here are some best ISO mounter for windows and Mac Os.
The major advantage is that software of program can be stored in a CD-drive permanently and cannot be deleted. Also even today generation every games and os are pretty much sold via disk storage formats in a cd.
The different types of disk storage formats are ISO, BIN, VDI etc. Under these formats many files are stored in order to make the software or os work. By using ISO mounter these files are copied to any mass storage like usb or harddrive. This comes in pretty handy when there is no cd drive on your pc or you just don't use cd drive anymore, anyway who uses cd drive anymore right!
Also Read:
Benefits of using ISO mounter
Easily copy or explore the contents stored in a disk storage.
Most games and softwares are available in the iso format, and iso mounter helps to extract the files inside the iso.
Also you can compress and store the data in the iso format.
And also iso mounter helps to identify the encrypted key saved in the data compression tool.
Set and create a password for your image file.
List of Best ISO Mounter for Windows and Mac
Many peoples out there doesn't even know that there are options to choose the iso mounter tools. So I'm here to help you guys to find the best iso mounter currently available in the market for both pc and mac.
Note: If you are using Windows 8.1 or Windows 10, there is a pre-built iso 
mounter in the operating system. That do the necessary job like mounting 
the dvd image and extracting it.
1. Daemon Tools Lite
Platform: Windows, Mac
Price: Free
Dameon tools are pretty good image extractors since for a very long time. And again and again they making their software good and better. But there is one problem, that is cost. Yes daemon tools are too pricey and now they overcome this by their latest software called Daemon tools lite, it is absolutely free and also contains ads. You can mount any kind of files over 50+ formats supported.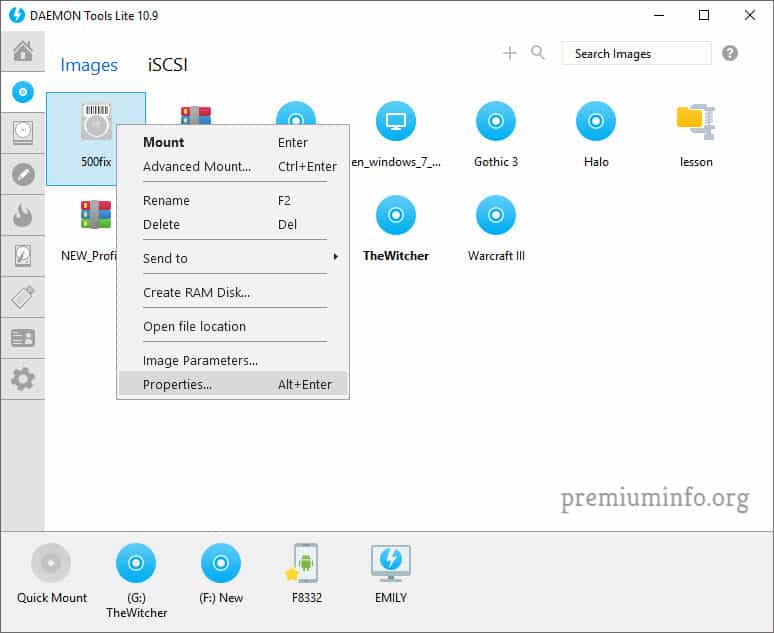 Highlights
Auto mounting feature comes in handy for those who want simple and easy mounting option.
Very minimal size and lighter tool.
Easy and faster process than it's competitors.
Pro and Ultra versions are available.
Free version contains ads.
Also Check: Cheapest VPS Hosting Windows & RouterHosting Review
2. WinCDEmu
Platform: Windows
Price: Free
This tools is very neat and clean. Also this follows the minimalist operation to mount the iso to the usb or harddrive. This is the only tool is completely free and contains zero ads, because it is a opensource project. I would easily recommend this to anyone.
Highlights
Fully free to use.
Also there is a portable version available.
It's very easy to use, just select the iso and click extract.
There is also business version available if you are interested.
3. PowerISO
Platform: Windows
Price: $29.95
It's the most popular iso mounter. Because it packs some unique features in it and the name itself has some power right!. It's not free and the same time you can use the software for free but it's usage is limited. Like you can wait about 10 seconds before extracting and so on.
Highlights
Easily create a bootable USB drive.
Auto mount feature is available.
And also you can burn the cd drive using the same tool.
Convert image file to another image format.
4. Toastmount
Platform: Mac
Price: Free
Most mac os softwares are not available for free. But this image mounter tool is a open source project and it is completely free to use. But this tool is only available for mac os only. The concept is simple and elegant, hence the performance is amazing when extracting the iso.
Highlights
Free to use.
Only available for mac os.
Easy to use and developer support is good, since they update regularly.
Read: Easiest Way to Uninstall Onedrive from Windows 10 Permanently
5. ISO Workshop
Platform: Windows
Price: Free
Another amazing tool from glorylogic, yes you read it right, it is developed by glorylogic team. Another iso mounting tool for windows, it also has some unique features like burn, bootable usb and also it supports corrupted image files. Even Bluray disc can be mounted using this tool
Highlights
Create and convert any image to iso.
Bootable usb can be created in minutes.
Burn iso to any cd drive or usb drive.
Also professional edition available for $19.95.
6. MagicISO
Platform: Windows
Price: Free
Another great iso mounter for windows. It almost supports every windows operating system from windows 98. It also packs all necessary features like booting from usb, convert image formats and also it supports backup your harddrive or cd drive to the pc.
Highlights
Simple interface and easy to use.
Supports almost every available cd formats.
Burn and bootable usb is very easy.
Just embed with windows file explorer and it acts as a native software.
Download MagicISO
Conclusion
These are the best iso mounting tools available right now, and you can easily download any above tool for almost free, since most of the people doesn't use business features. Most probably many people use these tools to burn the dvd or just extract the files from the image file, so you can use any above tools. That's all for today and I'll see you guys with another post.