Are you among people who love to meet new people? Do you like to be social & figure out different people with a different personality? Well, sometimes we cannot just go & meet people due to lack of time, distance or several other reasons. Well, there's a prime solution for you. A solution where you don't need to travel anywhere, just get an internet connection & chat. Here are some best sites like Chatroulette For Online Chatting with Strangers.
Chatroulette is an ideal solution for everyone. You can chat with your friends & family anytime, anywhere using Chatroulette. However, it's been a long time since it was released. Today there are many other Cam chat apps available in the market. New ones have really gained much popularity but Chatroulette users still remember it. However, it's up to you which one you want to choose. But why not take a short review on the latest one to make our decision better.
Also Check:
Here's a list of top alternatives of Chatroulette. We will have a short review on each & cons will be pointed wherever found. So let's get started!
Best Sites like Chatroulette For Online Chatting
---
1. Chat Random:
Using a website which is easy to use & allows you to talk with random people is not a bad idea. Yes, that's what Chat Random offers you. Here you can chat with anyone randomly from all over the world. The website is absolutely free to use. The process is quite simple, just get on the website home page, turn on your camera & click on ON! The website will randomly find someone, chat & enjoy!
---
2. TinyChat:
TinyChat is another better option where you can opt for text, voice or video. The best thing about this cam chat is "Text & Voice notes". Not everyone loves Camera's; shy people usually don't prefer to go for cam chats. But this website solves their problem too. You can opt for text chats or even voice notes which make your identity completely unknown. You can also join communities if you want to chat with multiple people. Best for people who are outgoing in nature & even shy ones.
---
3. Meetzur:
This is a bit different cam chat website which offers you a few additional things. Meetzur gives you basic features that every cam chat gives you. The new thing about this website is "New people every day". You will get new people every day to chat with. You can group them & chat to make it more exciting. However, you need to make a profile by signing in with your Facebook account.
---
4. Chatville:
Another free cam chat website that allows you to meet new people. Make new friends, chat & probably it's like a nightclub. You can also chat while traveling & that's a unique thing. No limitation on region, worldwide anyone can chat. Here, you can also get your friends into chat rooms which makes it more personal.
---
5. iMeetzu:

iMeetzu is one of the highly ranked cam chatting website which offers you texting, video accompanied by group chat. However here you need to use it regularly to attain full access. You need to register here in order to use it. And, strangers are selected on the basis of location, age & interests in common. So chatting with the person who is alike to your mind will be surely exciting.
---
6. Instachatrooms: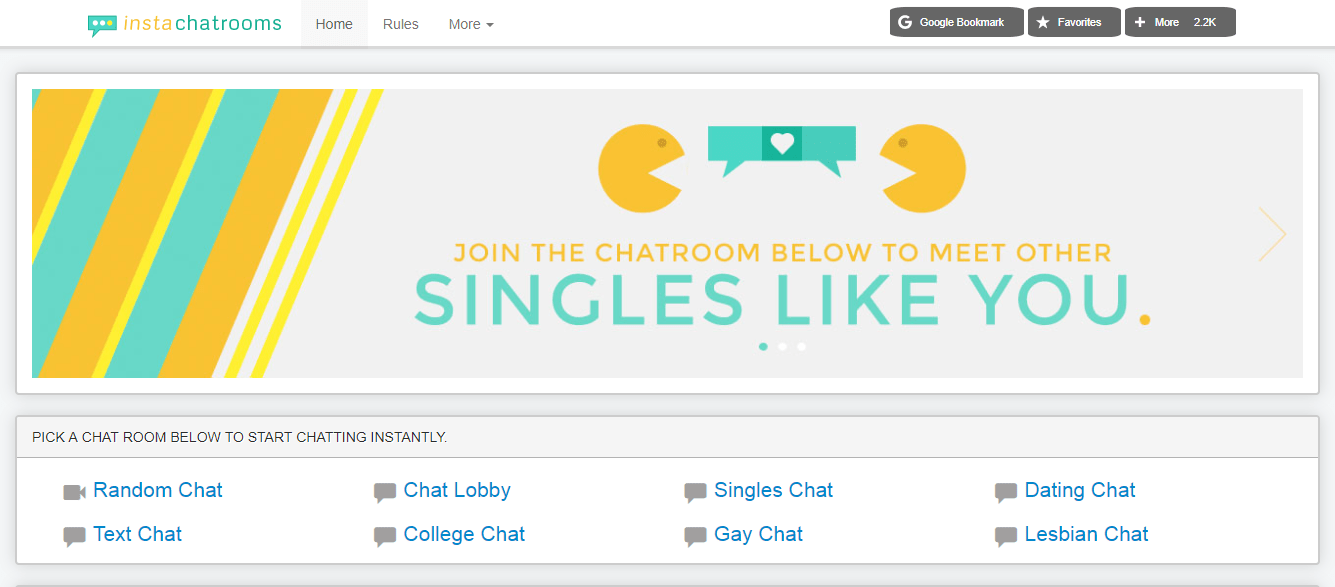 Instachatrooms is best for singles who want to meet multiple people. You can have numerous chat rooms where you can meet multiple strangers. Or opt for group chats. The website is absolutely free to use & probably similar to Tinychat. Meet with strangers – Chat – Fix your meet if you like them.
---
7. ChatRad:
ChatRad is another relationship related website. Just find the best match for you & get into a relationship with the opposite one. People here usually are seeking relationships or friendship. However, it's up to you what do you want. Even a new user can control this website as it's user-friendly.
---
8. Stranger Meet Up: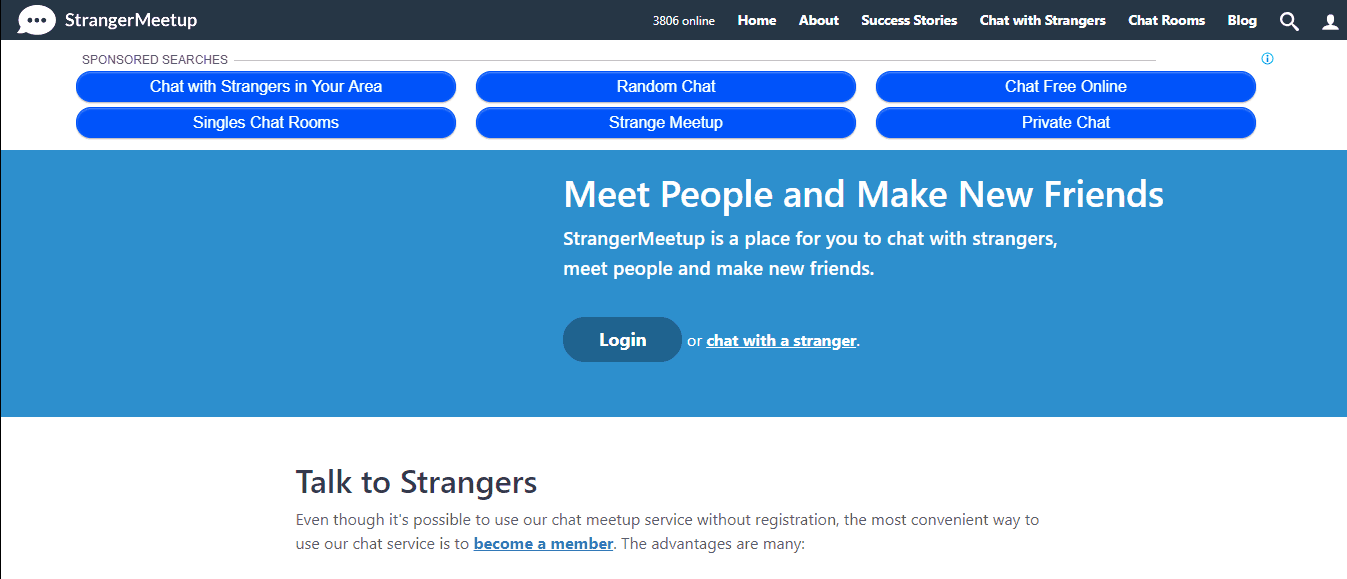 The website works according to its name. You will surely meet strangers, well if you meet someone you know that's purely coincidence. The website is absolutely free to use. You can use Stranger Meet Up on Mobile phone or PC platform. So go & find new friends.
---
9. Fruzo:
Well, we have been discussing cam chat platforms which aren't focused on adult things or something like it. But here's a website "Fruzo", here you can talk about adult topics, relationships or even meet a new stranger. Your information is completely made unknown. Also, you may get hookup things here, or refer our previous post, Best Hookup Apps. So this website takes you to another level. However, the website might check whether you are 18+ or not.
---
10. HeyPeople:
Another best sites like Chatroulette for true friendship. Are you a person who has not got many friends? You might usually feel that loneliness. Well here's a solution for you, get friends over here or even get into a relationship. Yes, be friends, talk with them & see how it works between you. There's one more thing we want you to make sure. HeyPeople is great but it allows users to record things. The person you are talking with can record it & similarly you can too. So we would recommend you to not do privacy related things while you are streaming.
HeyPeople
---
Conclusion:
These were Top 10 best sites like Chatroulette. We have shortlisted this list from several other sources. We haven't focused mainly on 18+ contents because our viewers are of different age group. However, we have added few. So try these websites for free & share our experience with us. If you have any query related to today's post, feel free to ask us via the Comment Section.