Technology has evolved a lot in the recent decade. Nowadays we can get order most of the possible things. Let it be food, accessories, furniture or anything. In this era, no one wants to wait or stand in queues. Especially while booking tickets. Indian Railways has allowed booking tickets online that means you can book a ticket from home. Here are the Best Methods to Register IRCTC Account Online 2023.
Well thinking it might need a lot of complicated documentation or steps. Then you are probably "Wrong"! There are no difficult steps & no complicated documentation that might consume a lot of time. Want to know how to book railway tickets using IRCTC. Well then stick to the post as we have explained everything in simple language.
Also Read:
About IRCTC:
IRCTC or Indian Railway Catering and Tourism Corporation is an official organization which handles online ticket operations. You can book railways ticket on IRCTC as it's the official organization for it. But in order to use this website you need to register an account. Don't worry, the process of registration is quite easy.
Methods:
We are having 2 methods to register for IRCTC. The first method can be performed on any PC or Desktop. However, the second method is especially for Android & iOS. However, you can use any method you feel comfortable. In the 1st method, we will use IRCTC Official website. And, in the 2nd method, we will use IRCTC Rail Connect App.
Best Methods to Register IRCTC Account Online
Method #1:
For this method, we will need a PC & an internet connection. In documents, you don't need anything specific. Yes, you just need an E-mail ID, Mobile number, your address, nothing else. So now let's move for the steps. IRCTC has changed their website layout. These steps are for the latest website.
Go to IRCTC Official Website – irctc.co.in
Select "REGISTER" on the upper right side of the website (next to LOGIN)
Now, you will get a page where you need to fill your details
Choose a unique username & password for your account. Username can be anything but the password should be accordingly to the guidelines. The password should be of Min 8 character & Max 15 character. Password must contain at least one small & one capital alphabet and numeric digit.
Fill your details; you can skip the details which are not mandatory/compulsory.
After filling your details, fill the captcha & click on terms to accept it. Then click on REGISTER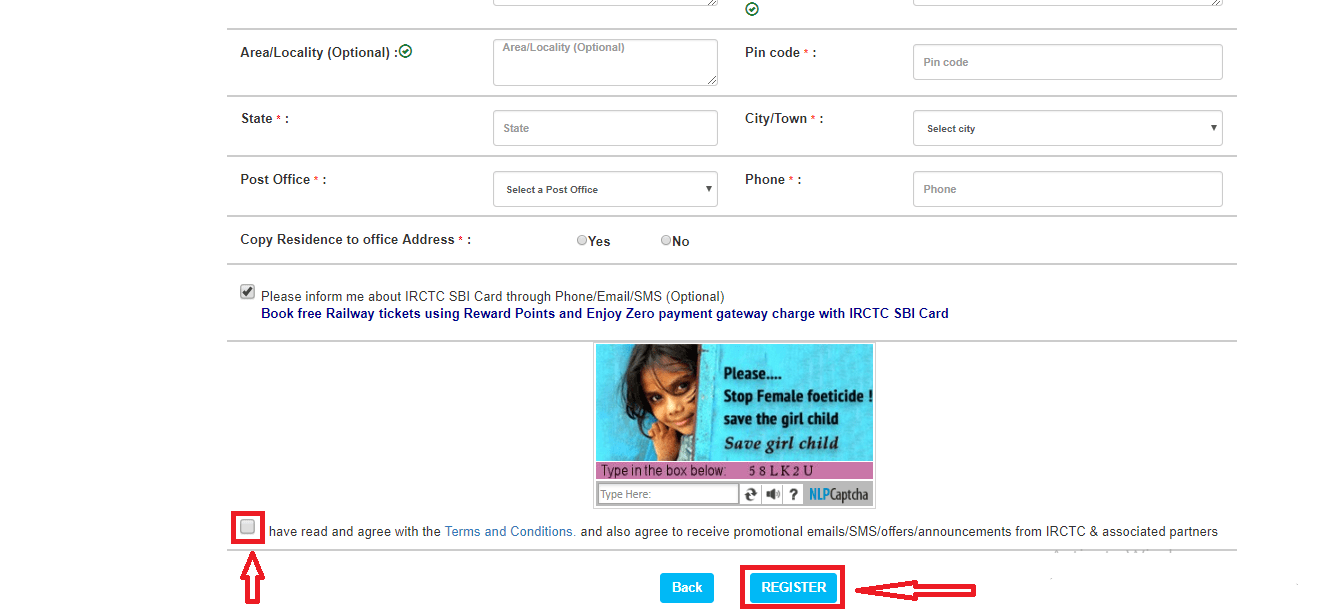 Now you will be redirected. You will be notified that an email has been sent to you regarding IRCTC Registration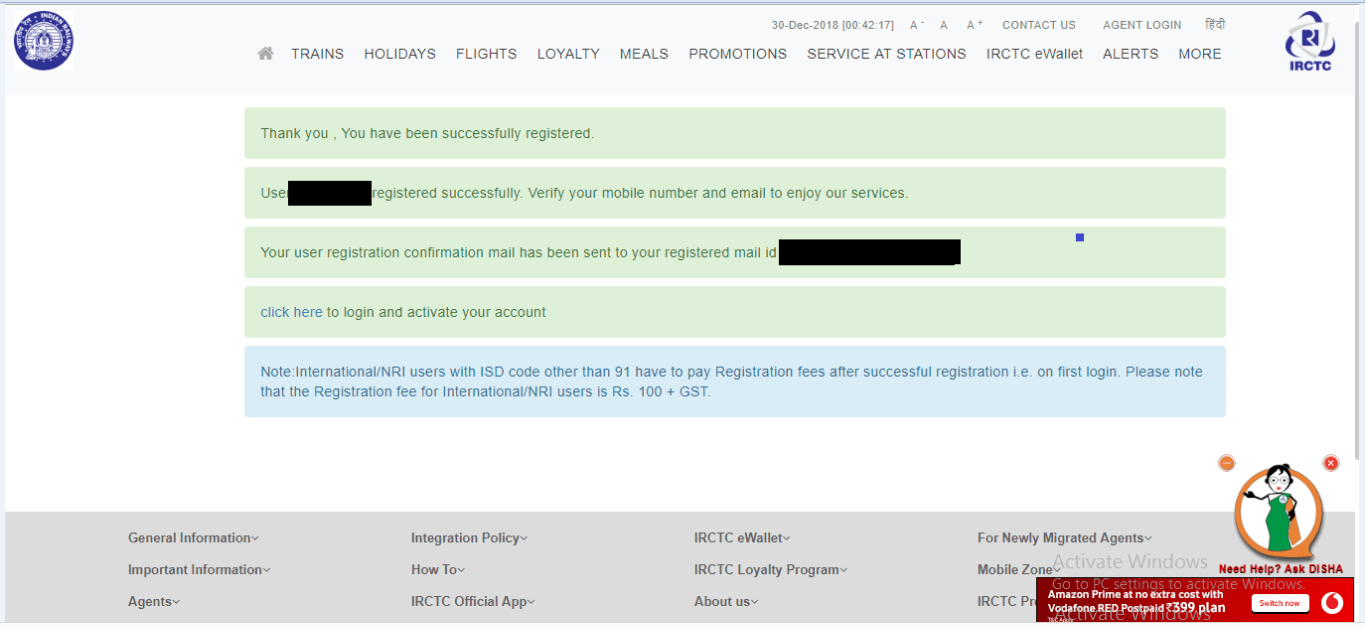 Open your Mail ID & open the IRCTC mail you just received
You will get a link there, just click on it
Now you will be redirected to IRCTC Website. Enter your Username, Password & Captcha then click on LOGIN
Once you are signed in you need to verify your mobile number & email ID
To verify each just click on each. Let's say first Mobile verification. You will receive an OTP. Enter the OTP & Click on "Verify OTP".
To verify Email just click on Verify Email ID. The mail you received earlier has got OTP. Just enter that OTP & Click on "Verify OTP".

Once the verification is done, you will be redirected to IRCTC Homepage
Go to LOGIN(Upper right)
Enter your Username, Password & Captcha then click on LOGIN
You have successfully registered an IRCTC account! Eureka!
Method #2:
The second method needs a Smartphone or iOS device & an Internet connection. You need to download IRCTC Rail Connect App for following up upcoming steps.
Download & Install IRCTC Rail Connect
We will select "REGISTER"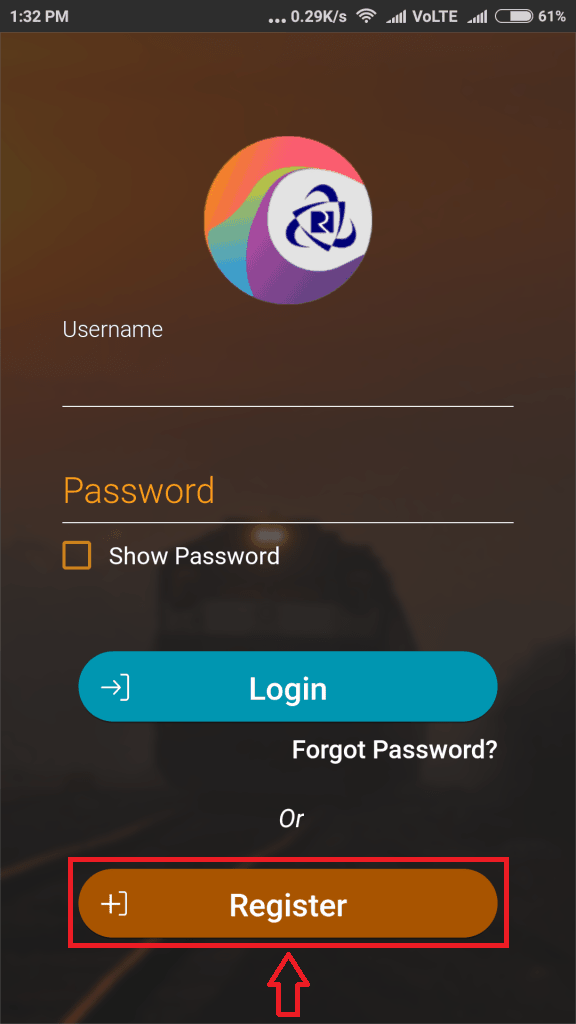 Enter your requested details & tap on NEXT – Here also your Password should follow the guideline – Password should be of Min 8 character & Max 15 character. Password must contain at least one small & one capital alphabet and numeric digit.
Once all details are filled, click on Next
You have successfully registered IRCTC Account but you just need to verify your email ID & mobile number
The same process, just enters OTP that you receive.
That's all!
If you know how to register IRCTC on an older version of IRCTC Website then you may just follow 1 step. Go to IRCTC official website & click on "OLD WEBSITE". Now the older version is in front of you. Go & register an account. The above given 2 methods are given for the latest version.
NOTE:
You need to carry a printout of your ticket while journeying with an ID Proof
IRCTC Online Tickets are auto-canceled if it is in Waiting-List Category (WL). Meanwhile, Offline ticket counter tickets don't get auto-canceled.
You can cancel your ticket & get your money back. But there are few rules, a percentage of the amount will be deducted. For different status (CNF, RAC, WL) amount will be deducted in accordance to time. Cancellation before 2 days of the journey might deduct 50 % but 3 days earlier might not deduct much.
You are recommended to read IRCTC Rules & Regulations.
Conclusion:
This was all about how to register an IRCTC Account. We have discussed 2 methods, for PC & Mobile. You may use anyone you like. The registration steps are quite simple & there's no risk. Just select a unique username & password according to the guideline. So the next time you are planning for a tour, don't go standing in the queue. Book a ticket from home, get a printout & travel.