Crunchyroll's free guest pass is one of the best services to enjoy & stream Anime in HD Quality. It's the best freeway. However entire access to Crunchyroll is a paid one, but if you want to get Premium, there are many ways to get free Crunchyroll guest pass.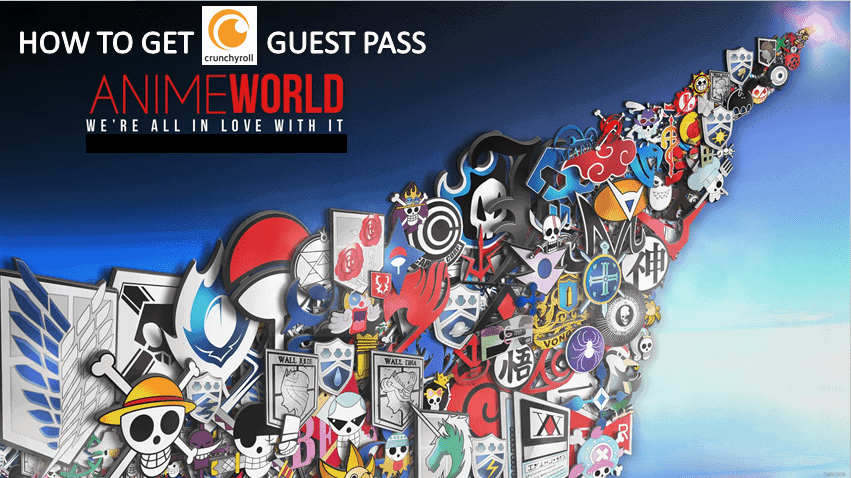 What Type of Accounts is available on Crunchyroll?
Crunchyroll is an anime service that serves HD Quality anime & it's a legal anime library. Being a user you can get numerous subbed & dubbed anime. Additionally Manga series are also available.
There are 3 methods to enjoy contents:
Premium
Free
48-Hour Guest Pass
Premium Account:
Premium account is a paid account but offers you benefits too. Users can enjoy all Crunchyroll anime including on-demand without advertisements. You are given an HD Streaming service that you won't get in Free one. And, Premium Account holders can watch anime episodes within hours of Japanese Airdate. However a premium user gets a free guest pass every month, so you may find someone who has a premium Account & borrow those pass. Unused pass will expire after 90 days.
Free Account:
These free accounts are really an angel for anime lovers. Users can access almost the entire anime library but they are limited by a few rules. Free users can never access to newest episodes until a week time since the launch. You need to watch most of the anime at the low quality & utmost 480p. Being a free user you will also have to deal with Advertisements. But for free that's fine as an Anime lover.
Crunchyroll 14-Day Free Trial:
Crunchyroll provides you a 14-day free trial. To opt for 14-Day trial you need to sign up for an account providing your details including Credit Card, Paypal or other Payment methods. However, you can cancel the account any time before your trial pack ends. In this period of trial, you can access Premium contents. But, you won't be given Crunchyroll guest pass during these 14-days trials.
Crunchyroll Guest Pass for Full Anime Access:
Before moving on the 3 methods you need to know few things account guest pass which is as follows:
Guest Pass is limited
There's no guarantee
Guest Pass are 1-time codes
NOTE:
We don't assure you that these methods will definitely work. These are just ways you might get 1.
Join an Anime Facebook Group:
This method is an assured method if your luck is tough enough. One of the most guaranteed method. Being an Anime lover people tend to follow a few different anime groups to get regular updates. Well, there's an Anime group known as "Reformed Anime Hub or RAH". They provide free guest pass regularly but these pass are limited & you need to be quick to grab it. RAH has more than 800 members & has a majority of people demanding for Crunchyroll Guest Pass. Few groups even have more than 100000 people subscribed demanding these crunchy roll guest pass.
Also Read: How to Skip or Block Hulu Ads Guide
How to Find Anime FB Groups?
Go to the search bar on FB & type "ANIME"
Under the search bar, select "GROUPS".
Look for groups & check their description. Find "Active" listed.
Follow that group
Join an Anime Forum:
Similar to Anime FB Groups, Anime forums are also full of people discussing & demanding things. People over here also request for a guest pass. Many people over here are always on snipe to get pass via Giveaway. Well, if you have a free Crunchyroll account, you already have access to the official forum.
Rules of Official Forum:
Never ask for pass privately; all pass must be requested publicly on Forum
Pass is limited so don't get raged if you don't get it.
It all depends on Luck
The forum consists of all QnA including oldest to newest. So go only for the newest ones. You should ask for guest pass on the forum & as they won't allow you to go for private messaging, be responsive & attentive to replies. No one knows when a pass might arrive.
Also Read: How To Get Free Netflix Account Premium 2018
Follow Crunchyroll on Facebook:
This method is completely safe & sound, might get you a few passes too. Crunchyroll has their own Facebook group which has been followed by 2.5 million+ anime lovers. Follow Crunchyroll on Facebook & comment on different posts asking for guest pass. Maybe Just Maybe you might get a reply & get Guest pass.
Crunchyroll Ad-Free Without Premium:
A simple trick, go for a free account & download Ad-Block from Google Web Store. Ad-Block will block every advertisement & give you ad-free view. However, 480p is also OK!
NOTE:
Don't use Crunchyroll Premium Account Hacks: Attempting to hack Crunchyroll for a premium account is a nuisance & we strictly don't support it. However, we have provided legit methods to get passes. Unethical hacking is a part of Cyber Crime. Stay away from such activities & Stay Safe!
Conclusion:
So, these were ways to get free Crunchyroll Guest Pass. The 3 methods we have discussed are completely legit & don't support unethical hacking. We would recommend you to try these ways & get your passes. However, it all depends on your luck. Also, try to do this via multiple accounts to increase your success probability. If you have any doubt regarding today's post, feel free to contact us via the Comment Section. We will try to reach you as soon as possible. If you have liked today's post Please Like & follows us for daily updates. We are regular tech posting bloggers! STAY TUNED!