Are you the one who loves to drive but you actually can't due to either you don't have time or you don't own a vehicle you love. That's where driving simulator games get pretty popular. ETS2 or Euro Truck Simulator 2 is truck simulator game that feels so realistic. So here are some best euro truck simulator 2 mods.
There are plenty of other driving simulator out there but no one can beat the euro truck simulator 2 because it feels so realistic to drive and you will immerse in the realistic experience of the ETS2.
Even though released in 2012 ETS2 still has its own popularity due to the fact that the game has opened the gate for the developers to build the mods. Yes this game supports mods officially.
Uses of Mods in ETS2
Free maps to download.
Free trucks and cars are available.
4k ultra hd resolution can be applied to the game.
Plenty of skins are available for the trucks.
And you can create your own vehicle and map.
Realistic ultra HD graphics mod brings game more real.
Top 10 Euro Truck Simulator 2 Mods
Since there are plenty of mods available in the internet people finds it difficult to choose which mod to use or to start with, so here is the list of best 10 euro truck simulator 2 mods in 2023 so far.
Note: These mods are available for both euro truck simulator 2 v1.2x and v1.3x
Also Read:
1. Promods
This mod comes to my mind very first when it comes to euro truck simulator 2. Because obviously people tries mods when they become bored of the same road and buildings and maps. That's what promods is special for!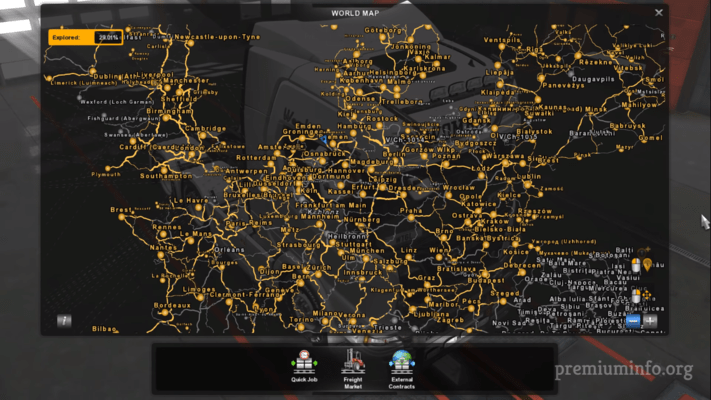 Promods is a map expansion that regularly give updates to the user when the new map arrives. You can download them for free and installation process is also easy. If you use all promods map in you ETS2 game then this map is the largest in the gaming section.
Highlights
Free to download.
Huge collection of maps available.
HD buildings and textures are available.
If you encounter any problem you can use the forum.
2. Project Next Gen Graphics
Since this game is launched in 2012, at that time graphics is kinda kinky so the developers started developing some high level details and then adding to the ETS2 the game looks crazy amazing.
Project next gen graphics mod turns the euro truck simulator 2 into a super realistic game like GTA 5. Yes all the textures and maps and buildings are rebuilt with the latest technology.
Highlights
Ultra high quality textures with 4k resolution.
4k roads, railing, buildings, trucks, vegetation etc,.
Game feels more realistic.
Improved weather graphics.
3. TruckersMP
Truckers multiplayer mod, yes even though the ETS2 is pretty famous around sadly there is no official multiplayer mode for the players to interact with others.
But this mod brings that ability to alive. Using this mod you can just link you steam account and then choose a map and just drive with the other players driving in the real time. Many funny things can happen.
Highlights
Free of cost.
Regular updates and official dev support.
5000+ realtime players.
Also you can use this mod for American truck simulator.
Easy installation process.
4. Jazzycat AI Traffic
And yes the official AI system in ETS2 is not that bad, but it sucks anyway. The same old trucks and cars moving around with the same speed and our eyes are so tired of seeing that.
Jazzycat is a developer who makes AI system in euro truck simulator 2 better and also he creates some cool fancy looking skins and trucks for the game. And by installing that ETS2 now looks super cool not boring game.
Highlights
Railway vehicle trailers are updated.
Bus and truck skins are updated.
Painted trucks are available.
Now AI can make traffic and that makes game more real.
5. Biggest trucks
Who doesn't love big trucks to drive, well obviously you can't do that in real life but you can drive the largest trucks around the ETS2 maps anywhere at anytime.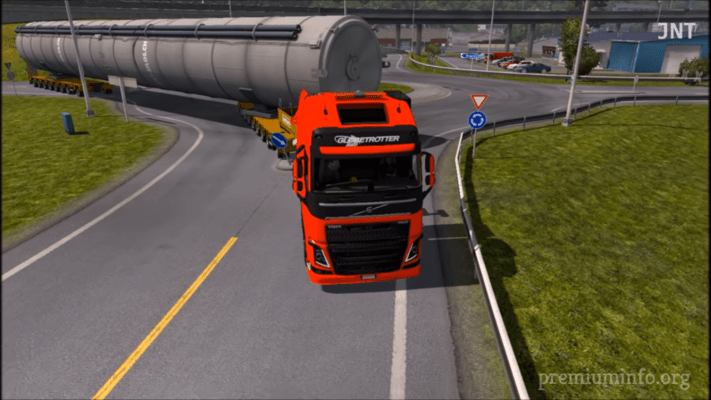 These are some pretty big trucks and you will definitely enjoy the driving by slowly crossing the lane and escaping the traffic. And believe me you become addicted driving bigger trucks once you tried it.
Highlights
Easy to install and start roaming.
Very satisfying while driving.
Bigger trucks means more fun obviously.
6. First Snow
This is the first snow mod and as the name suggests this mod brings cold weather to the game, yes the game itself has the cold weather but it doesn't have any snow.
This young developer put more effort to make the snow more real and when to through the snow. Since the snowing system is included in the AI of the game engine the dynamic weather system is now more realistic.
Highlights
Dynamic weather system.
Option to turn snow all the time.
Vehicle physics is slightly changed according to the snow
7. Improved Truck Physics
For many people it doesn't matter because they usually play the game and think that this is the best way to play the game. But for the people who really drives a truck or a car who knows how physics really work.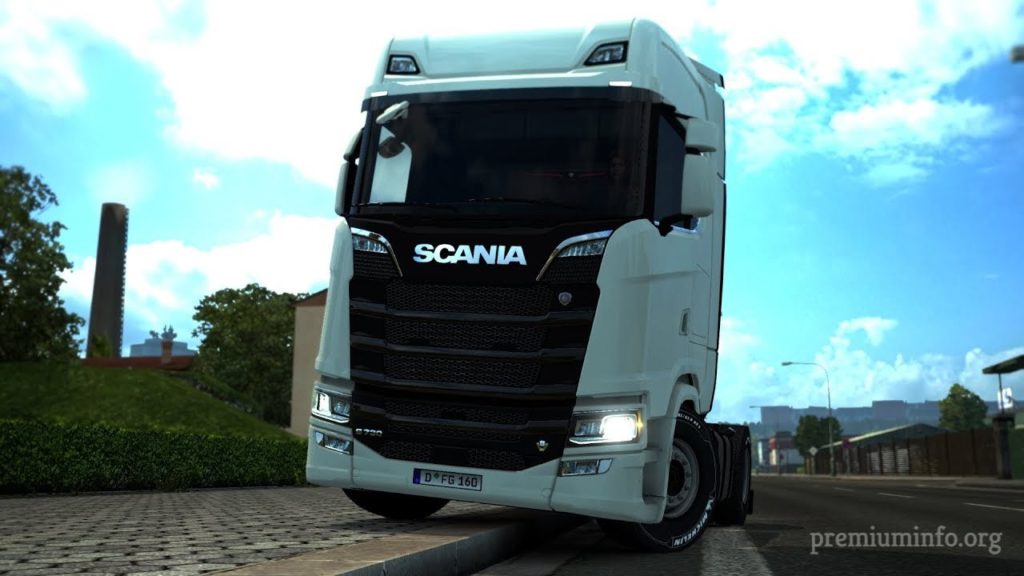 Yes ETS2 physics is not bad but slight changes in the physics by using improved truck physics mod, driving the truck now feels like so real. Yes when you turn the truck the camera angles are jumping cuts are so amazing and even the driver physics is changed.
Highlights
Cool physics mod.
Improved suspension system.
Better camera angles and shakings.
Improved transmission responsiveness.
8. Lamborghini Huracan
And yes ETS2 is a truck simulator but that doesn't mean we can't drive a car. Thanks to the modders there are many cars available to download and drive them in the world of the ETS2.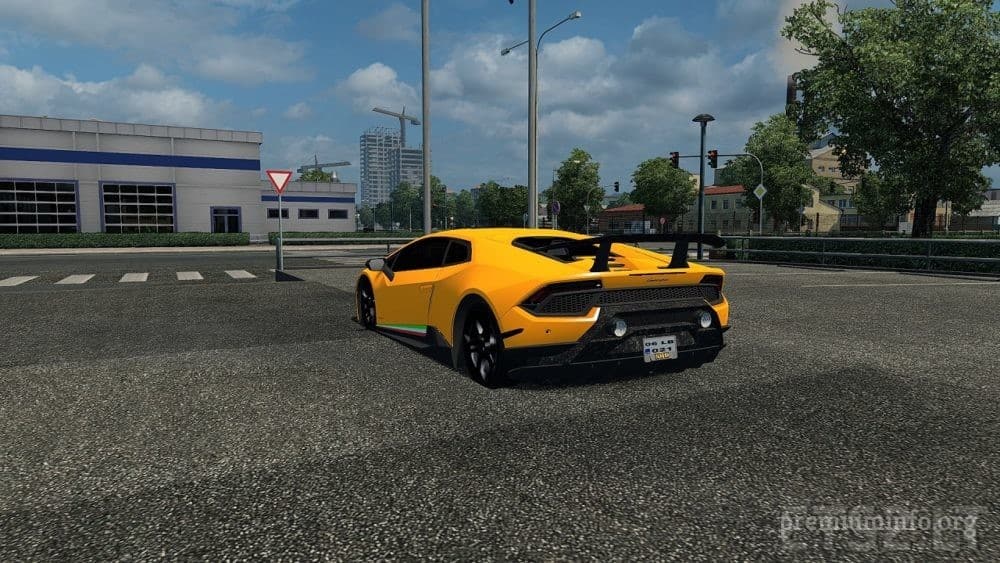 But the most favorite car for almost every people like is Lamborghini huracan, you can literally download the car and install it on euro truck simulator and start wandering with that car.
Highlights
Small package to download.
Fastest vehicle in the euro truck simulator 2.
Fancy looking and more colors can be tuned.
9. Google Map Navigation
Yeah everyone's favorite map navigation system in the whole world is google map navigation, not only it's because it has better features also it is more familiar to live with.
Well you can actually turn your stupid old navigation system built in ETS2 to a google map navigation system using this mod. It provides turn by turn indication with voice assistant also it provide different colors to different areas and functions.
Highlights
Voice assistant.
Roads are changed.
Realtime traffic analysis.
10. Ashok Leyland Bus
And this is basically a bus mod. But why I mentioned this particular bus is because it's an traditional Indian bus. And guess what India has a bigger part in euro truck simulator gaming.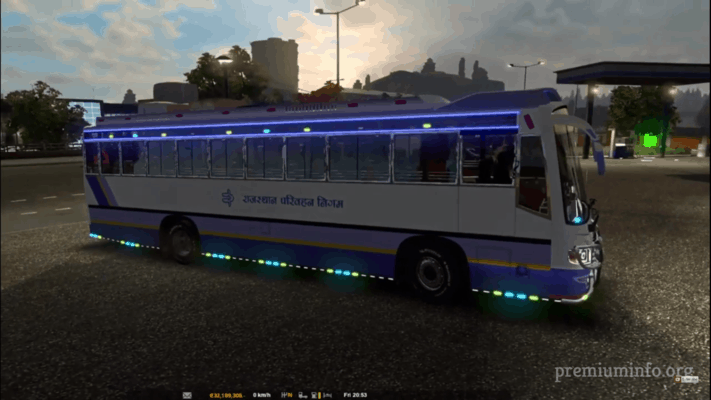 And most people in India loves to drive their own local town bus for more fun and realistic experience. Also people from other countries likes the way that ashok leyland bus looks pretty crazy right. But it's so cool to drive.
Highlights
Fancy looking local town bus.
Neon and led lights all over the bus.
Pretty weird horn sound.
Ashok Leyland Bus
Bonus content !!
Even though I mentioned like top 10 mods for the euro truck simulator 2 some people never gets tired seeking more. And guess what I have more best mods for ETS2 and the links are given below. These mods contains many mods in the form of packs, so you can find the best one that suits you.
That's all
Finally we're reaching the very end of this topic. I hope you guys enjoy using various mods in your favorite Euro Truck Simulator 2 game with the list of top 10 euro truck simulator 2 mods and the additional mods given below. See you guys on the another post.;l