Electronic Mail or Email has been one of the major parts of the internet for users. Whether you are young or old, you might have got your personal email account. But sometimes our Email ID Inbox becomes fluffy & unorganized. Well to make our work easy we definitely need something to make things organized. Also, finding certain mails it becomes a hectic task. So, we need something interactive, organized & integrated with Artificial Intelligence. Here are some best android Email apps that you should try.
Don't worry! The simple solution to organize your email is "Email Apps on mobile phones". Smartphones have been evolving day by day & using an Email App might be a great idea. Email Apps on your smartphone lets you organize emails & keeps you updated via Notification. There are many apps available in the market with multiple features & choosing the best one for you might need research.
Not a Big Deal! We have come up with "Top 10 Best Android Email Apps". The following list is based on research, reviews & ratings. So, you can count on us!
Top 10 Best Android Email Apps For Great Experience
1. Gmail:
Gmail is one of the most popular email android apps & comes pre-installed. The app contains almost everything that could make your work easier. Additionally, it provides you 15GB free space. Coming to User Interface, Gmail is easy & simple. You just need to enter recipients, type subject & compose a message. The app also gives you notification alert. Gmail basically has 3 inboxes featuring Primary, Social & Promotions. You can keep multiple email id using 1 app i.e. GMAIL.
Features:
Simple & Organized
User Interface
Positive Reviews
Notification Alert
15 GB Free Space
Supports almost every email service
However, Gmail isn't an Advanced Android App but Gmail deserves the top spot on our list.
2. Blue Mail:
Blue Mail is an email app that allows you to work with an unlimited number of accounts. The app supports a wide variety of email services, including Gmail, Yahoo, Office365, Outlook, POP3, etc. It comes with a few interesting features like Android Wear Support, theme setting & configurable menus. The app is smart & powerful. However, there has been 1 issue faced by users that is "Overloading Data". Blue Mail's uploading speed seems to be a bit low if the file is damn big. But a speedy internet connection might solve this issue. So, overall a great app for free!
Features:
Supports almost every email service
Android Wear Support
Configurable Menus
Themes
Absolutely Free!
3. Inbox by Gmail:
An app which can be termed as an alternative for Gmail. However, there are few features that make Inbox better than Gmail. It is faster & smarter than Gmail. Coming towards looks & UI, the app is advanced looking still User Interface is quite understandable.  It enables you to tag specific email & set notifications accordingly. Inbox also allows you to view photos, check flights & see shopping information.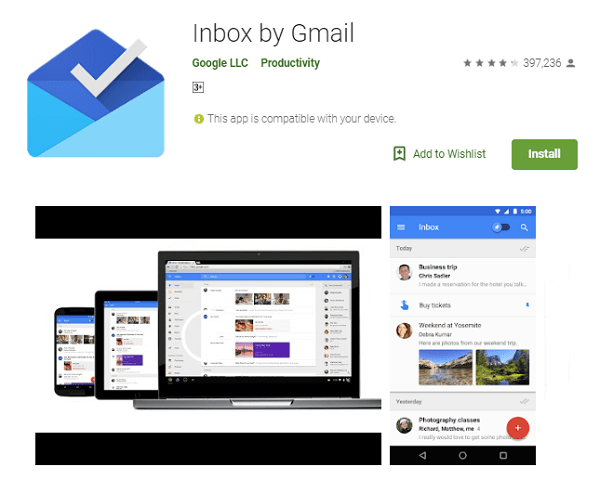 Features:
Faster & Smarter then Gmail
Easy User Interface
Advanced Looking
Checking feature: Flights & Shopping
Tag specific emails
Even though having numerous features there's 1 limitation. You can only sign in Gmail ID. Inbox also integrates with Google Assistant. So, if you don't use Google Assistant then you would probably skip this app.
4. Microsoft Outlook:
Microsoft Outlook or MS Outlook is an app usually not used by many people. People tend to think of this app to be more professional might be because of the presence of Outlook in PCs. You can add Gmail, Yahoo, Exchange, IMAP, Outlook, Office365 & iCloud too. Really, a compatible app for free of cost. Outlook features Artificial Algorithm that makes your work easy. The AI keeps track of your moves & automatically displays important emails on top among all emails. You may access SETTINGS to get Add-ons like Evernote, Nimble, SharePoint, Trella, OnePlaceMail, etc.
Features:
7 Account-ID login
AI Featured Algorithm
Add-ons available
5. K9:
K9 has been in the market since Android 1.5(Cupcake) but still a popular app. It is an open source email app with many features. The app is lightweight & supportive. Coming to looks, the apps user interface is simple but looks aren't of advanced level. K9's looks aren't competitive to Gmail & Inbox would be too far. However, features might impress you more.
Features:
IMAP Push Email
Multi-Folder Sync
Flagging & Filling
Signatures
BCC Self
PGP
Lightweight
6. Newton Mail:
Newton Mail is one of the most powerful email apps available in the market. Previously, Newton Mail was known as "Cloud Magic". The app has an easy & simple user interface accompanied by Android Wear Support. Newton is also available for iOS, Chrome, Android & Mac. People usually prefer this email app because of its smart searching capabilities & cross-platform abilities.
Newton also supports primary email providers & you can integrate tools like Zendesk, Pocket, Evernote, OneNote & Trello. You can even protect your inbox using a passcode. Unfortunately, this app isn't available for free but you may go for 14-days trials before going for a paid one.
Features:
Simple User Interface
Android Wear Support
Smart Searching
Cross-Platform Ability
Work tools Addon integration
7. Nine:
Nine is also a great competitor in this list. I would recommend this app to people who keep security as a high priority & also use Outlooks. Nine's User Interface is perfect with "Full-screen mode" to view emails. You can add "Passcode Lock" at user-defined intervals. The app supports Exchange ActiveSync which forms a stable & secure internet connection. Actually, Nine was developed for Business Customers but anyone can use it. Being built for business the email app is trustworthy in matters of security & tools.
Features:
Secure
Android Wear Support
Passcode Lock
Encryption
The only disadvantageous phase of this app is "Quite Expensive". The app is only free on 14-Days trial basis. The paid version is quite expensive & not recommends if you just want an app for casual use.
8. Aqua:
Aqua Mail is considered as one of the best for corporate & personal email account users. This app also supports many email services. Aqua also offers you widgets that might reduce your work. You would definitely like text editor of this email app.
Features:
Best for Personal & Corporate users
Supportive
Text Editor
Customizable
Widgets
9. TypeApp:
TypeApp consists of an inbox "Unified" where all of your mail accounts are placed. Outlook users won't get disappointed with this app because you will get Exchange ActiveSync. TypeApp is free & do not support any ads. I would recommend you this app definitely because it's worthy!
Features:
Manage all your email accounts on 1 customizable place
Unified Inbox
Push Notifications
Day & Night theme modes
Contact Sync & Calendar
Group mailing services
10. myMail:
myMail stands on #10 in our list even having easy & smooth functioning. The reason behind myMail being at #10 would be discussed later on. The app supports all major email services. Additionally, the app offers real-time customizable notifications, data compression & smart search. However the app isn't much highly featured or advanced, the app has everything to manage a perfect mailbox.
Features:
ActiveSync
Email Signature
Data compression
Smart Search
Coming towards the reason why myMail has been placed at last is "ADS". Yes, myMail is an advertisement featured app. However, the app is free & has multiple features. So, you may have a try keeping ads points in your mind.
Conclusion:
So, these were the Top 10 Best Android Email Apps according to our research & analysis. Few of them are Paid too but we have mentioned about them. We hope you might have liked it. Feel free to ask any query or add suggestions via Comment Section.