Hello friends, today, I am covering a significant topic, and I am sure that If you are an iPhone user and you have updated your phone. Then, you might be searching for the answer to these questions. Like how to recover iCloud Backup to New iOS devices.
"Why my iPhone contacts disappeared?", "Why my contacts on iPhone have lost?" or "Why my contacts vanished from iPhone," some iPhone operators requested these questions after they updated their devices. As you may recognize, iOS can cause unintentional data loss for some reasons.
Sometimes in the excitement, we usually update our phone without taking backup and without reading the warnings. So, In this article, I am going to solve your problem. And I will tell you all the possible methods to restore your precious data, Images, Videos and all.
Read More: How To Know Your iPhone Origin Country
Part 1. The official way to restore iPhone backup from iCloud
Either we want to restore the backup to our new iPhone or an iPhone in use, we need to confirm that we have an iCloud backup file to restore. To backup iPhone to iCloud.
First, go to iPhone Settings, Click on Your Name.
Then tap on iCloud and then click on backup. If you are using iOS 10.2 or earlier, go to Settings > Scroll down and tap on iCloud > Turn on iCloud Back and then top on Backup Now.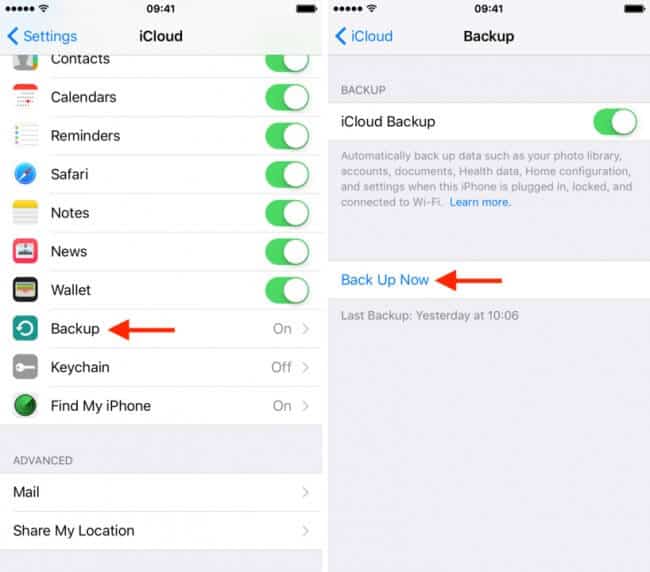 Now that we are sure we have the proper iCloud backup let's go to see how to restore iPhone from iCloud
How to restore a new iPhone from iCloud backup?
Turn on your new iPhone and follow the on-screen instructions.
On "App & Data" screen, tap on "Restore from iCloud Backup."
Sign in your Apple ID and select the backup file you want to restore.
How to restore an iPhone from iCloud backup?
Please keep in mind that restoring from iCloud backup can only be completed through the iOS Setup Assistant, which means it's only available during the iPhone setup process. So if you want to restore some content from iCloud backup, you need to erase your iPhone to set it up again. Follow the steps below to restore iPhone from iCloud backup.
Goto Settings > General > Reset > Erase All Contents and Settings.
When the iPhone powers on again, follow the on-screen instruction to start setting up the device.
When you get to the "App & Data" screen, choose "Restore from iCloud Backup."
Proceed to sign in with your Apple ID and password and the new iPhone will begin restoring all the data including apps, music, contacts and more.
Part 3. Restore from iCloud backup not working? Here's what to do
Restoring from an iCloud Backup usually works without any severe issue. But sometime you may face a problem, and you cannot regain your full data. The following are some of the most common questions.
If you are getting an error message "There was a problem loading your iCloud backups. Try again, set up as a new iPhone or restore from iTunes backup."
So, If your device is showing the message like this then, there is a problem with an iCloud server. To mitigate this problem, you should check the iCloud system status.
Go to the webpage at System Backup, and if the status is green the servers are running just fine, and the problem could be your own device's connectivity. Just wait a few hours and then try again.
Photos and Videos fail to restore
This can happen if the camera roll was somehow excluded from the backup section. You can check whether the iCloud backup has camera roll enabled. Here's how;
Step 1: Open Settings > iCloud and then Tap on Storage & Backup > Manage Storage.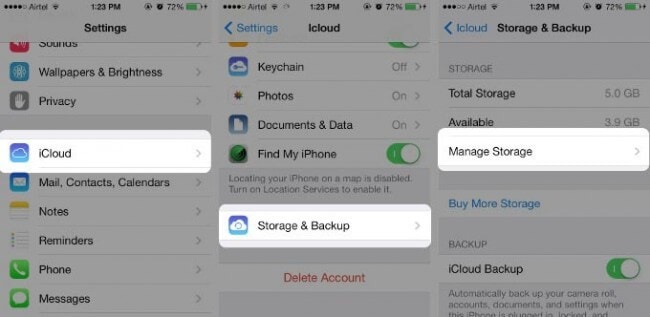 Step 2: Select the device name, which is also the device that is being backed up and make sure that the Camera Roll is turned on.
This step will ensure that even the photos and videos are backed up. Wait a few hours and try again.
We hope you can restore your iCloud backup although if you are experiencing problems with your backup, dr.fone – Backup & Restore (iOS) would be the ideal choice as it doesn't rely on iCloud servers.