Is it possible to get Notepad++ for macOS?
TextEdit is one of the default text editor available on macOS. Meanwhile, Windows offers Notepad as default text editor. However, there are many Mac users who want Notepad++ sooner or later. But why? Why do Mac users want Notepad++ & what is Notepad++ for Mac OS? Well, we will explain to you. To keep your download & upload data under privacy you can use VPN or other apps.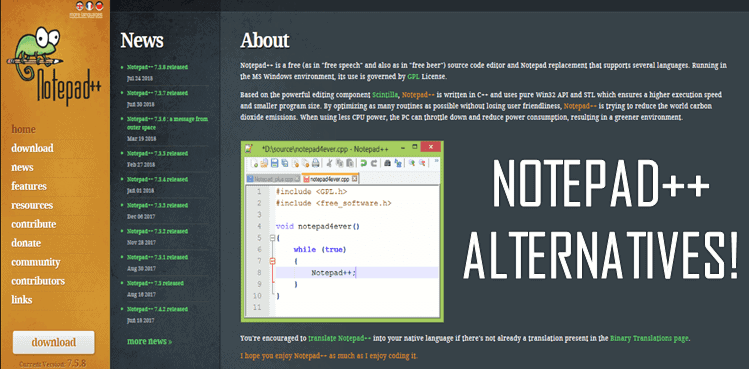 What is Notepad++?
Notepad++ is generally an advanced version of default Notepad. To understand it better, let's take an example, Notepad is a normal muscle person. Meanwhile, Notepad++ is the steroid muscle person. Notepad supports several numbers of programming languages & offers you a few more additional features. Like Syntax Highlighting, PCRE, Search/replace, syntax folding, auto-completion, WYSIWYG Printing, Macro recording, playback, bookmarks, zoom in/out & multi-document editing.
Also Read: How to Use iMessage on Windows PC
Overall Notepad++ is absolutely free to use & was released in 2003 by Don Ho. The free open source library supports multiple features related to coding stuff & makes it easier for coders. Around 84 languages are supported on Notepad++ & free make it more efficient. As a result, the text editor was the most used one worldwide with 34.7 %. The glory of this editor doesn't end here, Notepad++ has been winning prestigious awards including "Best Programming Text Editor for Windows" in 2011 & 2014.
Why Notepad++ isn't available on macOS?
Getting Notepad++ on macOS isn't possible. People usually tend to think that it's because Notepad cannot work on macOS. Well, that's not the actual reason! Notepad++ works on Win32 API, modern version of windows. Win32 API includes numerous component like devices, error handling, threads & file system. In short Notepad++ cannot work without Win32 API. So, if macOS had it then there might have been the probability of Notepad++. Just Kidding!
Well, Notepad++ might not come on macOS unless & until the developers go for a commercial project with mac. However, until that, you may find alternatives.
How to run Notepad++ on Mac OS?
Notepad++ depends on Win32 API. So there are just 2 methods to get it on mac. The first method is to edit Notepad++ in a way that it doesn't depend on Win32 API. Well, this might be difficult. However, we have got an easy way too. The second method is to go for Notepad++ Alternatives. There' one more way that you may go for virtual machines or emulators.
Alternatives Notepad++ For Mac OS X:
1. Brackets:
Brackets is a new text editor made for making web developer's work easy. The editor offers you a live preview feature that lets you automatically see changes to CSS & HTML files on your own web browser. So testing can also be done by just using this 1 compact software. Additionally, Brackets can view you all CSS Selectors with ID in a specific windows tab. This allows you to code side-by-side without any interruption.
The software is absolutely free, at least for now. Overall Brackets is light-weighted, runs good, great performance & regularly updated. Therefore Brackets is one of the favorites when it comes to Notepad++ Alternatives.
Also Read: Top 10 Best iOS Emulators For PC (Windows & Mac)
2. Textmate:
Textmate is also a text editor but a versatile one. The editor makes it really approachable for Apple Users & offers them many features. Features like the ability of search & replace, clipboard history, file tabs, foldable code blocks, auto-indent, dynamic outline & much more. Even though being a text editor related to programming, people often use it for normal text edits too. Such is the versatility of this editor. Because of the presence of macros, snippets & unique scoping system, Textmate provides enough features that not even IDE provides.
3. Sublime Text:
Sublime Text is an integrated text editor available for Windows, macOS & Linux. It's basically designed for the coding purpose. The software supports split editing, customization, binding, snippets, completions & menus.
Sublime Test is free to download but for the continuous use, you need to pay. However, the license would be approximately between $70-$80. You might be thinking that there are many editors for free, why would someone go for paid? Well, the answer is simple, people are satisfied to pay if they are served. Yes! Sublime Test is really sublime!
Lookup: Top 10 Best iOS Emulators For PC (Windows & Mac)
4. Atom:
According to me, Atom can be an ultimately a true replacement for Notepad++ for macOS. Firstly, the Atom is absolutely free (at least for now) & an open source software too. The software is simple, modern & hackable too. Additionally, the best thing about this software is that you can change almost everything possible. Install multiple themes or change the UI, it's all up to you. You can add features according to your convenience like adding languages (HTML & JavaScript).
Actually, the software is a rich feature embedded; you may install any Atom packages or features. Few of the packages are, project management, modal control, cleaning up, search Stack Overflow, readable, conflict management & more.
5. UltraEdit:
UltraEdit is a text editor who claims themselves to be the world's best. However we don't deny it, but that's a thing many software says. But we can at least accept it as one of the best. UltraEdit supports numerous different languages which include C, C++, JavaScript, XML, Python, PHP & Perl. You also get code highlighting, folding, retina display, drag/drop editing, theming, disk-based text editing & block mode editing.
Well, the software isn't entirely free. However, you can add Ultra products like UltraFinder, IDM access, UltraEdit Suite & UltraCompare. The paid version would be around $100 but its subject to change according to the software owners.
6. Komodo Edit:
Komodo also has an Integrated Development Environment (IDE) & is really a great choice among coders or developers. Well, there are 2 versions, one with entire IDE & second a light version of Komodo IDE. The Komodo Edit includes a few of the best features like markdown viewing, change tracking, auto-complete & multi-language. GitHub repositories provide extensions & themes for the software & for IDE too. However, you might not find numerous features that you might find in another editor. Still, it's a successful editor. According to me for free of cost, it's a good deal.
If you like to use any iOS application on windows don't forget to look into 10 best iOS emulators for windows.
7. jEdit:
This editor is developed keeping developer's mind so we can term it as self-described. jEdit offers you a lot of features that are capable of Windows, Mac & Linux. Shortcuts that are pre-mapped, markers that let you return to the marked point, clipboards, copy/paste, keyboard shortcuts, rectangular selection & split windows.
The software is highly efficient & editable, so this might work great for you. There are regular updates too because it's been handled by a large network of developers. Finally a great text editor for free!
8. TextWrangler:
TextWrangler was launched after the failure of BBEdit. Bare Bones Software launched BBEdit for a price of $50. But no one was ready to pay such an amount for a text editor. Then there was an evolution of TextWrangler as a younger brother of BBEdit.They also added a few fragmented features from other text editors like Unicode viewing, built-in text, transformation, Multi-file search & spellcheck.
TextWrangler
TextWrangler offers a lot of features but isn't that powerful yet. And people would definitely upgrade to BBEdit as its far powerful than TW.
9. Visual Studio:
Microsoft's free text editor for Windows is also available for Mac & Linux. The major key features are multiple number cursors, Regex, automatic & real-time API description, linting, Git control, 30 language support, debugging & centric editing. Overall a multi-platform IDE. Over here you are having Visual Studio family including Visual Studio Community. Using all of these features you can really substitute Notepad++
10. MacVim:
Our list would be unfair if we didn't place MacVim & an alternative list cannot be complete without it. Basically, it's a clone of Unix editor Vi including classic features. Don't worry there are new features too. For Mac users, this can be a solution. You can replace an IDE in case you do not need every advanced feature. Few of the best features are error detection, familiarity with Vi, customizable & syntax highlighting.
The software is also available for different platforms PC, Mac, Unix, DOS, etc. You can even use this software on your mobile, Android & iOS. Overall a bit complicated while starting but you will find it easier after spending valuable time on the software.