With many of the short messenger application, it turns out the providers of such applications discreetly provide a variety of new features that may be many unknown to most users. One of them is the  Easy Way to Change Font in Whatsapp Conversations.
But the conditions Whatsapp users in advance should have Updated version of the application. How? Easy, please just go to the
Google Play Store
, After Search Whatsapp and upgrade the app, users will see different views than before, and of course comes with some new features, one of which change the font whatsapp.  So, how to change the font on the message in whatsapp? The following are some options that can change your writing short messages.
Also Check:
Now Add Handwriting Text and Photo Stickers on WhatsApp
How To Change Font Variations in Whatsapp
The purpose of changing the variation, not change the font, but only change the display. For example, It can be Italic, Bold, and so forth. here's how:
1. Writing become skewed [ Italic ]
You do this by including a  _  at the beginning and at the end of the word you want made oblique. for example: _Premiuminfo_ this text will be Premiuminfo.
2. Writing Thickness [ Bold ]
How, by adding an asterisk
*
[Save], at the beginning and end of the word to be made thicker. as in the example: * Premiuminfo * This Text will be 
Premiuminfo.
3. Post Barred [
Strikethrough

]
To make the text visible or Strikethrough crossed out, how to add a
~
at the beginning and end of the word that was about stripped. Example: ~ Premiuminfo ~ then this text will be 
Premiuminfo.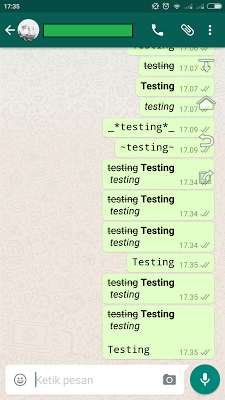 Note:
You can combine all three methods above in the text or in writing, for example, want to create a sloping [Italic], as well as thick [Bold], and can also be at once crossed out.
The way is easy, and the same way as above, , example:  ~ _ *Premiuminfo * _ ~ then this article will be shaped 
Premiuminfo
How to Change Font in Whatsapp
Exclaimed Can we really use different letters? Eg normal post people use normal tone of voice, and other writings as the people uses a tone little annoyed. Want to know how?
In addition to the system default font smartphone, you can use the letters FixedSys in WhatsApp.
Not need to use the application weird, you just add three marks ( `) , without the brackets, at the beginning and end of the chat that you send.
You can easily find the mark at all keyboard Android smartphone on the button symbols. On the iPhone, you should use a third-party keyboard.
Later each chat that you begin and end with the last 3 mark will turn the letters into FixedSys.
Example:

"`

Premiuminfo

"`.
But at least with their 
Easy Ways to Change Variation and Change Font In Whatsapp
, we can spirit to take advantage of the latest whatsapp especially to change the variations and change the font.