The Google Play Store is a huge ecosystem of games, apps, utilities, and more for Android users, but that doesn't mean it offers everything. For some users, it isn't enough, but there are quite a few Playstore alternatives to be had. Each one offers something different, and some even offer modified apps for free or at a much-reduced price. We're going to look at five of those alternatives.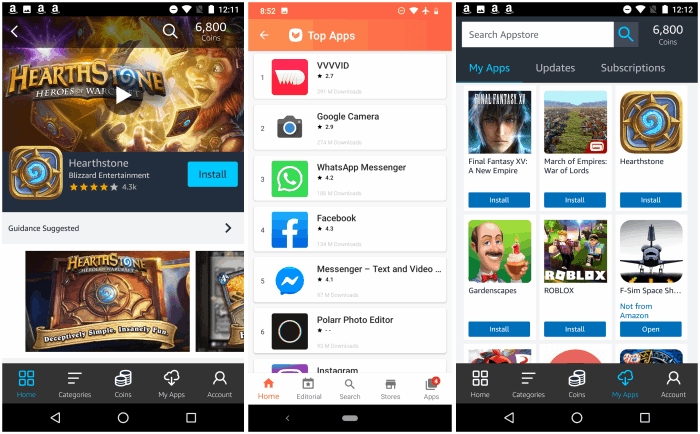 Installing Third-Party Apps:
Before you can install any third-party apps on your Android device, there is one thing you must do to ensure successful installation:
Open Android Settings
Open Security
Enable the Unknown Sources option
Also Check: Top 5 Best Free Weather Apps for Android & iOS
The Benefits of Third-Party App Stores:
There are several benefits to using third-party options:
More choice – each store offers something different to the official store.
Geo-restrictions lifted – all apps and games available, regardless of where you live.
Some offer modified apps for free and at discounted prices
You might just find apps that aren't in the official store
Top 5 Android Playstore Alternatives
1. Amazon App Store:
Amazon app store was launched in 2011 and contained around 3,800 apps and games. Shortly after launch, it took off, and it now offers almost 340,000. One of the biggest draws is that each day, Amazon offers an App of the Day for free and, if you check back every day, you could end up building up a collection of popular apps without having to part with a single penny. Some of the current freebies include Office Suite Pro, Looney Tunes Dash, Angry Birds Slingshot Stella, and more.
2. Aptoide:
Another popular alternative, Aptoide provides you with a higher chance of getting 3rd party apps for free than many other alternatives. The interface is very clean and user-friendly, not just on the mobile app but on the web app too and is designed to Google standards. Many of the apps that you get for free are supported by ads.
3. Samsung Galaxy Apps:
Samsung has long worked towards creating an Android branch of their own; all their devices have their customized interfaces, Samsung produces its own Smart accessories ad they even offer an app store of their own, one that they say brings all the apps for your Samsung device together.
The apps features in the store are specifically for the Galaxy or Gear range of products, and all of them are useful categories. There's the Best Pick category that offers some of the top apps that are Samsung-ready; a Galaxy category brings together all the Galaxy apps, and the Gear category holds all the Gear related apps.
There are special promotions on a regular basis, and you will sometimes find some of the top apps for free or discounted.
4. AppBrain:
If its modified and premium apps you want for free, AppBrain is the app for you. This isn't piracy because the app developers themselves make their apps free for a limited period of time in return for publicity from AppBrain. Users have the choice of a web store and a mobile app, the latter of which is user-friendly, providing the user with full control over how the app works.
When you install it, AppBrain asks if you want to track your installations, just so they can bring you the relevant updates. If you use the app without signing up, you will be sent to the official store to download it; sign up for an account, and you get it through the app itself. Apps are stored in categories and are simple to download and install.
5. Opera Mobile Store:
Most people are familiar with the Opera web browser, but not many realize that it offers its own app store. This is a browser-based store, and it cannot be accessed any way other than through Opera. It has a large catalog of apps and games, and you can use the Opera Mini Browser to find them and install them.
These are just five of the best Android Playstore alternatives available. All of them are free to download and use and most offer a free paid off the day, although don't expect them to be the top-rated apps very often.
Give these alternatives a try; they all offer something different for Android users, and some offer a web-based store as well as a mobile app.