Avast is a well-reputed company when it comes to Antiviruses. They have been known for developing high-quality security & virus eradicating software. However few people might have faced issues while using their software in matters of personal user experience. Avast releases an independent lab tested & benchmarked product. The software gives you additional utilities that a security software won't have.

Avast Premium gives you a tool that helps you to clean up your computer & eliminates viruses too. We agree that Avast is a bit expensive as compared to other independent alternatives. Here comes a question should we go for Avast or someone else? Well, the answer is "IT'S UP TO YOU!". You might also face shortcut virus which can be removed easily. There are many cleaners & registers on the internet that are cheap but they might trouble you. May, Just Maybe a few cheap ones are virus landing tools. But, Avast gives you TRUST!! Avast is a trustworthy company in matters of software.
Avast Cleanup Premium was released in July 2015. Cleanup Premium is a substitute for Avast's GrimeFighter app (discontinued).
NOTE:
Make sure that you have a backup for your data before even thinking to make any type of changes.
Do not download any cheap Antivirus or Cleanup software because they might flood viruses in your computer.
Go only for Top-rated – Trustworthy – Reputed ones!
Are you an Android User? Getting some sort of suspicious activity around you? Is your phone accessed by someone at your office place or college? Are things automatically done on your phone by someone? Well, blaming someone isn't right unless we have proof. Why not try Android Keyloggers? Read & try Top 6 Android Keyloggers 2018.
System Requirements:
| | |
| --- | --- |
| Operating System | Windows 10/8/8.1/7/Vista/XP or above |
| Processor | Minimum Intel Pentium 4/ AMD Athlon 64 |
| RAM | Minimum 256 MB |
| Hard disk space | Minimum 1.5 GB |
The popularity of Avast Cleanup Premium:
Avast determines it's market on the basis of bundles of software packages except few. So it's a bit difficult task to determine Cleanup Premium market share alone. However, in January 2018, Avast has the biggest market share in Cyber Security Industry. According to Statista.com, the value can be figured as 19%.
4 Million + Followers on Facebook
200000 Followers on Twitter
15000 Followers on LinkedIn
200000 Followers on Google+
40000+ Subscriber on YouTube
We have discussed Avast, system requirement & popularity. Let's get to the features & basic ones too. Firstly, we would discuss basic ones & then a few more features. After discussing all these things we will figure our Pricing & is it worth?
User interface:
Avast Cleanup Premium's user interface is simple, clean & an excellent blue theme. You get a combination of green, yellow & red to determine Computer Status. The colors are guided for a user to understand which thing has problems. The main screen has a Tune-up Meter that shows the current status of your computer. The main screen gives you Maintenance, Speed Up, Free up Space & Fix Problem button.
You get 2 sets of navigation panels: TOP & SIDE. Top panel button deals with "under the hood" aspects of Cleanup Premium like Settings & Licenses. The side panel on the right-hand side includes access to other features, utilities & usage statistics. There's a left corner button too that allows you to Unlock All Features.
Overall, design & interface of Avast Cleanup Premium is attractive yet professional. Sub menu's & sub-screens work smoothly & sliding out sides work smoothly. The design is undisturbed & results in a flow.
Localization:
Avast Cleanup Premium gives localization in over 40 different languages. Different Language – Different Alphabets – Different Spelling – Different Writing System. To change or check localization, Go to Menu > Settings > Language > Select your preferred language. When you change language your entire interface will change according to your selected language.
Impact on Resources (Memory & CPU):
Avast products are usually lightweight on your computer system & small resource footprint. There's a new feature in Cleanup Premium known as "SLEEP MODE". Sleep Mode displays you which programs may cause a problem in system performance & lets you decide to pause it or put it on sleep. You can reactivate those apps later on too. In simple words, Sleep mode temporarily stops apps that might be troublesome.
Protection:
Improved boot time
Faster performance
Improved Efficiency
Longer Battery Life for Laptop only!
Removal of Unnecessary apps
Sleep Mode
The powerful & optimized system registry
Do your love Entertainment? Are you a fan of Netflix? Or you want to see something on Netflix but don't want to pay? Well, our blog is a compact solution for you. Why not have a look on "Free Netflix Account Premium 2018".
Features:
Few of the other features of Avast Cleanup Premium are as follows:
Maintenance Scan: Clean up issues & errors related to temporary files such as Browser, Cookies, Cache, Cookies, etc. Also, repair broken registry entries.
Disk Cleaner: Scan your computer's hard drive & get rid of waste files.
Junk File Remover: Removes old files which aren't in use, duplicate files, the leftover from uninstalled programs & empties Trash Bin.
Tuning Dashboard/ Action Center: Search for common issues, unsafe stuff, user account & settings, fixes them all.
Browser Cleaner: Clears Cookies, Cache, Download History & unnecessary data.
Registry Cleaner: Scan windows & remove irrelevant or broken entries.
Shortcut Cleaner: Removes broken shortcuts & icon.
Bloatware Removal: Removal of Expired Trial software, adware & tools that consume a lot of hard disk space.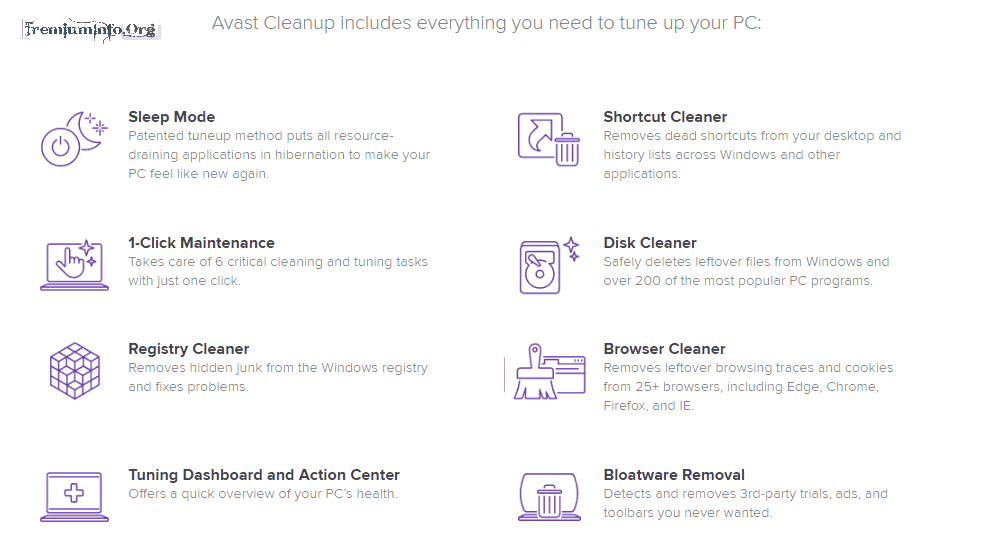 Plans & Pricing:
Avast Cleanup Premium is a paid application. However, you can use it for free till you just want "Scan Only Mode" available. But if you want to use all features of Cleanup then you need to buy one. Or activate Cleanup for 60 Days trial period. In this 60 Days trial, you will get full access to features & tools. Just sign up & insert your personal information including Credit Card.
Don't worry Avast won't charge you even if they are having your card details. Your trial period will last for 60 Days & before it's end date you will be notified. If you don't want to buy it just opt out & don't pay. But this needs to be done before the trial period ends.
Plans are subject & changeable according to Avast, we don't guarantee these plans.
| | |
| --- | --- |
| 1 Year License | $49.99 |
| 2 Year License | $89.99 |
| 3 Year License | $129.99 |
NOTE:
Few people might try to unlock & get entire access to the software by getting license keys from any website. This isn't a good idea. If you do so, you are doing wrong because in a world of insecurities you trust an unknown website just for keys. These keys might intrude Virus. So, stay away from such cheats & stay safe.
Conclusion:
So this was all about Avast Cleanup Premium ranging from basic information to pricing. Overall we would recommend you this application because you are getting full security at a specific price. Yes, we accept that the software is expensive but it's worth too. However, it's all up to you. If you face any problem or issue related to today's post, feel free to contact us via Comment Section.