Adblock vs Adblock Plus, are they both same or different? We usually think that something like premium or plus means that it's an advanced version of the previous one. Right? Probably even you might have thought the same. Well, that's partially true, not everything named as Premium or Plus means advanced version. So, what's the difference between them will be a question arisen in your mind. Well, we will discuss everything related to AdBlock's, about them, similarities, differences, pros & cons. Always we will end this debate by stating which one should you choose. So without wasting much time let's tune to the post.
In the world of technology, advertisements are an important factor for the world for numerous reasons. But Advertisements result as nuisance sometimes when they cover our searched content or consume time (especially on YouTube). We don't like advertisements as they cover content, waste time, irrelevant ads, & sometimes redirect us to websites. Well, advertisements are the source of income so no one would disallow them & that's right too. However, people don't like it they have to deal with it. At this time Adblocking applications or extensions are the best options.
A sense of occasion when the debate heads to the 2 biggest rivals AdBlock & AdBlock Plus. None of them having upper hand over each other. Both are well-reputed, popular, the debate goes on but we still can't decide who's the best. Let's see who wins today's comparison El Clasico between AdBlock & AdBlock Plus.
Also Read: How to Skip or Block Hulu Ads Guide
Name & History:
Both names seem to be similar but in reality, both are developed by different teams of developers. AdBlock  Plus was the first one to come in the market & was developed for Firefox. Later on, AdBlock was developed by another team of developers for Google Chrome. AdBlock really got fame & popularity on Google Chrome. Just by looking at the response AdBlock Plus launched their extensions for Google Chrome & few more browsers. However, we can conclude one thing that AdBlock Plus has got upper hand historically. And, the very first difference between both is that both are made by 2 different teams of developers. As time flew ABP & AB headed towards other web browsers including Opera, Safari & Microsoft Edge.
AdBlock Plus:
AdBlock Plus is the first ad-blocking extension & the idea creator of ad-blocking, firstly available on Firefox & later on different web browsers. The extension is popular & well-trusted when it comes to blocking advertisements. But the popularity story is a bit different on Google Chrome. AdBlock Plus was late while landing them on Chrome Web Store. Within that delay, AdBlock was created & launched on Chrome. This delay resulted in less popularity & usage of ABP on Chrome because the market was captured by AdBlock. The extension is open sourced & enhanced with easy to navigate settings interface. You can block advertisements on the basis of their type & filter the useful ones. Just go to the Store & install it.
Talking to our viewers, with all due respect AdBlock Plus doesn't stop every advertisement. Yes, that's true. According to whispers & community forum's, Big advertisement companies pay ABP to bypass AdBlock Plus filters. However AdBlock Plus might win when it comes to offering features & tools.
AdBlock: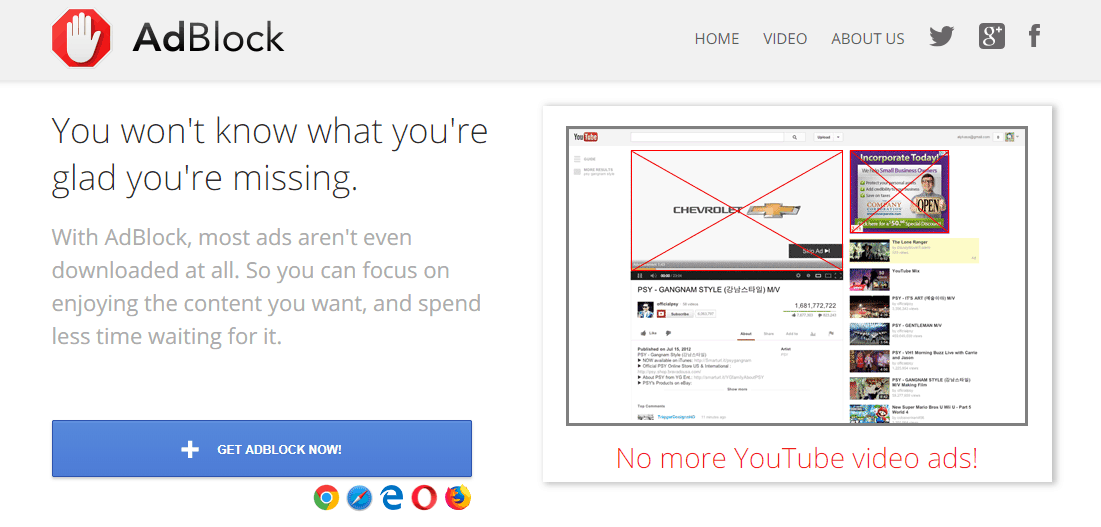 AdBlock was developed by an independent developer whose name is Michael Gundlach. However, the idea was inspired by AdBlock Plus. AdBlock was the only available extension on Google Chrome for stopping advertisements at that time. This resulted in more popularity of AdBlock on Google Chrome. If ABP would have launched them a bit sooner than the story might have been different.
Also Read: 10 Ways To Download Tumblr Videos
AdBlock didn't consume much time while launching them on different web browsers. Moving towards the features I think AdBlock is good but ABP is better. ABP might not stop every advertisement because of Advertisement company pressure but AdBlock has a drawback too. AdBlock makes your browser a bit slow if you have opened multiple tabs or something of heavy load. Also, AdBlock won't help you much when it comes on YouTube.
Similarities:
First of all both the AD-Blocking services use a common list of advertisements to be blocked. In simple words, both will block the same set of ads. Both extensions are open source that means, anyone can view or edit the source code without even paying a single penny. ABP & AB both allow few types of ads to bypass which are known as Acceptable Advertisements. However, this is entirely under the control of ABP. Earlier ABP used to block every advertisement but being paid for bypassing few ads they installed the EasyList.
Differences:
We have discussed similarities between AdBlock vs AdBlock Plus. Well, there is a difference too which we shouldn't ignore. We will discuss each difference step by step.
User Interface & Usability:
When it comes to User Interface we would recommend AdBlock Plus because settings & configuration in AdBlock is a bit complicated. AdBlock settings might be better for tech savvy's but for a new person filters & customizations might be confusing. However AdBlock Plus is easier to understand & control. AdBlock Plus is damn powerful.
Filtering & Whitelisting:
AdBlock Plus is quite easier to manage Whitelist. Just drop a websites URL & select whether to allow a website to show advertisements. However, you can perform the same on AdBlock but the process won't be that easy & linear.
Performance:
Performance is the most important factor for any software. A software's or extensions performance might differ from person to person or system to system. Because not every person is the same nor everyone has the same computer system. But according to me, I feel AdBlock Plus is much better than AdBlock in terms of performance. AdBlock Plus is light-weighted & can run fast even on the less powerful computer.
Difference Between The 2 Giants, AdBlock Vs AdBlock Plus:
Comparing both heads to head isn't possible because opinions & reviews differ. So we cannot give much weight to reviews or opinions. However, we need to include them too. We will now compare both extensions on the basis of Pros & Cons.
PROS:
| | |
| --- | --- |
|  AdBlock Plus |  AdBlock |
|  Open Source |  Open Source |
|  Easy to understand & manage |  Better Element Blocking Options compared to ABP |
|  Easy options for whitelisting websites & blogs |  Advanced Customization options |
|  Blocks malware & pop-ups |  Blocks same ads content like AdBlock Plus |
|  Lighter on resources |  Lighter on resources |
CONS:
| | |
| --- | --- |
|  AdBlock Plus | AdBlock |
|  Hides Advanced Options |  A bit complex & confusing UI as well as Setting |
|  Shows few ads via controversial "Acceptable ads" |  Shows Acceptable Ads |
|  Element Blocking is not very useful |  Whitelisting isn't much fast or easy |
| |  Some privacy concern issues in the past |
Who's the Winner?
Well, this is a really difficult question to figure out. Adblocking has always been a subject against monetization & there are debates on who's the best between ABP & AB. However, according to me, you may go for AdBlock Plus if you want something easy to understand & manage. Meanwhile, if you are OK with complicated stuff or settings & want something advanced looking then you may go for AdBlock.
Both are really great extensions but their debate is just like comparing Cristiano Ronaldo & Lionel Messi. They both are the greatest of all time but we still can't decide who the best is. Similarly AdBlock Plus & AdBlock both are best extensions yet we cannot determine an upper hand.
Also Read: Enable or Disable JavaScript in Google Chrome To Avoid Ad Popup
According to me means my personal suggestion I think AdBlock Plus is slightly better than AdBlock on the basis of reviews & even our head to head Pros & Cons. ABP & AB both have 5 PRO'S, but ABP has 3 CONS & AB with 4 CONS. However, opinions might differ from person to person.
Well, there's one more thing out in the market which is capable of stopping ads & malware from websites to keep you protected. Stay protected with Adguard. Adguard is an AIO that is All in one protector for being safe from cybercriminals & viruses. The software is a paid version available for PC, Windows, Android & iOS Devices.
Conclusion:
So this was a comparison between AdBlock Plus & AdBlock. However, we didn't have a definite winner but at least you got an idea about which one is better for you. Choose one according to your convenience. Well, that's all for today if you have any doubts or query feel free to contact us via the Comment Section. We keep on posting tech related stuff regularly so follow us & become a tech-savvy just by reading our daily content. So Follow us & STAY TUNED!