If you have CoC Accounts banned, receive notifications " You have been banned! We have detected the use of 'mods' or 'bots' on this account "or something like that, this approach could be to overcome the problem.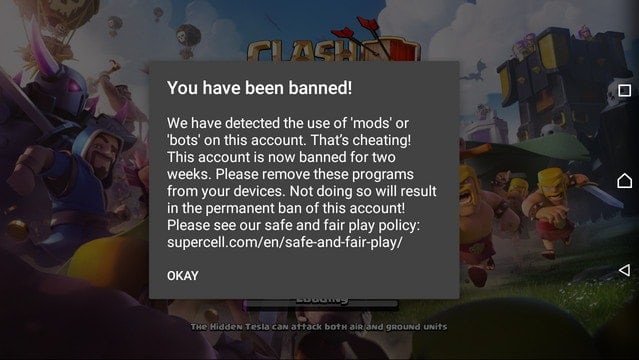 How to Restore the CoC Accounts Banned Permanently?
Obviously, no matter where we are, when the games where we've struggled reached its highest level with all power and effort, but it should be banned suddenly. Shock? Obviously, but what would you like in the word, Supercell own 'tap hammer' that we are guilty.
Not that can not defend himself, we can still appeal to get us back CoC account. While this is not absolutely certain. It could be our account back, but do not expect with something uncertain. Because Supercell not necessarily want to open hearts, so it's better to make a new account and try to play back.
Read More:

Top 10 Causes Android Mobiles To Heat Faster
Actually, there are many reasons why we CoC account got banned by Suprcell. Mostly due to the use of mods and boots, others for fraudulent use of means of hacking or cheating . The other reason for our dirty words in chat CoC, or even banned for explicit pictures that we post.
But regardless of the reason, there's no harm in trying not to get your account back Pokemon we are already banned permanently? To regain your CoC account, which should be done only with the appeal, or request open banned. By sending an email to clashofclans.android@supercell.net or feedback clashofclans@supercell.net contain:
Read More:Top 7 Data Recovery Application For Android 2016
Name or ID, Townhall, Clan, Exp Level and contain a description of your defense, that you are not cheating (if you are never cheat, but hit the wrong target victims Supercell). Can be filled with any information that might be made hearts melt Supercell and want to reopen your account.
Example:
ID: Premiuminfo
Townhall: 10
Clan: Virtual Dragon
Exp Level: 120
Description: I'm not cheating, but getting banned. Something Like That
After submitting the appeal in the above, the rest we can surrender to the almighty that Supercell want to open our account permanently banned. Way above does not guarantee your account will be banned in the open again, but no less clashers who managed to obtain their account back. Perhaps the law 'palmistry' applies here.
How To Create New COC account, if your account is Permanently banned:
Do a factory restore and set it up as a "NEW" device. *Before you do this make sure you back up your device (Very important)

Create a new game center ID (usually it's your apple ID, so you may need to create a new e-mail account). For your itunes account you can still use the one you currently use to purchase apps.
Install Open CoC and finish the tutorial.
There is no other way if your account is Permanently banned by Clash of clans. You need to build your account from starting this will be really painful. If you had town hall 8+ with fully upgraded.