As we all know iTunes is a media player by Apple Inc and is daily used by 68 million users and fortunately, you can have it on your Windows and Ubuntu devices as well. Today I'm gonna show you how to use iTunes Dark Mode on Windows, Mac and Ubuntu.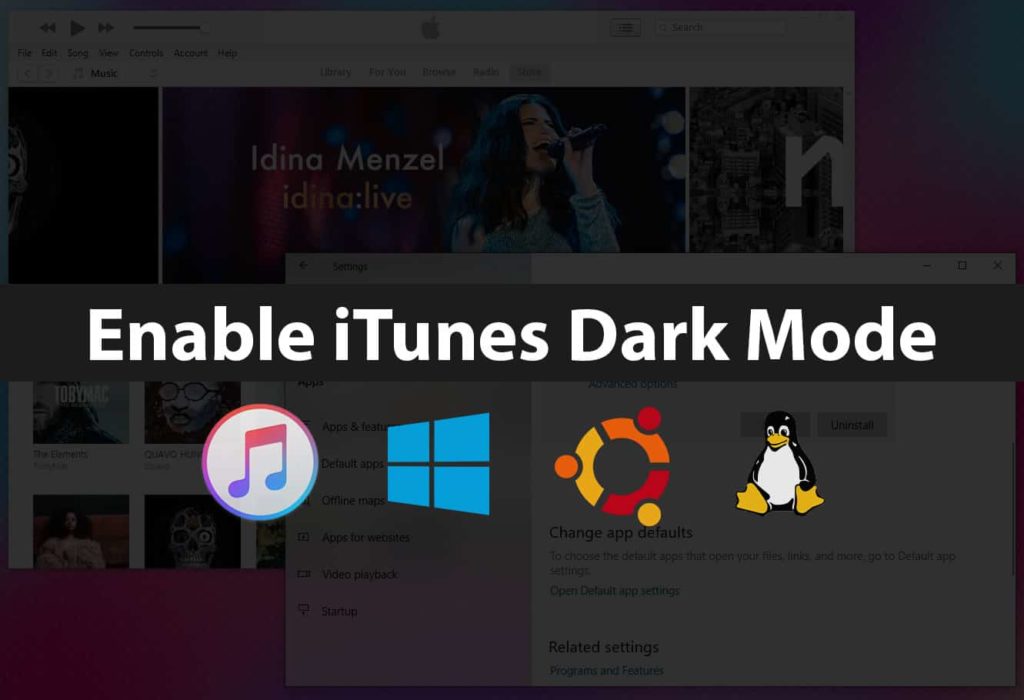 You may be one of those persons who is a heavy listener or uses iTunes at night time. A dark mode can help you with your comfort and maintain your focus in this scenario.
That's reasonable as well, working on the computer with a white background screen in the dark or in low light will do more physical harm than any good to your eyes.
And that's why you should enable dark mode on iTunes as well. It will help you with comfortable listening while surfing songs through it. Not only iTunes you can have a black background for all other apps like Mail, Messages, Photos, etc therefore giving a new look to your PC.
What changes can be seen after enabling dark mode on iTunes?
The answer is quite simple, all of the bright interfaces on iTunes will become dark, thus menu bar, sections, search, etc will get a black background.
Will it affect the user experience?
Definitely not, instead, it will help you get less strain on your eyes and you can focus on your task.
So, let's see how to get this feature on Windows 10.
Also Read
1. Enable iTunes Dark Mode on Windows 10
There was nothing like Dark Mode on Windows before the launch on Windows 10. Dark mode has become a handy feature since then.
Using this feature you can change all the apps of Windows 10 with black background and text and icons into light colors.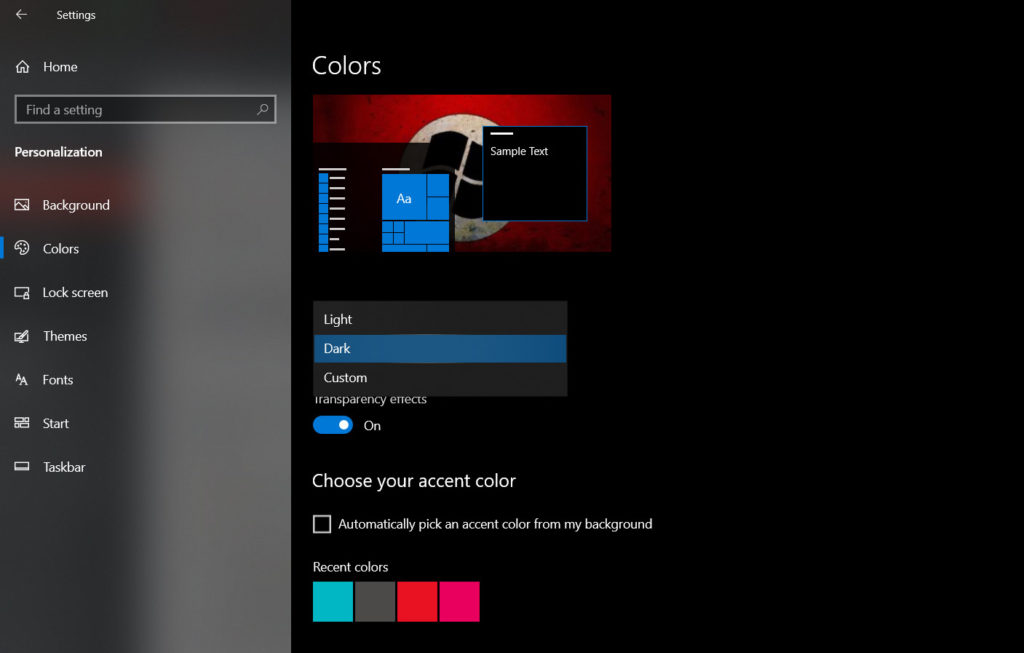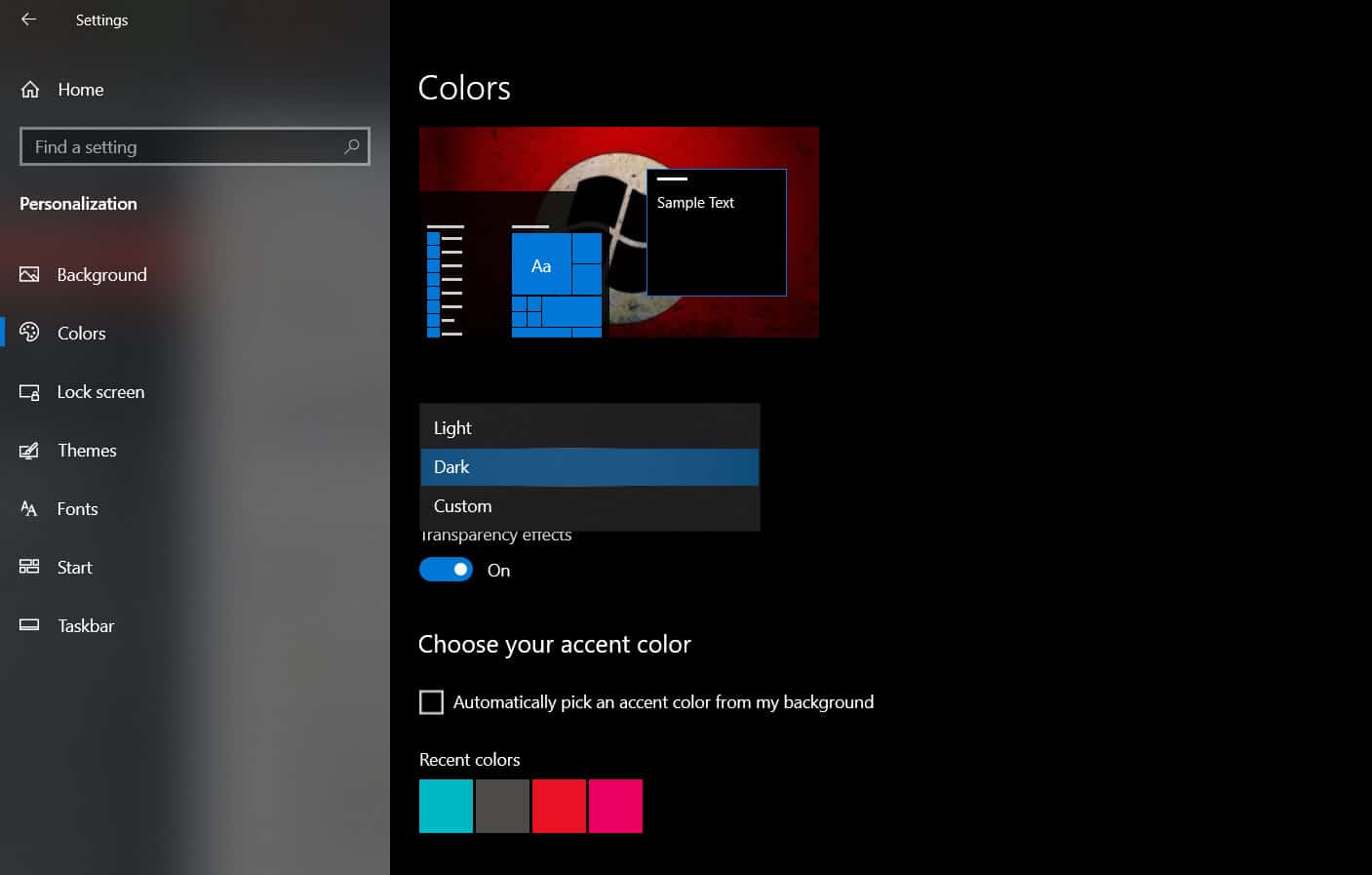 Follow the steps given below to enable a dark theme for all apps on Windows 10 including iTunes.
The first thing you have to do is to search for Settings using Windows 10 search bar. You can either type it or simply click the setting icon on the start menu.
As you are in the Settings section, find the option with Personalization written on it.
On the left menu, you'll see a lot of options to customize, among them choose Colors.
Now, select the Dark option under "Choose your default app mode".
Finally, launch the iTunes Windows App on your PC.
Now, check whether iTunes is working fine or not.
Also Check: Top 10 Best iOS Emulators For PC (Windows & Mac)
2. Enable iTunes Dark Mode on macOS
Here, I have discussed how to enable iTunes dark mode on Mac.
The dark mode feature was a result of the macOS Mojave update. Using this feature you can super-black your PC with a darkened theme.
After running macOS Mojave for the first time, users are asked to configure many options including Dark Mode but many of them don't think of using it at that time and the option for black background goes unchecked.
But you can still enable it for iTunes and all other apps by following the steps given below.
At the top left corner, you have to click on the Apple logo.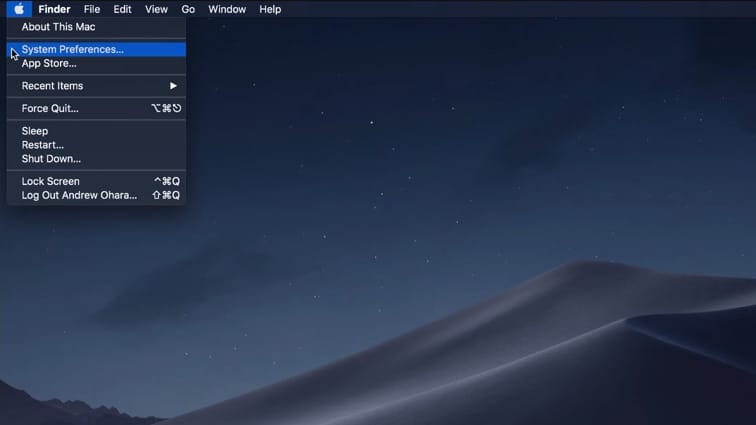 Now, select the option called System Preferences.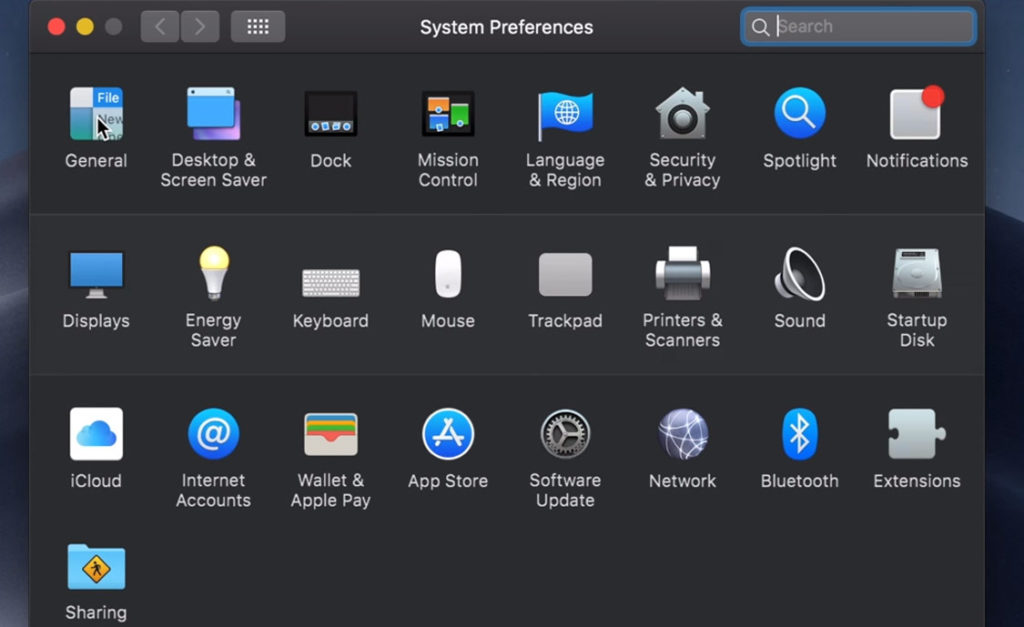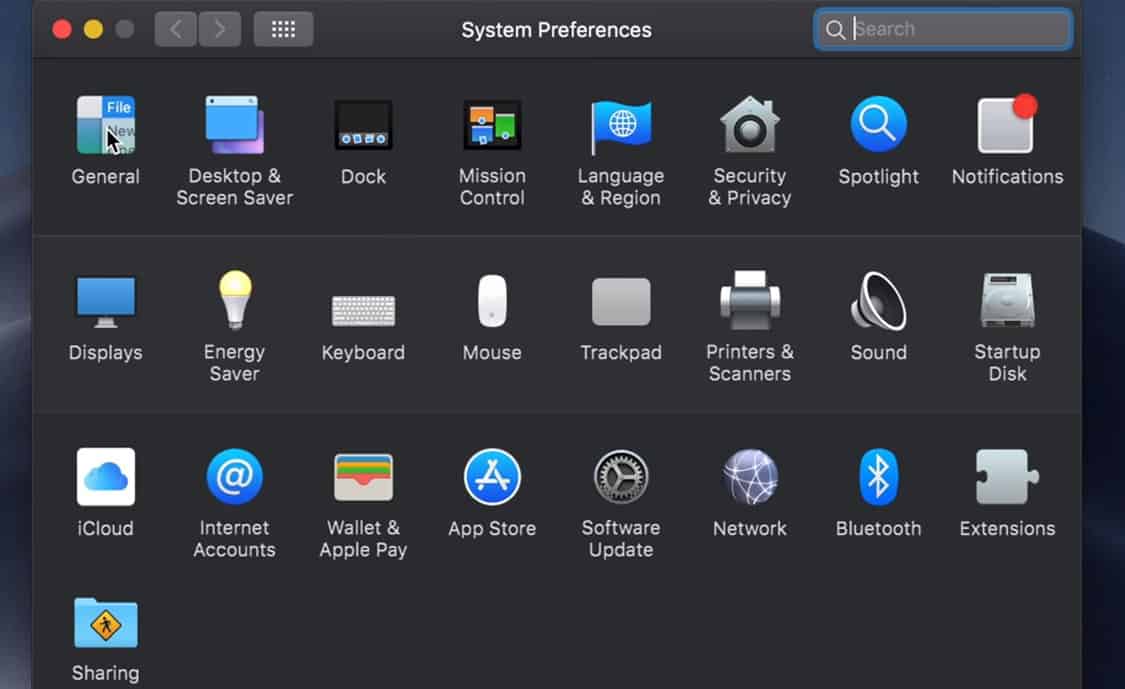 Choose the General option.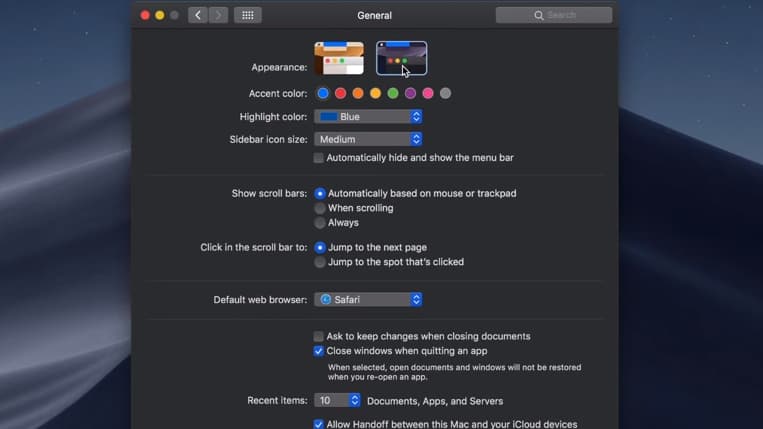 Finally, click on Appearance to see dark mode preview.
If you want to use this feature at the night time only, here's how you can do that.
Go to System Preferences.
Choose Desktop & Screen Saver.
Lastly, select Dynamic Desktop.
Now, if you don't use Windows and Mac, you're surely a Ubuntu user. Don't worry there is a solution for that as well.
What if iTunes is Not Working Properly?
If iTunes is not working properly after enabling full-level dark mode on Windows 10 and Mac, you might have to take the help of external softwares like iMyFone TunesFix to fix the issue.
This tool is specially made to address all the problems with iTunes and resolve it in minutes.
Here are some of its key features.
If iTunes does not work after enabling dark mode, it will fix it.
It helps you clean corrupted files, junks, old backups of iTunes to free up space.
Provides a permanent solution.
If you want to add it to your system, download it from here.
3. Install and Use iTunes Dark Mode Mode on Ubuntu
There's no doubt that you can use iTunes on operating systems like Windows and Mac.
What if you are Ubuntu 20.04 LTS "Focal Fossa" user as there is no official way to run iTunes on it.
Fortunately, there is a software called Wine which helps to run any Windows softwares on Linux devices and we are going to use it to install iTunes on Ubuntu.
But before that, we have to run some commands to install the Wine program.
1. Download Wine Repository Key 
Open the terminal and run the following command.
$ wget -nc https://dl.winehq.org/wine-builds/winehq.key
2. Add Repository Key 
Run the below command to add the repository key.
$ sudo apt-key add winehq.key
3. Add The Repository
To add the repository from WineHQ, run these commands.
$ sudo apt-add-repository 'deb https://dl.winehq.org/wine-builds/ubuntu/ bionic main'
4. Update Local APT Repository
You have to update the local apt repository to install Wine, so run the following commands.
$ sudo apt update
5. Install Wine 
After successfully running all the commands, it's time to install the Wine by these commands.
$ sudo apt install --install-recommends winehq-stable
After installing Wine, the system will ask you to install mono and gecko packages as well. So simply install them.
Now, you have completed all the steps to install the Wine Program, therefore, you can launch any browser and download iTunes from the Official Website.
The installation process is almost the same as that of Windows.
Enable iTunes Dark Mode Mode on Ubuntu
I'm assuming that you have iTunes installed on your Ubuntu 20.04 LTS "Focal Fossa", now let's see how to use dark mode on it.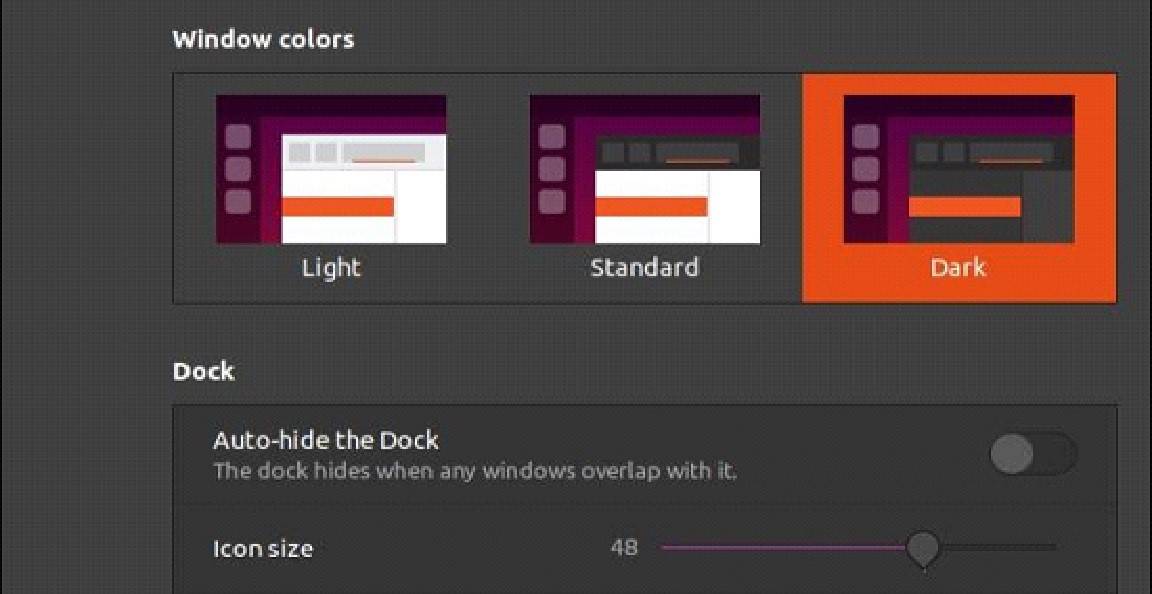 Follow the steps given below.
At the top right corner, click Settings.
Now, find the Appearance option and click on that.
Now, you'll have 3 Windows color options, among them, choose the choose Dark theme.
The change will effect immediately. Now, you can run iTunes with a dark theme on your Linux machine as well.
Conclusion
So these are simple tips to enable and use iTunes dark theme on Windows, Mac, and Ubuntu.
Not only iTunes you can have it for all other softwares that are installed on your system.
If you are an Ubuntu user, you are fortunate as not all Linux distribution has a dark mode option on it. But applications like Wine can help you in this case.
And finally, if you're facing any issue regarding iTunes not working, make sure to install and run iMyFone TunesFix to check and solve it.