We often face issues or problems while surfing the internet & a few times we get really annoying ones. One of these annoying troubles is ERR_EMPTY_RESPONSE. Well if you have been a Google Chrome user for a long time, you might have probably faced this issue & we ignore it too unless it goes for every website. However Windows version isn't responsible for this error, so do not make changes in your Windows Version.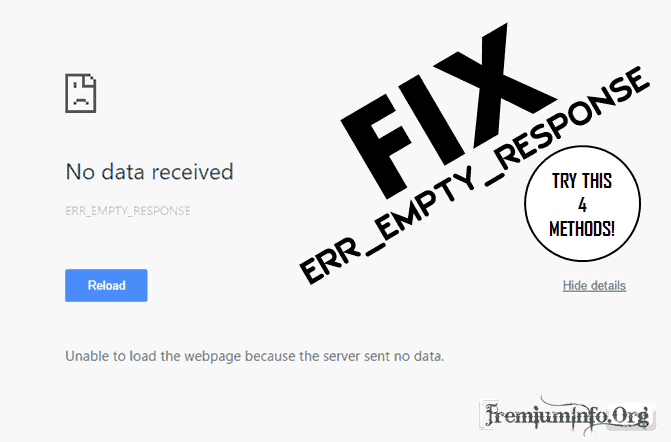 Today we will discuss a few of the best ways to resolve this annoying error. These ways are simple & working too. So without much delay let's get started.
What does ERR_EMPTY_RESPONSE mean?
An error that usually occurs on Google Chrome, no matter how updated your Chrome version might be. However, this error occurs because of poor connection. Many times while browsing or surfing on the internet, we come across this error on few particular websites or tabs. Errors like xyz.com page aren't working or xyz.com didn't send any data. And few times ERR_EMPTY_RESPONSE.
We have also already discussed the issue on chrome Fix ERR_CONNECTION_REFUSED Error In Google Chrome Browser. If you're facing such issue have a look into it.
Why does this error occur?
There are many key points responsible for this problem & just by knowing it you might be easily able to fix it. Few of the main reasons responsible for ERR_EMPTY_RESPONSE are as follows:
Bad Internet Connection
Running Extensions that might corrupt the web browser
Failure to clean the browser cache
The error caused by specific Temp Files
Gracias! To the solutions that can easily fix this out. Firstly you need to check your Internet Connection or connectivity. If that's proper than assure that is there any extension running? Well if both the situations aren't the problem or if the problem isn't fixed, stick to the post. Let's get started!
Reset Network Settings using Command Prompt: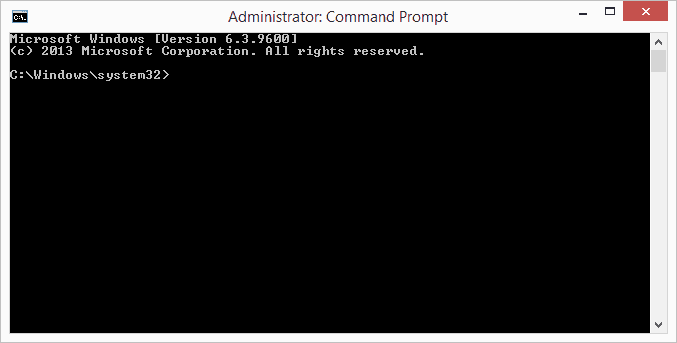 Resetting Network settings to default can fix this error because it can treat the error from the root. Well, let's discuss step by step.
STEPS:
Press the Windows Key on your keyboard in order to launch a Start-Up Menu.
Go to Command Prompt > Right Click & Run as ADMIN!
Once the CP has opened, type the following lines one-by-one:

ipconfig/release
ipconfig/all
ipconfig/flushdns
ipconfig/renew
netsh int ip set dns
netsh winsock reset

Close the Command Prompt
Restart your PC! If the error was caused due to network issue then this solution will definitely resolve the error.
Disable Extension: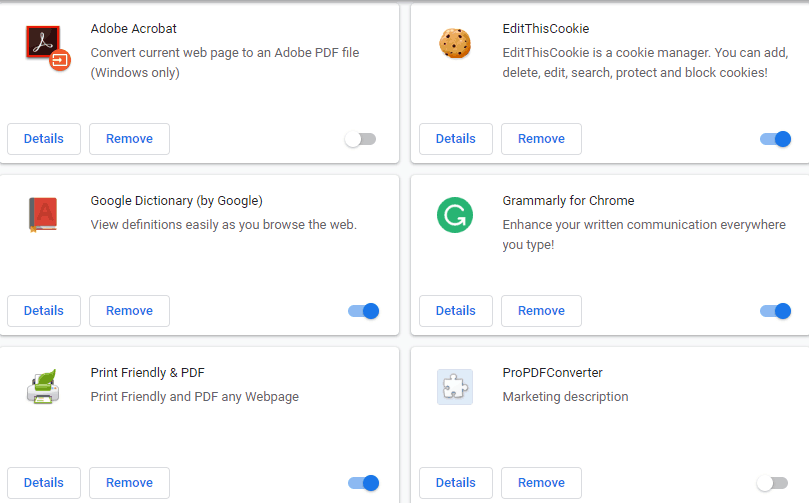 As earlier discussed the error might be because of extensions corrupting the web browser or corrupt extensions. So disabling it for a while can also fix this issue. Let's go towards the steps.
Also Read: AdBlock Vs AdBlock Plus & Which One is Best Adblock Addon
STEPS:
Open Google Chrome, Go to Menu > More Tools > Extensions
A list of all extensions will be viewed with a checkbox alongside.
Disable every extension by clicking on the checkbox
Start Chrome again & check whether the problem is still there or not.
If the error is resolved, now to know which extension has caused this error. Go through the list of extensions & enable them one by one. You will find out who's the real villain. Just Kidding!
Clear Cache & Chrome History: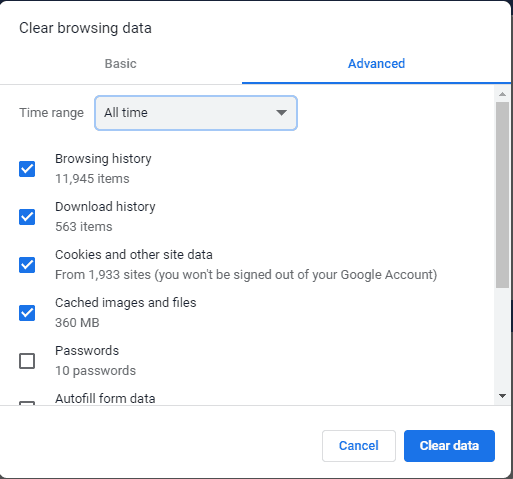 This is the easiest method & not of much steps. Just clear the cache memory, cookies & history. That's all.
STEPS:
Open Google Chrome, Go to Settings
Scroll down the Settings > Advanced
Click on Clear Browsing Data
At the top side, select "The Beginning of Time"
Ensure to have enabled the following things:
Browsing History
Download History
Cached Images & Files
Cookies & Other Site Data
Click Clear Browsing Data
Restart Google Chrome!
Check whether the error is resolved or not.
Clear Temp Files: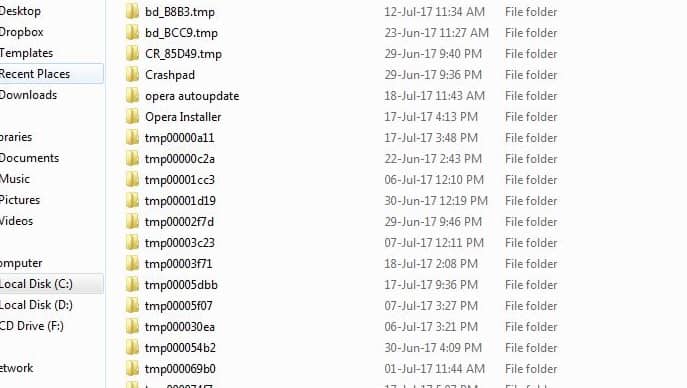 If you have paid attention to "Why does this error occur?", you will be aware that this error can also be caused because of Temp files. So getting rid of this files might solve the error. Just follow the below steps & this error might leave your ways:
Also Read: Enable or Disable JavaScript in Google Chrome To Avoid Ad Popup
STEPS:
Press Windows Key + R, this will open RUN dialogue box.
Enter "Temp" & click OK.
A file will open, Press "Ctrl + A" & then delete all.
Restart your browser; the error might have been resolved.
NOTE:
Above 4 solutions are capable of resolving this error but if the error remains, you may update your system driver. And if your driver is up-to-date then you may check the particular website on another web browser. But these 4 ways are enough to fix ERR_EMPTY_RESPONSE error. These ways will surely work but we don't guarantee it.
Conclusion:
There are numerous errors people face in their daily experience, we have discussed one such error today. We hope these ways fix it & make your browsing experience smooth. However, don't ignore our NOTE's because we warn or suggest you something. Additionally, if you have any doubt or query regarding today's post, feel free to ask us via the Comment Section. We will surely help you as soon as possible.
We hope that you like today's post. Also, we keep on posting tech related stuff regularly. So follow us to cherish your Tech knowledge. Become a Tech Geek just by following us!