How do you compress a video? Video files are large and sometimes that is a huge problem. Maybe you're creating a collection of movies but you don't have unlimited data storage. There's no need to pick out which ones are the best in your collection. You can keep them all. Just compress the video to make space.
Compressing video file sizes allow you to pack more movies in your collection. There's no need to sacrifice the quality of the videos with the right tools. Don't know how to compress a video? Here's our best-recommended video software that you can start with. Compress your videos easily and for free with UniConverter.
Also Check: How to Watch YouTube Videos without Ads | Windows, Android, and iOS
How to Compress a Video using UniConverter
To compress video size we have some features that we can tweak: converting video format, changing resolution, setting bitrate, and other customized features. Use UniConverter to do all these and more such as video download, DVD burning, video transfer, etc.
Step 1: Add video file that you want to compress
Open UniConverter on your computer
ClickToolbox section from the options
Select Video Compress option
From the new window, click the + icon on the center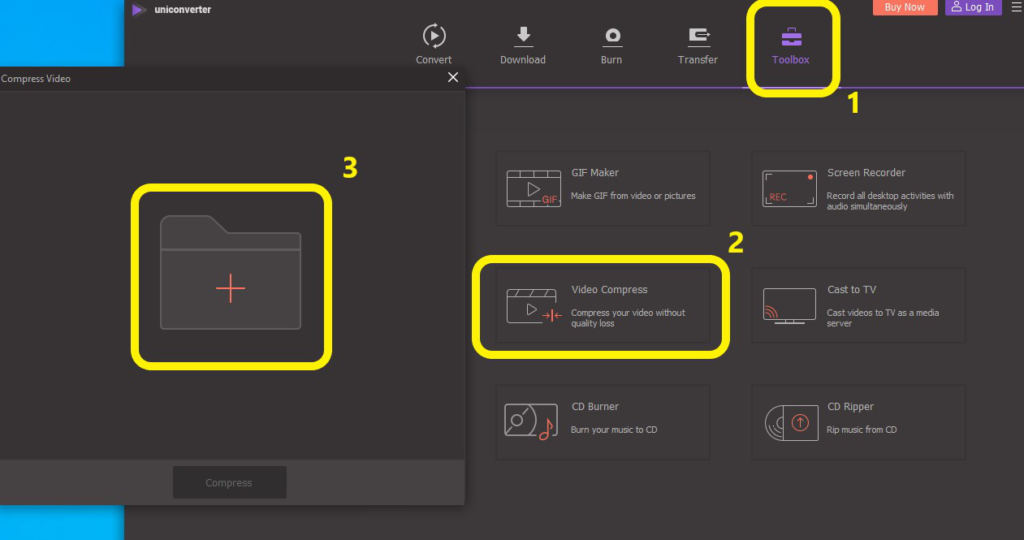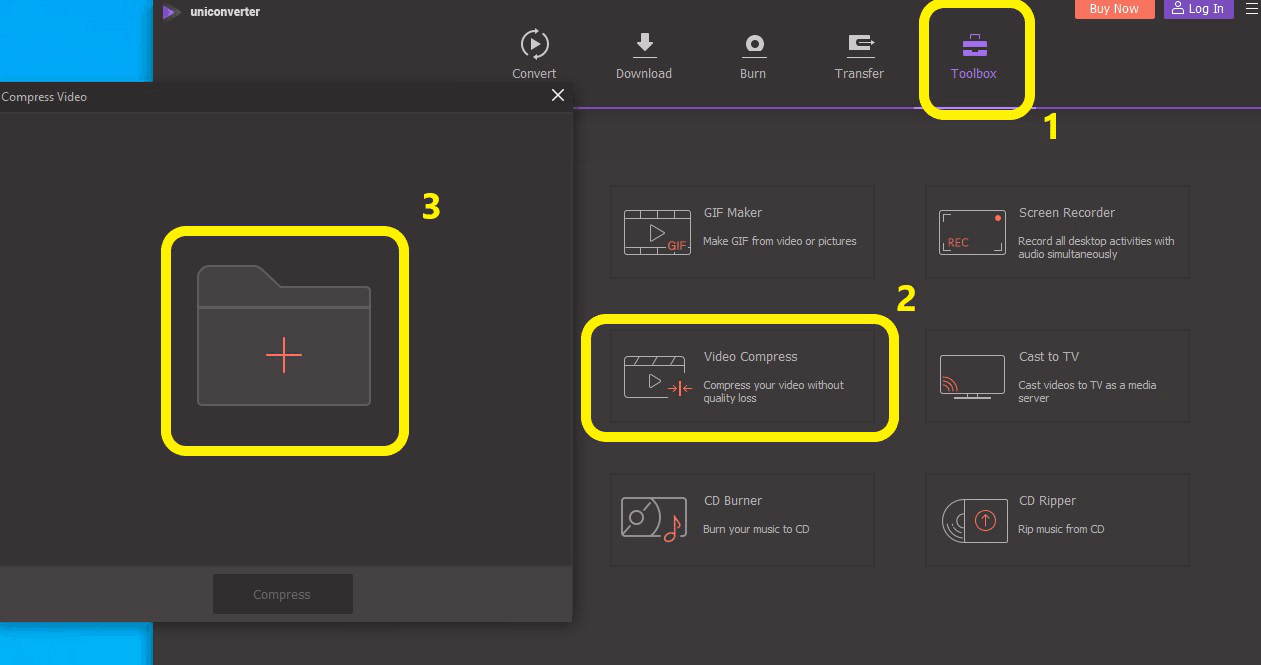 Add the video file you'll be compressing
Step 2: Customize settings of the video you'll compress
Video details will show up on a window
Move the Progress bar to let the software to automatically change the parameters or change them yourself separately
Notice that you can only compress the video size up to -69%.
Step 3: Compress the video and enjoy
Preview the video before compressing
Click the Compress button to reduce the video file size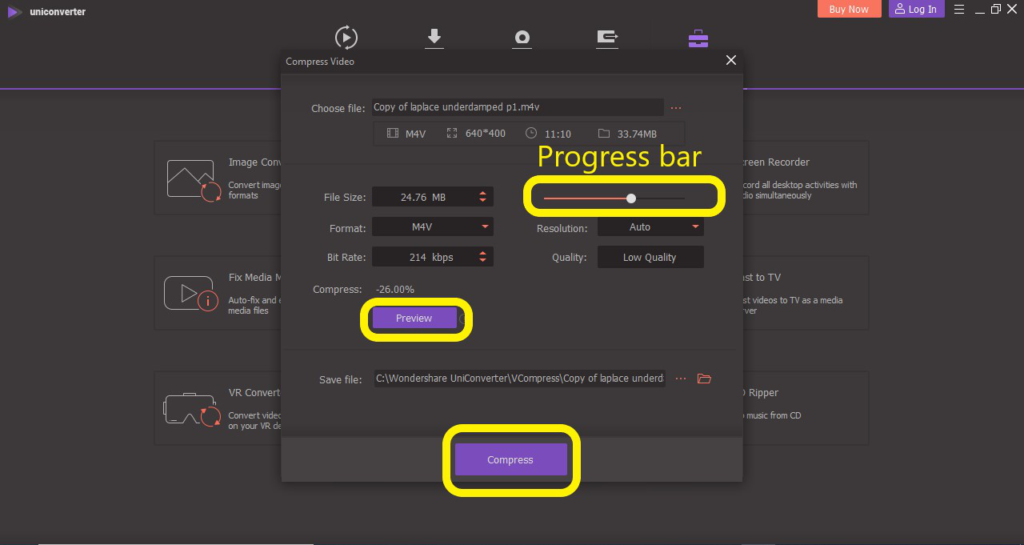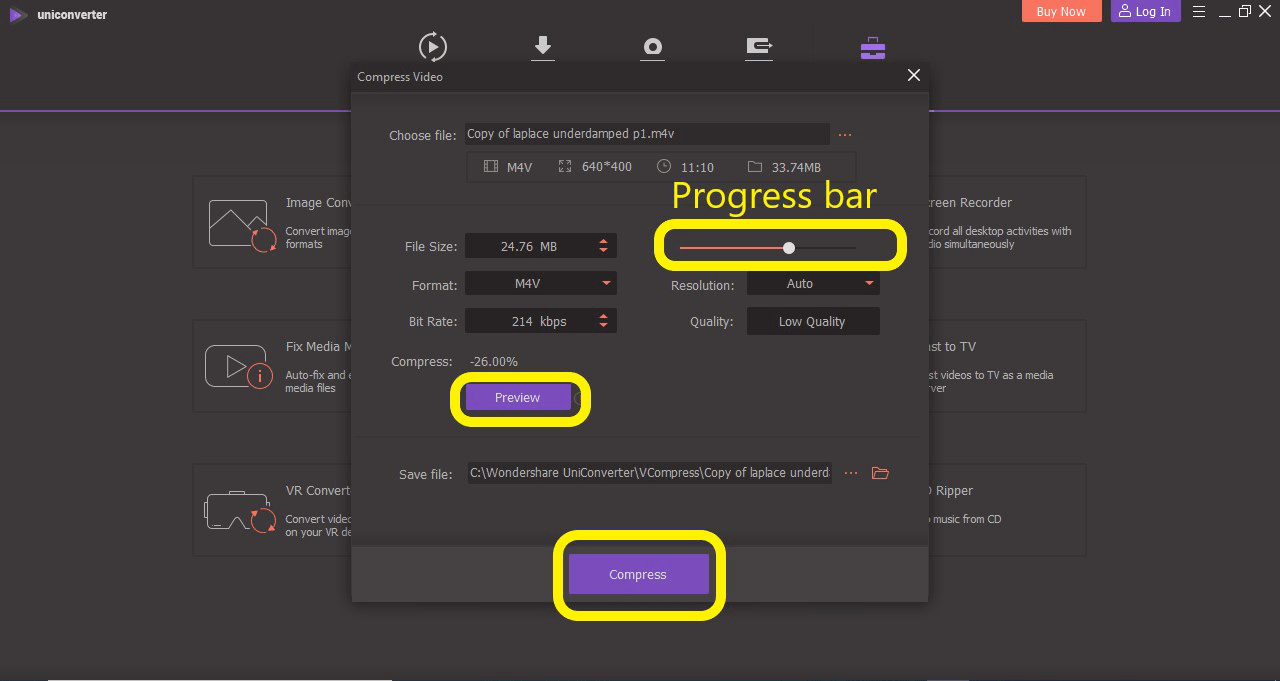 You just learned how to compress a video.
Read: Best 3 Ways to Download Hotstar Videos on Android and PC
How to use UniConverter to Compress Video in Batch
If the parameters of the videos you want to edit are all the same or you have many videos to edit why not just compress video in batch? It saves time and effort. UniConverter has a feature that allows video compression in batch. Here are 5 easy steps to compress your videos in batch.
Step 1: Add all video files you want to compress
Open UniConverter on your computer
Make sure you're in the Convert tab
Click + Add Files button to add all the files you want to compress regardless of formats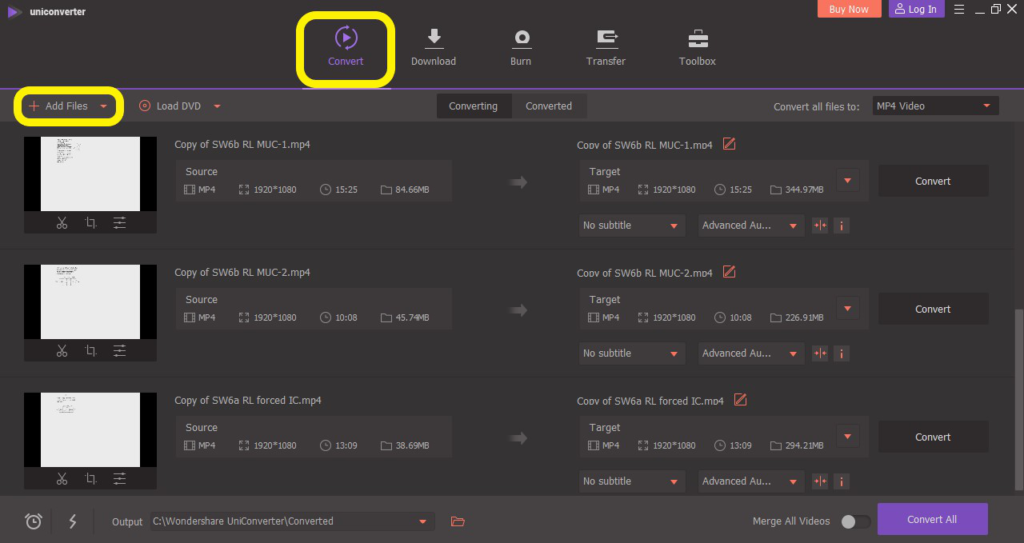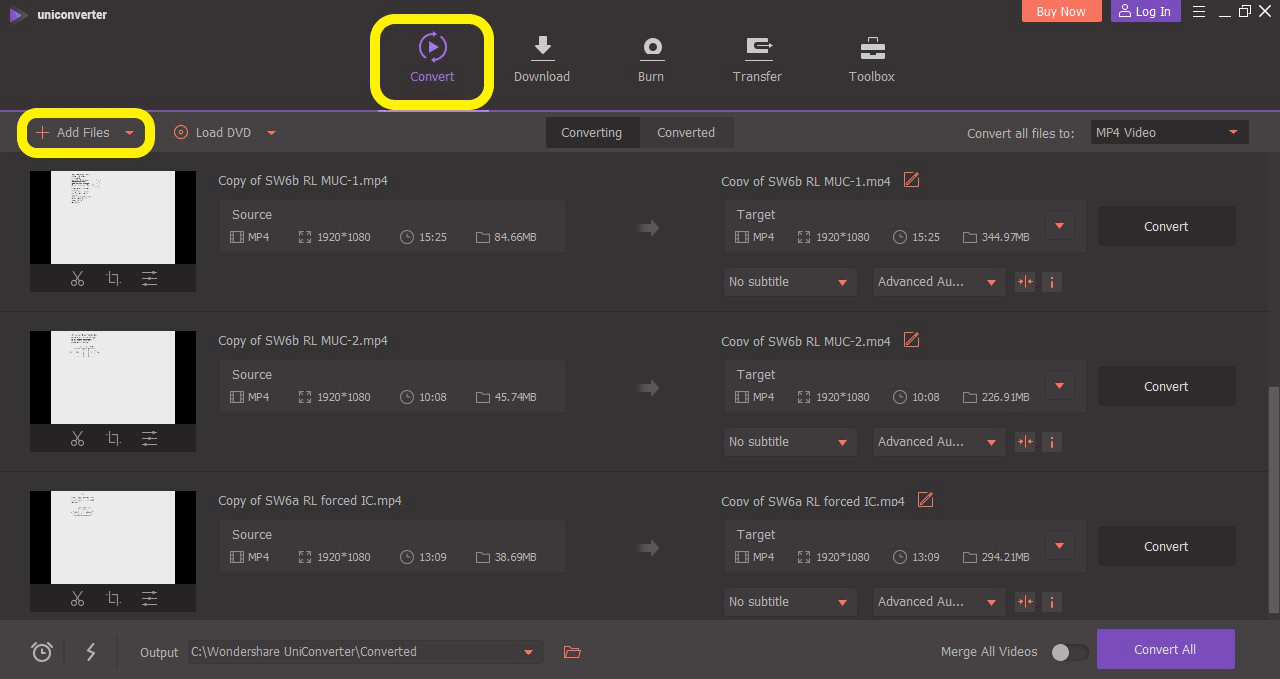 Alternatively, you may also drag and drop the videos to UniConverter
Step 2: Open video files settings window
On the Convert all files to, click the drop-down icon
Select output format, in this case, Video tab
Then Select resolution under the selected output format in this case MP4
Select Editing icon beside the selected resolution to open the Settings window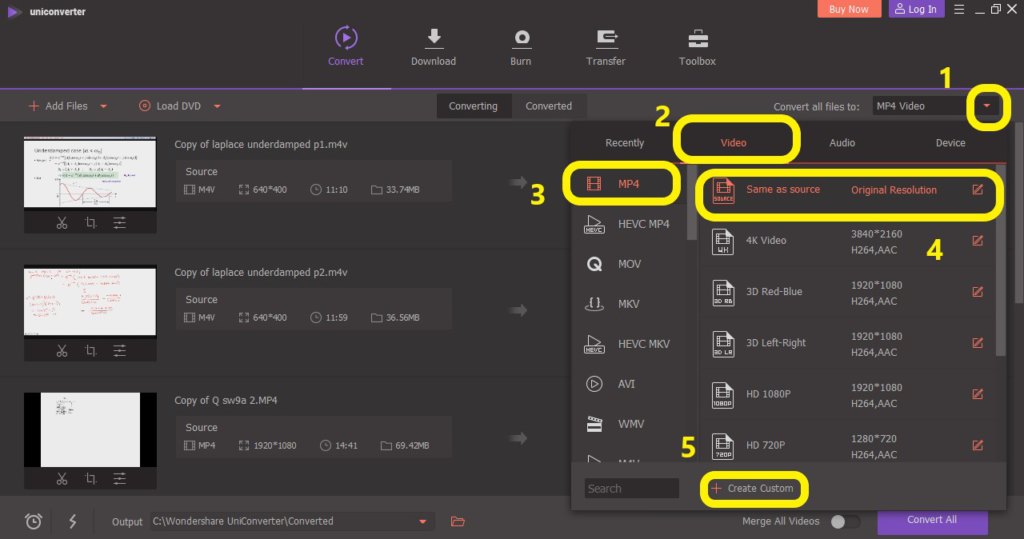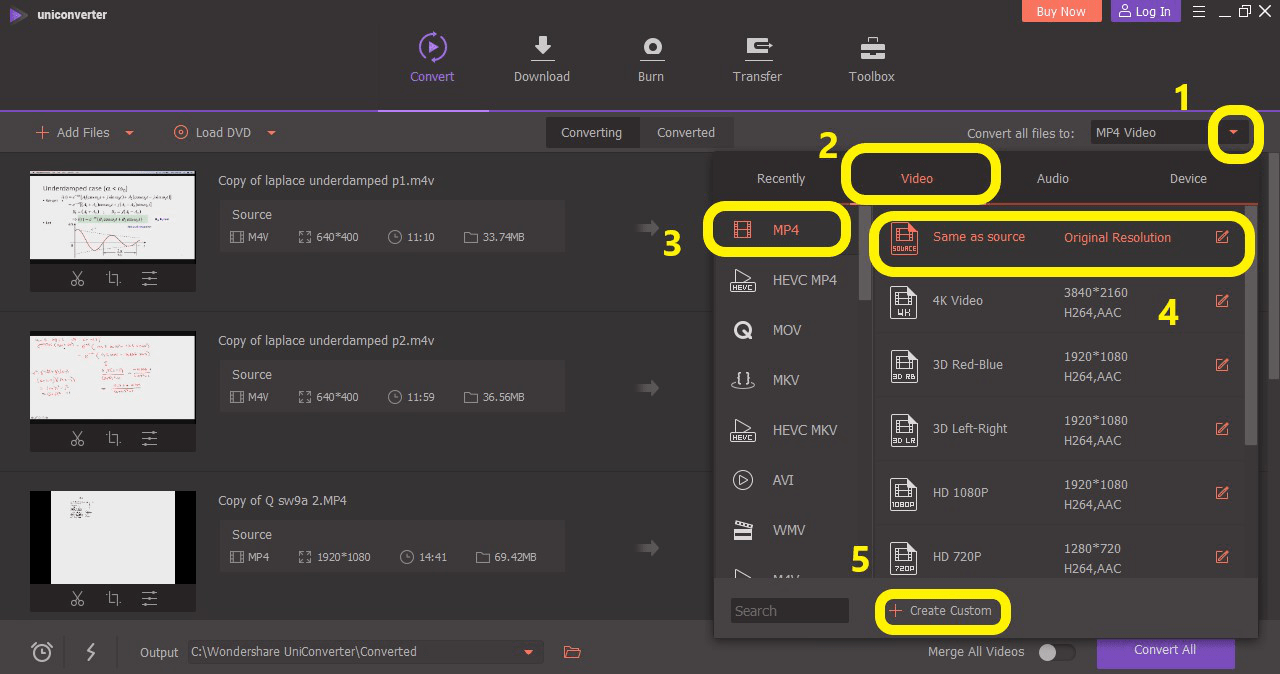 Alternatively, click + Create Custom to open the Settings window
Step 3: Customize settings to compress video size
In the Settings window, set the Quality to Small Size to reduce the bitrate of the file
Optionally, you may change the Video setting: Encoder, Frame Rate, Resolution, and Bitrate manually
Click Create after customizing the video settings.
Step 4: Start video compression
Preview the compressed video file size on the main interface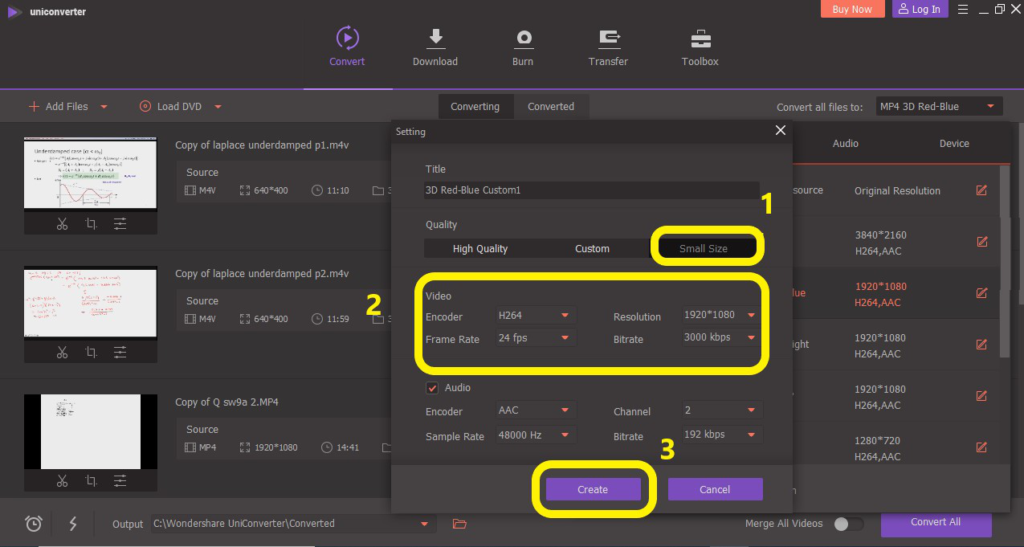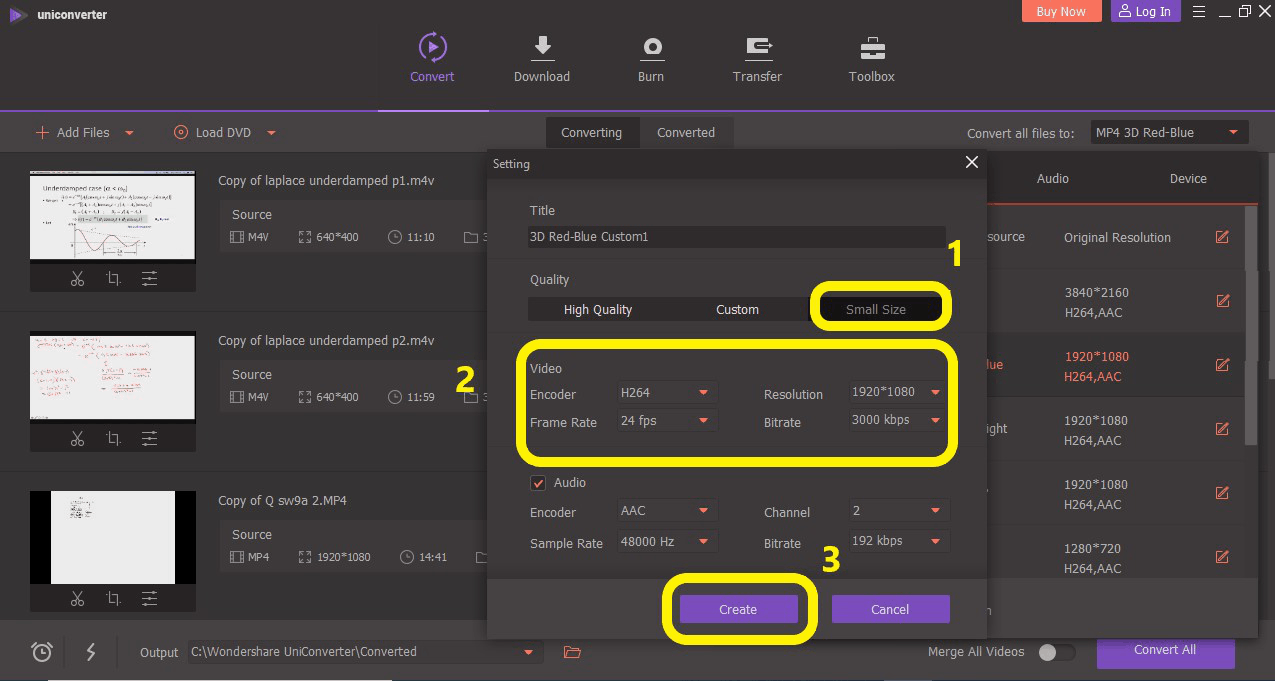 Click Convert All to start video compression
Step 5: Manage all converted videos
Manage files from the Converted tab
Alternatively, click the Output icon at the middle bottom of the Converting Interface
Conclusion
Now you can rest assure that you can fit all your movie collections in a limited space. Video compression is no black magic. You can use UniConverter. There are many videos compressing software out there. We recommend UniConverter because we've tested it ourselves and found it reliable, easy to use, and most of all: free to use.
UniConverter provides you 2 different methods to compress videos, individual or by batch. Either way, you'll be compressing video size without sacrificing quality. So go binge all those favorite movies of yours.
If you have any more questions, refer to How to compress a video created by UniConverter on how to compress video without losing quality. These are proven solutions and there are even videos to guide you step by step.