Are you stressed? You want to relax, then browser games are the best relaxation for you and also it consumes little time to finish the game. Here some of the Best KBH Browser Games are in this article.
If you don't have enough space in your device to play action games like pubg then, you can play the Best KBH Browser Games.
Top 10 Best KBH Browser Games – No Download
The following games are the best online games which you can't able to download it but, you can play for a long time as much as you need.
World Rescue- Ben 10
Gangster Escape
Game of Bombs
Kingdom Rush
Euro Free Kick
Bullet Force
Street Skater
Revenge of the Kid
Vector Runner
Tetris
Also check: 10 Fastest and Best Download Managers For Android Phones
1.World Rescue – Ben 10
It is one of the most interesting online game. Ben 10 is the most popular animation series which is liked by many peoples, so Ben 10 lovers can enjoy it by playing also.
You can transform in the game like Ben 10 which is having more characters like Four Arms, XLR8, Stinkfly, Cannonbolt at the initial level of playing after that you can unlock other characters also. To unlock the characters you must complete mission by mission.
Features
Good graphics
Supports in all devices.
No annoying Ads.
You can play this game by clicking the below link.
2. Gangster Escape
It is one of the interesting game which has pretty sound effects. Gangster groups are following you then, you escape into a club, but they are waiting for you on the front gate. You have to find another exit to escape.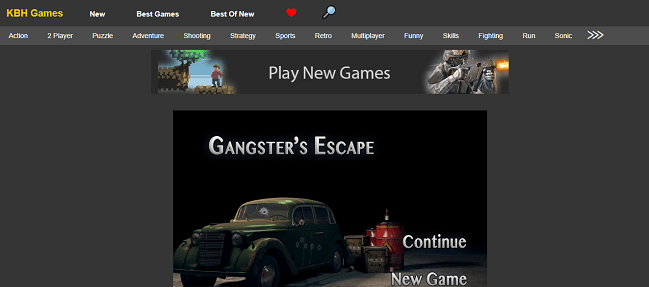 If you find another exit in the club, you will escape then the game come to the end.
Features
Cost: Free
Supports in all devices.
Ads free.
3. Game of Bombs
Game of bombs is an outstanding online game, it has the feature of multiplayer gaming. It is one of the bomb battles. You have to run around and plant bombs then defeat the other online players.
To play these game you need to register your mail id or you can play as a guest. Undoubtedly you will get fun while playing. It will support both Android and iOS.
Features
Free to play
Supports in all devices.
Ads free.
4. Kingdom Rush
In this browser game, the kingdom is under attack so you have to build the archer towers to attack the incoming enemies like trolls, evil wizards and others. By defeating enemies each time you will get a special power, so you can increase your powers.
By playing this game you can earn up to 30 achievements and much more in this good fantasy defense game. It was developed by Ironhide Game Studio.
Features
Cost: Free
Supports in all devices.
Ads free.
Also Check: 13 Best Board Games for Teenagers
5. Euro Free Kick
Euro free kick is one of the easiest game to play. In this browser game, there are only two options to play, you have to defend the goal and kick the ball into the goal poster. you have five chance to play both put the goal and defend.
Features
Cost: Free
It supports all devices.
6. Bullet Force
Bullet force is the multiplayer game which is having more action with 3d graphics. It has many maps and more guns. It is more like a counter strike which is popular in PC.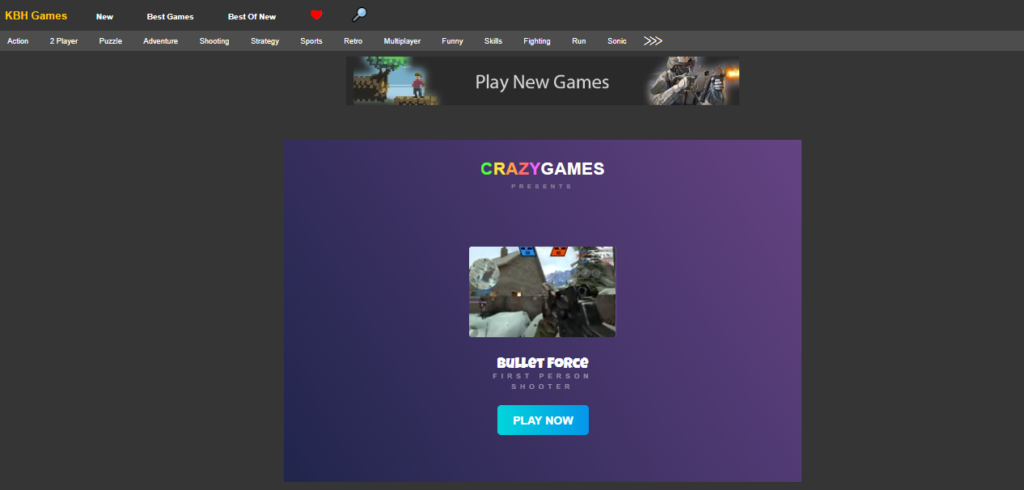 Drawback
Features
It has FPP(First Person Perspective)
Available on both android and iOS.
Play for free cost.
You can join in a public match or also create your own server. If you want a more weapon also you can able to purchase.
7. Street Skater
A street skater is one of easiest game. you don't want to confuse while playing, skater as you ride through the overcoming obstacles. If you play well you will be first in the leaderboard.
Features
It has only three controls to use.
No worry about annoying ads.
Drawback
You will get bored on continuous playing.
8. Revenge of the Kid
This game is in story mode, you have to kill the enemies by using different tricks and take back what's yours. It consists of a western theme with average graphics.
Drawback
There is a part by part gaming, which is not playing continuously.
Features
Easy to play.
No cost for playing.
9. Vector Runner
It is the type of the passing game through the red cone shape obstacles. It is a simple game. While playing it gives you a good effect and More excitement to play.
Features
No annoying ads.
Free for play.
10. Tetris
It is one of the most successful video games. Some of the mobiles and tablets present as a default game. you may change the shape of the cube before landing on the ground. You have to arrange the same color in a row then it will disappear and points added in the points table.
Features
Easy to use.
No cost to play.
No annoying ads.
Conclusion
I have submitted the Best KBH Browser Games and I have personally played above the games it's really good.