Are you the one who loves playing retro games and super nintendo games. But sadly those games can be only played on the particular consoles.
But in this new age era pretty much everyone has a computer or a mac. And it got more than enough power to run those super nintendo or retro games. So there are some developers who put efforts making these SNES Emulators.
By using those you can play nintendo games on both mac or pc. Pretty cool right and it's completely free to download programs, so all you need to do is just a little effort to make this emulator working.
Also Read:
Benefits of SNES emulator
Play any retro games for free and without the official console.
You can download unlimited games and store on your drive.
Cheats are available for the emulators.
And you can able to get the highest graphics and performance due the power of the mac and pc.
Play on bigger screen with maximum resolution.
Gamepad and Joystick support.
Best SNES emulator
There are plenty of emulator out there each has it's own niche feature hence I'm here to help you guys to understand the difference between the emulators.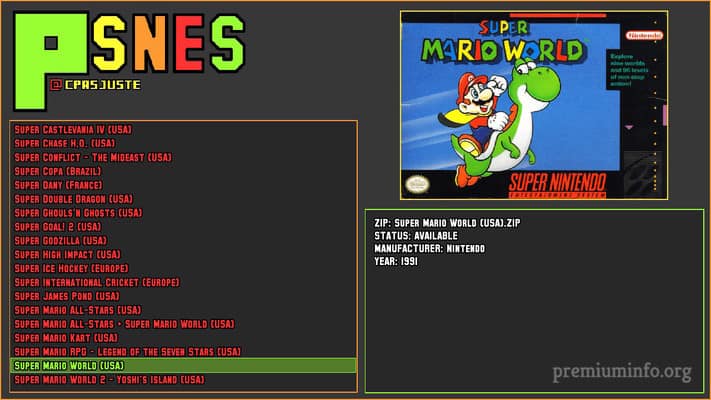 Firstly not all the emulators are available for mac because mac people don't play games because gamer doesn't really buy a mac right. But there are some pretty cool emulators available for the mac os x.
For Mac os X
These are some of the best snes emulator available for the mac os. And OpenEmu is compatible with any mac os. All you need to do is just download the .dmg file and then install the software it's that simple as easy.
RetroArch
OpenEmu
Nestopia
If you want to play very older games you should try RetroArch it has best collection of games that you will ever see.
For PC
Well, you know pretty much all the emulators are available for the pc even the mac ones are available for pc. And you can play every retro games and even some recent super nintendo games are available to play.
Snes9x
Snes9x Ex+
Zsnes
RetroArch
And many more emulators are available. You can use anyone you want if one doesn't work for you or one is laggier then you should try the other emulator because you have lots of choice.
How to install and play games on snes emulator
It's very simple. All you need to do is just download the zip file of the game you like. You can found plenty of the zip games online for free download.
NOTE: Every snes emulator has the same installation so you don't need to worry.
After installing the snes emulator you want just open the program and go to file -> load game and then select the game zip file you want to play. That's all now the game will be loaded and you will enter your dream of playing retro games.
Want More
If you're interested in snes emulator and still want more information just visit the link below, from there you can find the download link for each SNES emulator.
Both windows and mac download links are available and also the detailed step by step instructions about how to install an emulator and play games are available.
Conclusion
I hope you guys now had an idea of what snes emulator is and how to install and play games using snes emulator to play your favorite retro games. You can play nintendo games on mac or pc with these snes emulators.