Think for a few seconds of how intertwined technology is in your daily life. Not everyone else's, not what you see portrayed on television, or a hyper-tech version of your everyday life. How fine of a lattice pattern does your life and use of technology form?
Unless you're a caveman, unemployed, or purposefully living off-the-grid, that lattice is almost certainly very finely woven. Now, think about how many accounts you have created whether you regularly use them or not. Over the past few years. What comes to mind?
Email, social media, workplace access, school, mobile apps, and so on – and, come to think of it, you might have 3 or more email accounts; Facebook, Twitter, Instagram, Pinterest, and every other platform under the sun; countless mobile app accounts you use for sourcing local service providers.
Those are just the accounts – besides that one, lonely workplace account login you probably don't even use outside of work – that are involved in your personal life. You're more likely to remember these passwords than others, like for your employer's countless account logins.
Also Read:
If you think keeping up with the above logins is difficult. Then keeping up with logins by heart for your employers' is virtually impossible. Rather than being grossly insecure and manually writing down account information on sticky notes. Tacking them onto your computer's display, and forgetting about them, using an identity management service like OneLogin makes logging in so much easier – not to mention infinitely safer.
You can't always trust independent service providers
Roughly 10 percent of big businesses trust in excess of 200 third-party service providers to take care of their needs. Unfortunately, with so many holes, losing info is far too easy.
The ever-important balance of ease-of-use and security
Using "password" as the password to all of your workplace accounts makes things quicker, but it can also put your employer in a world of trouble. OneLogin's multifactor authentication and single sign on capabilities don't take these risks.
OneLogin Access – Unify Access Management Across All Your Apps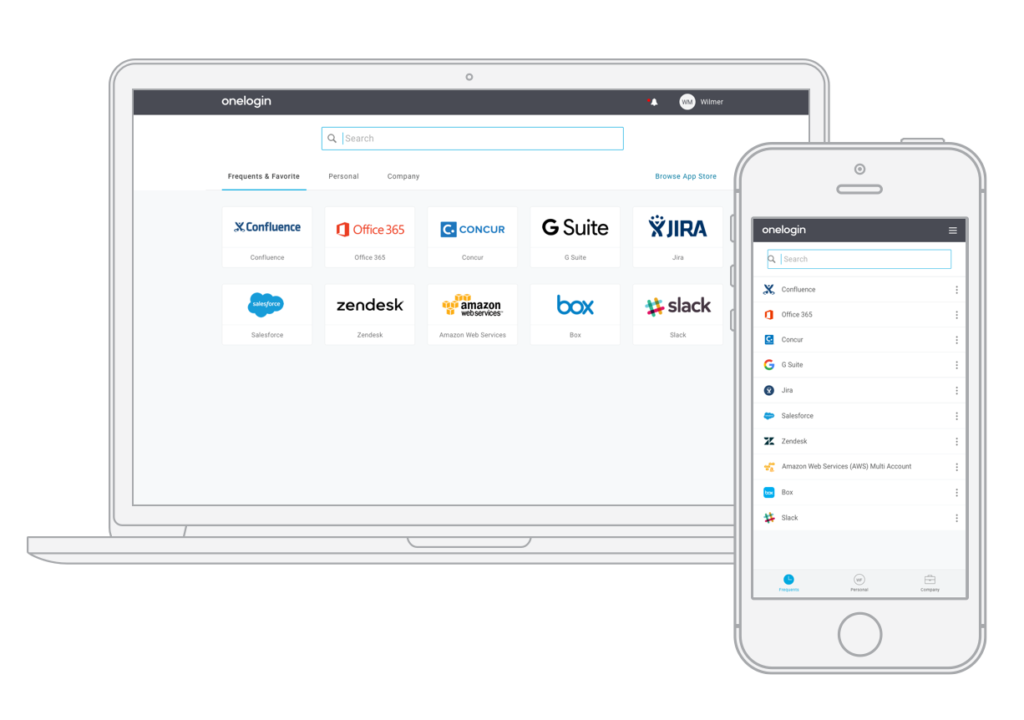 OneLogin Access augments the SaaS Identity-as-a-Service functionality of the OneLogin Unified Access Management Platform to enable you to control access to web applications hosted on -premises, at remote data centers, and in private clouds, all from a single user interface.
Manufacturers are disproportionately hit with cybersecurity breaches
Manufacturers often host valuable intellectual property on their workplace computers. It's better safe than sorry, especially when the nest egg of a business is concerned.
Traditional means of managing account logins and identities are costly
Did you know that the average full-sized manufacturer forks over roughly $3.5 million annually for identity management? OneLogin is many times cheaper.
One Secure SSO Portal for All Apps
With OneLogin's single sign-on portal users only have to enter one set of credentials to access to their web apps in the cloud and behind the firewall – via desktops, smartphones and tablets. This greatly increases productivity while keeping data secure. OneLogin's policy-driven password security and multi-factor authentication ensure that only authorized users get access to sensitive data. You can implement more demanding password policies such as required length, complexity and restrictions on password reuse, as well as session timeout and password reset self-service policy to heighten protection without impeding your users.
About OneLogin
OneLogin is a cybersecurity services provider hailing from San Francisco, California, home of the successful tech startups – OneLogin's made it just short of ten years, having been founded in 2009, making the company a well-established technology firm.
Brothers Thomas and Christian Pedersen joined forces to create OneLogin, both of whom saw a career in the world of tech. Their dreams have unarguably been realized, as the firm has lent its services to the likes of Pinterest, Airbus, and the Susan G. Komen Foundation, just to name a few of its top clients.
OneLogin has even been named a Visionary in the IDaas Magic Quadrant of Gartner, coined "The Emergence of Unified Access Management" by 451 Research, and rated with the total economic impact of 482% return on investment with just a short two months' payback time.