Faxes are the most efficient way to communicate professionally. It is because they are the most secure and reliable way to exchange information. If you know the importance of the fax machine, you should know how to send a fax without a fax machine.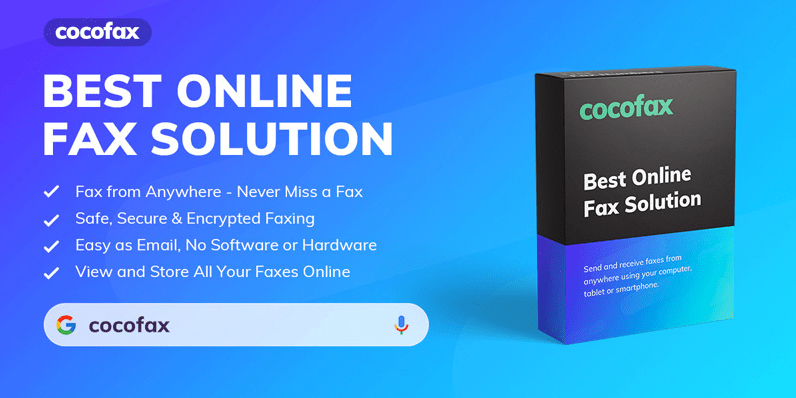 It is possible to send out faxes in a completely remote manner. You can send and receive faxes immediately through online modes available. There are virtual fax service providers who have become a rage because of the ease they provide in faxing.
Of all the many alternatives available to fax from, CocoFax is emerging as a great alternative. It is being used by individuals and corporations as it is more efficient than even a fax machine. Yes, you can attain the benefits of a fax machine without investing in one. 
Also Read: 11 Best WiFi File Transfer App For Android, Fast and Free
5 Easy Steps to Send Faxes
The process of sending a fax through CocoFax is very convenient. It is the most sought after method that even puts the dated fax machines to shame. The steps you need to follow to use online faxing platforms are very simple.
Step 1: Get a CocoFax Subscription
The first and foremost thing you need to do is get a CocoFax subscription. CocoFax is a virtual fax service provider that can be accessed through the web platform. So, all you need to do as the first step is to get the subscription.
Being directly directed towards a subscription might be worrying to some. If you haven't tried an online faxing system. It is very likely that you will be apprehensive towards using it. CocoFax understands the apprehensiveness and provides a legible solution.
Resultantly, CocoFax allows you a 30 day free trial. There are other apps that offer a 7 day period, but is it a good enough period to assess an app? No! The 30 day free trial is a sure shot winner and perfect time to assess your monthly fax volumes and the value CocoFax can add.
Surely, you would immediately want to subscribe to the app on its trial run. But, if you do not find it compatible, you can refrain from seeking the subscription and cancel. The cancellation, if done within the testing period, will not cost you anything at all!
Step 2: Ensure your Prerequisites
As a next step, you need to ensure that your other prerequisites are in place. The prerequisites are in the form of a valid mail account. You need to have a mail account to be able to send mail from it. 
If you want to send a fax through Google Drive or Google Voice, you need to make sure that you have a Google Drive or Google Voice account. 
Lastly, you need a stable internet and an internet compatible device. You can send a fax through your laptop, personal computer, smartphone, tablet, etc. While many other applications provide compatibility with PCs only, CocoFax's services extend to even smartphones.
This is where CocoFax offers a lot of flexibility. You do not need to rely upon one dated methodology of usage. Even from the palm of your hands, you can be sending out faxes in a jiffy.
After you have ensured that all prerequisites are in place, you can move on to the next Step. 
Step 3: Send Fax through Email
The simplest and most preferred way of using CocoFax is through email. It is most preferred due to the ease of communication. You do not have to do anything extraordinary. Just like you send an email, you can send a fax as well. 
Recipient Email
In the recipient section, you need to specify the recipient's country code and fax number. The country code and fax number of the recipient must be followed by @cocofax.net. This email transformation of the fax number acts like an email identity of the fax.
When you send a fax on this email, it will be received on the fax machine. CocoFax acts as a connector between two different modes. 
Optional Insertions
The 'Subject' section and the body of the email are optional sections. If you do enter the subject and the body of email, it will appear as a note and cover page to the fax. You can avoid this completely.   
Attachable Documents
With CocoFax, all sorts of document types like doc, docx, xls, xlsx, png and jpg files are attached. However, irrespective of the actual format of the document, it will only be received as a PDF file.  
Step 4: Double Check
You can do a quick double check of the insertions you made. It is important to check the fax number properly because it can lead to fax failure. Human errors in recipient data insertions are possible but can be avoided with double checking. 
Double check on the fax number and attachments as they are the core components of your fax. The success of your fax delivery depends upon this data.
Step 5: Send the Fax
You can hit 'Send' when you have reconfirmed the data. As you send the fax, it will be instantaneously received on the fax machine. Once received, you would also get a delivery notification.
Sometimes the fax is not delivered on account of manual errors, the fax machine being turned off. Even in such scenarios, you would get a non delivery confirmation. The bottom line is, you will attain the real picture of delivery of the document.
Conclusion
You do not have to fret over how to send a fax anymore. CocoFax allows the perfect interface, the perfect set up and perfect processes. Users around the world are using the platform for its ease and convenience. It is class apart!
You can't just put your official communication at stake by picking the most cheap alternative. It will put your integrity at stake. In such times, CocoFax comes handy as no app comes near it in reliability. If you haven't done so already, what is stopping you from getting the 30 day free trial?