Have you accidentally deleted or formatted something on your Windows PC? Are you in desperate trouble & thinking how to restore those files? Searching for ways how to restore deleted media? Well usually when we delete something, it goes to the Recycle Bin giving us a 2nd chance. However it's not necessary for every time, few media files are directly deleted. What to do now? Here's an All in one solution, "EaseUS Data Recovery".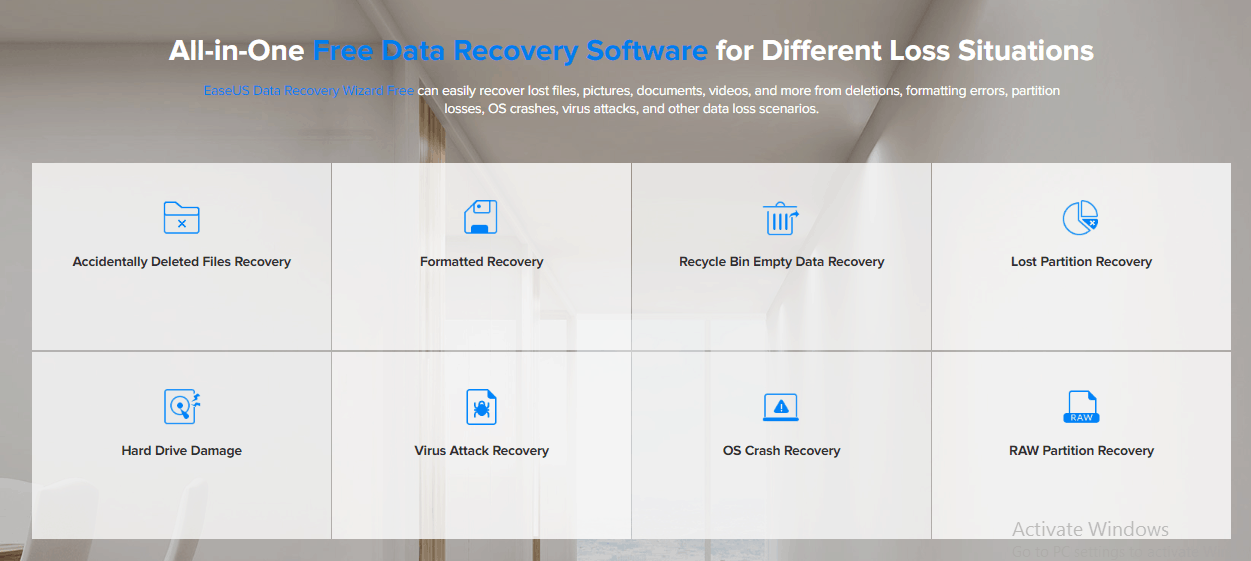 EaseUS Data recovery Software has been developing daily usage apps & software for people. They have set few for free & few as Paid. However, you can try a trial version before getting a paid one. The software making industry is reliable & develops absolutely safe software's. Ease US Data Recovery is one of such software that is capable of restoring lost or deleted photos, music, video, media files, etc from memory card or hard drive or other media devices.
Also Check:Top 7 Best Data Recovery Applications For Android
Today we will go through several key points of Ease US Data Recovery Software. And conclude with a review analysis to give you a better idea. So without wasting much time, let's get started.
Features Of EaseUS Data Recovery Software:
EaseUS Data Recovery is an easy to use tool which makes recovery damn simple for users. Even a beginner level person can use this software because of it's easy User Interface. Linear steps & get your files back. There are many features EaseUS offers you as follows:
Quick Scan
Deep Scan
Sort by File Type
Scan by File Type
Full Hard-Drive Scan
Deleted/Lost File Recovery
Corrupted Partition Recovery
Deleted Partition Recovery
Bootable USB Device
Sold separately
Recovery CD
Cloning
Sold separately
External Recovery
External Drive Recovery
Removable Media Recovery
SD Card Recovery
Optical Storage Recovery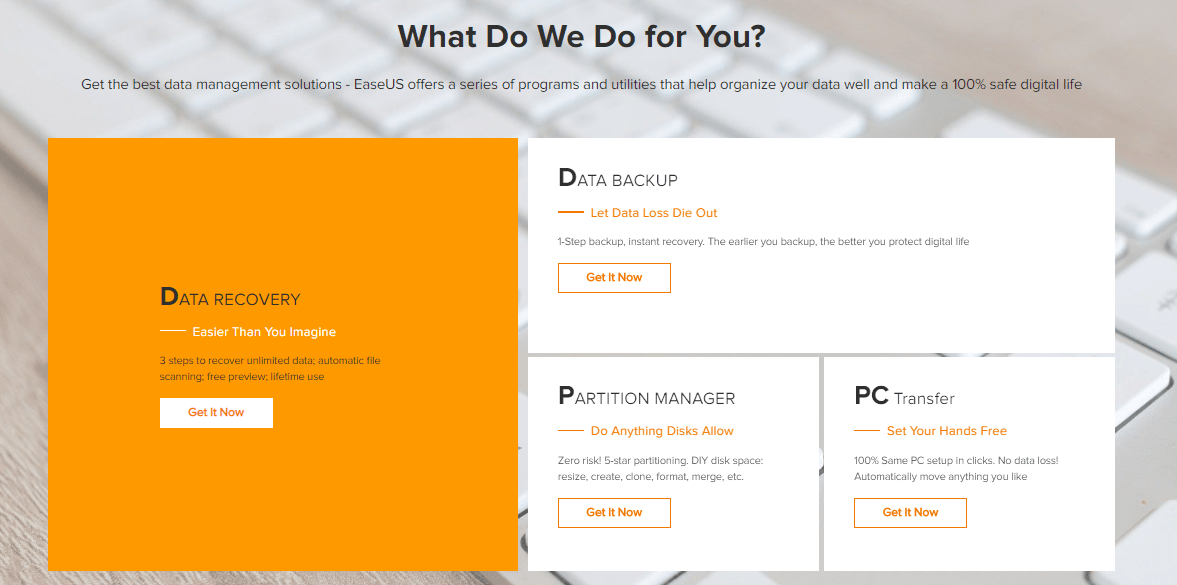 There are few more additional features we need to discuss a bit briefly. Another important feature of EaseUS Data Recovery Software is Remote Network Access. This feature allows you to just connect to PC's & extracts deleted files even from remote locations. Additionally, if your business works on RAID system, this software can still help you.
On an off chance your PC crashes & isn't loading, EaseUS Data Recovery has a version specially built to launch bootable media to recover data. You can also opt for technician version if you have got a lot of clients who want to recover data. Every version of EaseUS comes with lifetime updates from Developers. So you don't need to pay for each update.
The software is quite simple & doesn't need any type of settings or consoles to be set. Just connect –> Scan –> Recover! As simple as that!
Support: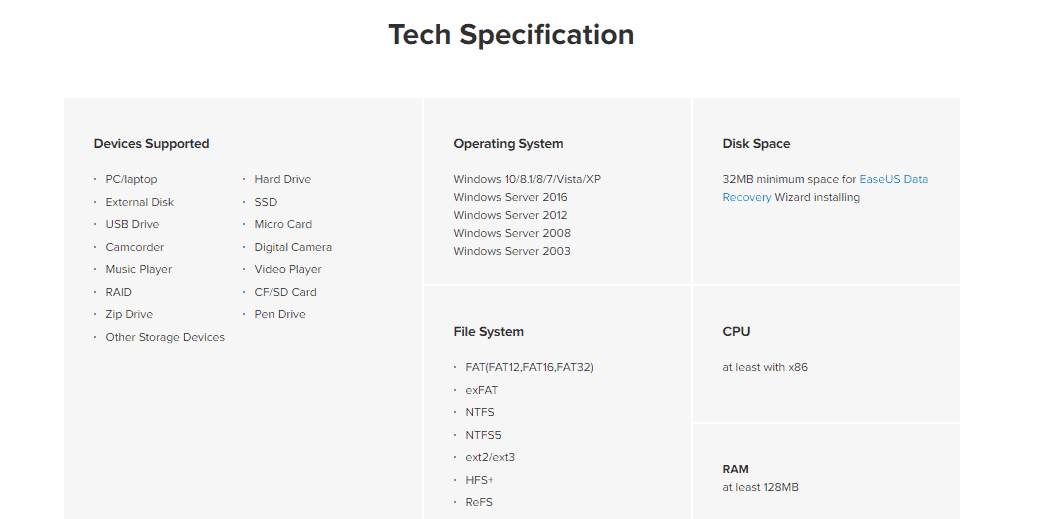 We hope previously discussed features would be quite enough to impress you. Well, there are few more things to discuss. However, there are 2 features you might not get in EaseUS that is add new recoverable file type & recover data from optical storage (DVD's or CD's).
Supported file type:
Documents: Word, Excel, Powerpoint, PDF
Images: JPEG, PNG, Photoshop, Illustrator
Audio: MP3, WAV, AIFF, AAC, Ogg
Videos: MPEG-4, Quick Time, AVI, WMV
Archives: Zip, Gzip, RAR, Stuffit
File System Supported:
Windows: FAT, NTFS
Mac: HFS, HFS+
Removable Storage: ExFat
Recovery Process: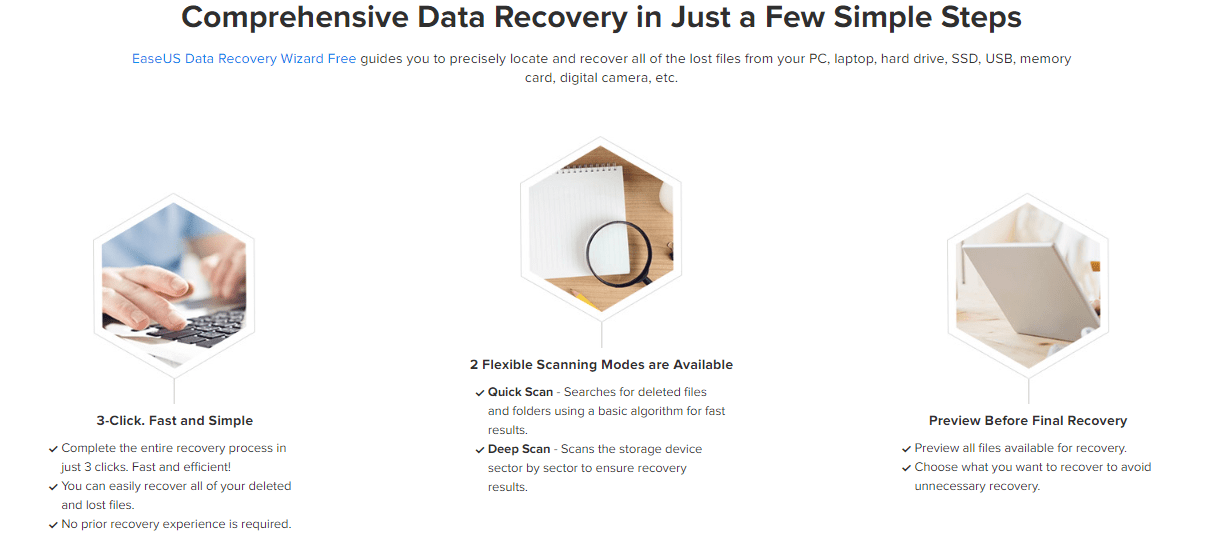 Moving to overall Recovery Process, there's not much difference using it on Windows or Mac. You can scan your entire partition or specific location & even external drives. The software will preview every possible recovery data; you can select which one to recover. You might not find an option to scan your PC entirely, you need to scan partition-wise (Drive wise). Once the scan is completed, you can browse content & even search it on the basis of extension or name.
Also Check: How To Recover Data in Android Using Data Recovery Application
The software also differentiates 2 types of recovery. Files deleted personally will be moved to Recycle Bin. Meanwhile, files deleted using external software will be moved to a special folder named as "RAW". Just enter the Folder –> Restore any file –> Select restoration location –> Ok.
What's New in Version 12.0
Check EaseUS Data Recovery Wizard Version History
32MB minimum space for
EaseUS Data Recovery Wizard
installation
at least 128MB
Check Tech Specification>>
NTFS5
ext2/ext3
HFS+
ReFS
The preview feature is available for audio and video files.
Speed up the scan process to find lost data more quickly.
Recover video files with better quality.
Minor optimization for the interactions.
Performance:
Moving towards the performance, we have reviewed a test of EaseUS. In this test basic files were deleted which consisted of word, jpeg & audio file. According to the analysis, the following is the overall result:
| | |
| --- | --- |
| Feature | Result |
| Quick Scan (500 GB Partition) | 2 seconds |
| Deep Scan (500 GB Partition) | 1 hour, 50 minute |
| Recovered | Word – Yes |
| Recovered | Video– Yes |
| Recovered | Image– Yes |
| Recovered | Audio– Yes |
| | |
Overall we can say that this software is quite sturdy & fast. EaseUS is really different than other recovery software. Now, let's go towards user reviews, to get a clear idea.
Review Analysis:

We would definitely recommend you this software. The software deserves 5 out of 5 stars because people have retrieved their lost data around 10 years old. So we can estimate what power this software possesses. Another plus point here is "Low RAM Consumption". Software tends to use a lot of RAM that makes it's UI laggy. Well, that's not the case with EaseUS. The software has saved a lot of people in different situations where they deleted their files mistakenly.
Additionally, you get 30 days money back guarantee if you aren't satisfied with the product. However, we don't think you might need it. EaseUS Data Recovery has gained 10 million + customers supported by their tech executives. Well going through 200+ reviews, no one can deny it by giving less than 4.5 stars.
Pricing: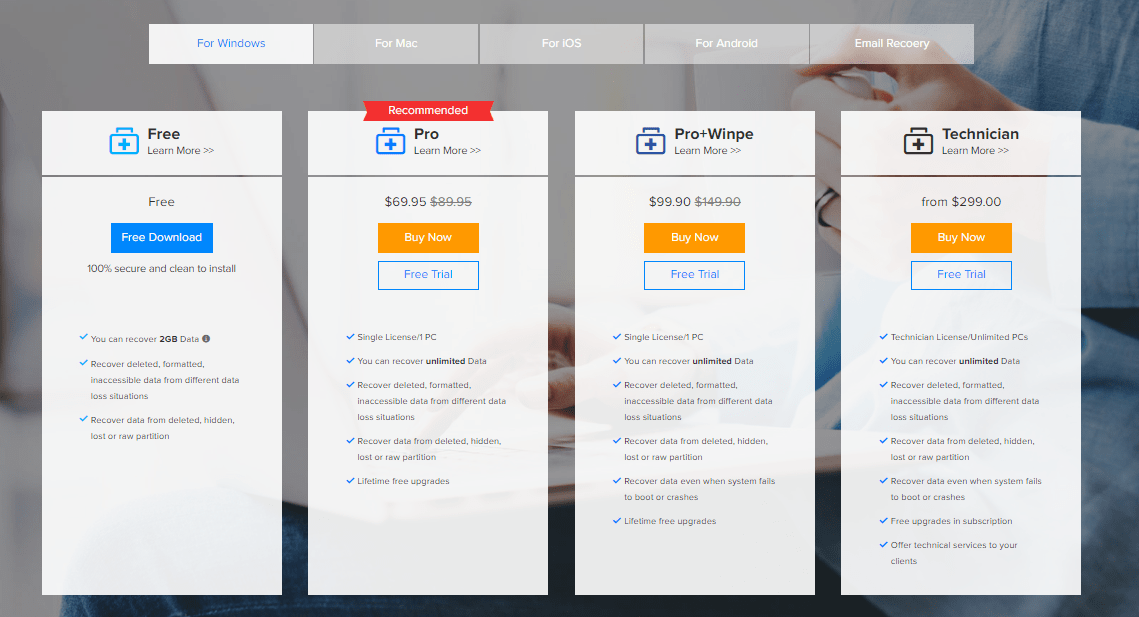 Being a paid version, you might have to figure it out to ensure investment in best. Well, this software is really recommended as it comes with a lot of features with 100% safety. You also get dedicated Customer Support who will assist you while any issue. There are 4 versions, Free, Pro, Pro+Winpe & Technician. Free comes with a lot of limitation but best if you want something for temporary recovery.
Pro is best for people who often want to recover things accompanied by lifetime updates. Pro+Winpe is a bit more powerful than Pro, here you can recover data even after system crashes. The last version is the most expensive one "Technician". A technician is best for people who have clients & want it for numerous PC. This version is the most powerful one. So select your version according to your need. Overall the price is worth, yes these are a bit costlier but safety is the highest priority, it's worth.
Conclusion: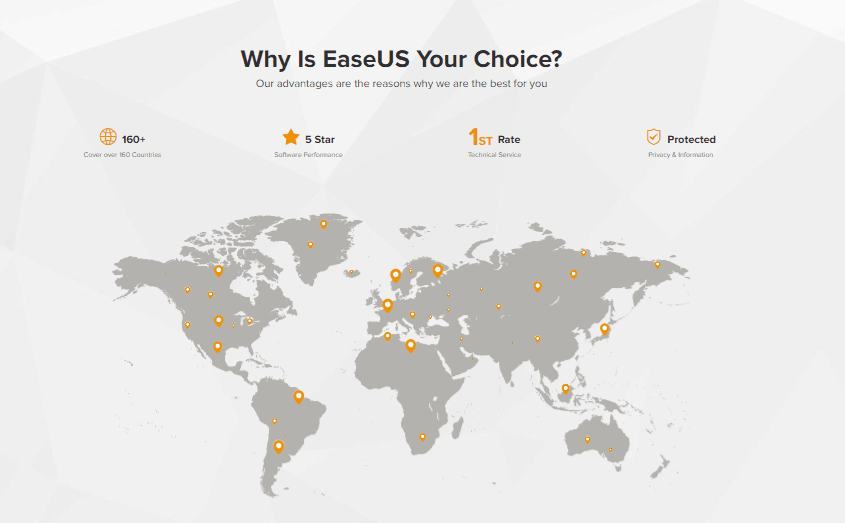 This was all about EaseUS Data Recovery for Windows. The software is also available for Mac, Android & iOS. There's no difference while using it on different Operating System, so you can rely on it. Get your lost data easily by few clicks. Following is an overall rating according to us:
| | | |
| --- | --- | --- |
| Features | 85% | Very Good |
| Recovery Process | 90% | Excellent |
| Performance | 85% | Very Good |
| Pricing | 75% | Good |
| Customer Support | 90% | Excellent |
We hope you liked it! STAY TUNED!