Looking out for software, which can make the hectic graphics designing and template designing an easy one! Well then, your wait is over. Crello software, launched by Depositphotos has come to your rescue. It is one of the leading products currently present within the market that is the best visualization tool. Crello is the best tool for image editing, template designing, graphics designing, creating videos, creating images, etc. Here we will provide complete Crello review.
It provides high-quality photographs and videos, an eye-catchy interface, various photo-editing features, designing tools and a huge image library consisting of millions of photographs. It is used by professionals and beginners in various fields. We may all wear different hats, but this tool is currently the best editing and designing tool that any professional or a beginner would dream for.
Also Check:
It is used for creating images for various platforms like e-books, blogs, social media, animated poster printing, digital ads, etc. There are skilled professionals who have worked hard and are working harder to provide us with the best software, this market can have.
---
Simplest Solution To All Designing Problems (Free)
---
With this outstanding tool, you can?
The total number of places where an application can be used efficiently, states its value. Crello is a visualization tool that is worth visiting because it has a wide range of applications.
Can be used for
Creating Images And Videos
Editing Images And Videos
Graphics Designing
Template designing
Animated posters
Printing
Email Headers
Create designs for
Instagram Stories
Blogs
Facebook Ads
E-books
YouTube
Animated Design
Marketing
Prints
Can be used by
Social Media Specialists
Bloggers
Marketers
Entrepreneurs
Why Crello?
Crello is the simplest solution for any person's problem. It is one of the easiest tools that can be used by a beginner or a professional. It gives users many reasons for trusting its services. Stated below are few of the reasons one should definitely try Crello:
Easy to use
Quick Processing
Pocket-Friendly
Provides A Free Version
Great Interface
Beautiful Templates
Huge Library Of Photos
Provides Discounts
A Friend Of Beginners And Professionals
High-Quality Images
User-Friendly
Video Tutorials Are Available
Provides 60000000 Photos
It Provides 11,000 Templates
Provides 33 Design Formats
Provides 1,20,000 Free Photos And Vectors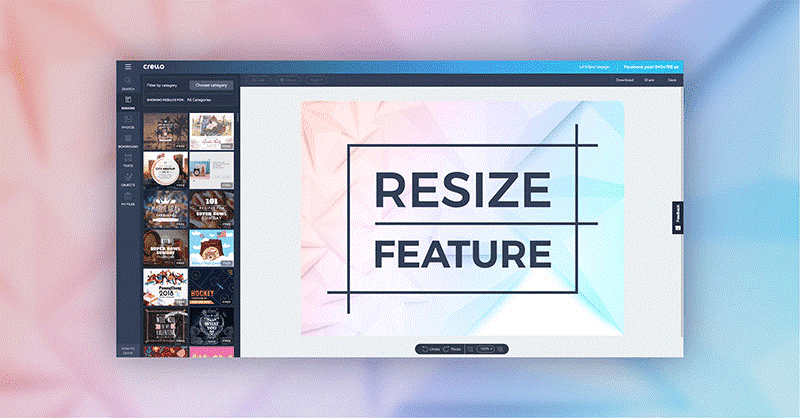 Weightage On Your Pocket
It is one of the cheapest designing tools currently available in the market. If your budget isn't permitting you to invest in expensive software, then you must definitely think about Crello. It consists of mainly 3 pricing plans:
Basic
This is the free version of Crello
Personal storage for self-created designs
4,000 free photos and images
One custom font uploaded
6,000 designs
No resize option
Animated posts are the only format available
100 images upload
Advanced
It's for $6.67 per month
Inherited from basic
Over 12,000 designs
Has Over 20,000 free photos
Over 20,000 design elements
1,000 images uploaded
Custom fonts are unlimited
Pro
It's for $16.67 per month
Unlimited images uploaded
Resize option available
Inherited from basic and advanced
4,000 animated elements free
4 video design formats
Custom fonts are unlimited
Full access to animated formats
Also Check: Best 10 Ways To Download Tumblr Videos | Save Tumblr Videos |
Features Offered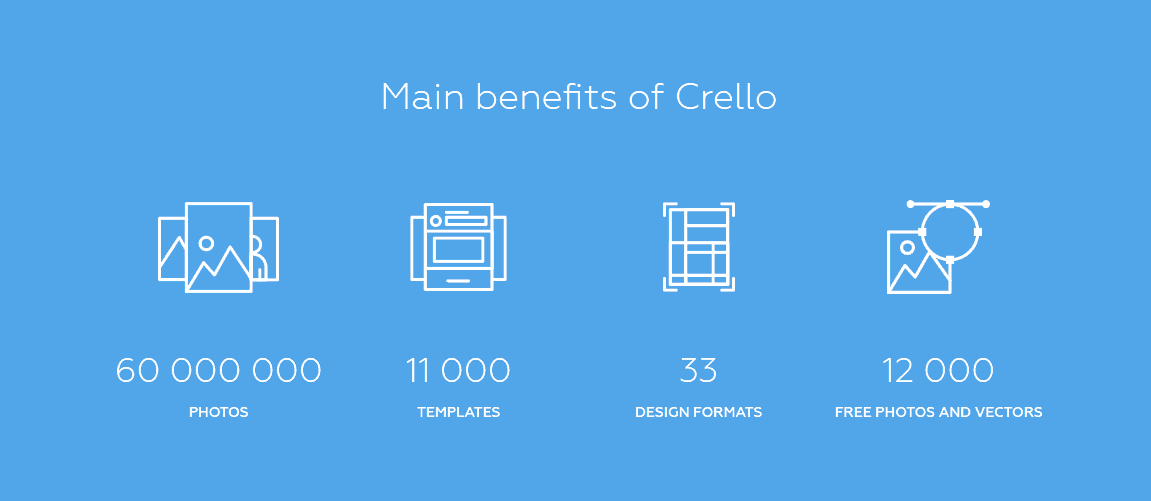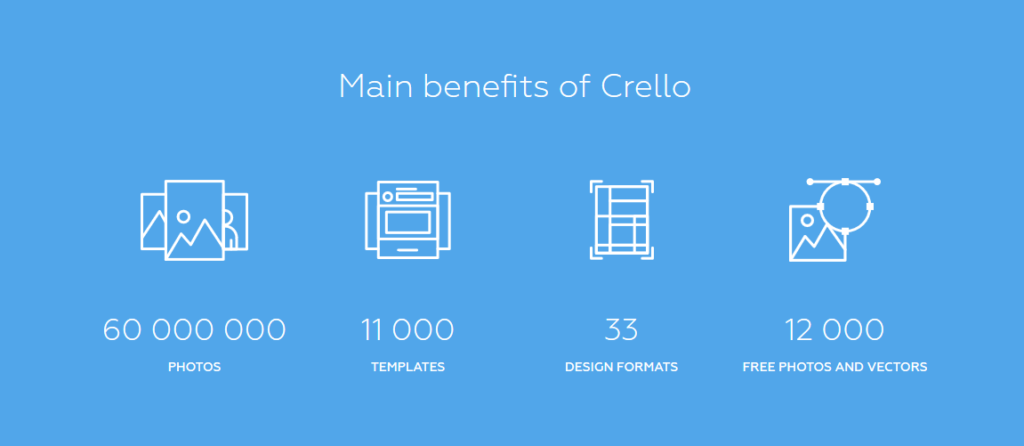 The features of any application decide its long term availability and customers trust in it. These features enable the user to use the software effectively and efficiently. They offer long term credibility and high-quality standards. It allows users to create and edit images using various graphics and designing tools with ease and that too in a customized way. It provides mainly 2 features: Photo Editor & Design Tools
Photo Editor
This feature allows the user to edit photos in the most effective way. It offers various services like Filters, Multiple Filters, Huge Templates, Crop, Layers And Transparency and, Blur. It also allows us to preview the picture once before its actual application.
Design Tools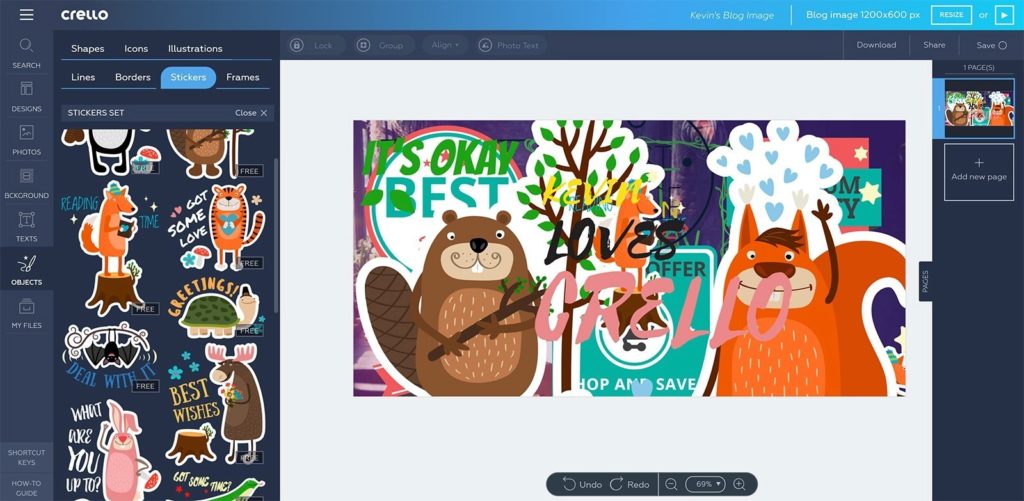 Designing is equally important as editing. Forgetting a perfect picture for your social platform you must have some great designing tools that can enhance the beauty of your picture. Crello offers the features of Resize design, Variety of Stickers, Shapes, and Icons.
Benefits And Drawbacks
You must have definitely heard of a saying to achieve something, one must lose something. The same concept runs vividly in the case of software and applications. Each application comes with its own goods and bad. Crello also has some plus as well as some negative points.
Goods
Easy to use
Animated Formats
Quick Design
High-Quality
For Free
Many Backgrounds
No Hidden Fees
Many Templates
Bads
Customer Support Is Bad
Lacks Data Visualization
Search Bar Missing
The Inspiration Page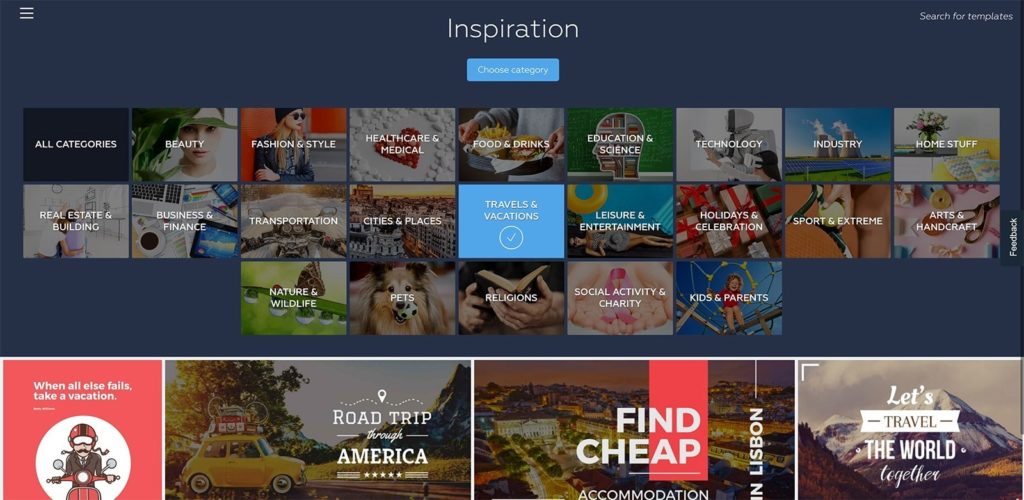 Crello has got the most unique feature, the inspiration page. This page promotes users interest in designing and creating new images. It provides a wide range of templates to the users that help them to design much better designs and animated images. It provides various layouts to the users for better designing of images of social platforms like Instagram, Facebook, etc. This page helps beginners the most. They can become a pro by using this tool.
Final Say
Overall Crello has left a great impact on me and I hope that all the above-mentioned details must have definitely helped you in deciding whether to use this tool or not. So far, this is the best tool that I have ever witnessed. It has got great ratings from customers all over the world and is definitely taking a high road.