IVR Innovation (Interactive Voice Response) systems have been in use for decades as a tool for communicating with customers and providing them with much-needed information. But since its inception, technological advances have changed the customer paradigm. Created a new set of channels that simplify engagement for customers. But add complexity for businesses looking to balance resources and information across them all.
The IVR Innovation Wheel is a graphical representation of the modern contact center engagement cycles, breaking down customer engagement into seven segments that can be easily identified, analyzed, assessed and enhanced to deliver better customer experiences.
Must Read:
IVR Innovation Wheel to Optimize Contact Centers
Personalization
The "Personalization" segment of IVR can be broken down into three unique segments – context, intent and adaptability. First, the context of customer information and engagements must be transferrable across channels to ensure continuity of experience. So customers aren't asked to provide details multiple times. One of the chief complaints traditionally from customers has been the need to repeat information such as phone or account numbers.
The ability to use customer data to predict intent allows IVR platforms to provide likely answers to questions or concerns without forcing customers to have to make their way through more complex menus. Instead, customer history, recent communications, geographic information, or other data can help answer questions immediately. Integrating artificial intelligence engines into these systems can take predictability to an even deeper level based on broader product and customer trends.
Also Read: Avast Cleanup Premium Review Analysis!
Third, enhanced tools should be able to adapt to customer experiences and adjust the automated conversation to their expertise. That programmability can be based on longevity, purchase history, the frequency of calls, loyalty program level or other variables that indicate the level of familiarity.
Each of these data-driven components helps create a level of experience that is consistent with the customer's expectation based on each customer's history with the company.
Proactive IVR
Businesses can use their customer databases to send outbound communications to customers to ensure they are aware of important information. That can include appointment or payment reminders, service outage acknowledgments, subscription renewal reminders or other relevant product offers based on purchase history, feedback surveys, or any other reason to engage customers. The key, however, is relevance.
Omnichannel
Customers engage across multiple channels, like voice, web and text. Your system should enable omnichannel experiences using technologies like Text2IVR and Visual IVR. Which allow customers to follow and leverage self-service options when voice isn't the optimal choice. Visual IVR can be particularly useful when customers need to navigate deep and complex self-service solutions. It's important, though, to always offer the option to extend the omnichannel capability by enabling transfer to a live agent. (include the contextual information from the entire engagement).
Never Miss: How To Get Free Netflix Account Premium 2018
Value of Time
Always be aware that customers value their time. When they have to wait in a queue to speak to an agent, use that time to their benefit (and yours). You might be able to use a system to collect information about the reason for the call; or you may be able to actually solve their problem through your IVR; or you may be able to relieve them of their projected wait time by offering a callback option. In each case, your options offer alternatives to wait times while helping solve problems and reducing your costs in the process.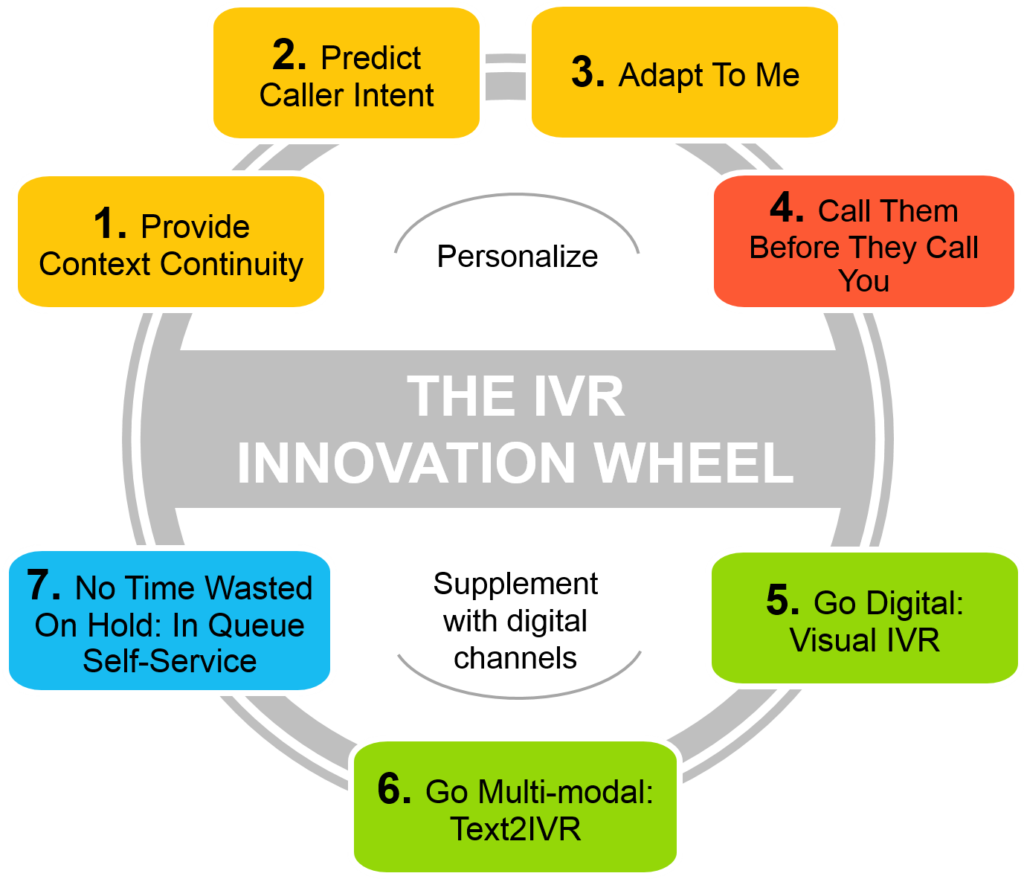 Any business can use the IVR Innovation Wheel as a guide to developing an intelligent and customer-centric IVR system. These systems that don't leverage all technology and data available aren't performing optimally and, therefore, aren't maximizing the customer relationship. By following these guidelines, IVR can help optimize contact center operations by increasing self-service resolution rates. Allowing live agents to focus on the truly complicated customer issues that can't be solved by IVR. The result is a win-win for customers and your business.