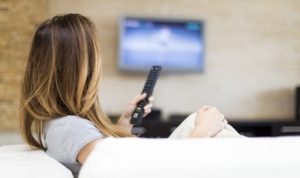 With constant distractions like Facebook, funny YouTube videos and failed attempts at home baking, it's not always easy to be sitting on the sofa in front of your TV when your favourite programme is on.
However, many TVs now include PVR (video recording) functionality, meaning you can record live programmes like The Great British Bake Off on Freeview, or pause the action while you grab a slice of poorly made cake from the kitchen.
This is all possible for just the cost of a USB-connected hard disk drive, meaning you don't need to splash out on a separate PVR, or fill up your Sky+ or Virgin Tivo box with free-to-air TV recordings. Read on to discover how.
Record and pause live TV… for less
Standards of TV PVR features vary widely across brands and models, but most allow you to set recordings of shows you want via the electronic programme guide (EPG). You can also usually pause live TV while you do something else, or rewind the programme you're watching.
When shopping for a new TV, one key thing to consider is whether the TV has a single or twin-tuner PVR. Most models have just a single version, but pricier sets come with a twin-tuner. This means you can record one programme while watching another live, or record two shows simultaneously.
As you'll see below, to use this feature you'll need a USB memory stick or hard disk drive. A disk size of 500GB (available from just £20) will be enough to store around 100 hours of high-definition content, or 250 hours of standard-definition.
How to use your TV as a PVR
When connecting your hard disk drive, it's possible that you'll have to use a specific USB socket on the TV, possibly labelled 'HDD Rec' or something similar – check your manual if you're unsure.
Also bear in mind that not all hard drives will work your TV and whatever drive you do use must be completely blank as the TV will format it, meaning any saved content will be lost. It's best to use a new drive if you can, and go for an external hard drive with its own power supply, as the TV's USB socket may not provide enough power for the drive to operate.
Due to piracy concerns, many TV PVRs digitally 'lock' any recorded content to the TV set, meaning you may not be able to record The X Factor on your TV and then watch it back on your laptop, for example.
Once you're all set, you can sit back, relax and enjoy another slice of your latest home-baked marvel – or perhaps head back to the kitchen to try and unravel the mysteries of the perfect sponge once more.