HERE IS HOW TO GET UNLIMITED 3G MOBILE DATA FROM GIGATO APP

1. 1st of all download the GIGATO app from play store. [ CLICK HERE ]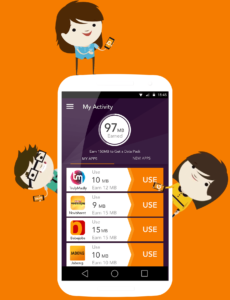 2. Just check that whatsapp is installed in phone or not !
3. Download cheatdroid. [
CLICK HERE
 ]
4. Open gigato and register account / login into previous account.
● Now open gigato home screen and see WHAT IS THE MINIMUM REDEEMABLE AMOUNT FOR YOUR OPERATOR AND CIRCLE…AT THE HOME SCREEN THEY HAVE WROTE " EARN XXX MB TO GET A DATA PACK " AT THE BOTTOM OF THE CIRCLE. NOTE THE XXX.
5. Now open cheatdroid app and do as following :
● go to Cheatdroid / gigato / MavinDb / invoice
● Then if you have Whatsapp OR Ola OR XXXXX app listed in gigato, Then there will be row of each app.
● Find column " string:package name " and find your prefered app row (Like com.whatsapp for whatsapp) and IN THAT APP ROW find the column which have name " int:earn_data_amt " and change the cell value (where your app row and this column meets) to XXX.
6. Now press home button and open gigato app again and press home button and start using whatsapp / your prefered app.
● you will earn data faster in gigato app.
● and after getting XXX mb you will get message that you have completed the offer of that app for that day.
● you will get direct FREE 3g internet recharge of Internet on your mobile OR you will get coupon code from gigato on your mobile number.
● If you get coupon code then open gigato and click on menu situated upper left side and click redeem and redeem your code.
~~~~ thats all, now you have to use some FREE  MB data on whatsapp/prefered app everyday and you will get everyday free 3g internet