How to Fix iPad is disabled Connect to iTunes? Is your iPad disabled? Is that error telling you "Try again in 1 minute" & you try multiple times but the error isn't resolved? Most cases even see "iPad is disabled Connect to iTunes", are you also facing this issue? Well, there are many forums discussing this error but you might just find few solutions even after reading an entire forum. And there's no guarantee that their solutions might work.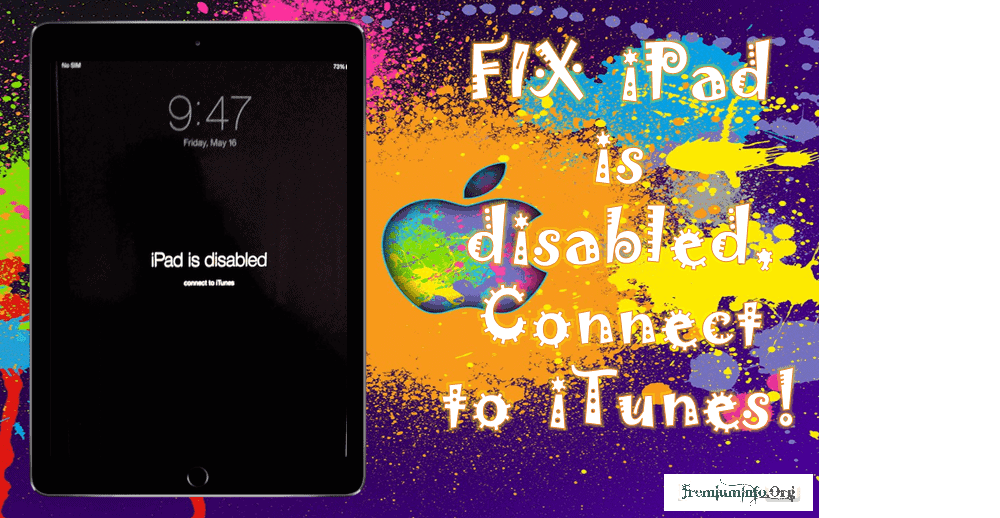 Thinking to fix it? Well, your research ends here. We are here with a solution to solve this error with ease. We will discuss a few of the best ways or solutions to solve this problem. So, without wasting time, let's get started!
Why is your iPad disabled?
Being an iPad user you might be aware that your locked iPhone needs a passcode or password to enter your phone. But sometimes you forget the password & enter the password incorrectly. Entering incorrect password consecutively for 5 times means your phone displays "iPad is disabled". However, you can have a try after the 1-minute wait. If you face this normal issue then try to memorize your password &enter the correct one.
But every time the situations aren't the same. In the worst situation, an issue occurs with a display "Fix iPad is disabled Connect to iTunes". This issue is really irritating & you need to find a solution soon. Well, we will discuss this worst case issue in a short span of time. Just keep on reading & you will definitely resolve your issue.
Also Read:
Fix iPad is disabled Connect to iTunes!
Disabled iPad's because an incorrect password entered is a common problem & many people face this issue. In today's post, we will discuss how to resolve "Disabled iPad Connect to iTunes". Over here we will discuss how to remove or bypass forgotten passcode.
However, if you see any 3rd category message, you might be in a trouble. You will have to link to iTunes but unfortunately, your info might not remain. We have said "might".
Disability Chart:
| | |
| --- | --- |
| 5 incorrect passwords | iPad is disabled, try again in 1 minute |
| 7 incorrect passwords | iPad is disabled, try again in 5 minute |
| 8 incorrect passwords | iPad is disabled, try again in 15 minute |
| 9 incorrect passwords | iPad is disabled, try again in 60 minute |
| 10 incorrect passwords | iPad is disabled, Connect to iTunes |
We will discuss a total of 4 ways to Fix iPad is Disabled; you may try according to your convenience. There are few requirements in few of the ways but not to worry much about it. Let's get started!
4 Ways to Fix iPad is Disabled, Connect to iTunes" issue:
Using PC
Hard Reset
Recovery Mode
Contact Apple
Solution 1: Using PC
Using PC can resolve this issue. However, if your iPad is permanently disabled then you may try our further methods. This solution is for people who haven't permanently disabled their phone. Even though the feature is irritating you but this makes your info secured even after your mobile is stolen. Let's discuss how to get rid of this problem using PC.
STEPS:
Connect the iPad to a PC using a USB Cable
Launch iTunes!
Select Sync in iTunes; enter the proper passcode when required.
Select Restore (This will restore your iOS device)
If you don't remember the iPad passcode, you might wipe the iPhone & it will erase all data using recovery mode.
Reboot/Restart iPad in Recovery Mode
Backup iPad to Computer
Once the reboot is completed, you will see an iPad icon on the top-left menu of iTunes.
Click that iPad icon to enter Summary Interface
Select "Backup Now" to backup iPad data on your PC.
Once a backup is ready, Reset iPad
Go to your iPad, Go to Settings > General > Reset > Erase All Content & Settings".
Keep patience… It might take some time.
iPad info/data is erased, let's Restore iPad & Reset iPad Passcode. After erasure your iPad will be passcode free, so set the device according to you.
Restore iPad: Set Up as New iPad from Cloud Backup or iTunes Backup.
You can restore your data & this method doesn't let your data lost. So, you must try this method.
Our previous method needed step guidance but further ones might not need it. But you can ask your doubts & queries via Comment Section. If your planning to run iPad apps on PC try this 10 Best iOS emulators in your desktop.
Solution 2: Hard Reset
Trying this method of Hard Reset has been working for a few users according to Apple's user forum. For performing a Hard Reset you just need to hold down your device's home button & lock button until iPad switches off then hold it till it switches on. Now, see whether the issue is resolved or not. However your data will be erased, so think twice before doing it.
Solution 3: Recovery Mode
One of the best methods to get things better. Also, many users have found this method useful.
Switch off your iPad
Hold the home button & plug it into PC
Continue holding the home button until the iTunes logo appears
Now starts Recovery Mode
This method is similar to our 1st one, but this one is better!
Solution 4: Contact Apple Support
If the issue remains even after trying the above tricks then you must contact Apple Support. According to me, the previous methods would definitely solve this issue, but Hard Luck exists. However, most of the tricks will erase data but that can be restored if you have any backup point. We hope you don't need to contact Apple Support & previous ways work for you.
Conclusion:
So, these were probably the best available ways to fix "iPad is disabled, Connect to iTunes". We have mainly discussed 4 ways. We hope that these ways work for you too & fix this problem as soon as possible. However, there are fewer chances that you have to contact Apple Support but we shouldn't promise that. We wish you a Best of luck!