How to Extend Wifi Signal at home you use your regular Android Smartphone or laptop to surf with Highspeed. There are many ways to circumvent the strength of the wireless connection, but this time we summarize it into 15 pieces of tips and tricks that hopefully can help you all the users WiFi.
Internet speed depends on the type of service you are using, we are only here to give tips and tricks so that indicator WiFi signal is stable on the device you use to surf.
Also Read :Tips to Protect Your WiFi Router From Hacking

15 Ways To Extend Wifi Signal Android & Laptop

1. Create a Simple Antenna WiFi Signal To Strengthen
Signals transmitted by modem or WiFi router will be radiated toward irregular , by making a simple antenna you get the expected output signal directional or focus . To make it quite easy Search On Youtube How To create Wifi Antenna
2. Change Modem or Router To a Extender:
Wifi modem usually features as a router. How to change the modem into a extender generally the same as that with IP for example: 192.168.1.1 .Enter a password and to change the settings usually be there on the menu WiFi extender access point .
List Of Wifi Device Supports Wifi Extender .
3. Turn off the modem Regularly
If the modem is too long in the light conditions, this means that the intake of electricity flowing on the modem component is ongoing. It caused the temperature to rise to the modem . In a communication device that transmits a signal, heat is the major enemy because it can cause noise in the signals being generated. Give them a break on your modem.
4. Routine Change Password Wifi
The more devices that access the Internet via a modem, then the electricity used by the modem will increase, in addition to making quick modem heat and interrupt signal strength. Imagine if you were using a modem turns your neighbor who wants to surf for free? Of course. The bandwidth will be shared with your neighbors . Change passwords regularly WiFi connection in order to avoid theft by your neighbor hehehe.
5. Avoid Interference From Other Electronic Equipment
As we wrote in trick number 3, in addition to the heat there are many other things that disrupt the signaling process WiFi modem, one electromagnetic , electronic equipment such as microwave very likely interfere with the signal strength of your Wifi modem.
6. Make sure the Router or Modem Ideal Position
WiFi signals can not penetrate walls therefore make sure the position of the router or modem with signal receiving device in an ideal position, his example is to put a WiFi modem in parallel with devices using WiFi for example, Smartphone or Laptop.
7. Upgrade your Wifi device
WiFi technology has undergone several changes. The emergence of new WiFi version will certainly increase your comfort in using WiFi, latest version at present is WiFi 802.11ac
On the android device you can do tricks with the help of free sofrware and change settings on Android, here is how to strengthen the WiFi signal on android.
8. Change Settings Frequency Wifi On Android Being 5 GHz
On an older Android device, usually WiFi frequency is at 2.4 GHz, but now many are able to receive signals in the higher frequency is 5 GHz , this means that the signal spectrum transmitted will be more diverse . Make sure Modem WiFi you also use a frequency similar, if less so sure then follow the instructions below:
Settings> Wi-Fi> Advanced> Wi-Fi frequency band and select Auto , then the Android smartphone you'll automatically use frequency of 5 GHz if there is a modem with a frequency that class.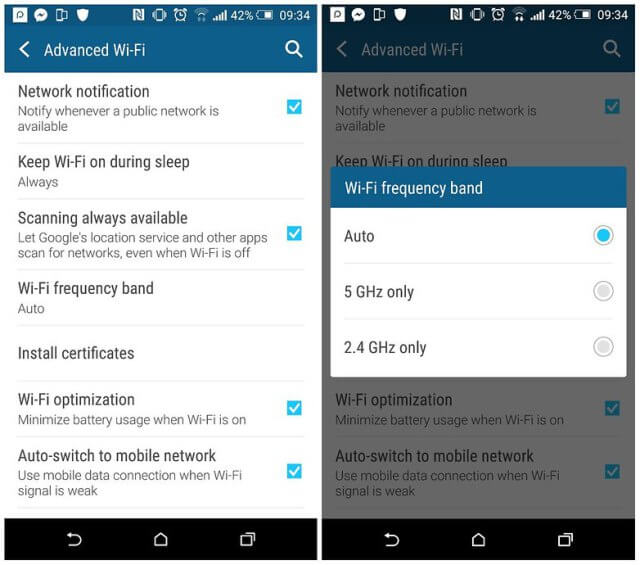 9. See Stats Wifi Signal To Determine The Best Spot
When connected to WiFi, you can use an application called WiFi Signal Strength Free apps it lets not you see the signal strength at a particular point in a room that contained a WiFi signal. Use this app on your Android, then try Ways- move a point / position to find the position that produces the large and stable signal.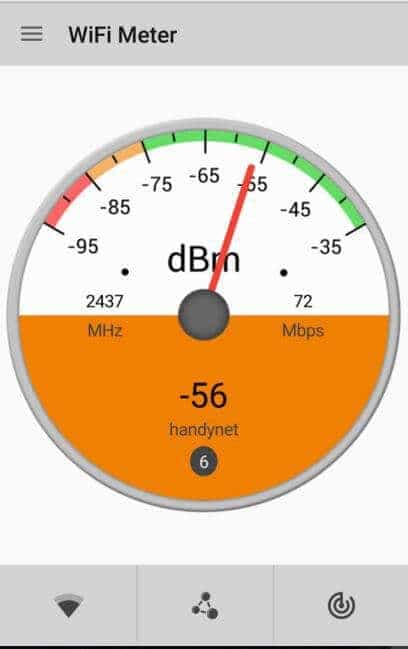 10. Ensure Android Firmware Using Latest Version
Android works just like a PC, to operate a hardware required software / driver that they are configured to work properly, therefore it is very important to ensure Android firmware is at the latest version for maximum hardware performance.
11. Check Casing HP Android
Experiment with speedtest.net, the first experiment done using casing while the second trial did without wearing casing. Then compare the results, is it better? . WiFi antenna on your Android device usually located in the rear or side section. If by opening the battery cover increases the quality of your Internet connection, means you android casing is too thick or contain material that interfere with WiFi signals.
Laptops usually come with onboard wireless adapter, of course this needs special treatment to get a good WiFi signal. some ways extending Wifi signal on a laptop include:
12. Update Driver Wireless Network
Learn about WiFi hardware used your laptop, can by opening the device manager on the properties of my computer, and then look under Network Adapters, usually containing the words Wireless , and hardware driver updates or looking concerned through the official website producers.
13. Turn off Background Task Yang Takes Bandwidth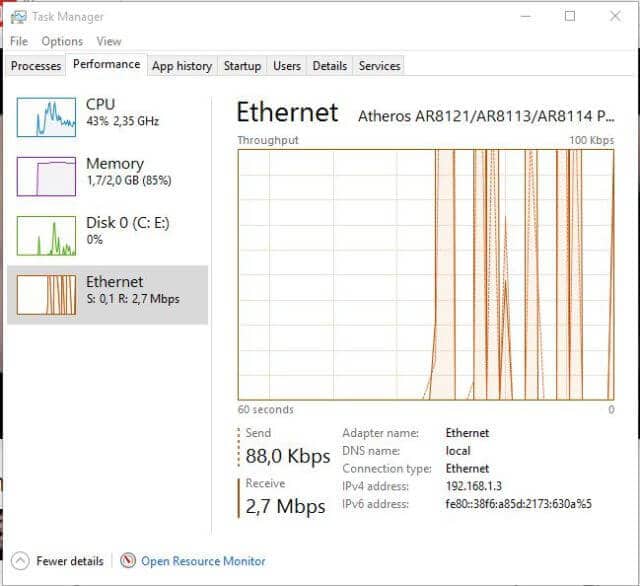 Photo above we take the time we wrote this article while listening to songs through youtube, then look at the Internet usage graph Ethernet. If when you are not even browsing but streaming Ethernet statistics show that up significantly, there is a background process is running and using the internet resource you big enough , quickly find and shut down the process so that your Internet connection is back smoothly.
14. Use Wifi External Receiver
Many external Wifi Receiver offered in computer supply stores, it usually comes with a cable to facilitate you adjust the position to obtain the maximum signal.
15. Ensure Maximum Working Hardware
Perform regular checks on your Laptop hardware, make sure air circulation and electrical smoothly and properly. If the electricity flowing into the receiver hardware. WiFi signal did not get a good flow of electricity, automatically its performance would be decreased even possible. WiFi adapter you will soon be seriously damaged.
Those are some tips and tricks to extend wifi signal, conditions that you face may be different from the conditions in our Place. So we do not say 100% tips and tricks above can work well in the location you are. Maximum It will Work under any conditions.