Have you ever thought how many emails you can send in one business day? The statistics say that a regular user can send up to 40 messages each day. Without a doubt, this is quite an impressive audience reach. The question is: is there any way you can use it to your benefit? If you are wondering how to bring your email correspondence to a completely new level and make it work for your business, this article will give you the answer!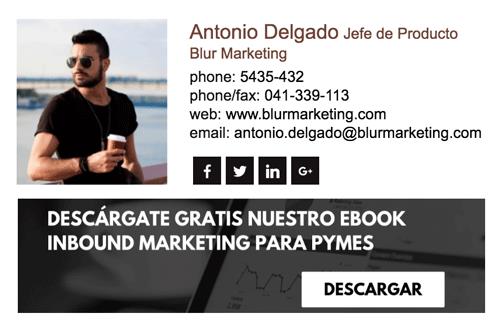 The easiest way to tell your recipients more about you and make a good impression is to use an email signature. How can it help you? Email signatures help us grow a business, increase the response rate, traffic, and brand's recognition, and make a good impression on current and potential customers. Every marketer and business owner should use this powerful marketing tool. However, to get the most benefits, you have to use it right. How? Well, since this is the last element that people see in our emails, we need to make personal signatures creative and memorable. In this article, we are going to tell you how to create one!
Also Read:
How To Design Awesome Email Signature Yourself?
Email signature, even though it may look insignificant, can play a vital role in promoting your business and affect your professional image. It can bring you many benefits. However, you should take time to develop its design to make sure it is memorable, professional, and, most importantly effective.
If you are wondering how to create an effective email signature, the practical tips given below will definitely come in handy!
It is always a good decision to add some color to your design. Colorful accents will add individuality to your stamp and make it stand out. However, specialists recommend choosing colors wisely. You should find colors that match and should not use too bright or too faded ones. Another great idea is to use your company's colors.
Choose an appealing design
A well thought through design with the correct hierarchy will help you highlight the most important details and make your signature easy to read.
Visual elements are important in the design of your email signature. You can add your personal photo, company's logo, banners or even animated elements. However, keep in mind that your stamp should look professional, so be careful with the choice of visual elements. Also, try to keep the size of your stamp small. Don't overload it with too heavy pictures or animations. Otherwise, it may be displayed incorrectly.
Make sure you have all the important information
Some of the most basic details that you should include are your full name and company's name, your position, your phone number with a country code and other contact details, links to website, blog, store, etc. Make sure you have included everything.
Check: Tricks to Create Many Gmail Account Without Mobile Number Verification 2019
Add links to social media accounts
Your social media channels can tell about you and your business better than any words. Thus, it is recommended to add links to them to your stamp.
A call-to-action will be a great addition to your email signature. Make it understandable, clear, and relevant.
Too much doesn't mean better
Remember that your stamp, first of all, has to showcase your professionalism. Therefore, making it too overwhelming is simply inappropriate. Thus, you should make sure that you are not adding too much of everything there. Be concise and clear. Use a maximum of two fonts. Don't add too many visuals.
Easy Ways To Create An Eye-Catching Signature
If you don't have the skills needed to design a top-notch stamp or simply don't have time to do this, you can do it the easy way! To save your time, use one of the following ways of creating a great signature:
Templates
You can find many websites that offer dozens of great and unique designs. Use one of them to find a template that perfectly fits your expectations. Once you have chosen a suitable template, all you have to do is to adjust it to your needs and fill it with your information.
Read: How To Recover Gmail Password Without Recovery Information
Online generators
Even easier way is to use an online email signature generator. To use it, you need to specify the details you want to include in your stamp, upload a logo or photo, and choose the design you like the most. Having all the necessary files and information, a generator will create a killer signature for you in just a few moments.
Ask for professional help
Another easy way to create a unique stamp is to hire a professional designer to do it for you. You can tell the designer about all of your needs and requirements, and he or she will prepare a unique design by the established deadline. However, this method can be quite pricey, and it can take lots of time before you find a specialist you can rely on.