Whenever we think about online music, movies, and other videos, the first platform that comes in our mind is YouTube. Youtube is indeed a most excellent video and music streaming website of this time. It has millions of music videos, movies, comedy videos, educational videos, tutorials, etc. that can be enjoyed all over the world. But despite its brilliant advantages, it has a drawback.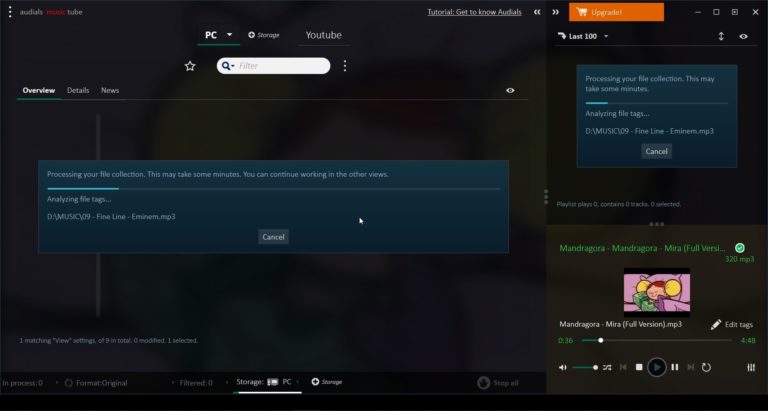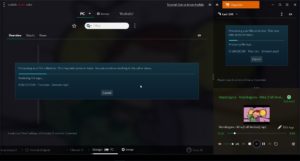 The drawback is it does not allow download facility. If you want to watch or rewatch any particular video, then you have to visit Youtube again and again. It's too irritating sometimes when the network coverage is not good.
Must Check: How to Download Music From Deezer | High Quality
But now you don't need to visit YouTube, again and again, to watch or rematch any video. What if I tell you a platform where you can download your favorite video not in PC only but can transfer it to your smartphone also. Then the problem is solved, right. You can watch the video as many times as you want without even the need of internet. The platform we are talking about is 'Audials Music Tube.'
Audials Music Tube
An Audials music tube is a window software that enables you to download all the music available on YouTube, sort the music by genres or artists and connect them with your own music collection. It also has a unique feature that enables us to find music and artists according to our tastes.
Features
Audials Music tube got some remarkable features. The software is easy to operate, and one can easily use it without even any tech knowledge. So here we have covered some brilliant features of Audials music tube-
● Download Music and Videos
It has a brilliant feature that not only allows you to download music and videos, but you can also convert the music in mp3 format and add them to your playlist. It takes just a few minutes.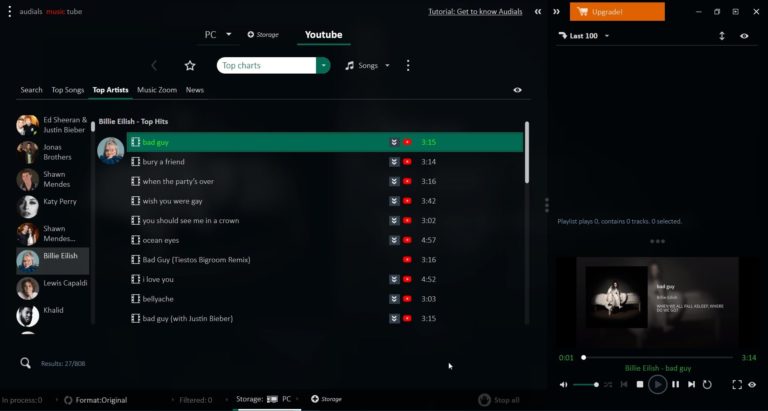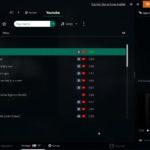 ● Highest quality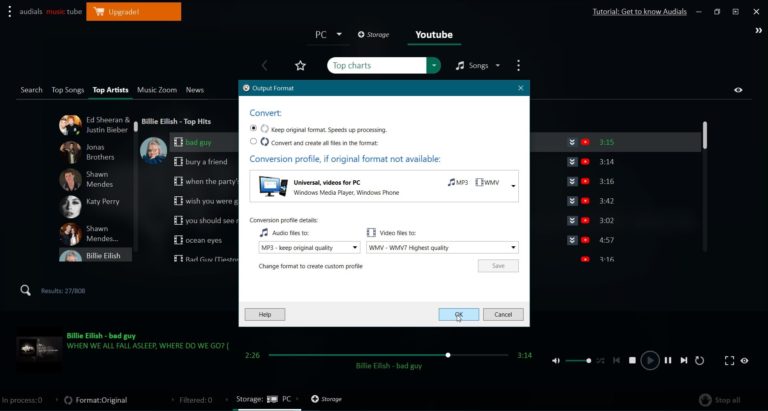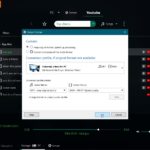 When you download the video, there is a 0% loss in video quality. It helps you to get the highest quality videos of Youtube legally and at lighting speed. When you tell your favorite genre, then it will automatically find all the artists and music-related to that genre. Then you have to sort them according to your taste and save those you want to. The lyrics and ID tags are automatically added to the files.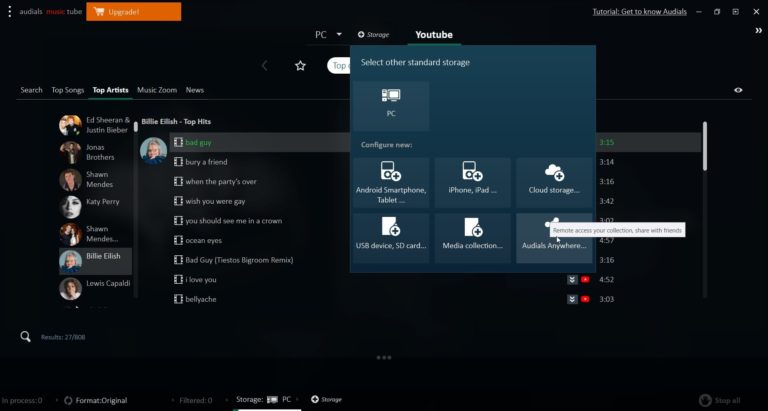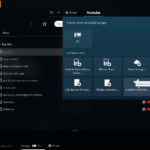 ● Transfer Music to phone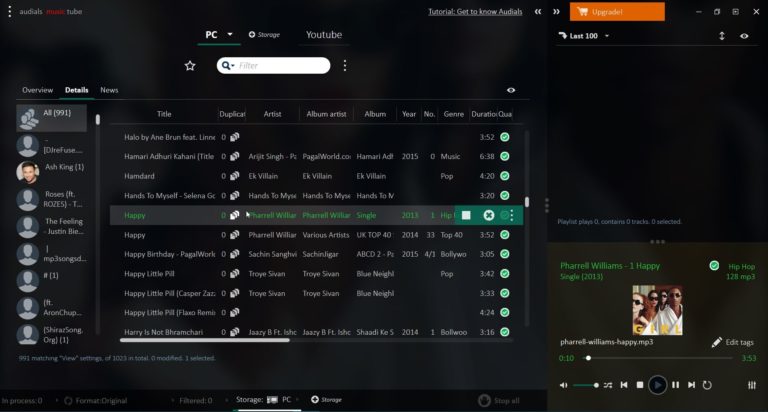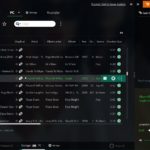 As we stated, Audials music tube is a window software, but that does not mean your downloaded music and videos is restricted to your laptop only. With the help of this feature, you can easily transfer your data to your smartphone and carry it wherever you go.
● Discover your music
It comes with a unique feature called 'Music Zoom,' it's basically a map to millions of music. With the help of this artificial intelligence, you'll get any music you like with just a simple click on your mobile screen.
● Trending weekly music charts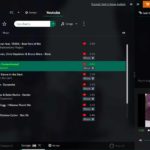 Audials delivers the latest trending music charts every week. In addition to trending chart, it also delivers Rock, Pop, Music Video, Dance, the 80s or the US Music Video Charts. So, listen to any song or download it in seconds.
How to Download the Audials Music Tube?
You can install the software by disc or CD Drive or from the internet that is the easiest and convenient way or with the help of pen drive.
If you want to download the software, then you should rely on the internet because from here you can get the latest version just be sitting at home. I need to follow just three simple steps to have audials in your laptop.
Here we have listed some steps by following those you can get the software easily.
1. First of all, download the program from the website providing the program. You can visit ZDNet, Softpedia.com, Tucows.com, FreewareFiles.com, MajorGeeks, FileCluster.
2. The second step is to click on the search box and search for the program, and once you find it, click on it and download it.
3. Once the program is downloaded, open the download folder.
4. If the file you downloaded is an executable file, then double-click the file icon to start the setup process or If the downloaded file is in compressed (e.g., .zip) form, then you must extract the file's contents before setup can begin.
Luckily, this function is worked into most versions of Windows.
5. And once the files are extracted, double-click the setup to install.
6. Now click on run the installer and wait for some time to install.
7. Now your software is installed in your laptop and start using it.
General tips:
1. Make sure your computer meets the system requirements of the program unless it doesn't install.
2. To fulfill the system requirements read the manual or the readme file provided under software, it contains exact instructions on how to install a program and are in the same directory as the installation files.
3. When you are installing the software then, it is always a good idea first to close or disable any other programs that are running for better installation.
4. After installing a new program, if it inclined you to reboot or restart the computer, then do it.
Also Check: Download Music from SoundCloud | Soundcloud Downloader
Conclusion
All in all, we can say Audials Music Tube is a useful, modern-looking, and easy-to-use application that allows anyone to extract content from YouTube, in either audio or video form, and even transfer it to his or her devices. Audials is a blessing for music lovers.
Download and save music and videos from YouTube was never this easy before. It also works at turbo fast speed that downloads music at a super-fast speed, so you don't have to wait for the music to get downloaded. Just a couple of minutes is all it takes to download the entire playlist. And its unique feature that is Music Zoom, that enables you to discover new music that fits your taste. The cost of this powerful software is available for only $19.90.
So, don't overthink and download Audials Music Tube. It's worth the download.